Spend your fall, winter, or spring in Martinique: is Martinique a good snowbird location?
Martinique is a rugged Caribbean island that's part of the Lesser Antilles. An overseas region of France, its culture reflects a distinctive blend of French and West Indian influences. Martinique is about 80 km (50 Miles) long and reaches a maximum width of 35 km (22 Miles). The administrative capital and chief town are Fort-de-France. It has an Area 1128 km (701 Miles).
Martinique's economy is heavily dependent on trade with France, which provides the majority of the island's imports and exports. The value of imports far surpasses that of exports, resulting in large trade deficits. Exports include agricultural products (significantly bananas), refined petroleum products, and processed foods and beverages (notable rum). Chief imports are agricultural implements and machinery, food, automobiles, mineral fuels, and chemicals and chemical products. The different cities that make up Martinique are:
Fort-de-France
Le Carbet
Le Diamant
Le Marin
Morne Rouge
Sainte-Anne
Saint-Pierre
Trois-Ilets
Why should people visit during the fall, winter, or spring?
Most snowbirds spend the winter in Martinique to escape colder climates and enjoy the island's stunning natural splendors. Martinique's great natural beauty has impressed generations of nature lovers.
Climate
The climate is remarkably constant, the average temperature being about 20°C - 32°C (68°F - 90°F). The northeast trade winds, which blow almost 300 days per year, temper the heat, but winds from the south are hot and humid and sometimes bring hurricanes. There are two distinct seasons–a relatively dry season, which lasts from December to June, and a rainy winter season from July to December. The winter period normally does not see hurricanes (the hurricane season is from June to November).

Safety
Martinique is generally a very safe island. As with anywhere in France, occasional strikes can bring services to a screeching halt. It's not advisable to wander around the largely empty backstreets of Fort-de-France after dark, where mugging can be a concern.
The crime rate is low. Petty theft, such as pickpocketing and purse snatching, and theft from cars occur, mainly in the capital, Fort de France, and its port. Do not carry large amounts of cash or wear expensive jewelry. Snowbirds should leave their passports and other travel documents locked in their hotel safely.
Communication, Internet, and cellphone in Martinique
English, Spanish and Portuguese is the main languages spoken in Martinique. The local cell phone networks are SFR, Orange, and Digicel. SIM cards are widely available and coverage is generally pretty good.
Snowbirds can also get their phones unlocked and can add on a 4G data plan to their phone to gain internet access but should ask about available plans and prices. Quite a number of restaurant/bar establishments also offer free Wi-Fi so, snowbirds can also use that, although the connection can be sporadic at times.
Snowbird locations in Martinique
Fort-de-France: It is said to have one of the most beautiful bays in the world. High rise on the marina, this is the perfect place to take in Martinican city life with high design interiors, delicious food, and plenty of amenities. Snowbirds can enjoy picturesque views over breakfast, and see the city's famed hills dotted with colorful houses. They're also close to delicious restaurants and cultural sites like Le Savane (Martinique's equivalent to Central Park) Jardin Balata if they want to discover exactly why Martinique is called the Isle of Flowers.
Trois-Ilets: It is one of the busiest cities in Martinique but the town has managed to preserve its picturesque charm. There's a selection of affordable hotels (La pagerie, le bambou, le bakoua), and restaurants with lots of shopping options.
Things to see in Martinique
Martinique has notable places that are worthwhile visiting:
The Beaches: Some of the best beaches in Martinique are Fonds Blancs, Grand Anse d'Arlet, Plage des Salines, Grande Anse des Salines and Anse Dufour
Gardening/Nature & Parks: Plantation At Le Carbet
History: The Musée Départemental d'Archéologie et de Préhistoire & The Schoelcher library.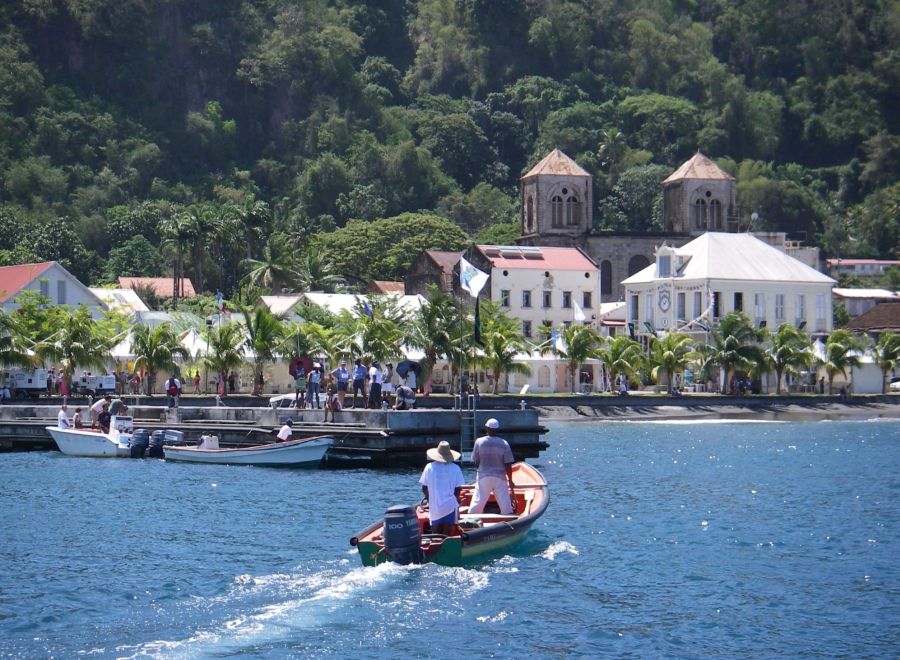 Activities in Martinique during winter
Horse riding
Explore Shipwrecks
Snorkeling, Sailing, And Skiing
Visit Fort-de-France
Visit The Schoelcher library
Hike the Montagne Pelée
See the Black Sand of Grand'Rivière
Discover Volcanic Ruins At St. Pierre
Hike Along La Caravelle Trail
Visit the Plantation At Le Carbet
View Marine Life At Diamond Rock
Try eating Creole And Local Delicacies
Visit Cathedral Of St Louis
See Artefacts At Musee Departemental At Martinique.
Shop Spices In Grand Marche which is the largest market presence on the island of Martinique.
Spend leisure time at one of the most wonderful beaches in Martinique i.e. at Les Salines.
Visit Grand'Rivière which is a tiny fishing village in the north of the Island.
Embark on la Route de la Trace (La Route de la Trace is a road that goes from Fort-de-France all the way to Morne-Rouge, passing by many other cities).
Learn the history of the town at The Musée Départemental d'Archéologie et de Préhistoire which is packed full with pre-Columbian history whilst the Musée d'Histoire et d'Ethnographie focuses on the local culture.
Shopping + Restaurants. Are they open in the fall, winter, or spring?
Martinique is one of the better shopping destinations in the Caribbean, with a wide variety of shops and boutiques showcasing everything from local crafts and jewelry in the best Creole tradition to stunning artwork and the latest in the French fashion, fresh off of Parisian catwalks. The numerous markets can also be a fascinating visit, offering the chance to wander through colorful stalls browsing fresh produce, spices, and local rum, for a memorable and authentic Martinican experience.
The highlight of any shopping adventure in Martinique is Le Grand Marché Couvert, or Covered Market, located in Fort-de-France. Designed by French architect Henri Picq and constructed in 1901 (later restored in 1989), this bustling bazaar is where locals have bought and sold essential herbs, spices, produce, and other goods for generations. Rows of fragrant spices, including the local curry powder known as "Colombo," as well as medicinal herbs, exotic fruits like chayotes (locally known as "christophines"), and indigenous vegetables such as yams or "ignames" as they're called in Martinique are everywhere.
Snowbirds will find the most popular restaurants in Fort-de-France. Many restaurants offer a prix fixe tourist menu, which often includes several courses and a drink for about the price of one entrée off the regular menu. Martinique's cuisine is a rich fusion of French, African and Creole flavors with seafood taking the spotlight. Fishy favorites, such as conch, crab, and lobster, have been given a French edge in creamy sauces and crispy gratins, accompanied by local sweet potatoes and plantain-like tubers. Snowbirds with a spicy palate should try a dash of chien sauce, made from onions, hot peppers, shallots, oil, and vinegar.
Transport
Snowbirds first arrive at the Martinique Aimé Césaire International Airport and then take a cab to their hotel. The best way to get around Martinique is in a car (either rental or a cab).
Some snowbirds do manage on Martinique without a car, but they'll find one a necessity if they're looking to explore. To be on the safe side, snowbirds should rent from a European-based firm, as Sixt and Europcar operate at the Martinique airport).
Martinique's taxis are effective for getting one from point A to point B, however, they are pretty pricey. Prepare to pay anywhere from $23 (approx. €21, £18, $30 CAD, $34 AUD) to get to one's hotel from the airport, and that's not including the 40-percent surcharge snowbirds will face if they're expecting to ride at night, on a Sunday, or on holidays. On the bright side, cabbies are courteous and oftentimes speak English, Spanish, and German.
Minibusses marked with "TC" (for Taxi Collectifs) motor between Fort-de-France and popular snowbird enclaves like St-Pierre, Trois Îlets, Le Diamant, and Ste-Anne. But these vans are generally considered unreliable because the drivers are willing to change the route according to their passengers' needs. As such, the fare is also hard to determine.
For an affordable and picturesque look at Martinique, snowbirds can take one of the vedettes, or ferryboats, that jet between the marinas of Fort-de-France, Pointe du Bout, Anse-Mitan, and Anse-à-l'Ane. Most trips take about 20 minutes one-way, cost approximately $7 (approx. €6, £5, $9 CAD, $10 AUD) round-trip, and will save one from some of the traffic woes that come from driving oneself.
Health
There are several general and maternity hospitals, as well as some dispensaries. Martinique receives the same social benefits as mainland France. The healthcare system in Martinique consists of public and private sectors. Martinique has a total of 18 hospitals and several clinics. Snowbirds can find doctors that speak English as well as other languages.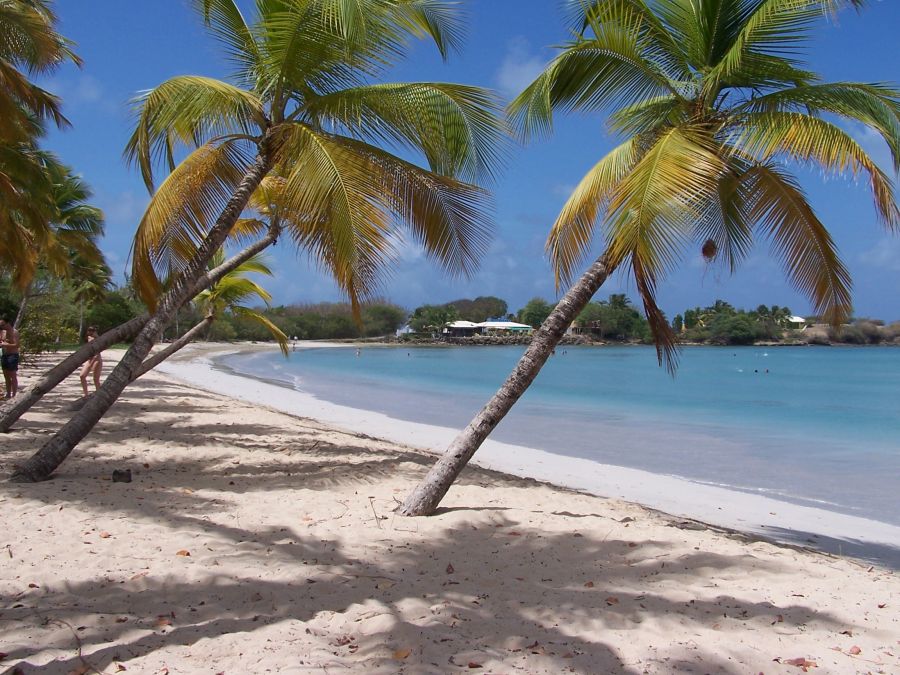 Accommodation
There are a fair number of resorts, hotels, short-let apartments available for rent in Martinique. The houses are usually well equipped with basic amenities and furnished. Accommodation prices range from $68 (approx. €63, £54, $91 CAD, $102 AUD) per night.
Winter Camping
Résidence B&L Lagon
Campground in Sainte-Luce.
Farniente en Martinique.
Campground in Le Vauclin.
Airstream Paradise.
Campground in Sainte-Anne.
Accommodation prices range from € (approx. $0, £0, $0 CAD, $0 AUD) per night.
Packing List
Weather: The fall, winter, and spring weather in Martinique will normally be hot during the day and hot/warm during the night. Of course in the fall and spring it will be warmer than in the winter. You have to pack accordingly.

Warm clothing: Even when you go to a warm location like Martinique you should not forget to take some things with you for your trip back home. When you return you are adapted to the warmer weather and need something to protect you from your hometown temperatures.

Consider the Weather: Always look at the type of weather in Martinique. Things like humidity, wind, and rain do not show up in the temperature graph but can have a great impact on your wardrobe. There are several sites with long term forecasts and climate information. Is there often a short afternoon downpour like in the tropics, you maybe need to take a strong umbrella and shoos that can cope with the rain. If there is often a lot of wind you might need a more wind-resistant coat.

Check the local Shopping options: Try to find information about the local shopping options near your location in Martinique. Are there stores where you can buy all your daily supplies, or are some things difficult to get? For some more remote locations, the options can be limited. If a certain item is really important for you might need to take it with you.

Look at the Local Culture: The local culture in Martinique can impact your wardrobe. If most activities are in more upscale locations you might take some more appropriate clothes with you. Or travelling if you travel to certain countries women need to cover themselves in certain areas.

Amenities: Know what's Included in your house or apartment. Is there a coffee maker, a toaster, a washer and dryer, an iron, what is in the kitchen, what kind of towels are there? Things that are there means you do not have to take them with you. A furnished apartment or house can mean something from a few pieces of furniture to a well-stocked place with all the things you have at home. But most of the time your rental will not be stocked.

Mix and match: Wear layers so you can use your wardrobe more efficiently. And do not worry about wearing something more often, probably only you will notice this.

Important for you: If there is something that is really important for you that you want to have present in your house or apartment, take it with you. This can be something like a special knife for the kitchen, or a small mirror that you use in the morning. You can also purchase it locally if it is not that expensive.

Pet supplies: If you take your pet with you don't forget to take supplies for a few days with you. And enough medication, vitamins, or other supplies if you can not purchase them in Martinique locally.

Food: Don't take a lot of food with you. Only when there is something you really can not live without you, and it is not too heavy you could consider taking it with you.

Towels: Not all locations include bigger towels for the swimming pool or a visit to the beach. If you have to take them and don't have a lot of room you can buy some big thin towels.

Office supplies: Normally you will not find any office supplies in your house or apartment. If you think you will use them you could pack some supplies like a scissor, notepaper, envelopes, some pens, and more depending on your needs.

Limit yourself: Don't take too many shoes and jackets, you will not need them that often.

Best-fitting: Bring your favorite and best-fitting items that can multi-function

Washer: Do you have a washer and dryer onsite, you don't need to pack a lot of clothes
Clothing
Basics
Casual
Smart
Footwear
Toiletries
Beauty
Hygiene
Clothing
Basics
Casual
Outdoor
Footwear
Accessories
Toiletries
Medicine
Miscellaneous
Other
Toiletries
Beauty
Hygiene
Hair
Other
Medicine
Miscellaneous
Technology
Travel and Free time
Travel
Free time
Important
Documents
Money
Other locations close to this location:
Travelers' Map is loading...
If you see this after your page is loaded completely, leafletJS files are missing.
If you have any additions, or comments on the content on this page, please use our contact form to let us know.