Spend your fall, winter, or spring in St. Martin / Sint Maarten: Is St. Martin / Sint Maarten a good snowbird location?
St. Martin is part of the Leeward Islands in the Caribbean Sea. It comprises of two separate countries, divided between its northern French side, called Saint-Martin, and it's southern Dutch side, Sint Maarten. Philipsburg is the capital of the Dutch side, while Marigot is the capital of the French side. The island was sighted on November 11, 1493, by Christopher Columbus, who named it in honor of St. Martin of Tours.
The main industry of the island is tourism. In 2000, the island had about one million visitors annually. About 85% of the workforce was engaged in the tourist industry. Neighboring islands include Anguilla, St Barts, Saba, Statia, Saint Kitts, and Nevis.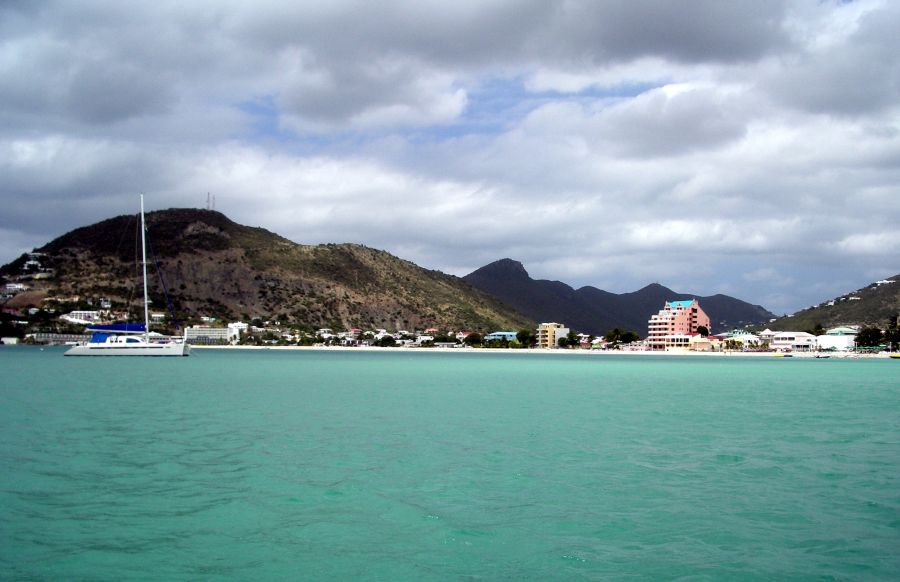 Why should people visit during the fall, winter, or spring?
Winter is the best time to visit St. Martin and St. Maarten and these are times when hotels advertise their best rates. Snowbirds will also find that the island is home to busy resort beaches and secluded coves. It's also known for fusion cuisine, vibrant nightlife and duty-free shops selling jewelry and liquor. St. Martin is one of the safest warm weather climate (outside US) locations to visit.
Climate
The climate of Saint Martin is tropical, hot, and sunny all year round. The average daily temperature ranges from 25°C - 28°C (77°F - 82°F). The summer sees some more rain. The winter period normally does not see hurricanes (the hurricane season is from June to November).

Safety
Maarten is generally considered a safe place to visit, but as with any tourist destination snowbirds should be aware, petty theft does still exist here, as it does nearly everywhere. Personal possessions should not be left unattended.
Communication, Internet, and cellphone in St. Martin/ Sint Maarten
English is the most commonly spoken language along with a local dialect. The official languages are French for Saint-Martin and both Dutch and English for Sint Maarten.
Check your own carrier about the roaming cost for Sint Maarten / St. Martin. Depending on your plan roaming can be very expensive, and in those cases, we advise winter visitors to purchase a local Sim card. The island has several cellular phone carriers, namely TellCell and UTS (Chippie) on the Dutch side. Snowbirds can purchase SIM cards at many locations for as low as $10 (approx. €9, £8, $13 CAD, $14 AUD). Incoming calls are free. The country code for the Dutch side is 721 (as of October 2011) while the country code for the French side is 590.
Wifi networks are available on every corner of the island. Most restaurants and bars provide internet access for free, some have a password installed which they are happy to share with guests. The Internet Service Provider SCARLET offers a mobile internet access solution as weekly rentals. Download speeds are up to 2mb for this technology.
Recently, fiber optic cables are being installed underground in order to improve connectivity. Technically, the island could accommodate 100mb/sec for downloads, but at this time the regular consumer will not get more than 20mb/sec.
Snowbird locations in St. Martin/ Sint Maarten
Simpson Bay: Simpson Bay is generally a preferred area to stay in St Maarten, has most of the islands' 4 and 5-star luxury accommodations; but for those traveling on a budget, there are also comfortable inns, apartments, and suites to suit every need.
Philipsburg: It is the capital of the Dutch side of St Maarten. Philipsburg is popular with families, friends, and couples who love history and shopping, and when it comes to accommodation, the town caters to your every need.
Cupecoy: It is nestled along the southwestern shores of St Maarten offering visitors a tranquil area to stay. The resort is less than 10 minutes from the airport and ferry port which means no long transfer times following flights or crossing. Cupecoy is home to Long Bay Beach, one of the quietest on the island if snowbirds want to relax and unwind away from throngs of tourists.
Things to see in St. Martin/ Sint Maarten
Saint Martin has notable places that are worthwhile visiting:
Neighboring islands: Anguilla, St Barts, Saba, Statia, Saint Kitts, and Nevis.
Historic site/landmarks: Fort Louis, Saint Martin of Tours Church, Fort Amsterdam, Philipsburg Courthouse, Mary Star of the Sea Church
The Beaches: Mullet Bay, Maho Beach, Burgeaux Beach, Simpson Bay West, Kim Sha Beach, Pelican Bay, Cay Bay, Miguel's Hot Beach Spot, Great Bay Beach, Little Bay Beach and Orient Bay Beach amongst others
Nature & Parks: The Butterfly Farm, Loterie Farm, and The St. Maarten Zoological park.
Art & Crafts: The Wall of Art, Galerie Escale des Iles
Activities in St. Martin/ Sint Maarten during winter
Diving
Relax at Loterie Farm St. Martin
Soak up the sun at Mullet Bay
Wander around St. Maarten's capital, Philipsburg
Enjoy a sunset sail at Lambada Sunset Sail with Open Bar & Snacks
Visit Tijon Perfumerie and Create Your Own Perfume / Cologne. It cost

$99 (approx. €92, £82, $133 CAD, $143 AUD)

per adult
Take a Tour to Discover Dutch & French Island Highlights
Spend time Plane-Spotting at Maho Beach
Visit Topper's Rhum Distillery Tour and Tasting
Tour the Butterfly farm and Get kissed by a butterfly. It cost

$15 (approx. €13, £12, $20 CAD, $21 AUD)

per person
Discover local species at The St. Maarten Zoological Park which is the largest in the Caribbean. The zoo is open daily from 9 am – 5 pm. Admission is

$10 (approx. €9, £8, $13 CAD, $14 AUD)

for adults and exchange value="5″ from="USD"] for children ages 3 – 11.
Enjoy the views of the whole island from Fort Louis
A day sail to Prickly Pear and Learn to be a sailor
Spend a relaxing time at the various beaches
Visit Casino Royale, Saint Martin
Take a stroll in Old Street, Saint Martin
Shopping + Restaurants. Are they open in the fall, winter, or spring?
Most snowbirds will enjoy a stroll up and down Front Street in Philipsburg, where a huge number of stores boast of competitive prices. Snowbirds spending an extended vacation on the island will be surprised by the excellent supermarkets on both the French and Dutch sides.
The capital of the French side, Marigot, has some very elegant shopping with original boutiques offering the sophisticated designs of Parisian couturiers. The Dutch shopping centers tend to supply mostly American brands, and the stores in Marigot present a huge variety of European groceries with some fabulous gourmet stores.
Snowbirds looking for local products to take home as souvenirs should consider the unique Topper's Rhum, the perfect island souvenir. There are also several local musicians offering their own CDs, and artists with unique paintings to remind you of your stay on the island. Finally, snowbirds should not miss the colorful Marigot market – excellent for locally made souvenirs and gifts.
On Dutch St. Maarten, main areas for dining out offering a wide range of cooking styles and ethnic food: in Philipsburg, Simpson Bay, and in the Maho & Cupecoy area, (French, Italian, American, Mexican, Indian, Indonesian, Japanese and Chinese).
The French side is concentrating on European cuisine, mainly French and Italian, as well as Antillean cooking. Most of its fine restaurants are in Marigot or in Grand Case, the "Gourmet Capital" of the Caribbean, but there are also excellent dining options in Orient Bay and Oyster Pond.
Transport
Snowbirds going to St. Martin/ St. Maarten will arrive at Princess Juliana International Airport (SXM). Princess Juliana International Airport is located in the southern Dutch half of the island.
The best way to get around St. Martin and St. Maarten is in a rental car. Renting a car is a cheap and easy way to get around either St. Martin or St. Maarten. Rates starting as low as $35 (approx. €32, £29, $47 CAD, $50 AUD) per day. Rental kiosks are located just outside the airport. Snowbirds driving on the French side will need an International Driving Permit.
Rental companies include Avis at both airports, Auto Discount, Budget, Coastal Car Rental and Hertz (which has 12 locations around the island including both airports and the Port St Maarten cruise-ship terminal) amongst others.
Buses are by far the cheapest method of transportation. Snowbirds should look for minivans that say "bus" in the license plate. Unfortunately, the minibusses aren't very efficient – they're prone to pick snowbirds up and drop them off anywhere you'd like, so there's no set schedule to follow (similarly, their start and end times are hard to determine each day). It will cost somewhere between $1 (approx. €0.93, £0.83, $1.35 CAD, $1.45 AUD) for a one-way trip.
Taxis as a means of transportation are great at night, particularly as the minibusses are less likely to run. They're unmetered, so agree on a fare before entering the cab. And keep in mind it will cost about $12 (approx. €11, £9, $16 CAD, $17 AUD) to get from the airport to Philipsburg or Marigot and about $20 (approx. €18, £16, $26 CAD, $29 AUD) to get from the airport to Dawn Beach. Some taxis, especially those on the Dutch side, only accept U.S. dollars.
Health
It is always recommended that snowbirds secure a good travel insurance policy to cover medical costs in the event of an emergency. If the unfortunate should happen, however, St. Maarten/St. Martin is extremely well serviced by excellent health facilities including two hospitals on each side of the island. St. Maarten is also home to the American University of the Caribbean Medical School, further underlining the high standards of healthcare the island provides.
Pharmacies are well stocked and located all around the island. Opening times are generally standard, and there are several late-night opening and emergency pharmacies. The Orange Grove Pharmacy specializes in servicing snowbirds from the US, Canada, and Europe with a 24-hour emergency delivery service. The Simpson Bay Pharmacy is centrally located in the island's resort and yachting center, with waterfront access for deliveries. They can fulfill large orders for yachts traveling through.
There are many private doctors and specialists in every field as well as dentists, optometrists, and physiotherapists. A lot of them also speak English. The snowbird's hotel will hold details of hospitals, ambulance services, doctors, and other medical services, and our directory lists emergency numbers.
Perhaps the most common ailment, not surprisingly, is heat/sun-stroke so be sensible when acclimatizing to the tropical climate. Snowbirds are advised to protect their heads with a suitable hat and apply an appropriate sunscreen. In environments like this, it is recommended to drink as much water as possible to avoid dehydration; the island tap water is safe to drink, but snowbirds may prefer to buy bottled water from any of the grocery stores and supermarkets.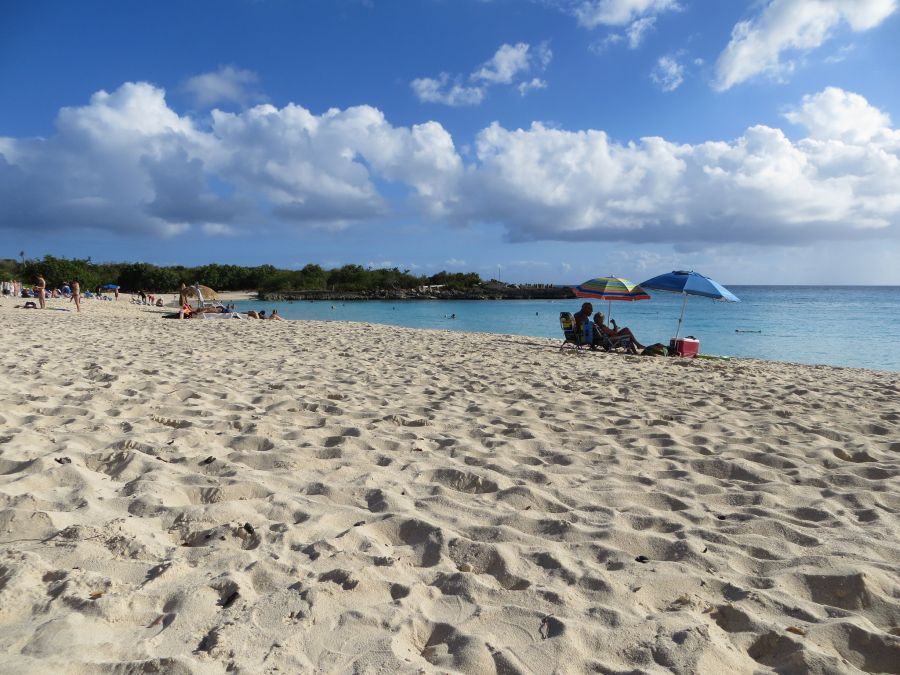 Accommodation
St. Maarten/St. Martin is an island that has accommodations to suit almost everybody's budget or dream, right across the spectrum. She boasts everything from 5 stars, first-class, world-renowned hotels to charming little guesthouses, all-inclusive resorts, and time-share properties.
Simpson Bay, Grand Case, and Orient Bay are some of the best areas to stay. The houses are usually well equipped with basic amenities and furnished. Accommodation prices range from $76 (approx. €70, £63, $102 CAD, $110 AUD) per night.
Packing List
Weather: The fall, winter, and spring weather in St. Martin / Sint Maarten will normally be hot during the day and hot/warm during the night. Of course in the fall and spring it will be warmer than in the winter. You have to pack accordingly.

Warm clothing: Even when you go to a warm location like St. Martin / Sint Maarten you should not forget to take some things with you for your trip back home. When you return you are adapted to the warmer weather and need something to protect you from your hometown temperatures.

Consider the Weather: Always look at the type of weather in St. Martin / Sint Maarten. Things like humidity, wind, and rain do not show up in the temperature graph but can have a great impact on your wardrobe. There are several sites with long term forecasts and climate information. Is there often a short afternoon downpour like in the tropics, you maybe need to take a strong umbrella and shoos that can cope with the rain. If there is often a lot of wind you might need a more wind-resistant coat.

Check the local Shopping options: Try to find information about the local shopping options near your location in St. Martin / Sint Maarten. Are there stores where you can buy all your daily supplies, or are some things difficult to get? For some more remote locations, the options can be limited. If a certain item is really important for you might need to take it with you.

Look at the Local Culture: The local culture in St. Martin / Sint Maarten can impact your wardrobe. If most activities are in more upscale locations you might take some more appropriate clothes with you. Or travelling if you travel to certain countries women need to cover themselves in certain areas.

Amenities: Know what's Included in your house or apartment. Is there a coffee maker, a toaster, a washer and dryer, an iron, what is in the kitchen, what kind of towels are there? Things that are there means you do not have to take them with you. A furnished apartment or house can mean something from a few pieces of furniture to a well-stocked place with all the things you have at home. But most of the time your rental will not be stocked.

Mix and match: Wear layers so you can use your wardrobe more efficiently. And do not worry about wearing something more often, probably only you will notice this.

Important for you: If there is something that is really important for you that you want to have present in your house or apartment, take it with you. This can be something like a special knife for the kitchen, or a small mirror that you use in the morning. You can also purchase it locally if it is not that expensive.

Pet supplies: If you take your pet with you don't forget to take supplies for a few days with you. And enough medication, vitamins, or other supplies if you can not purchase them in St. Martin / Sint Maarten locally.

Food: Don't take a lot of food with you. Only when there is something you really can not live without you, and it is not too heavy you could consider taking it with you.

Towels: Not all locations include bigger towels for the swimming pool or a visit to the beach. If you have to take them and don't have a lot of room you can buy some big thin towels.

Office supplies: Normally you will not find any office supplies in your house or apartment. If you think you will use them you could pack some supplies like a scissor, notepaper, envelopes, some pens, and more depending on your needs.

Limit yourself: Don't take too many shoes and jackets, you will not need them that often.

Best-fitting: Bring your favorite and best-fitting items that can multi-function

Washer: Do you have a washer and dryer onsite, you don't need to pack a lot of clothes
Clothing
Basics
Casual
Smart
Footwear
Toiletries
Beauty
Hygiene
Clothing
Basics
Casual
Outdoor
Footwear
Accessories
Toiletries
Medicine
Miscellaneous
Other
Toiletries
Beauty
Hygiene
Hair
Other
Medicine
Miscellaneous
Technology
Travel and Free time
Travel
Free time
Important
Documents
Money
Other locations close to this location:
Travelers' Map is loading...
If you see this after your page is loaded completely, leafletJS files are missing.
If you have any additions, or comments on the content on this page, please use our contact form to let us know.