Jamaica is an island country located off the North American coast situated in the Caribbean Sea. Part of the Greater Antilles, it is the third largest of them all, third in size to Hispaniola and Cuba. The island of Jamaica was originally inhabited by the Taino and Arawaks before falling under Spanish rule. A large number of slaves were brought in by the Spanish settlers where they worked on their sugar plantations. In 1655, the English took over the island from the Spanish and started exporting sugar in large quantities. The island has the third-largest population of the Americas and its people are a mixture of European, Indian, Sub Saharan Africans, East Asians, and a few other minority races. Evidence shows that the island has been inhabited by early humans since as far back as 4000BC although there is very little evidence of what their lives were like.
Despite its small size, the island has a lot of global influence especially in the entertainment industry, in sports like athletics and the Rastafari religion. This is part of what draws visitors to the island shores as they seek to partake in the island's amazing culture. An average of 4.3 million tourists visit Jamaica yearly
Why should people visit during the winter?
Jamaica is an amazing winter location for various reasons. It has some of the most amazing beaches in the world and great year-round weather. Besides its beaches, there are several historical and cultural attractions you can visit and learn more about the country's history. When you are done with your history lessons and appreciation of the diverse culture of the island, you can try your hand out at any of the outdoor activities the island has to offer. The landscapes are nothing short of breathtaking so even if you are simply going for a stroll, the view is enough to make it a special occasion. The Jamaican people are warm and welcoming in addition to being eager to share their home and culture with you, they make you feel at home all through your stay. The local cuisine has traveled worldwide but you can get a taste of the real deal during your trip to Jamaica in addition to the many colorful experiences you will find to be unlike any other place in the world.
Climate
Jamaica has a warm tropical climate that is stable year-round. Although the weather is mostly hot, it does drop a few degrees during the winter where it becomes a little cooler. The island has two major seasons which are the rainy and dry season. The rainy season lasts from April to October and it is usually muggy and hot.
\The dry season runs from November to March accompanied by the trade winds and the Norte which can make the air a bit cooler. The southern part of the island also sees less rainfall than the north and has fewer forests. During the winter months, the average daytime temperature is 27°C (81°F) and at night time it can drop to 20°C (68°F). the southern part of the island is also much warmer than the north. The winter period normally does not see hurricanes (the hurricane season is from June to November).

Safety
Grenada is generally considered one of the safer parts of the Caribbean, where other islands For snowbirds concerned about whether or not Jamaica is safe to visit, the island can be quite safe if you stay alert and take the necessary precautions. There are often cases of violence between rival gangs but they are mostly targeted at each other and tourists are not involved. Remember to keep your wits about you at all times and refrain from displays of wealth so you do not get targeted for muggings. Avoid dimly lit areas and stay away from lonely streets once it gets dark to avoid making yourself vulnerable. We also advise snowbirds to only travel with small bills and enough cash for a day. Keep your valuable items securely (preferably in a safe, at home) to avoid cases of petty theft. Also, remember to look at your doors and windows at night or when you step out and avoid walking around with your cell phone out.
Communication, Internet, and cellphone in Jamaica
Since Jamaica is part of the British commonwealth and was colonized by the British, the official language spoken is English. A large percentage of the population speaks English in addition to other minor languages so communicating with the people you meet will not be a major issue. The other language spoken in Jamaica is Jamaican creole or patois, another feature the country has which has transcended its borders. It borrows from the English language and a few west African languages. Many of the locals speak this as a first language (the majority of Jamaicans speak patois) and they are happy to explain everyday phrases to tourists. If you listen closely and practice a lot, you may pick up a few words quite quickly.
Check your own carrier about the roaming cost for Jamaica. Depending on your plan roaming can be very expensive, and in those cases, we advise winter visitors to purchase a local Sim card. You can purchase a local sim card from either flow or Digitel for around $10 (approx. €8, £7, $12 CAD, $12 AUD).
Snowbird locations in Jamaica
Port Antonio – travelers looking for a quiet and charming location can stay at the quaint town of Port Antonio. There are lots of attractions to explore and an abundance of beaches where you can relax. Nature lovers will especially click with Port Antonio as it leads to many of the island jungles.
Negril – snowbirds who want to spend all their time on the beach can dock at Negril as it has an excess of white sandy beaches and bright blue waters perfect for swimming in. There are also a number of bars and restaurants along the beaches where you can relax and enjoy a local cocktail or seafood special.
Treasure beach – although the area has some great beaches, it also covers an area that has stunning villages and four coves beneath them. It is less touristy than some other areas and a bit off the beaten track which affords you the opportunity to live like a local. The many bays in the area are also perfect for sunbathing and swimming.
Things to see in Jamaica
Dunns river falls – these terraced waterfalls are among the island's most recognizable natural attractions. The base of the falls is perfect for swimming and with the help of a local guide, you make climbing the tiers to the top of the falls an adventure.
Blue and John Crow Mountains National Park – this park is one of the UNESCO heritage sites located on the island. It was once a refuge where escaped slaves and the Taino people hid and it remains unspoiled to this day. There are waterfalls, forests, flora, and fauna like exotic animals like birds and butterflies plus hundreds of species of endemic plants.
The blue hole – located in Ocho Rios, these series of waterholes are bright blue in color and are fed by gushing cascades. Also known as the Irie Blue Hole or island gully falls, this attraction is straight out of a tourist's dream.
Rose hall – lovers of architecture and history will have a swell time exploring Rose Hall. Built-in 1771 Rose hall was a plantation house where the white witch Annie Palmer lived. The rooms are now decorated with period furniture and guided tours give you a chance to step back a few hundred years in time.
Falmouth – step back into Georgian times when you visit this incredibly well-preserved city. There are cattle lands and sugar estates all around the port town with restored buildings like its courthouse and the Greenwood Great House which has been converted into a museum and is now open for tours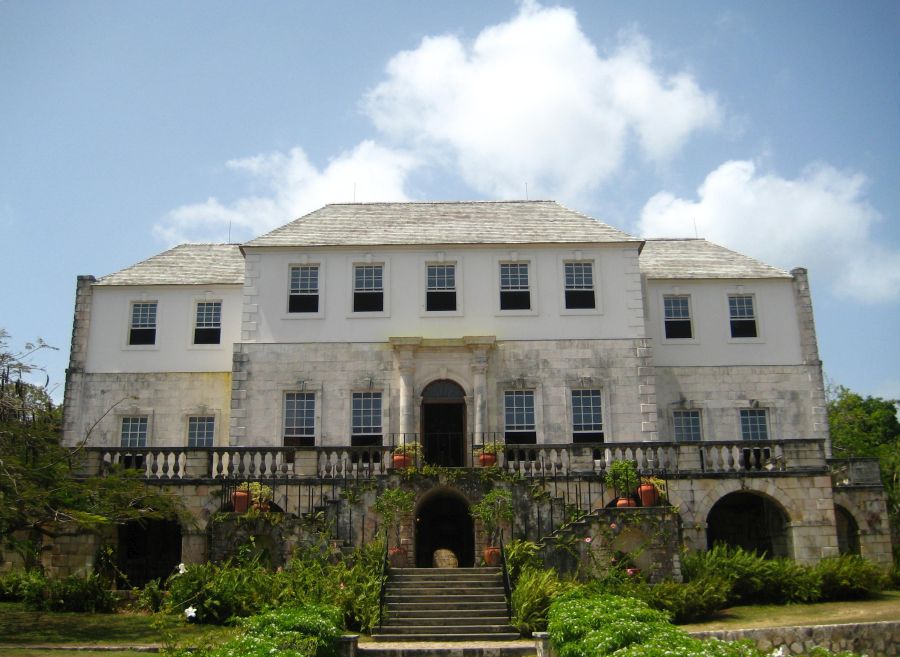 Activities in Jamaica during winter
Relax on the beach – there are so many beaches to choose from in Jamaica where you can relax, sip on a cocktail and sunbathe. When the sun sets you can enjoy a nice stroll on the beach or sit by any of the bars and restaurants for a delve into Jamaican nightlife.
Boat tours – there are a number of boat tours where you can catch a glimpse of the animals that live in the water or surrounding forests. Different species of birds like egrets and herons inhabit the mangrove areas along the rivers as well as crocodiles.
Bamboo rafting – you can choose to join your guard in propelling your raft forwards with a pole or simply sit back and listen as the guide explains some of the histories of how banana farmers used the rafts to transport their goods as far back as 1911.
Visit the Bob Marley museum – no tour of Jamaica would be complete without visiting the home of the reggae legend Bob Markey. The former home of the "One Love" crooner is now a museum with his personal treasures on display and gift shops where you can buy Bob Marley paraphernalia.
Shopping + Restaurants. Are they open in the winter?
Since the weather remains warm and stable year-round, the shops and restaurants do not close during the winter. There are a number of modern malls where you can buy clothes and other items from chain retail stores. There are also shops and supermarkets where snowbirds can buy everyday items like hygiene products. Tour the local markets for handcrafted items like scarves, artwork, and wooden carved items. Vendors will also approach travelers with snacks or services like hair braiding.
There are a number of elegant restaurants in Jamaica where you can have secluded private dinners. Most of these establishments serve continental dishes as well as local favorites. For a real taste of local cuisine, you can try any of the smaller restaurants or food stalls. We recommend trying some goat curry, rice, and peas as well as oxtail.
Transport
There are multiple airports in Jamaica and the most frequently used for international flights is the Montego Bay Sangster International Airport. From the airport, you can take a taxi or minibus into your preferred city.
Taxis are available and the most recommended form of getting around the island. They are safe and they usually have red and white license plates. You can flag one down by the road and agree on a price before starting the trip. Shared taxis with fixed stops are also popular on the island.
Buses are also available and they are much cheaper than taxis however they are unreliable and most of them are in poor condition. Buses can also be unsafe for tourists.
Rental cars are also available however they can be a difficult choice for snowbirds as the roads are in poor condition and local drivers can be reckless. The road signs also aren't very helpful.
Health
Healthcare in Jamaica is state-sponsored although it is limited and unreliable in most places because of mismanagement and lack of enforcement of laws. The best healthcare can be found in Montego Bay and Kingston. There are few private clinics on the island that are better equipped than publish hospitals with more medical supplies and more professionally inclined staff. The doctors are well trained and speak English so communication will not be a tough process. Snowbirds are advised to travel with comprehensive travel insurance that will cover medical costs and to patronize only private hospitals and clinics while staying in Jamaica.
Accommodation
There are many short stay apartments and sublets available in Jamaica. These apartments can be found on property rental sites like Airbnb amongst others. Renting a fully furnished apartment with a kitchen in Jamaica will cost around $946 (approx. €778, £692, $1202 CAD, $1227 AUD) in an inexpensive area.
Packing List
Weather: The winter weather in Jamaica will normally be hot during the day and hot/warm during the night. You have to pack accordingly.

Warm clothing: Even when you go to a warm location like Jamaica you should not forget to take some things with you for your trip back home. When you return you are adapted to the warmer weather and need something to protect you from your hometown temperatures.

Consider the Weather: Always look at the type of weather in Jamaica. Things like humidity, wind, and rain do not show up in the temperature graph but can have a great impact on your wardrobe. There are several sites with long term forecasts and climate information. Is there often a short afternoon downpour like in the tropics, you maybe need to take a strong umbrella and shoos that can cope with the rain. If there is often a lot of wind you might need a more wind-resistant coat.

Check the local Shopping options: Try to find information about the local shopping options near your location in Jamaica. Are there stores where you can buy all your daily supplies, or are some things difficult to get? For some more remote locations, the options can be limited. If a certain item is really important for you might need to take it with you.

Look at the Local Culture: The local culture in Jamaica can impact your wardrobe. If most activities are in more upscale locations you might take some more appropriate clothes with you. Or travelling if you travel to certain countries women need to cover themselves in certain areas.

Amenities: Know what's Included in your house or apartment. Is there a coffee maker, a toaster, a washer and dryer, an iron, what is in the kitchen, what kind of towels are there? Things that are there means you do not have to take them with you. A furnished apartment or house can mean something from a few pieces of furniture to a well-stocked place with all the things you have at home. But most of the time your rental will not be stocked.

Mix and match: Wear layers so you can use your wardrobe more efficiently. And do not worry about wearing something more often, probably only you will notice this.

Important for you: If there is something that is really important for you that you want to have present in your house or apartment, take it with you. This can be something like a special knife for the kitchen, or a small mirror that you use in the morning. You can also purchase it locally if it is not that expensive.

Pet supplies: If you take your pet with you don't forget to take supplies for a few days with you. And enough medication, vitamins, or other supplies if you can not purchase them in Jamaica locally.

Food: Don't take a lot of food with you. Only when there is something you really can not live without you, and it is not too heavy you could consider taking it with you.

Towels: Not all locations include bigger towels for the swimming pool or a visit to the beach. If you have to take them and don't have a lot of room you can buy some big thin towels.

Office supplies: Normally you will not find any office supplies in your house or apartment. If you think you will use them you could pack some supplies like a scissor, notepaper, envelopes, some pens, and more depending on your needs.

Limit yourself: Don't take too many shoes and jackets, you will not need them that often.

Best-fitting: Bring your favorite and best-fitting items that can multi-function

Washer: Do you have a washer and dryer onsite, you don't need to pack a lot of clothes
Clothing
Basics
Casual
Smart
Footwear
Toiletries
Beauty
Hygiene
Clothing
Basics
Casual
Outdoor
Footwear
Accessories
Toiletries
Medicine
Miscellaneous
Other
Toiletries
Beauty
Hygiene
Hair
Other
Medicine
Miscellaneous
Technology
Travel and Free time
Travel
Free time
Important
Documents
Money