The city of St. Petersburg is located on the gulf coast of Florida, and it is part of the Tampa Bay area. People call it the 'Sunshine City' because of its warm climate and many sunny days. This city is home to some of the most spectacular, award-winning beaches, the place is full of opportunities and interesting cultural sights to visit as well. The famous Salvador Dali Museum is also one of the attractions in the area.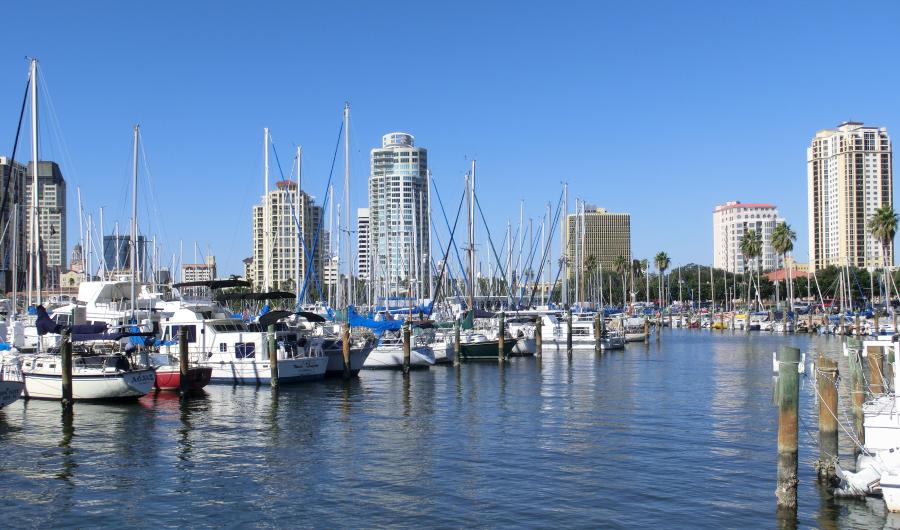 Why should people visit during the winter?
St. Petersburg is a popular spot for visitors who come to enjoy the various amenities in winter because of its friendly weather. This city is loaded with all kinds of facilities as it is populated with parks, beaches, restaurants, shopping centers, and much more along with its perfect weather. And not forget the Salvador Dali Museum. Enough to have a wonderful time there in the winter.
Climate
The warm, breezy climate of St. Petersburg makes it an ideal destination for snowbirds who come around in winter to escape the harsh weather back home. The town is located 13 meter (43 feet) above sea-level and the winter there is short, windy, and partly cloudy. The average temperature stays around 56°F - 89°F (13°C - 32°C) throughout the year. The winter period normally does not see hurricanes (the hurricane season is from June to November).

Things to see in St. Petersburg
St. Petersburg is filled with opportunities and interesting sights:
Salvador Dali Museum: Holds the largest collection of Salvador Dali's work outside of Spain. The architecture is impressive and the museum itself holds an outstanding collection of Dali's entire artistic career.
Fort De Soto Park: Lies at the mouth of Tampa Bay and it is an important tourist destination in the area. The park offers numerous amenities including fishing piers, camping, hiking, sunset viewing, etc.
Sunken Gardens: What once started as a small private garden, today features one of the most amazing collections of rare tropical plants and floras from all over the world. Visitors like to come by and admire the beautiful layout and amenities of the garden.
Museum of Fine Arts: An important museum in the area which features over 20,000 works of art over 5,000 years. You will find historic artwork by the Romans, Greeks, Asians, Africans, and also Americans. The place is a must-visit.
Weedon Island Preserve: A famous place for visitors who come by to enjoy the numerous amenities offered here. You can spend your time fishing on the piers, walking through the tidal flats, or bird-watching. There are many other facilities available and you can enjoy a delightful day here.
Things to see not far from St. Petersburg
There are many neighboring towns and places near St. Petersburg that are worth a visit:
Clearwater Beach: Located 25.5 Miles (41 km) from St. Petersburg, this is the most popular beach in America. The white sandy beach stretches out for miles and it is famous for its breathtaking views. It is a famous spot for a perfect beach day and it offers many attractions to visitors.
St. Pete Beach: Located in the outskirts of the city 8.6 Miles (14 km) from St. Petersburg), the island is home to several award-winning beaches. It is well maintained and dearly loved by many visitors who come to enjoy a nice warm day in the sand.
Sand Key Park: Located at a distance of 26.3 Miles (42 km) from St. Petersburg. The park is a habitat for sea turtles and many people come here for bird watching. It also has a really nice beach.
Palm Harbor Museum: Located 25.5 Miles (41 km) from St. Petersburg, the museum contains a variety of exhibits on the history of the Palm Harbor, Crystal Beach, and the Ozona as well as Curlew communities.
Florida Botanical Gardens: Located 19.5 Miles (31 km) from St. Petersburg. Home to flora, fauna, and natural resources showcased in the surroundings which promote environment-friendly approaches and techniques.
Activities in St. Petersburg in the winter
You can actively participate in many activities in St. Petersburg:
Ferry Rides: Many people take the ferry to visit nearby towns. The ride is cheap and you get to see the surrounding areas and admire the beauty of the sea.
Saturday morning market: Held every Saturday in downtown St. Petersburg. A great place to shop for fresh produce and enjoy the lively atmosphere of the town. It is the best place to be on a Saturday morning.
Beaches: St. Petersburg is home to some of the most impressive beaches all over the world. Perfect place to enjoy the weather and beautiful views.
St. Petersburg Shuffleboard Club:
Golf: St. Petersburg offers numerous golf courses within the city and it provides the perfect opportunity to enjoy a nice game of golf. Visit www.golfstpete.com/ for more information.
Festivals: Visitors can enjoy the events and festivals held at St. Petersburg throughout the year. John's Pass Seafood Festival and Clearwater Jazz Holiday are important festivals in winter.
Fishing: St. Petersburg provides an amazing fishing experience for visitors. There are many fishing sites and you can enjoy both shore and boat fishing.
Cuisine: The city offers a variety of food from both local and international cuisines.
Walking/Cycling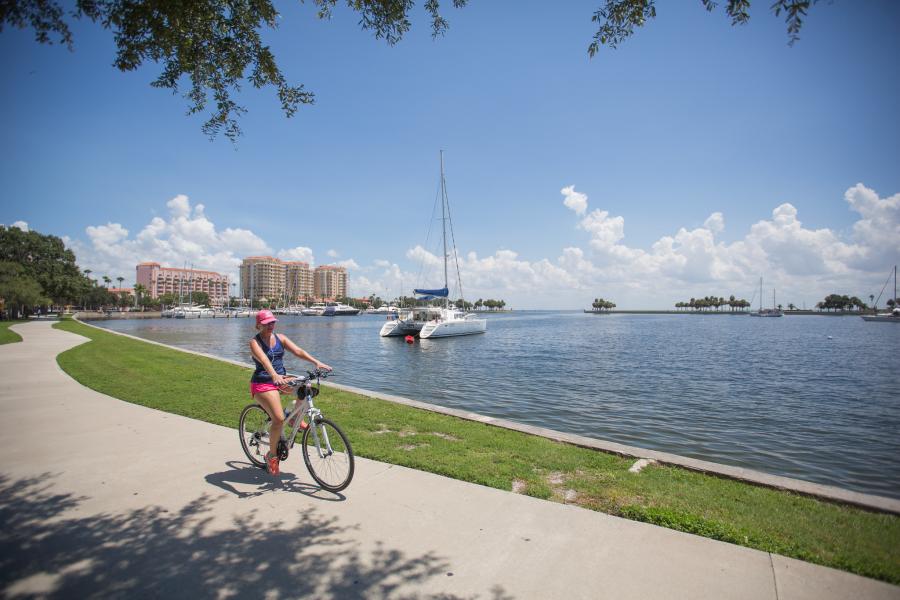 Shops & Restaurants: Are they Open in winters?
You will never run out of options in winter when it comes to shopping in St. Petersburg. The town is loaded with shops and marketplaces that can fulfill all your shopping desires. From open markets and thrift shops to branded stores and artsy markets, the city has never-ending options available for you. The most common market place in the area is the Saturday morning market where many people like to enjoy the lively atmosphere and shop for the basic necessities. There are also has a number of supermarkets and shopping malls in the city.
St. Petersburg offers a wide range of restaurants to choose from, and most of the local restaurants offer quality food in good value for money. If you are a visitor, you must try the grilled cheese sandwiches, a popular food choice among the locals and tourists.
Transport
The nearest Airports to St. Petersburg are the St. Pete-Clearwater International Airport (PIE) 13 Miles (21 km) from the city center) and Tampa International Airport (TPA) 22 Miles (35 km) from the city center). You can either take the shuttle service (most recommended and feasible) or take a cab to your destination.
If you want to travel by bus, multiple bus services operate in the region. You can take the Suncoast Beach Trolley (PSTA) service and go wherever you want. This bus service is convenient and comfortable. You can easily move about the area both locally and regionally at affordable rates. The city has its bus station along with multiple bus stops and you can easily find their routes and schedules online at www.checkmybus.com/.
The city does not have its train station. The nearest Amtrak Auto Train Station is located in Tampa and it can be used for regional travels.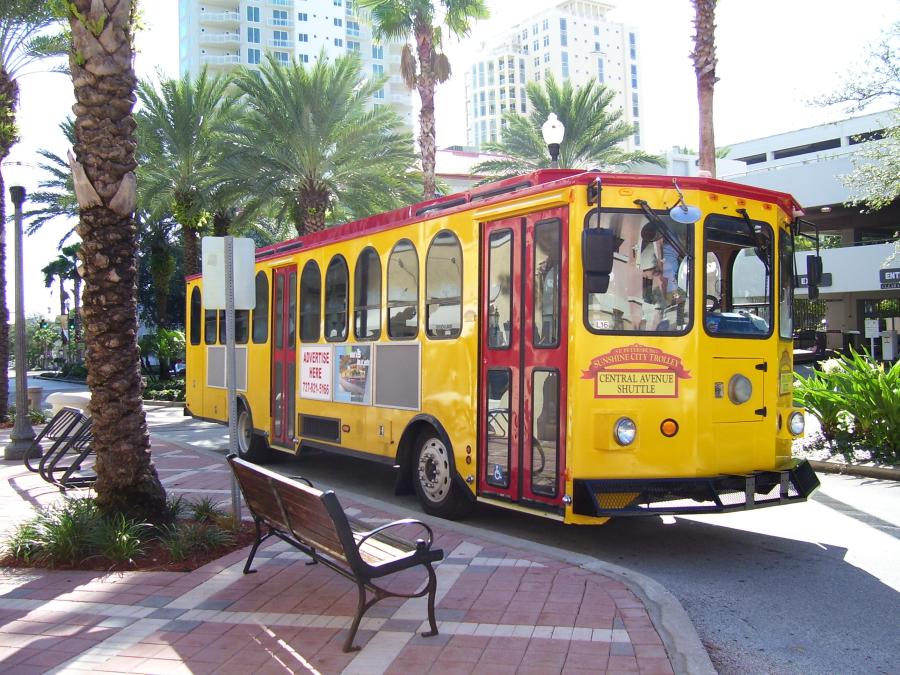 Health
St. Petersburg has some of the best medical facilities available in the area, including public and private healthcare centers. The medical staff is extremely professional and they cater to anyone who walks in with a problem. If you are residing in the city, you will not have any problem reaching the hospital, and emergency cases are also handled there. The main medical centers in the area include:
Accommodation
St. Petersburg is a perfect place to find your winter home. Whether you're looking for an apartment or a villa, you can find the perfect place to stay by using one of the following sites: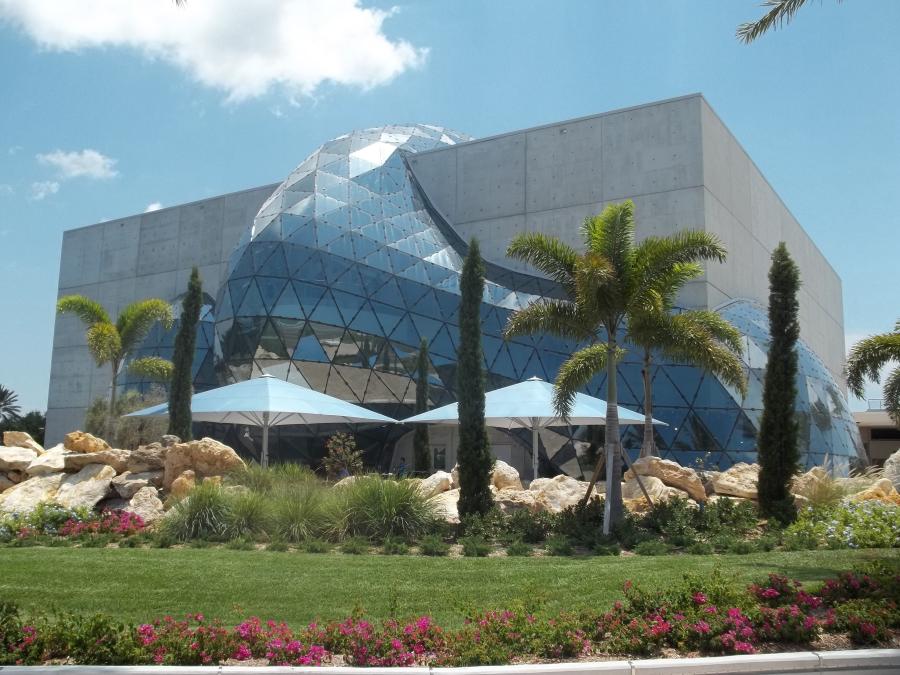 RV/Campers/Motorhome
If you are traveling in a campervan, there are some great parking spots present in the area which you can visit. These include:
Robert's Mobile Home and RV Resort: Located 8.3 Miles (13 km) away from the main city. The campsite is popular for its southern hospitality and endless amenities. Many people from nearby towns come here for the perfect camping experience. The place is common among the elderly visitors as it provides a comfortable setting at affordable rates and it is easily accessible. You can find more information here at https://robertsrv.com/.
St. Petersburg/Madeira Beach Resort KOA: Another great option for campers with multiple conveniences and easy access. Located 10.5 Miles (17 km) from the city. Find more about the site on https://koa.com/
Clearwater RV Resort (www.clearwaterrvresort.com/)
Packing List
Weather: The winter weather in St. Petersburg (Florida) will normally be warm during the day and can be cold during the night. You have to pack accordingly.

Warm clothing: Even when you go to a warm location like St. Petersburg (Florida) you should not forget to take some things with you for your trip back home. When you return you are adapted to the warmer weather and need something to protect you from your hometown temperatures.

Consider the Weather: Always look at the type of weather in St. Petersburg (Florida). Things like humidity, wind, and rain do not show up in the temperature graph but can have a great impact on your wardrobe. There are several sites with long term forecasts and climate information. Is there often a short afternoon downpour like in the tropics, you maybe need to take a strong umbrella and shoos that can cope with the rain. If there is often a lot of wind you might need a more wind-resistant coat.

Check the local Shopping options: Try to find information about the local shopping options near your location in St. Petersburg (Florida). Are there stores where you can buy all your daily supplies, or are some things difficult to get? For some more remote locations, the options can be limited. If a certain item is really important for you might need to take it with you.

Look at the Local Culture: The local culture in St. Petersburg (Florida) can impact your wardrobe. If most activities are in more upscale locations you might take some more appropriate clothes with you. Or travelling if you travel to certain countries women need to cover themselves in certain areas.

Amenities: Know what's Included in your house or apartment. Is there a coffee maker, a toaster, a washer and dryer, an iron, what is in the kitchen, what kind of towels are there? Things that are there means you do not have to take them with you. A furnished apartment or house can mean something from a few pieces of furniture to a well-stocked place with all the things you have at home. But most of the time your rental will not be stocked.

Mix and match: Wear layers so you can use your wardrobe more efficiently. And do not worry about wearing something more often, probably only you will notice this.

Important for you: If there is something that is really important for you that you want to have present in your house or apartment, take it with you. This can be something like a special knife for the kitchen, or a small mirror that you use in the morning. You can also purchase it locally if it is not that expensive.

Pet supplies: If you take your pet with you don't forget to take supplies for a few days with you. And enough medication, vitamins, or other supplies if you can not purchase them in St. Petersburg (Florida) locally.

Food: Don't take a lot of food with you. Only when there is something you really can not live without you, and it is not too heavy you could consider taking it with you.

Towels: Not all locations include bigger towels for the swimming pool or a visit to the beach. If you have to take them and don't have a lot of room you can buy some big thin towels.

Office supplies: Normally you will not find any office supplies in your house or apartment. If you think you will use them you could pack some supplies like a scissor, notepaper, envelopes, some pens, and more depending on your needs.

Limit yourself: Don't take too many shoes and jackets, you will not need them that often.

Best-fitting: Bring your favorite and best-fitting items that can multi-function

Washer: Do you have a washer and dryer onsite, you don't need to pack a lot of clothes
Clothing
Basics
Casual
Smart
Footwear
Toiletries
Beauty
Hygiene
Clothing
Basics
Casual
Outdoor
Footwear
Accessories
Toiletries
Medicine
Miscellaneous
Other
Toiletries
Beauty
Hygiene
Hair
Other
Medicine
Miscellaneous
Technology
Travel and Free time
Travel
Free time
Important
Documents
Money