Spend your fall, winter, or spring in The Caribbean, Is The Caribbean a good snowbird location?
The Caribbean is a region of the Americas around the Caribbean sea, that consists of islands and surrounding coasts. The Bahamas, Belize, Barbados, Cayman Islands, Jamaica, Haiti, Puerto Rico, Cuba, and Trinidad & Tobago are some of the island countries that make up the Caribbean. The region depends largely on tourism. The languages spoken are English, French, Spanish, Dutch, Chinese, and other indigenous languages. The whole region sees a lot of winter visitors due to the nice weather and beautiful locations.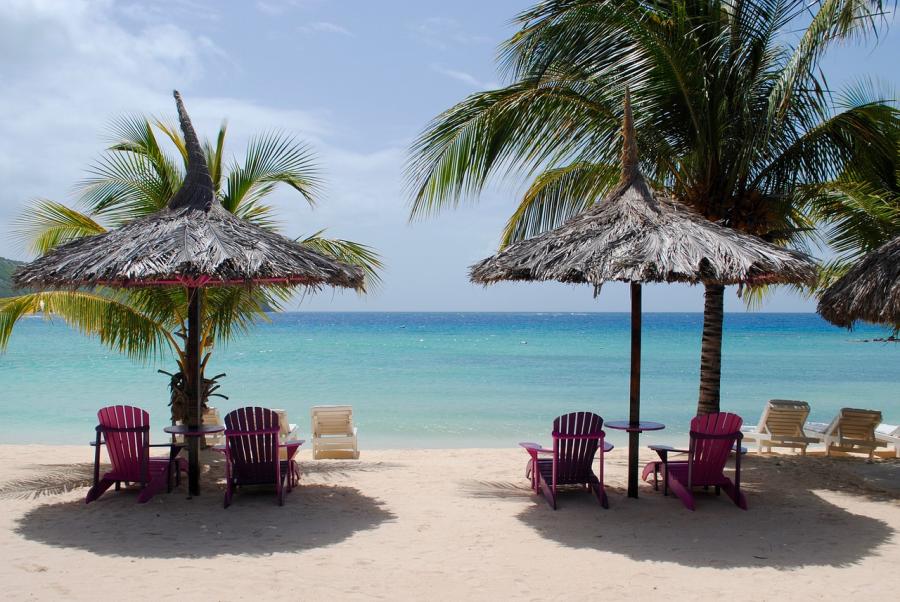 Why should people stay in The Caribbean during the fall, winter, or spring?
The region enjoys a tropical climate almost all year round. Apart from the favorable climate, many snowbirds are attracted to the Caribbean for its fun activities like scuba diving, snorkeling on coral reefs, sailing, cruises, game fishing, wildlife reserves, cycling, horseback riding, cave visits, parks, gardens, beautiful bright colored carnivals, reggae, and cricket.
It is easy to move around the islands by vehicles, but helicopter & airplane tours are also popular. Caribbean cuisine also has a great appeal to snowbirds looking to explore with their taste buds. As tourists, it is easy to get accommodation in the island countries, and depending on your budget, you can rent a home that overlooks lush vegetation or the ocean. Healthcare is also above par in many of the countries in the Caribbean region.
Climate
The Caribbean's is a tropical location. Due to the size of the whole reagion the weather can differ a lot from island to island. The average temperatures are usually around 80°F (27°C), typically not going below 60°F (16°C) or above 100°F (38°C).

Safety in The Caribbean
There is a danger of hurricanes in the region (June until November), so snowbirds could get insurance before their trip. Local crime also exists at some locations. Snowbirds should avoid walking around with too much money that is immediately needed and should have company when visiting remote areas or driving to locations. It is also good to make sure people know where you are heading.
Communication, internet, and cellphone in the Caribbean
The Caribbean is a multi-lingual region, so you may come around people speaking French, Dutch, or even Chinese. However, English is popular among the locals of the Caribbean even though in some countries like Jamaica, they have their pidgin styled English. Communication won't be too difficult.
All major hotels and resorts will have an internet connection. In many places, you will find an internet cafe as well. Using your mobile phone for calls and the internet can be expensive due to the roaming charges. It is advised to purchase a local Sim card.
Wintersun Locations in The Caribian
Turks and Caicos Islands: Several islands on the east side of The Bahamas. A perfect spot for beaches with many tiny islets and a laid-back atmosphere.
St. Lucia: Beautifull beaches and an almost 1 km (0.6 Miles)

high peak. Visit the Pidgeon Island National Park and the British from the Seven Years' War.

Jamaica: Powdery white sand beaches with the Seven Mile Beach, the Negril Cliffs, and in the east the Blue Mountains. See the birthplace of Bob Marley (Nine Mile), or visit one of the many rum bars of Kingston.
Antigua and Barbuda: Antiqua is the more populated island and part of the British Commonwealth. The capital St. John's has a nice port with lots of shops and restaurants. Visit the Shirley Heights Lookout with a nice view over the island and beaches.
Dominican Republic: The larger half of one of the biggest Caribbean islands. With the beautiful coast of Cibao and the rugged cliffs of Los Haitises or the warm sea at Punta Cana in the east.
Puerto Rico: Puerto Rico is a larger Caribbean island and a U.S. territory. You will find tropical rainforests, mountains, waterfalls and beautiful beaches. San Juan is the capital and the old San Juan has many colorful colonial buildings from the Spanish time. Also, visit the El Morro and La Fortaleza centuries-old fortresses.
Barbados: One of the eastern Caribbean islands, part of the British Commonwealth. The capital Bridgetown has nice colonial buildings, and around the island, you will find many nice beaches.
The Bahamas: Not even 70 Miles (113 km)

from the Florida coast you will find the many islands of The Bahamas. From the busy Nassau to the beaches of Long Island or the ecotourist destination of Grand Bahama, there is a place for everyone.

St. Martin: The island that is cut in half in a Dutch and French side, Sint Maarten and Saint-Martin. A year-round destination with nice beaches that has a nice mix of French and Dutch culture.
Grenada: Also called the Spice Island due to the many nutmeg plantations, with its colorful capital St. George's with its Georgian buildings. Visit Fort George, build in the early-18th-century that overlooks the entrance to the harbor.
Trinidad and Tobago: Just a few miles from the Venezuelan coast, the two islands of Trinidad and Tobago are different than most other Caribbean islands due to its oil industry. Tourism is less developed, but that does not mean it is not a worthwhile snowbird destination. The largest island Trinidad has beautiful beaches and a bird sanctuary, or visit the quieter island of Tobago.
Guadeloupe: Guadeloupe is a French overseas region (you pay with Euros), and contain 2 larger islands (Basse Terre and Grande Terre) separated by the Salée River. You will find sugarcane fields, long beaches, and the Parc National de la Guadeloupe with the volcano La Grande Soufrière and the Carbet Falls.
Cayman Islands: The Cayman Islands are a British Overseas Territory, and consists of 3 islands, with Grand Cayman being the biggest. The islands are known for there gorgeous beaches, colonial forts, snorkeling, scuba diving, fishing trips, and contain there are many beach resorts.
US Virgin Islands: Two big (Saint John and Saint Thomas) and several smaller islands, known for white-sand beaches and reefs. Yachters paradise with aquamarine water.
British Virgin Islands: The islands are a British overseas territory, and consists of 4 bigger islands and several smaller ones and are of a volcanic archipelago. Similar to its neighbor, the US Virgin Islands, it has spectacular beaches and is a yachting destination. Tortola, the biggest island contains the capital, Road Town, and the Sage Mountain National Park.
St. Vincent and the Grenadines: This more southern Caribian island (and some small islands) is an important sailing destination. The island contains tropical forests with waterfalls, a harbor filled with yachts, and white-sand beaches. The island sees fewer tourists than its neighbor in the north, St. Lucia.
St. Barts: This French-speaking Caribbean island is also known as Saint Barthelemy, and is seen as a more up-class Caribbean destination. It is famous for the white beaches, luxurious beach resorts, good restaurants, and exclusive boutiques, but it is also for lower budgets an interesting location. In the capital, Gustavia, you will find many private yachts and historical attractions like the Wall House.
St. Kitts and Nevis: St. Kitts and Nevis are two islands just over a mile apart. Saint Kitts, the largest island contains the dormant volcano Mount Liamuiga with a crater lake, volcanic hills, rainforest, and at the coast you find The many hiking trails can bring you You can visit the crater lake, green vervet monkeys and rainforest crisscrossed with hiking trails. Both islands are a perfect snowbird destination.
Montserrat: This British Overseas Territory is well known for the Soufrière Hills volcano that erupted in 1995 and covered most of the capital Plymouth. The people moved to the safe side of the island, in the north. There you will find black sand beaches. The south of the island is now an exclusion zone.
Martinique: Martinique is an overseas region of France, and you will find a mixture of French and West Indian cultures. The capital, Fort-de-France, has narrow streets with shops and cafes. In La Savane Park, you will find a statue of the first wife of Napoleon Bonaparte that was born in Martinique, Joséphine de Beauharnais. The hilly island contains many beautiful beaches.
Curaçao: The biggest Island of the former Dutch colonies is just north of Venezuela and close to Aruba and Bonaire. It is less dependent on tourists than most other Caribbean islands due to its oil refinery. The capital Willemstad is less touristic than other parts of the island and a UNESCO World Heritage Site with its colorful buildings and several museums. Curaçao has nice beaches, former colonial buildings, a nature park, and nice sunny weather.
Aruba: Just north of Venezuela lays Aruba, the original Dutch colony with steady and warm weather with 300 days of sun and usually a nice refreshing breeze. A perfect place for snowbirds.
Things to see in The Caribbean
For every snowbird with individual taste or interest, there is something to see on every island, a few suggestions are:
Viejo San Juan: Located in Puerto Rico, Viejo San Juan is a 16-century fort. It also has cocktail bars within the fort.
Bavaro: Bavaro is located in the Dominican Republic. It is known for its beach resorts, golf courses, palm trees, clear ocean water, and amazing coral reef.
Dunn's River Falls & Park in Jamaica features a waterfall and a scenic beach.
Maho Beach: This popular beach in Saint Martin. What makes it popular is the attraction of planespotting. At this beach, planes fly so low overhead as they descend to land in the airport behind the beach.
Bahia Bioluminiscente in Puerto Rico: This is a scenic bay with glowing organisms that tourists can experience in the night as they paddle along in a boat.
Bob Marley Museum in Jamaica: The home of Reggae legend. Tourists get to see stuff like his guitar, posters, and other memorabilia.
Bequia: This is a tropical island famous for turtle sighting.
Harrison's Cave in Barbados: This is a limestone cave with flowing streams and pools.
Green Grotto Caves in Jamaica.
Activities in The Caribbean in the fall, winter, or spring
The Caribbean is a hub of activities and there is hardly ever a dull moment. There are many activities snowbirds can enjoy, such as:
Street Carnivals: The Caribbeans are world-famous for their brightly colored carnivals of dancing, decorations, and music.
Tours to historic plantation houses, distilleries, and sugar mills.
Cycling: If the island is flat enough you can enjoy scenic rides across the tropics.
Golfing: Fans of Golf can get to try out some golf courses.
Fishing: Thanks to the surrounding oceans, snowbirds can enjoy fishing activities.
Snorkeling
Cruise trips: Sail through the Caribbean and see surrounding islands and scenic experience.
Shopping.
Swim with Pigs in the Bahamas.
Food tasting: Enjoy local delicacies and experience the Caribbean through its food.
Plane spotting, particularly the spectacular airport in Sint Martin.
Shopping + Restaurants. Are they open in the fall, winter, or spring?
Shopping in the Caribbean can be a thrill, with affordable stuff to buy and many options for shops to visit. However, there are some locations that are considered some of the best in terms of shopping: Aruba, Barbados, Dominican Republic, Haiti, St. Martin, Jamaica, and St. Kitts.
The restaurants also have so much to offer in terms of local and international cuisines. Dining in some areas can also be cheaper than you would expect. Some of the delicacies Snowbirds could try are Callaloo, Aukee & Catfish, Goat curry, mofongo, fried plantain, Rum, Jamaican Patty, Rice & Beans, Coconut Rice, Gallo Pinto, Pina Colada, Ropa vieja, Mojitos, Sugarcane juice, Teppanyaki, etc.
Transport
It is very easy to choose a mode of transportation to and around your Caribbean location. With so many things to see and exciting things to do, you simply have to pick a travel style that fits into your plans.
For a quick trip, air travel is the best option. A great number of major airline carriers operate regular flights to the Caribbean from various departure points around the world.
Some larger islands in the Caribbean like Jamaica and Belize operate domestic flights to move around easily, while smaller Islands do not need it, or are so small you can almost walk to most locations. In the Bahamas, such commuter flights are useful if you intend to visit more than one island a day in the area. Although these domestic flights can be expensive, they save you time and allow you to experience a lot during your stay.
Traveling through boats is another option for moving around. You get to experience as much of the Caribbean as possible and it can be cheap or expensive depending on the kind of boat, ferry, or ship you use.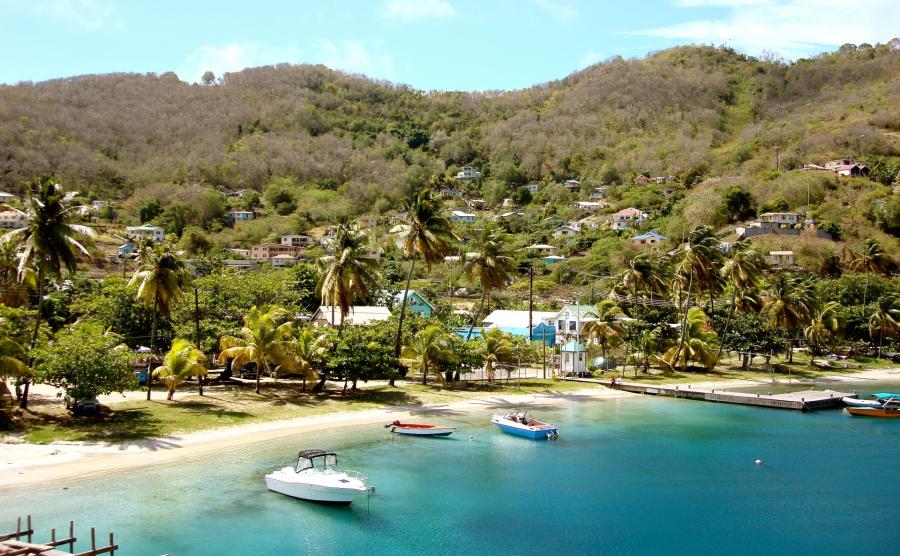 You could also get to drive around in a bus, car, or train.
You could easily rent a car and begin your adventure if you have your driver's license from your home country. However, in a few places like Bermuda, tourists are not allowed to drive.
The roads within major cities are good, but as you travel out of town, you will encounter dirt roads, potholes, and animals sharing the patch of road. Driving or hiring cars won't be recommended in these areas.
Taxis are widely available in most countries in the Caribbean. You could easily find one on the streets or order a cab from local companies. These cab services are convenient but could be expensive, especially if your driver is also being your tour guide. Taxis may be hard to tell apart from regular cars, but you can tell a cab from a regular vehicle by the license plates.
Buses are the most affordable means of transportation and they're usually available to get you to various locations.
Some countries have few railway systems, but they either do not connect two countries or they are barely functional. However, St. Kitts, Barbados & Puerto Rico are some of the countries that have functional rail systems.
Health
Most countries in the Caribbean boast very high healthcare standards. The medical facilities in Barbados for example, provide high levels of care in the English-speaking Caribbean region.
Each country has its public & private medical facilities and it is quite easy to find English-speaking doctors & staff. Only on Frech spoken islands, this can be a little bit more difficult.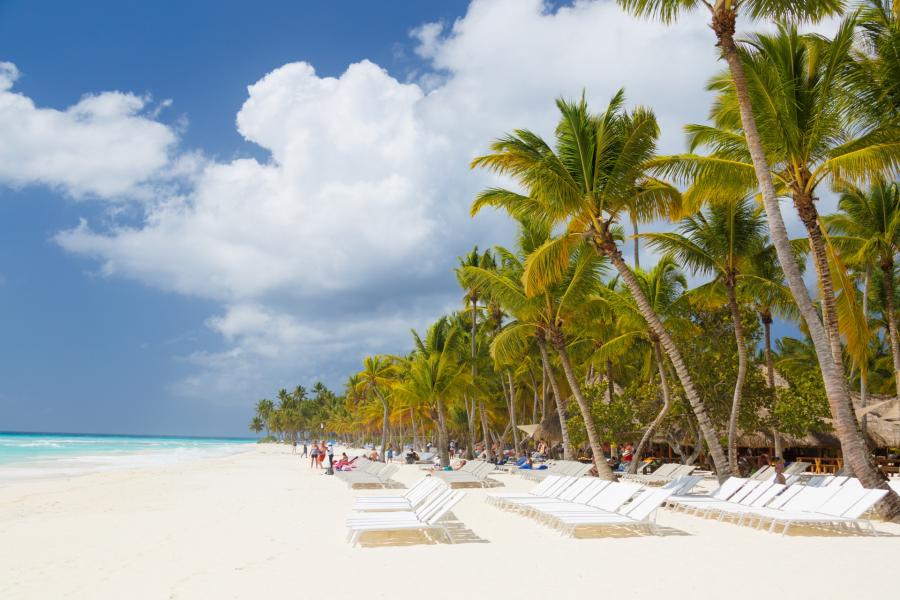 Accommodation
You could find affordable accommodation easily in the Caribbean. Some of these housing options have perks like being pet friendly, free wifi, pool available, or they have amazing views. They are usually fully furnished
Monthly rent for a single bedroom apartment could start at about €320 (approx. $335, £277, $458 CAD, $527 AUD) or $350 (approx. €333, £288, $478 CAD, $549 AUD)
And for more bedrooms, the rent goes from €400 (approx. $419, £346, $573 CAD, $658 AUD) upwards. The rent usually depends on the country or the location within a country. For more information or booking, you can check LongTermLettings.com.
Packing List
Weather: The fall, winter, and spring weather in The Caribbean will normally be warm during the day and warm during the night. Of course in the fall and spring it will be warmer than in the winter. You have to pack accordingly.

Warm clothing: Even when you go to a warm location like The Caribbean you should not forget to take some things with you for your trip back home. When you return you are adapted to the warmer weather and need something to protect you from your hometown temperatures.

Consider the Weather: Always look at the type of weather in The Caribbean. Things like humidity, wind, and rain do not show up in the temperature graph but can have a great impact on your wardrobe. There are several sites with long term forecasts and climate information. Is there often a short afternoon downpour like in the tropics, you maybe need to take a strong umbrella and shoos that can cope with the rain. If there is often a lot of wind you might need a more wind-resistant coat.

Check the local Shopping options: Try to find information about the local shopping options near your location in The Caribbean. Are there stores where you can buy all your daily supplies, or are some things difficult to get? For some more remote locations, the options can be limited. If a certain item is really important for you might need to take it with you.

Look at the Local Culture: The local culture in The Caribbean can impact your wardrobe. If most activities are in more upscale locations you might take some more appropriate clothes with you. Or travelling if you travel to certain countries women need to cover themselves in certain areas.

Amenities: Know what's Included in your house or apartment. Is there a coffee maker, a toaster, a washer and dryer, an iron, what is in the kitchen, what kind of towels are there? Things that are there means you do not have to take them with you. A furnished apartment or house can mean something from a few pieces of furniture to a well-stocked place with all the things you have at home. But most of the time your rental will not be stocked.

Mix and match: Wear layers so you can use your wardrobe more efficiently. And do not worry about wearing something more often, probably only you will notice this.

Important for you: If there is something that is really important for you that you want to have present in your house or apartment, take it with you. This can be something like a special knife for the kitchen, or a small mirror that you use in the morning. You can also purchase it locally if it is not that expensive.

Pet supplies: If you take your pet with you don't forget to take supplies for a few days with you. And enough medication, vitamins, or other supplies if you can not purchase them in The Caribbean locally.

Food: Don't take a lot of food with you. Only when there is something you really can not live without you, and it is not too heavy you could consider taking it with you.

Towels: Not all locations include bigger towels for the swimming pool or a visit to the beach. If you have to take them and don't have a lot of room you can buy some big thin towels.

Office supplies: Normally you will not find any office supplies in your house or apartment. If you think you will use them you could pack some supplies like a scissor, notepaper, envelopes, some pens, and more depending on your needs.

Limit yourself: Don't take too many shoes and jackets, you will not need them that often.

Best-fitting: Bring your favorite and best-fitting items that can multi-function

Washer: Do you have a washer and dryer onsite, you don't need to pack a lot of clothes
Clothing
Basics
Casual
Smart
Footwear
Toiletries
Beauty
Hygiene
Clothing
Basics
Casual
Outdoor
Footwear
Accessories
Toiletries
Medicine
Miscellaneous
Other
Toiletries
Beauty
Hygiene
Hair
Other
Medicine
Miscellaneous
Technology
Travel and Free time
Travel
Free time
Important
Documents
Money
Other locations close to this location:
Travelers' Map is loading...
If you see this after your page is loaded completely, leafletJS files are missing.
If you have any additions, or comments on the content on this page, please use our contact form to let us know.