Spend your fall, winter, or spring in Yuma, Arizona: Is Yuma a good snowbird location?
Yuma is located near the Colorado River and has developed itself into a metropolitan city. The first establishers of Yuma were the Native Americans. The city was a gateway to California for the Southern Emigrant Trail, and it was one of the very few natural spots to cross the very wide Colorado River by ferry. Yuma is very close to the Mexican border and is full of life, you can find many spots for entertainment there. The place has a rich culture and heritage that is deeply rooted in its history.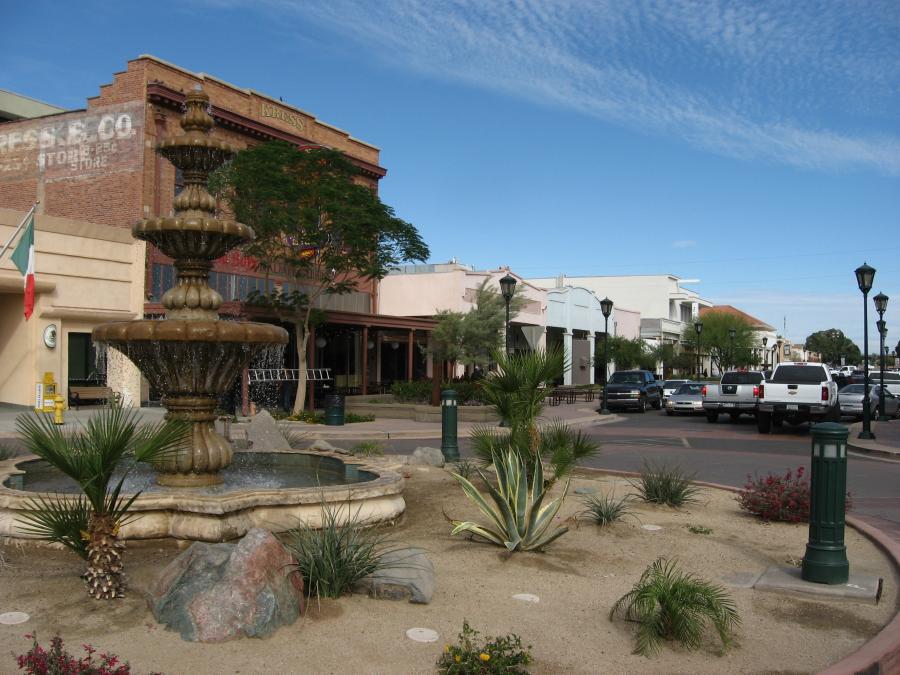 Why should people visit during the fall, winter, or spring?
Yuma is a good place to visit during the winter. All the recreational areas, shops, and restaurants are open, and the city never really loses its bustle. It is located in a desert, the days are very sunny and you can enjoy the warmth while strolling around the city, exploring the exquisite beauty of Yuma. The climate is perfect for all outdoor activities, and the city has a deep-rooted culture you can learn about it during your visit.
Climate
The climate of Yuma is very hot in the summer, but pleasant all through the winter. There are a lot of sunny days during winter as this season stays free of extensive rainy days. The temperature can get as high as 90°F (32°C) and as low as 46°F (8°C). Nights in deserts can get chilly, so appropriate clothing and heating are recommended.

Things to see in Yuma, Arizona
Yuma is a place with many attractions worth a visit during your stay:
Yuma Territorial Prison State Historic Park: If you're curious about history, this is your place. The park is a story with different historic prison cells that you can visit, all this with a great view of Colorado River. You can also enjoy the historic park. The walk in the park can be long so it is suggested to carry a water bottle along.
The West Wetlands Park: It is a Public Park occupying a large area, lying at the North West edge of Yuma. It is a perfect place to go for a jog or walk. It also has a small pond where you can enjoy fishing in a natural environment.
Arizona Historical Society Sanguinetti House Museum: A perfect blend of adventure and history, this museum is a must-visit for everyone visiting Yuma. The museum is set up as an interesting game. You have to hunt down the information. All of this for just

$5 (approx. €4, £4, $6 CAD, $7 AUD)

per person. It is only open in winters and it also has a small gift shop within.
Yuma Art Center: Looking for an entertaining experience? Yuma Art Center has got you covered. It is a great venue for theatre plays, art exhibits and a lot more. An amazing place for art lovers.
Gateway Park: Go for a picnic, walk or just relax and watch the river flow. The park is calm, quiet, and relaxing. A perfect getaway for you to spend quality time with your loved ones.
Things to see not far from the location/town
Yuma location is close to the Mexican border, but quite far from other major towns. This means you have to travel a little bit further for some of the following day trips:
Glendale, Arizona: Not extremely close with a distance of around 184 Miles (296 km) from Yuma, but if you have not seen it definitely worth the trip. Glendale is known as Arizona's antique capital. Go for a day trip and explore the rich culture of the city. With many places outdoors such as beautiful parks and museums, it is a perfect place for you to spend your day. Don't forget to visit the State Farm Stadium which has a retractable.
Peoria Sports Complex: Located at a distance of 185 Miles (298 km)

from Yuma. This sports complex lies around Phoenix and it hosts Arizona Fall League Games. A perfect day trip for the sports lovers in winter.

Chula Vista, California: Located at a distance of 173 Miles (278 km)

from Yuma. The city is known as the lemon capital of the world and it hosts the yearly Chula Vista lemon festival. It has many beautiful places to explore and it won't disappoint you. Spend a long and adventurous day here exploring the crafts, music, and food.

San Diego, California: It is located at a distance about 172 Miles (277 km)

from Yuma. This city is popular for its splendid beaches, parks, art galleries, museums, and gardens. Do not forget to visit the Sea Port Village for some great shopping opportunities.

Chandler, Arizona: At a distance of 181 Miles (291 km)

, there is much to explore in the city of Chandler, Arizona. The Arizona Railway Museum is a must-visit in the city.
Activities in Yuma in the fall, winter, or spring
Winter comes with a lot of fun opportunities for visitors to Yuma:
Golf: Yuma is home to several golf courses. You can pick a favorite and enjoy a nice game of golf. Desert Hills Golf Course is a popular pick in the area.
Parks and Recreation: Yuma is home to several parks. Spend your afternoons here by enjoying the beautiful weather or simply going for a walk as they have long, stupendous walking trails.
Museum Tour: There are many museums in Yuma that serve as a perfect getaway for all the history curious people. The museums mostly feature interesting artifacts from Yuma's history.
Fishing: Many parks have small ponds for fishing such as "The West Wetlands Park" mentioned above.
Sunbathing: As Yuma experiences mild winter, you can enjoy the winter sun by taking in the nice, comforting warmth. However, it can get cold during the peak of winter.
Picnic: All the parks in Yuma have picnic spots. You can prepare a nice picnic basket with your favorite picks and eat at a park while enjoying the beauty of the surroundings.
Kayaking: Enjoy kayaking at the Colorado River which is also known as "America's Nile". If you're not interested in kayaking you can paddle a canoe or simply go fishing.
Theatre: The Yuma Art Center offers a wide range of events for all ages. The theatre is a good source of entertainment for people who are looking for light entertainment.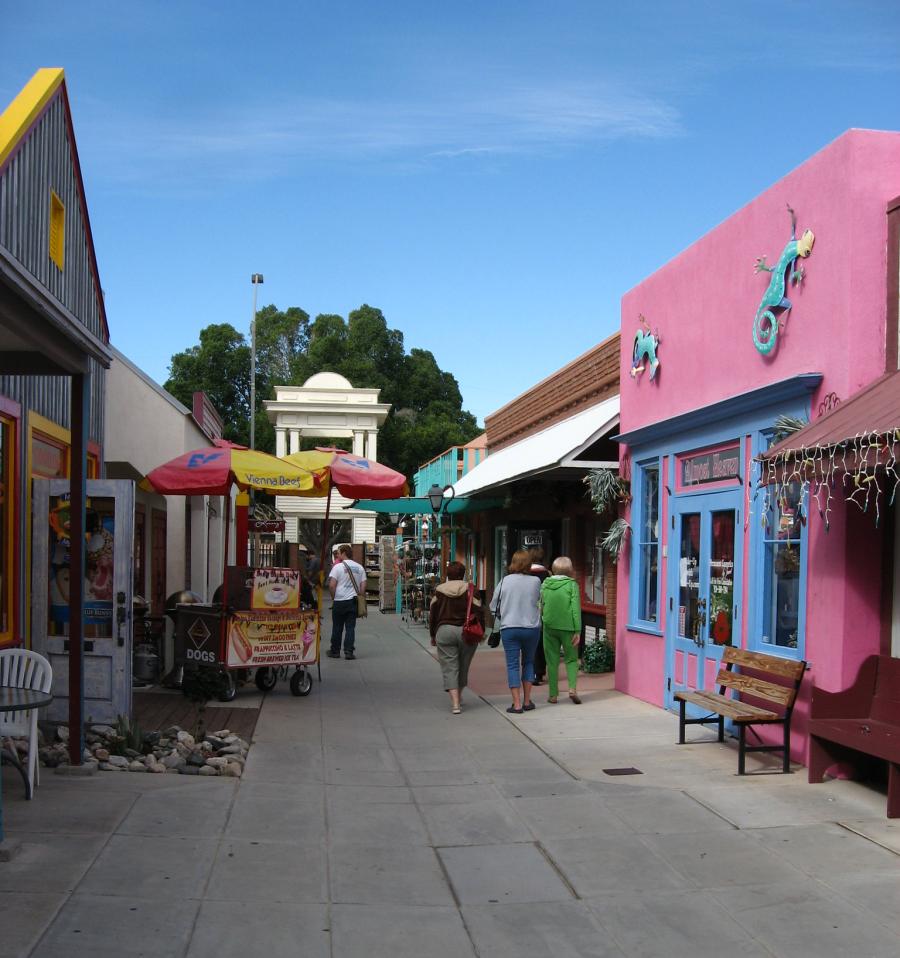 Shops & Restaurants. Are they open in winters?
Yuma Palms Farmers Market is a huge place where a lot of vendors go to sell fresh produce. You can find fresh vegetables, fruits, baked goods, and even farm-fresh honey. You can also buy organic homemade jams in this market. This market is open especially during winter and it operates every Saturday. You can buy fresh meat and seafood from Yuma Market. Due to the high consumption of meat in the Arizona region, you will find the best meat, fresh every day. You can buy cultural artifacts from souvenir shops in museums or you can visit the Oriental gift shop.
As far back as the Native Americans, seafood has been very famous in Yuma. The Colorado River passes by Yuma you can find some fish there. Some items are the Specialty of Yuma and you can take them as gifts. Dates, peanut patch pant butter, Tortillas from La Fonda tortilla factory, chips from Mr. G's, Mama Bella salsa, and chocolate crafters treats are the specialties of Yuma.
Transport
 The airport of Yuma is Yuma International Airport. Various transport options are available that you can use to reach your destination in Yuma. You can take a bus, a cab, hire a car, use Uber, or the airport shuttle.  
You can use Yuma County Area Transit (YCAT) for regional travels. It provides transit services to some inter-city fixed routes as well. There are several other local bus stations available that you can use to travel to another city or for intra-city travel. You can reach the bus stations on foot.
There is one train platform in Yuma. It is not a proper train station but a platform for transit trains. Amtrak operates in Yuma but there are not a lot of routes and connections available to travel. There is 3 weekly train travel from sunset limited to Texas eagle.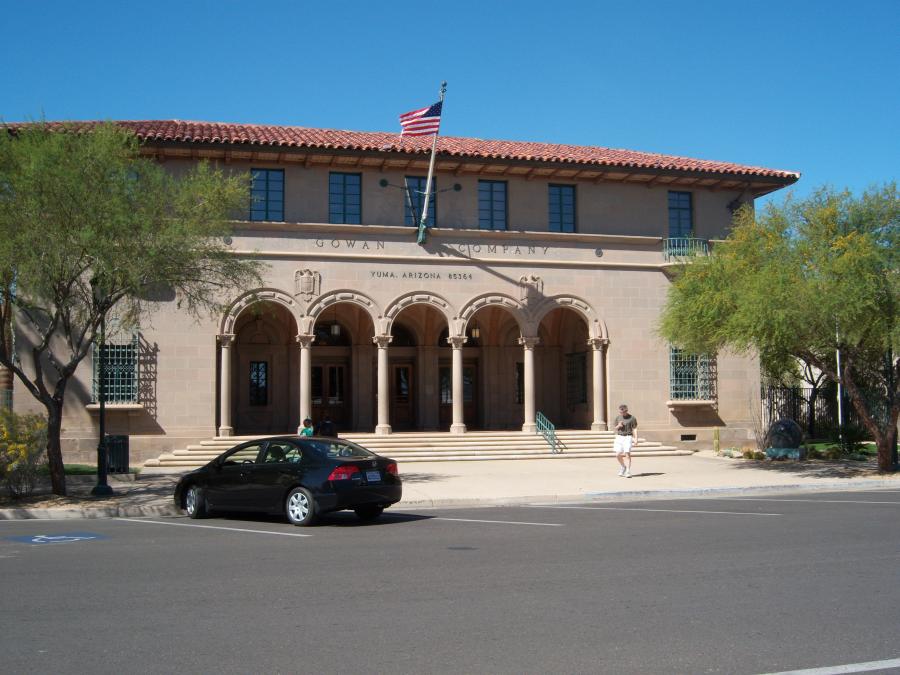 Health
You can find many good medical centers in Yuma. Both private and public hospitals are available. You can find a 24/7 emergency in both. You can also find independent clinics available for various medical services. Emergency cases are handled well, you can find some of the best healthcare centers below:
Accommodation
There are enough options to rent a nice accommodation in Yuma for your winter stay. The winter season offers low prices and many good deals, you can find a nice apartment in the city from around $600 (approx. €559, £481, $805 CAD, $907 AUD). Some of the most popular organizations you can use are: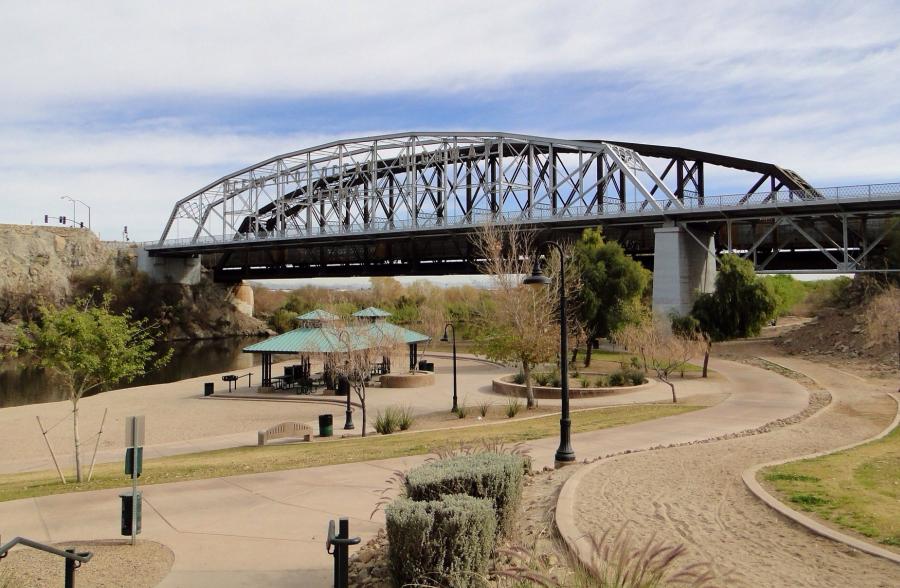 RV/Campers/Motorhome
Western Sands RV Park: 156 sites for RV are available. It costs nearly $35 (approx. €32, £28, $46 CAD, $52 AUD) for one night. Rates vary according to facilities availed. For more information, you can visit (https://www.westernsandsrv.com/)
Shangri-La RV Resort: 290 RV sites are available. You can get a good back-in RV site for $49.56 (approx. €46, £39, $66 CAD, $74 AUD) and Pull-Thru site for . You can enjoy other amenities in the resort as well. Visit (https://www.shangrilarv.com/) for more information.
Blue Sky RV Park: There are 250 sites available at this campsite. The starting rates for camping at this site start from $20 (approx. €18, £16, $26 CAD, $30 AUD) per night. You can use some amenities in the area as well. Visit their website for more information (https://www.blueskyyuma.com/)
Packing List
Weather: The fall, winter, and spring weather in Yuma (Arizona) will normally be warm during the day and can be cold during the night. Of course in the fall and spring it will be warmer than in the winter. You have to pack accordingly.

Warm clothing: Even when you go to a warm location like Yuma (Arizona) you should not forget to take some things with you for your trip back home. When you return you are adapted to the warmer weather and need something to protect you from your hometown temperatures.

Consider the Weather: Always look at the type of weather in Yuma (Arizona). Things like humidity, wind, and rain do not show up in the temperature graph but can have a great impact on your wardrobe. There are several sites with long term forecasts and climate information. Is there often a short afternoon downpour like in the tropics, you maybe need to take a strong umbrella and shoos that can cope with the rain. If there is often a lot of wind you might need a more wind-resistant coat.

Check the local Shopping options: Try to find information about the local shopping options near your location in Yuma (Arizona). Are there stores where you can buy all your daily supplies, or are some things difficult to get? For some more remote locations, the options can be limited. If a certain item is really important for you might need to take it with you.

Look at the Local Culture: The local culture in Yuma (Arizona) can impact your wardrobe. If most activities are in more upscale locations you might take some more appropriate clothes with you. Or travelling if you travel to certain countries women need to cover themselves in certain areas.

Amenities: Know what's Included in your house or apartment. Is there a coffee maker, a toaster, a washer and dryer, an iron, what is in the kitchen, what kind of towels are there? Things that are there means you do not have to take them with you. A furnished apartment or house can mean something from a few pieces of furniture to a well-stocked place with all the things you have at home. But most of the time your rental will not be stocked.

Mix and match: Wear layers so you can use your wardrobe more efficiently. And do not worry about wearing something more often, probably only you will notice this.

Important for you: If there is something that is really important for you that you want to have present in your house or apartment, take it with you. This can be something like a special knife for the kitchen, or a small mirror that you use in the morning. You can also purchase it locally if it is not that expensive.

Pet supplies: If you take your pet with you don't forget to take supplies for a few days with you. And enough medication, vitamins, or other supplies if you can not purchase them in Yuma (Arizona) locally.

Food: Don't take a lot of food with you. Only when there is something you really can not live without you, and it is not too heavy you could consider taking it with you.

Towels: Not all locations include bigger towels for the swimming pool or a visit to the beach. If you have to take them and don't have a lot of room you can buy some big thin towels.

Office supplies: Normally you will not find any office supplies in your house or apartment. If you think you will use them you could pack some supplies like a scissor, notepaper, envelopes, some pens, and more depending on your needs.

Limit yourself: Don't take too many shoes and jackets, you will not need them that often.

Best-fitting: Bring your favorite and best-fitting items that can multi-function

Washer: Do you have a washer and dryer onsite, you don't need to pack a lot of clothes
Clothing
Basics
Casual
Smart
Footwear
Toiletries
Beauty
Hygiene
Clothing
Basics
Casual
Outdoor
Footwear
Accessories
Toiletries
Medicine
Miscellaneous
Other
Toiletries
Beauty
Hygiene
Hair
Other
Medicine
Miscellaneous
Technology
Travel and Free time
Travel
Free time
Important
Documents
Money
Other locations close to this location:
Travelers' Map is loading...
If you see this after your page is loaded completely, leafletJS files are missing.
If you have any additions, or comments on the content on this page, please use our contact form to let us know.
Detailed weather during the year for Yuma Arizona
What to do during the year in Yuma Arizona