Spend Your Fall, Winter, or Spring in Costa Adeje, Tenerife: Is Costa Adeje A Good Snowbird Location?
Costa Adeje is a purpose build resort that is part of the province of Adeje, located in the southern part of Tenerife, one of the Canary Islands in Spain. It is often described as an upmarket resort as there are lots of luxurious resorts, apartments, and villas. There is also an abundance of fine dining and entertainment. While this coastal town may have had humble beginnings, it is now the playground for tourists and snowbirds who are chasing the sun, especially during the cold winter months.
The resort has some of the best beaches in the Canary Islands including the amazing playa de Duque named after the Duke of Abrantes.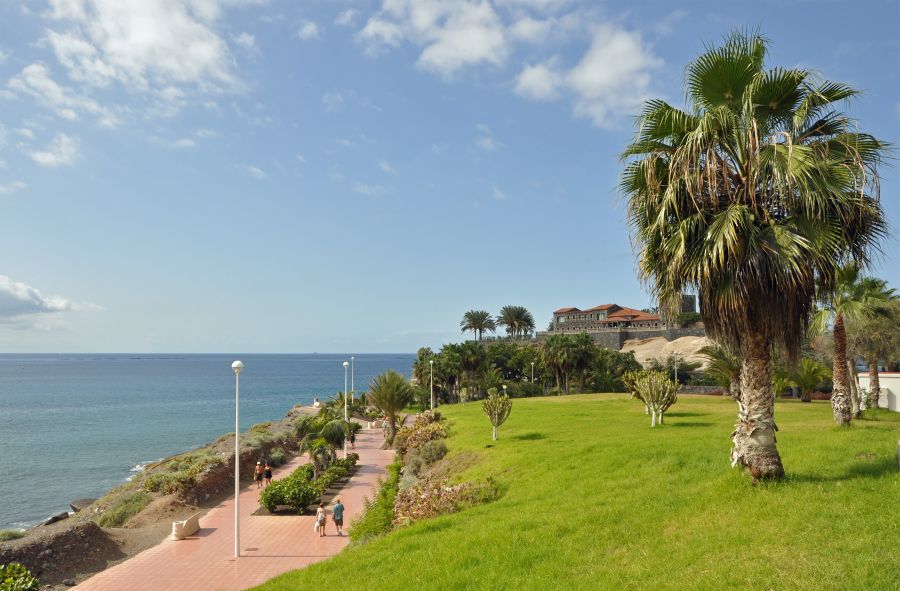 Why should people visit during the fall, winter, or spring?
Costa Adeje is warm, bright, and sunny in the winter. The weather is just one of the many reasons to visit this stunning haven. There are amazing attractions you can explore while enjoying the warm weather and taking in the local scenery. The winter is also a much quieter time to visit the area compared to the rowdier summer months. The people are extremely welcoming and many visitors have fallen in love with the place and moved here permanently. Visiting snowbirds will have little or no trouble communicating with the locals as a good number of them speak English and or German pretty well. The local food is delicious and mostly consists of seafood so lovers of seafood will have an amazing time trying out some of the culinary creations.
Climate
The town has prevalent Mediterranean weather. The weather remains stable year-round and has two major seasons. The dry and rainy season. During the winter, temperates may drop from the usual average of 24°C (75°F) and hover around 19°C (66°F). Although it gets cooler during the winter, it remains bright and sunny which is the perfect weather for doing activities outside. The temperatures of the water also remain fine for swimming during the winter.

Safety
Costa Adeje is a relatively safe place for tourists. As it is an upmarket resort, emphasis is placed on guest safety so the likelihood of running into any major dangerous situations is low. Crime rates are low and there is little to no violent crime targeted at tourists. The police can be easily reached in the case of an emergency. Snowbirds are urged to stay safe and take the same precautions they would anywhere else. Avoid unnecessary displays of wealth and only walk around with enough money for a day. Avoid dark areas at night to protect yourself from the few people who seek to take advantage of vulnerable tourists.
Communication, internet, and cellphone in Costa Adeje, Tenerife
The main language spoken in costa Adeje is Spanish. The Canary Islands, although an autonomous community are part of Spain and as such Spanish is spoken all through the island. Because costa Adeje is a resort made especially for tourists, many people here speak English, French or German in addition to Spanish. If you intend to stray off the beaten track during your stay, it would help to learn a few Spanish phrases and their appropriate responses. The locals also appreciate the effort when foreigners try to communicate with them in their native language.
Staying in touch with the rest of the world during your holiday is important. To enable you to do that while on your trip to Costa Adeje, you can get a sim card when you land in the airport although that may cost you more. SIM cards can also be bought anywhere around town where you see the logo of your mobile network of choice. You will need your passport to register and activate your SIM card. SIM cards can be purchased for $11 (approx. €10, £9, $15 CAD, $17 AUD).
Things to see in Costa Adeje, Tenerife
Mount Teide – the highest point in Spain is can be accessed using a cable car while visiting costa Adeje.
Barranco Del Infierno – translating to Hell's Canyon, this scenic part of the island is popular for its three-hour-long hike trail. There is a large number of fauna and flora present including sightings of the occasional eagle.
Golf Costa Adeje – considered to be among the best golf courses in the world, the golf course has some of the most amazing views you can find anywhere as it was modeled after it's surrounding area.
Aqualand – this waterpark has a lot of fun rides and attractions. There are also water shows and dolphin displays.
Things to see not far from Costa Adeje, Tenerife
Jungle park – the only remaining jungle in Europe is located in Arona, just 8 km (5 Miles)

away from Costa Adeje. There is a botanical theme park located in the jungle with attractions like penguins, pumas, tigers, exotic birds, and more.

Wine tasting – Tenerife is an important wine-growing region and most of the vineyards are located outside of town. You'll have to take a short trip to any of the surrounding vineyards for wine tastings, picnics, and a tour of winemaking facilities.
La Gomera – take a tour to costa Adele's neighboring island of la Gomera. There are lots of attractions on the island and things to do so you may end up spending the whole day there.
Activities in Costa Adeje, Tenerife during winter
Whale watching – snowbirds can take a trip out onto the water where an exciting adventure awaits. The waters around the Canary Islands are famously inhabited by whales and dolphins which you can get to see up close.
Buggy excursions – get a tour of some of the tougher landscape of the island in a buggy tour. There are a number of hidden gems and beaches you get to see for yourself in these exciting tours.
Relax on the beach – in addition to its natural black sanded beaches, there are a few golden sand beaches in Costa Adeje with sand imported from the Saharan desert. You can relax, go for a swim or simply lay out in the sun on any of the resort beaches.
Golfing – avid golfers can expect to have a golfing experience like no other in Golf Costa Adeje. The golf course has a great view, 27 holes are said to be the among best in Europe.
Visit the marina – the marina at Puerto Colon is a calming vista with the numerous docked yachts. There are a number of bars and restaurants lined along the marina where you can chill and watch the sunset after a long day
Stargazing – the canary islands are popular for their clear skies and low light pollution. This gives snowbird the chance to watch the heavens unlike anywhere else. You can take an astronomical tour of the skies and discover how beautiful the night sky is.
Shopping + Restaurants. Are they open in the fall, winter, or spring?
Shopping in Costa Adeje is an experience on its own as the resort is famous for its many shopping centers and markets. Everything from high-end designer brands to locally made items can be bought. You'll also find it to get your everyday essentials as there are also a number of supermarkets and retail shops in the area. Restaurants are also open in the winter, and they serve up everything from local seafood centered cuisine to internationally recognized meals for when you are feeling homesick.
Transport
The Tenerife South Airport (TFS) services costa Adeje so snowbirds will most likely land here before taking the 30-minute drive into the resort. You can either use a town car, shuttle service, a taxi or have a car rental service pick you up and take you to your apartment.
Walking is a popular way of getting around the compact town and it gives you the opportunity to enjoy the abundant scenic views.
TITSA buses are available and have an extensive network around the resort. The buses go pretty much anywhere on the island and can even be used to get to the neighboring resort of Playa de las Americas and Los Cristianos. You can also get major discounts on your trips if you purchase a Bono bus card.
Taxis are metered and affordable. They go almost everywhere in town so if you would like to have a more private mode of transport, taxis can be used.
You can also rent a car for a more convenient and flexible way of getting around the town and surrounding villages. Some rental companies offer discounts when you book a car online. To rent a car in Costa Adeje costs around $17 (approx. €16, £14, $23 CAD, $26 AUD) a day.
Health
Healthcare in Tenerife is among the best in all of Europe. The hospitals are clean and well equipped in addition to being staffed with well-trained doctors and medical support officers. There are also a number of 24-hour walk-in clinics dotted around the resort so no matter what time you run into an emergency, there is always someone available to take care of you. Snowbirds are encouraged to travel with insurance that covers medical expenses so that you won't have to worry about medical bills while in Costa Adeje.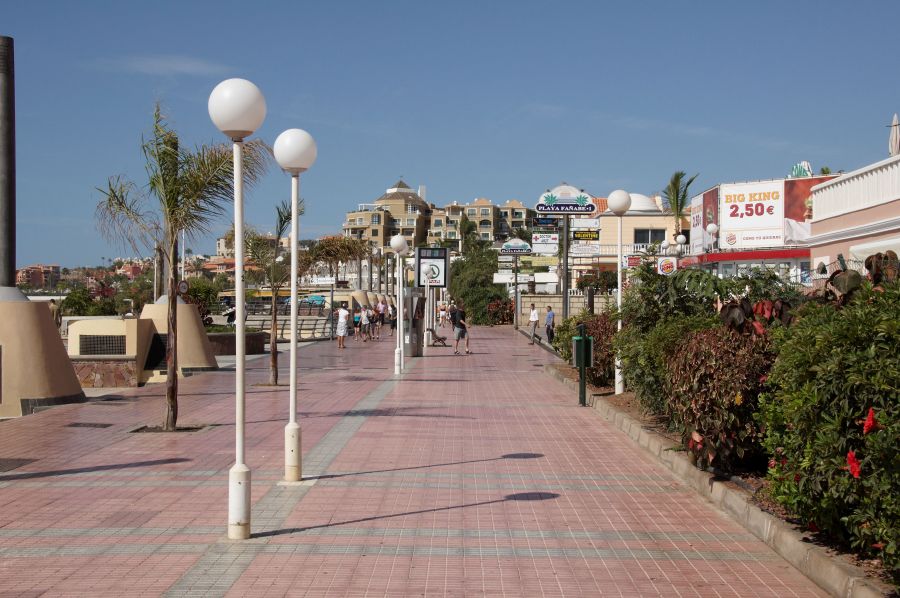 Accommodation
Finding accommodation in Costa Adeje is quite straightforward and can be done in a few short clicks. There are a number of properties available on rental sites like Airbnb. Alternatively, you can wait until you land to inspect several properties before committing to any one of them. A furnished and self-catering apartment in an inexpensive area of the town will cost around $619 (approx. €589, £510, $845 CAD, $971 AUD) for a month.
Packing List
Weather: The fall, winter, and spring weather in Costa Adeje (Tenerife) will normally be warm during the day, but can be chilly during the night. Of course in the fall and spring it will be warmer than in the winter. You have to pack accordingly.

Warm clothing: Even when you go to a warm location like Costa Adeje (Tenerife) you should not forget to take some things with you for your trip back home. When you return you are adapted to the warmer weather and need something to protect you from your hometown temperatures.

Consider the Weather: Always look at the type of weather in Costa Adeje (Tenerife). Things like humidity, wind, and rain do not show up in the temperature graph but can have a great impact on your wardrobe. There are several sites with long term forecasts and climate information. Is there often a short afternoon downpour like in the tropics, you maybe need to take a strong umbrella and shoos that can cope with the rain. If there is often a lot of wind you might need a more wind-resistant coat.

Check the local Shopping options: Try to find information about the local shopping options near your location in Costa Adeje (Tenerife). Are there stores where you can buy all your daily supplies, or are some things difficult to get? For some more remote locations, the options can be limited. If a certain item is really important for you might need to take it with you.

Look at the Local Culture: The local culture in Costa Adeje (Tenerife) can impact your wardrobe. If most activities are in more upscale locations you might take some more appropriate clothes with you. Or travelling if you travel to certain countries women need to cover themselves in certain areas.

Amenities: Know what's Included in your house or apartment. Is there a coffee maker, a toaster, a washer and dryer, an iron, what is in the kitchen, what kind of towels are there? Things that are there means you do not have to take them with you. A furnished apartment or house can mean something from a few pieces of furniture to a well-stocked place with all the things you have at home. But most of the time your rental will not be stocked.

Mix and match: Wear layers so you can use your wardrobe more efficiently. And do not worry about wearing something more often, probably only you will notice this.

Important for you: If there is something that is really important for you that you want to have present in your house or apartment, take it with you. This can be something like a special knife for the kitchen, or a small mirror that you use in the morning. You can also purchase it locally if it is not that expensive.

Pet supplies: If you take your pet with you don't forget to take supplies for a few days with you. And enough medication, vitamins, or other supplies if you can not purchase them in Costa Adeje (Tenerife) locally.

Food: Don't take a lot of food with you. Only when there is something you really can not live without you, and it is not too heavy you could consider taking it with you.

Towels: Not all locations include bigger towels for the swimming pool or a visit to the beach. If you have to take them and don't have a lot of room you can buy some big thin towels.

Office supplies: Normally you will not find any office supplies in your house or apartment. If you think you will use them you could pack some supplies like a scissor, notepaper, envelopes, some pens, and more depending on your needs.

Limit yourself: Don't take too many shoes and jackets, you will not need them that often.

Best-fitting: Bring your favorite and best-fitting items that can multi-function

Washer: Do you have a washer and dryer onsite, you don't need to pack a lot of clothes
Clothing
Basics
Casual
Smart
Footwear
Toiletries
Beauty
Hygiene
Clothing
Basics
Casual
Outdoor
Footwear
Accessories
Toiletries
Medicine
Miscellaneous
Other
Toiletries
Beauty
Hygiene
Hair
Other
Medicine
Miscellaneous
Technology
Travel and Free time
Travel
Free time
Important
Documents
Money
Other locations close to this location:
Travelers' Map is loading...
If you see this after your page is loaded completely, leafletJS files are missing.
If you have any additions, or comments on the content on this page, please use our contact form to let us know.
Detailed weather during the year for Costa Adeje Tenerife
What to do during the year in Costa Adeje Tenerife