Snowbirds looking to spread their wings into the warmer parts of Europe are faced with multiple options however one of the best places to go is Playa de las Americas in Tenerife. This holiday resort is located in the southern part of the island of Tenerife, Spain. It was developed in the 1960's and is relatively close to another ideal snowbird location in the south of Tenerife, Los Cristianos.
Most of Playa de las Americas is a purpose-built man-made resort with sand imported from Africa. This resort is popular for its vibrant and bubbly nightlife, casinos, karaoke clubs, and bars. There are a number of other attractions to be enjoyed for visitors who are not too keen on staying out late every night.
Why should people visit during the winter?
Playa de las Americas is an amazing place to visit at any time of the year but it is particularly enjoyable in the winter. The weather is warm and sunny which is a welcome difference from winter rather at home. Since it is a purpose-built resort, all the amenities you need to enjoy your visit here has been duly provided. There are tons of beaches and activities to keep you busy and the island food is simply delicious. You'll meet a lot of other tourists which is a great way to make new friends and the locals in the town are also very friendly.
Climate
Playa de las Americas has Mediterranean weather and remains warm and pleasant year-round. There is a big difference between the northeast of the island and the southwest. The Passat winds bring clouds and sometimes some rain from the northeast, but due to the high mountains in the middle of the island, they can not make they're way to the south. There it is usually sunny and nice and during the winter temperatures are around 20°C (68°F) which is perfect for exploring the outdoors and relaxing by the beach. The winter weather is also dry and there is hardly any rainfall.

Safety
Playa de las Americas, and actually the whole of Tenerife is a safe tourist destination. There are low crime rates and tourists can feel safe walking around during their stay. Snowbirds Should take the same precautions they would at any tourist-centered area and keep their valuable items safe to avoid losing them. Also, avoid dark areas at night and do not travel around with large amounts of money or flash cash.
People will generally be helpful if you ever get into any trouble and you can call the emergency numbers 112 if you have any reports to file.
Communication, internet, and cellphone in Playa De Las Americas, Tenerife
Spanish is the official language spoken in the Canary Islands. A lot of the locals in playa de las Americas speak fluent English or German so snowbirds may not run into any communication barriers. Visiting Playa de las Americas is a great opportunity to polish your Spanish language skills so take the chance to speak to the locals in their native language. Snowbirds who do not speak any Spanish at all can make do with a phrasebook for everyday words and conversation starters.
As Tenerife is part of Spain, European residents can use their mobile phones without any problems (roam like home). For non-EU residents, it is advised to check the rates, and if needed buy a local sim card from any of the mobile network providers outlets, kiosks, or supermarkets, and shops. You'll need your passport to register and activate the SIM card. Once that is done, you can go ahead and start using the free minutes and data the sim comes with. A SIM card will cost you around $11 (approx. €9, £8, $13 CAD, $14 AUD).
Things to see in Playa De Las Americas, Tenerife
Piramide de Arona – this theatre of sorts hosts flamenco dancers. The entertainment is top-notch and the groups are led by an internationally renowned choreographer.
Avenida las Americas – this music fountain is best viewed in the latter part of the day as the light effects in the water that goes with the music is simply stunning. It is located in front of the Piramide de Arona so you can enjoy both shows at once.
Playa Troya – the Playa Troya is the most popular beach in the resort with calm waters perfect for swimming in. It also has all the amenities a beach needs like showers and umbrellas.
Loro Parque – bird lovers can visit the Loro Parque to see different species of colorful parrots, flamingos, penguins, and other endangered species. The park has some of the largest icebergs you'll find outside the Arctic.
Siam Park – the largest water park in all of Europe has a number of entertaining rides and attractions with a Thai theme all through.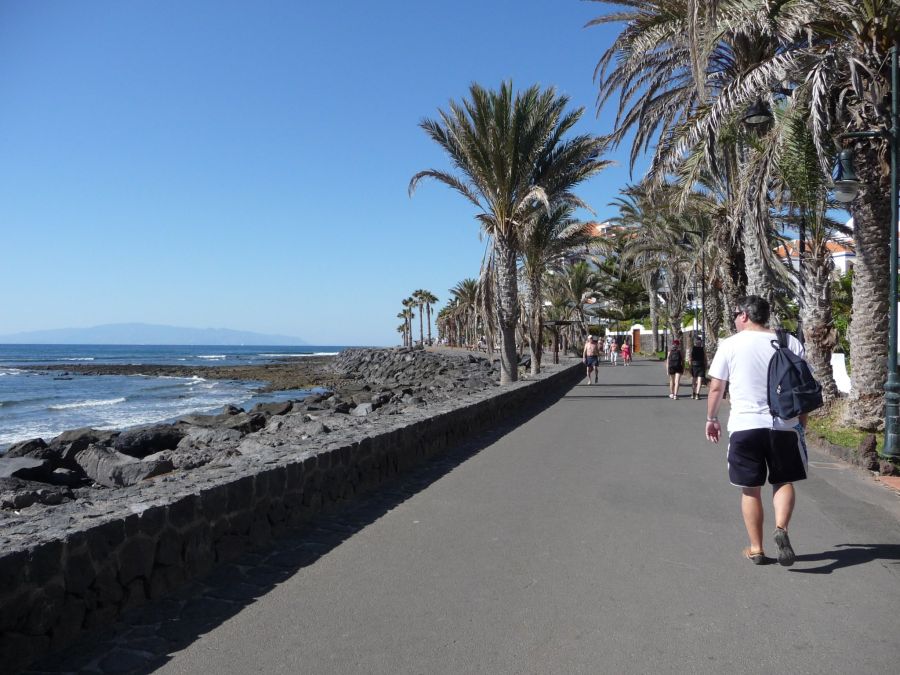 Things to see not far from Playa De Las Americas, Tenerife
Los Gigantes – this enormous cliff formations are located 30 km (19 Miles)

from playa de las Americas. They proffer a very interesting view and the town is very quiet. It has amazing weather and lots of family-run businesses like bars, and restaurants.

Mount Teide – located in the Teide National Park located half an hour away from playa de las Americas, this spectacular volcano is surrounded by the pretty wildflowers in the park.
Los Cristianos – once a fishing village, Los Cristianos is now a town that attracts tourists year-round. It has amazing scenery, beaches, and other interesting attractions.
Activities in Playa De Las Americas, Tenerife in the winter
Whale and dolphin watching – the waters around the Canary Islands are among the best for whale and dolphin watching. There are open bottom boat tours when you can get to really see these majestic creatures in full view.
Fishing – no doubt a few snowbirds would love to fish in the crystal clear waters of the Canary Islands. There are sports fishing tours when you can catch some pretty interesting aquatic games and toss them back into the ocean.
Explore the promenade- this amazing oceanfront attraction predates the resort and links it to Los Cristianos. You can catch amazing views of the water as you walk along or visit any of the restaurants and markets around here.
Beaches – a visit to playa de las Americas is nothing without spending some time lounging on any of its 3 amazing man-made beaches. The water is great for swimming and the weather is perfect for sunbathing.
Shopping + Restaurants. Are they open in the winter?
Shops and restaurants stay open during the winter in playa de las Americas. There are a number of shopping centers and malls in addition to local markets. Snowbirds looking to get their shopping fix can have fun exploring local markets where you can get items made by the locals or organic food production. For other essentials, you can visit many shops and supermarkets located around the town. There is enough opportunity for you to buy a great souvenir to take home with you and gifts for your friends and family. While you can get typical international meals and fast food from popular chain stores, many of the restaurants serve local cuisine and more familiar meals with a local twist to it. There is an abundance of seafood and food stalls around the city.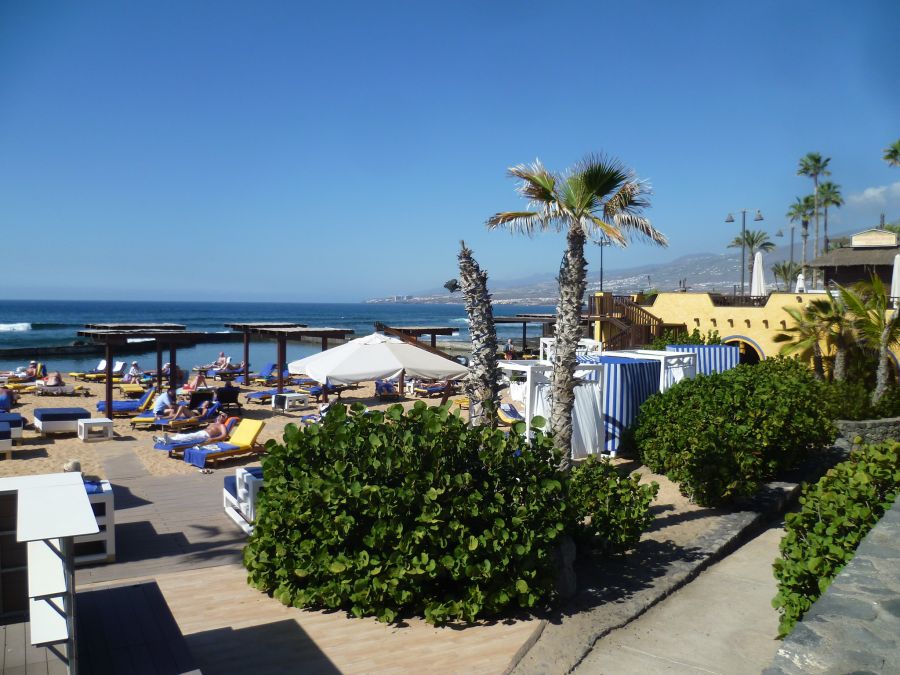 Transport
The travel from Tenerife airport to playa de las Americas only takes around 30 min and can be done with a bus/ shuttle or taxi. Taxis usually cost around $25 (approx. €20, £18, $31 CAD, $32 AUD).
Most of the attractions are within walking distance of each other so you can enjoy a leisurely stroll around the town, raking in sights and interesting scenery as you make your way to the attraction of the day.
You can take a bus to further places in the town. The buses have extensive road networks and are clean and air-conditioned. They are also on schedule and come by frequently. If you are going to be using buses to get around a lot, we advise you to get a Tenmàs card which will give you a discount on rides.
There are also taxis available if you would like a more private ride to your destination. They cost more than buses and can be booked online or hailed on the street.
You can also hire a car if you prefer to drive yourself around. It's flexible and convenient and will cost you around $676 (approx. €556, £495, $859 CAD, $876 AUD) a month.
Health
Healthcare in playa de las Americas is on par with most places in Europe and there are a number of health care Centres scattered around the island. There are also major hospitals located in the areas that tourists frequent. The town is free from endemic diseases and most medical emergencies can be well managed. Healthcare is affordable with the right travel insurance and doctors are among the best trained in the world. Many of the medical staff are bilingual and speak English, French, Spanish, or German. You can request to have English speaking doctors attend to you do that there are no mix-ups with communication.
Accommodation
Getting an apartment for your time in playa de las Americas can be done either online or when you arrive in the town. You may also use a local housing agent. There are a number of nice apartments for short lets. These apartments are usually fully furnished and have self-catering options so you do not have to eat out all the time. A one-bedroom apartment in an inexpensive area will cost around $618 (approx. €508, £452, $785 CAD, $801 AUD).
Packing List
Weather: The winter weather in Playa De Las Americas (Tenerife) will normally be warm during the day, but can be chilly during the night. You have to pack accordingly.

Warm clothing: Even when you go to a warm location like Playa De Las Americas (Tenerife) you should not forget to take some things with you for your trip back home. When you return you are adapted to the warmer weather and need something to protect you from your hometown temperatures.

Consider the Weather: Always look at the type of weather in Playa De Las Americas (Tenerife). Things like humidity, wind, and rain do not show up in the temperature graph but can have a great impact on your wardrobe. There are several sites with long term forecasts and climate information. Is there often a short afternoon downpour like in the tropics, you maybe need to take a strong umbrella and shoos that can cope with the rain. If there is often a lot of wind you might need a more wind-resistant coat.

Check the local Shopping options: Try to find information about the local shopping options near your location in Playa De Las Americas (Tenerife). Are there stores where you can buy all your daily supplies, or are some things difficult to get? For some more remote locations, the options can be limited. If a certain item is really important for you might need to take it with you.

Look at the Local Culture: The local culture in Playa De Las Americas (Tenerife) can impact your wardrobe. If most activities are in more upscale locations you might take some more appropriate clothes with you. Or travelling if you travel to certain countries women need to cover themselves in certain areas.

Amenities: Know what's Included in your house or apartment. Is there a coffee maker, a toaster, a washer and dryer, an iron, what is in the kitchen, what kind of towels are there? Things that are there means you do not have to take them with you. A furnished apartment or house can mean something from a few pieces of furniture to a well-stocked place with all the things you have at home. But most of the time your rental will not be stocked.

Mix and match: Wear layers so you can use your wardrobe more efficiently. And do not worry about wearing something more often, probably only you will notice this.

Important for you: If there is something that is really important for you that you want to have present in your house or apartment, take it with you. This can be something like a special knife for the kitchen, or a small mirror that you use in the morning. You can also purchase it locally if it is not that expensive.

Pet supplies: If you take your pet with you don't forget to take supplies for a few days with you. And enough medication, vitamins, or other supplies if you can not purchase them in Playa De Las Americas (Tenerife) locally.

Food: Don't take a lot of food with you. Only when there is something you really can not live without you, and it is not too heavy you could consider taking it with you.

Towels: Not all locations include bigger towels for the swimming pool or a visit to the beach. If you have to take them and don't have a lot of room you can buy some big thin towels.

Office supplies: Normally you will not find any office supplies in your house or apartment. If you think you will use them you could pack some supplies like a scissor, notepaper, envelopes, some pens, and more depending on your needs.

Limit yourself: Don't take too many shoes and jackets, you will not need them that often.

Best-fitting: Bring your favorite and best-fitting items that can multi-function

Washer: Do you have a washer and dryer onsite, you don't need to pack a lot of clothes
Clothing
Basics
Casual
Smart
Footwear
Toiletries
Beauty
Hygiene
Clothing
Basics
Casual
Outdoor
Footwear
Accessories
Toiletries
Medicine
Miscellaneous
Other
Toiletries
Beauty
Hygiene
Hair
Other
Medicine
Miscellaneous
Technology
Travel and Free time
Travel
Free time
Important
Documents
Money