Puerto de Mogan is a wonderful fishing village and resort, located in the municipality of Mogan. It's right at a steep-sided valley on the south coast of Gran Canaria. There are canals that link the fishing harbor to the marina. It is often nicknamed the "Venice of the Canaries" or "Little Venice" because of the canals. Around the marina and beachfront, are great restaurants and bars that always stay open to guests. Also, tourists from other locations on the island of Gran Canaria visit the village on Fridays for its popular market scene. It is a beautiful place that attracts tourists from all parts of the world.
Puerto de Mogan has a Spanish culture and traditions present. Spanish is the official language of the village, but English is also spoken. Locals are very hospitable and friendly people. Snowbirds can explore this part of the town by engaging with locals, exploring archaeological sites and if you're interested, you could learn some Spanish.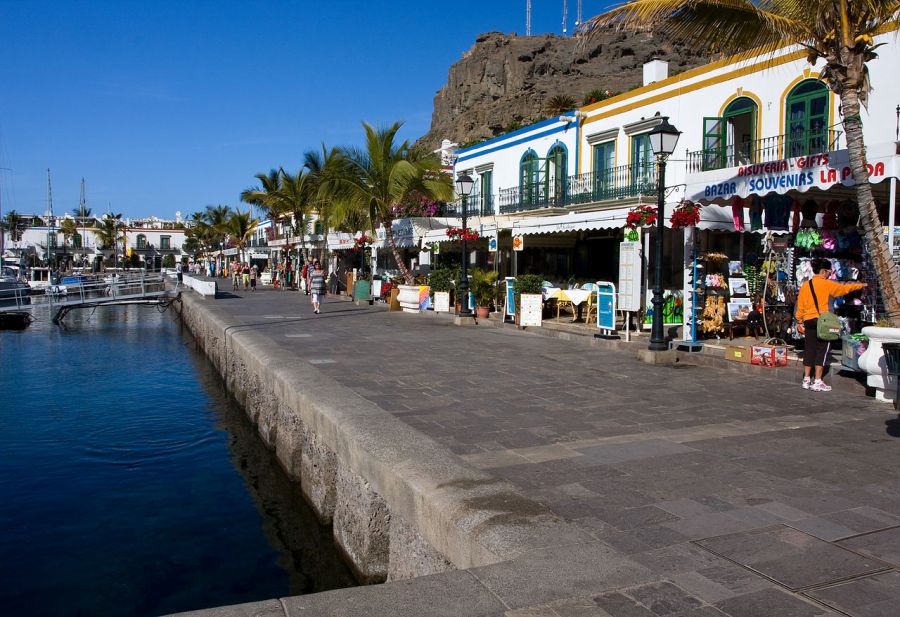 Why should people visit during the winter?
For snowbirds, the constant sunshine and warm temperatures will be a great attraction to Puerto de Mogan. Even in winter, you won't be reminded of the cold weather you left behind. There are a couple of activities to enjoy, interesting things to see in the area in the winter also, so it won't be a boring warm winter getaway.
Another main attraction to this cozy fishing village/resort is the Andalusian Venetian harbor. The restaurants and bars offer some really tasty delicacies and most of them remain open during the winter.
Climate
The climate in Puerto de Mogan offers warm temperatures all year long. It gets hot, but the climate is always balanced and conducive. There is almost no rainfall all year long, but there is some precipitation during the winter.
The average high temperature is 26°C (79°F) and the average low temperature is 19°C (66°F).

Safety
For snowbirds, the greatest danger they might face will be sunburn. The crime rate here is very low and almost non-existent. You wouldn't have to worry about theft, bag snatching, or other kinds of petty crime. You can enjoy walks in the night, or exploring the village without fear of danger. For the locals, the tourists that visit the area throughout the year are the major source of their income. So, it only makes sense that the safety of these tourists is guaranteed, or the numbers will dwindle, and businesses will die.
Communication, internet, and cellphone in Puerto de Mogan, Gran Canaria
Spanish is the official language of Puerto de Mogan. English is also popular among locals. Basic communication shouldn't be a problem. However, it would help to understand some Spanish.
As Gran Canaria is part of Spain, European residents can use their mobile phones without any problems (roam like home). For non-EU residents, it is advised to check the rates, and if needed buy a local sim card.
If you choose to purchase a new phone in Puerto de Mogan, it could be cheaper than you will expect, but be sure to verify that the phone can still be used when you get back home, or you will be left with a somewhat useless device.
In terms of network service providers, Vodafone, Movistar, and Simyo are some of the networks available. They all offer considerably cheap calls and data services.
Alternatively, you could use the phones in your apartment or hotels to make international calls, or you could make use of one of the phone booths that are around some local shops.
Things to see in Puerto de Mogan, Gran Canaria
Playa de Mogan: Snowbirds can visit the sandy beaches to swim, mingle with other tourists, sunbath, or even scuba dive at the Playa de Mogan. It is a top tourist destination, so you might experience crowds on some occasions.
Barranco de Mogan: These are geological formations that snowbirds who are into nature and geography can visit to see some of nature's little wonders.
Mercadillo de Mogan: The area is known for its flea & street markets. Snowbirds have the opportunity to find some cool items they might need at really cheap prices. All sorts of things could be purchased at these markets ranging from daily essentials to souvenirs.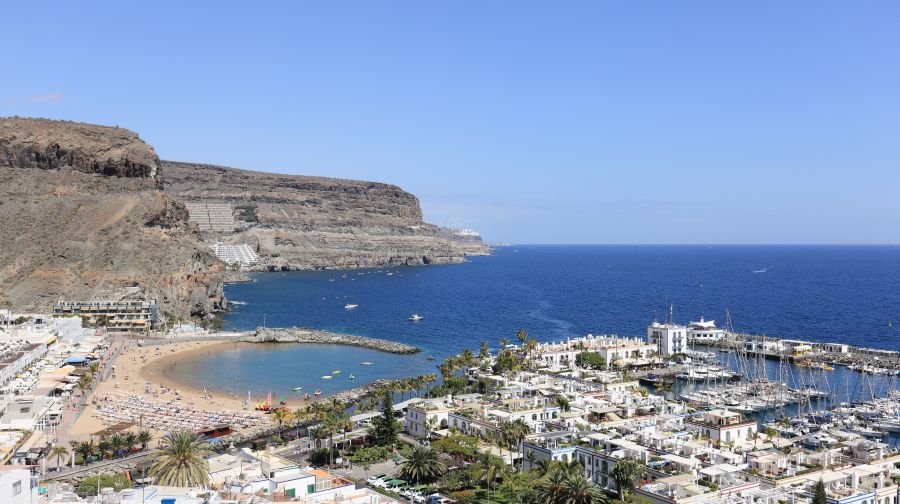 Things to see not far from Puerto de Mogan, Gran Canaria
Molino Quemado: Molino Quemado, or burnt mill, is a windmill in Mogan. It is a heritage site. It can be found 7 km (4 Miles) north-east of Puerto de Mogan, in the Mogan valley.
Playa del Inglés: Snowbirds can visit this nearby vibrant beach area with outstanding resorts and shops. It could be a great destination for a day getaway or weekend trip. There is enough to make your time there worthwhile.
Natural Dune Reserve of Maspalomas: Many snowbirds will be amazed to find a desert on the island of Gran Canaria, but these protected dunes will offer a fun and interesting mini desert experience.
Palmitos Park: Interested in exploring some nature, you can also see the Palmitos Park, located in Maspalomas. It is a 20-hectare botanical garden, aviary, and zoo. Snowbirds can get to see the palm trees, cacti plants, dolphins, birds of prey, eagles, owls, reptiles, owl, gibbons, exotic birds, and an aquarium.
Activities in Puerto de Mogan, Gran Canaria in the winter
Scuba Diving: In Puerto Mogan beach, snowbirds can discover the thrill of scuba diving and the unforgettable experience of breathing freely underwater. You can get to explore interesting underwater structures and volcanic seabed. An activity like this could cost $96 (approx. €80, £72, $124 CAD, $130 AUD).
Tour to Las Palmas: Through organized tours, snowbirds can get to know the largest city on the island, Las Palmas. With a full day's tour around town, you have enough time to see the memorable sights around, and also wine and dine.
Puerto de Mogan Friday Market: This is a splendid street market that is held every Friday. It is a great way to find great local artisan and food products, fashion accessories, and souvenirs, all available at cheap prices.
People Watching: On the streets, or at the beach, Puerto de Mogan's tourist population makes it an interesting place to watch people, and possibly even make new friends.
Shopping + Restaurants. Are they open in the winter?
As a tourist-focused resort, most of the shops and restaurants stay open all year round. In terms of shopping, items don't typically cost much, but some prices might be inflated for tourists. The shops around cater to every kind of need that might arise during your stay, and they can easily be found on almost every street.
As a fishing village, your dining experience allows you to explore delicious seafood. Many restaurants you might dine in offer freshly caught seafood for your delight. You can try out several local dishes or other international dishes available too.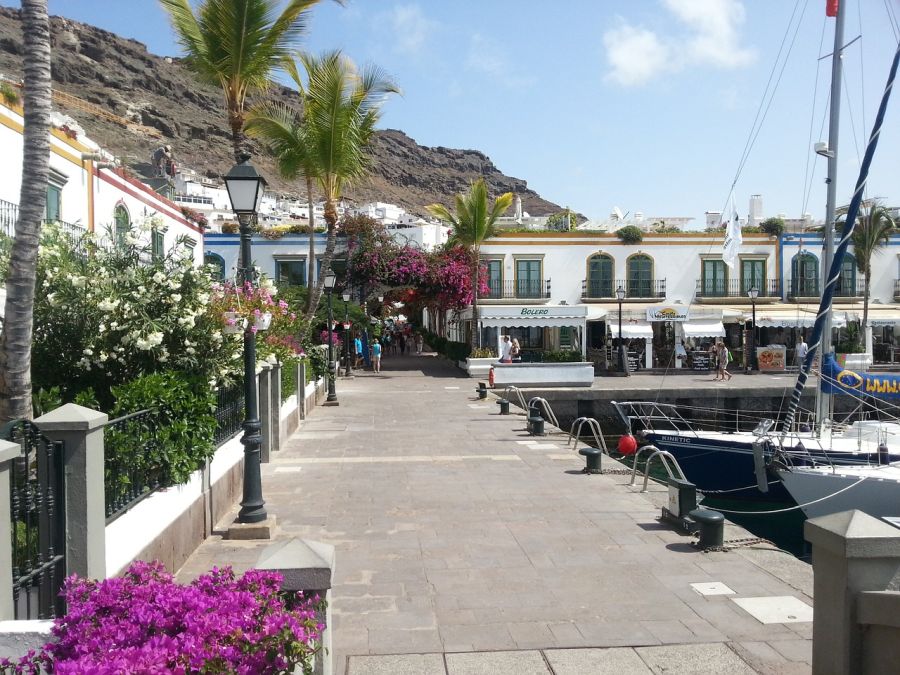 Transport
Snowbirds will arrive on the island at the Gran Canaria Airport through connecting flights. Upon arrival, snowbirds can get to their destination in town via buses, taxis or car rentals.
In Puerto de Mogan, buses are the most common means of transport. They are cheap, convenient, and somewhat fast. You don't have to worry about arriving late anywhere, because the island itself is a small one.
Taxis are also a favored way to get around. They cost more than buses but they offer more comfort and could save you some time. Similarly, if you are interested in driving yourself around, to experience the area yourself, you could rent a car from available car rental services either at the airport or in the village. This is the most expensive option available, but it could be an interesting experience to drive yourself around the resort.
Health
Snowbirds don't have to worry about any serious diseases or illnesses in Puerto de Mogan. The health care services in Puerto de Mogan are well above average. There are public and private healthcare practitioners available. The cheaper option is public care, but private could be more effective in terms of delivery of services.
There is a Spanish National Health Scheme or SNS (Sistema Nacional de Salud) medical center available that can handle the treatment of emergency cases. Other medical facilities are Centro Medico Mogan, and Centro de Salud – Playa Mogan. You will need a European Health Insurance Card to use some of the public health services available.
The doctors and dentists here are professional and well experienced. They speak English, Spanish, and in some cases, other languages.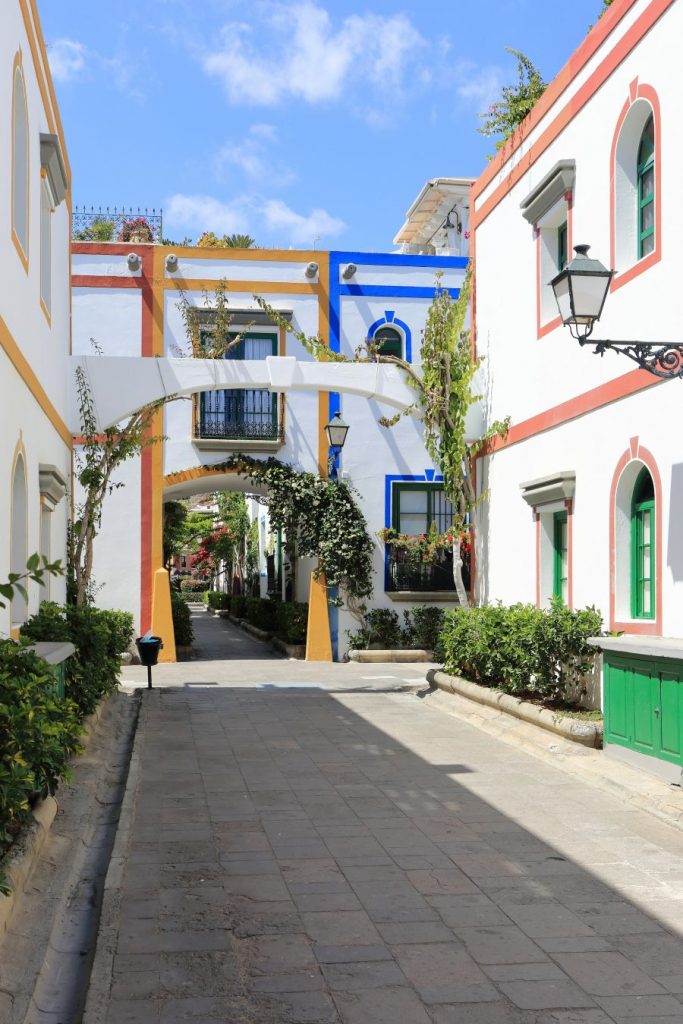 Accommodation
Finding a place to stay in Puerto de Mogan isn't going to be a difficult task. From single bedrooms to as many as three rooms, There are lots of apartment buildings and beachfront housing you can choose from, depending on your budget and how many people would be living in the space. You will find that they all have the basic amenities you would normally need back home like a pool or wifi connection. However, renting an apartment is very pricey. This is mainly due to the fact it's a resort town with large numbers of tourists. Typically, rent is charged per night, so over the course of a month, you could find yourself with a bill of over $1000 (approx. €838, £750, $1299 CAD, $1357 AUD).
Packing List
Weather: The winter weather in Puerto de Mogan (Gran Canaria) will normally be warm during the day, but can be chilly during the night. You have to pack accordingly.

Warm clothing: Even when you go to a warm location like Puerto de Mogan (Gran Canaria) you should not forget to take some things with you for your trip back home. When you return you are adapted to the warmer weather and need something to protect you from your hometown temperatures.

Consider the Weather: Always look at the type of weather in Puerto de Mogan (Gran Canaria). Things like humidity, wind, and rain do not show up in the temperature graph but can have a great impact on your wardrobe. There are several sites with long term forecasts and climate information. Is there often a short afternoon downpour like in the tropics, you maybe need to take a strong umbrella and shoos that can cope with the rain. If there is often a lot of wind you might need a more wind-resistant coat.

Check the local Shopping options: Try to find information about the local shopping options near your location in Puerto de Mogan (Gran Canaria). Are there stores where you can buy all your daily supplies, or are some things difficult to get? For some more remote locations, the options can be limited. If a certain item is really important for you might need to take it with you.

Look at the Local Culture: The local culture in Puerto de Mogan (Gran Canaria) can impact your wardrobe. If most activities are in more upscale locations you might take some more appropriate clothes with you. Or travelling if you travel to certain countries women need to cover themselves in certain areas.

Amenities: Know what's Included in your house or apartment. Is there a coffee maker, a toaster, a washer and dryer, an iron, what is in the kitchen, what kind of towels are there? Things that are there means you do not have to take them with you. A furnished apartment or house can mean something from a few pieces of furniture to a well-stocked place with all the things you have at home. But most of the time your rental will not be stocked.

Mix and match: Wear layers so you can use your wardrobe more efficiently. And do not worry about wearing something more often, probably only you will notice this.

Important for you: If there is something that is really important for you that you want to have present in your house or apartment, take it with you. This can be something like a special knife for the kitchen, or a small mirror that you use in the morning. You can also purchase it locally if it is not that expensive.

Pet supplies: If you take your pet with you don't forget to take supplies for a few days with you. And enough medication, vitamins, or other supplies if you can not purchase them in Puerto de Mogan (Gran Canaria) locally.

Food: Don't take a lot of food with you. Only when there is something you really can not live without you, and it is not too heavy you could consider taking it with you.

Towels: Not all locations include bigger towels for the swimming pool or a visit to the beach. If you have to take them and don't have a lot of room you can buy some big thin towels.

Office supplies: Normally you will not find any office supplies in your house or apartment. If you think you will use them you could pack some supplies like a scissor, notepaper, envelopes, some pens, and more depending on your needs.

Limit yourself: Don't take too many shoes and jackets, you will not need them that often.

Best-fitting: Bring your favorite and best-fitting items that can multi-function

Washer: Do you have a washer and dryer onsite, you don't need to pack a lot of clothes
Clothing
Basics
Casual
Smart
Footwear
Toiletries
Beauty
Hygiene
Clothing
Basics
Casual
Outdoor
Footwear
Accessories
Toiletries
Medicine
Miscellaneous
Other
Toiletries
Beauty
Hygiene
Hair
Other
Medicine
Miscellaneous
Technology
Travel and Free time
Travel
Free time
Important
Documents
Money