Spend your fall, winter, or spring in Albufeira, Portugal: Is Albufeira a good snowbird location?
Albufeira is one of the largest resorts of the Algarve and is a splendid mix of old and new. This coastal town is very popular among tourists as it features some of the most spectacular widespread beaches with red-golden sand, an old town that highlights the true Portugal experience and a wonderful climate throughout the year. Albufeira also has a rich history and many archeological attractions that one can visit during their stay.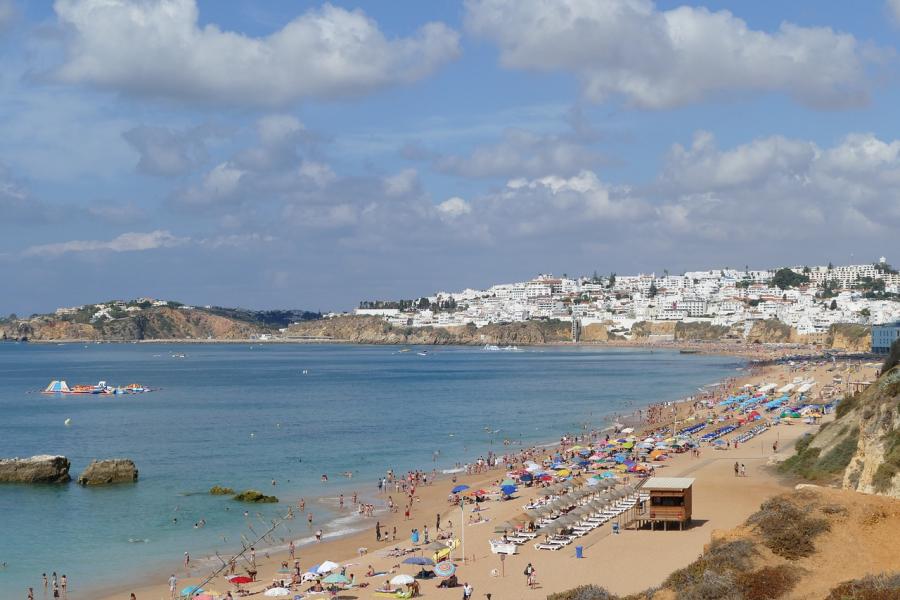 Why should people stay in Albufeira during the fall, winter, or spring?
Albufeira is a coastal town in the south of Portugal and is known for its sandy beaches and rugged cliffs. During the winter, low season, it is much quieter than during the crowded summer months. Only during the Christmas period a lot of people arrive. But fewer people means you can wander the quiet cobbled streets of the Old Town and enjoy the sandy beaches without the summer crowds. You will see closed shops and restaurants, but there will be enough open ones as well. Most days will have nice weather, but depressions from the ocean will also bring clouds and rain. English is widely spoken in the Algarve region, so communication is never a problem.
Climate
Albufeira has a friendly winter climate. The town experiences hot, dry summers and mild winters. The average temperature stays around 18°C - 20°C (64°F - 68°F) all year round. In winter, the weather is somewhat unpredictable in terms of cloudy and rainy days. It is advised to carry appropriate clothing, as winter nights can get a bit chilly.

Things to see in Albufeira
Albufeira is an important tourist location with many potential places to see. Here is a list of some of the most popular places that one can visit.
Praia da Falésia: A golden sand beach stretching out as far as 6 km (4 Miles)

. A beautiful peaceful setting located on the way to Vilamoura. A spotless, secluded beach perfect for a relaxing beach day or a nice walk.

Praia dos Salgados: The most spectacular natural beach in the area. Well-maintained, widespread and breathtaking, altogether.
The historic town center: The old town of Albufeira is a great place to experience the local culture and traditional ways of the people. The place showcases a typical Portugal vibe with its whitewashed houses and narrow, winding streets.
Miradouro do Pau da Bandeira: The perfect spot for long, peaceful walks and pure serendipity. Many people like to come here to enjoy the scenic beauty on a nice sunny day.
Igreja Matriz: This church dates back to the 18th century and holds great significance to the people of the town. It has a neoclassical architecture and a historic Marian statue of Nossa Senhora da Orada.
Things to see not far from Albufeira
There are many neighboring towns and places in the surrounding areas that one can visit.
Zoomarine: A famous marine park (10.4 km (6 Miles)

from Albufeira) which is also known to be the only major rehabilitation center for wildlife in the area. An interesting place to visit.

Faro: The small historic town of Faro (45 km (28 Miles)

from Albufeira) is a great place for a day trip where you get to explore many aspects of the town's culture and history, including the Gothic Se Cathedral.

Silves: The town of Silves is situated on a hill, near to the Arade River (32 km (20 Miles)

from Albufeira) and is a former capital of the Algarve. Don't forget to visit Castelo dos Mouros, which holds great historical value for the town.

Parque Natural da Ria Formosa: Located in Formosa (32 km (20 Miles)

from Albufeira). These wetlands are home to many wildlife creatures including birds and marine life. Great place to walk and explore on a day trip.

Castelo de Tavira: The famous castle of Tavira (70 km (44 Miles)

from Albufeira) is a historic landmark of the town that dates back to Moorish era. The castle has great cultural value depicted by its architecture and is a famous place for visitors who ought to explore the town's history.
Activities in Albufeira in the fall, winter, or spring
Albufeira may be quieter in the winters but there are still enough tings to do:
Boat day trips: As the marina is an important part of the town. Depending on the weather and period will find numerous boat trips and tours. A day at the sea is soothing, adventurous, and definitely worth a visit.
New Year's Eve: If you are a visitor around the New Year's Eve, this is an event you would not want to miss as the fireworks held in Albufeira are known to be the best ones in all of Algarve.
PADERNE CARNIVAL: The carnival parade is held sometime in February and is a wonderful celebration full of life.
Golf: A perfect place for golf lovers as Albufeira is located at a close distance to the town of Vilamoura which offers world-class golf courses.
Beaches: Albufeira is a popular beach destination and enjoys a large stretch of beaches. Perfect for a relaxing beach day as you will surely find a beach that meets your preference.
Dolphin watching: The marina is an important part of the town which gives an advantage to visitors who can enjoy dolphin watching during their stay.
Sailing lessons: Visitors are also given the opportunity to learn sailing lessons.
Visit the Caves of Carvoeiro.
Day trips: As Albufeira is conveniently connected to the nearby towns through different routes and public transport, visiting the nearby locations is a great activity for visitors to explore the region.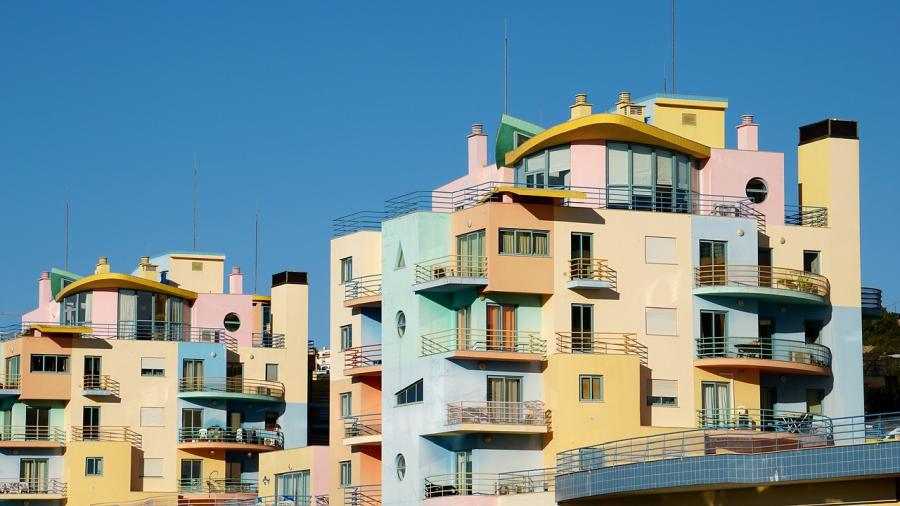 Shopping + Restaurants. Are they open in the fall, winter, or spring?
Albufeira can be quit in winter and a lot of shops and restaurants targeting tourists will be closed, or only open on weekends. But there will still be enough shops and restaurants that are open. The most famous (a must-try for everyone) dish in the area is the Cataplana which is made from clams, shrimps, lobster, and tomatoes. Some of the larger supermarkets have a restaurant where a lot of local people go for lunch.
Like other towns and cities in Algarve, Albufeira has a municipal market that is held on a weekly basis, all year round. That means, even in winter when the town is relatively quieter, you can find a large variety of products like fresh vegetables, fruits, fish and meat.
You will also be pleasantly surprised to know that gypsy markets and flea markets are quite common in the area and occur almost every month. The market places are also popular for street food which includes freshly baked treats. Check with the local tourist office when and where you can find them.
Transport
Albufeira has its own bus station which is located at a walking distance from the old town. You can use the bus for both local and regional trips. The rides are affordable, easily accessible, and comfortable. Check www.algarvebus.info/ for more information.
The town also has its own train station, Albufeira-Ferreiras Stationand is located almost 8 km (5 Miles) from downtown Albufeira. A train can be a good option for regional trips. You can check for the train schedules online at www.cp.pt/passageiros/
The nearest airport to Albufeira is the Faro International Airport which is approximately 36 km (22 Miles). As there is no public transport hub at Faro airport you can pre-book a cab to reach your destination. Taking a taxi on the spot can be more expensive. The other option is to travel to Faro city and use the bus (or train, but this is not recommended as the station is outside of the town) from there.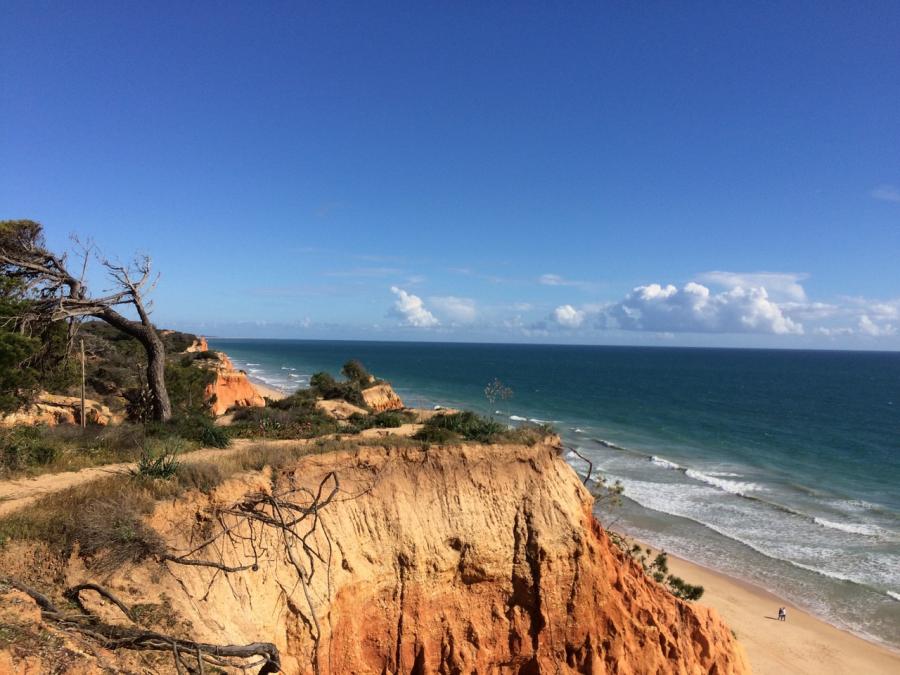 Health
Albufeira has a local healthcare center located on the N395 road to Ferreiras. The International Health Centre is a private hospital and provides excellent facilities. There are other public and private health facilities located nearby as well and are easily accessible and are perfectly suitable for anyone who walks in with a problem. Emergency cases are handled well and English speaking medical staff is also present. Other hospitals/ dental care units near the town include:
Accommodation
There are a number of different rental companies present in Albufeira, whether you're looking for an apartment or a villa. Some of the most popular organizations that are commonly used include:
Winter Camping
Camping Albufeira: Located at a distance of 3 km (2 Miles) from the town. The place provides a perfect setting for campers and is known to be one of the best campsites in all of Portugal. You will not be disappointed to know what this place has to offer considering the facilities and comfort provided. You can find more details about this campsite on www.campingalbufeira.pt/.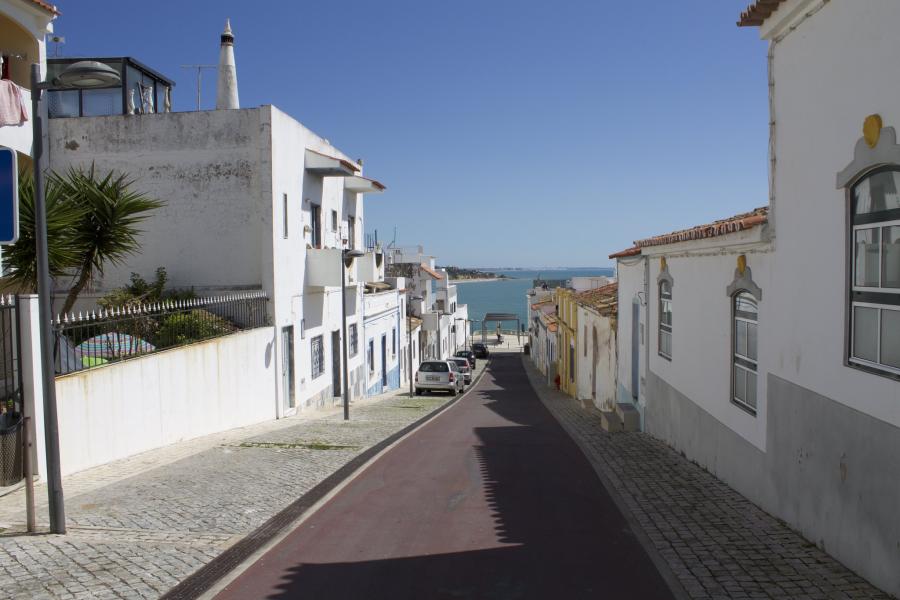 RV/Campers/Motorhome
If you are traveling with a Motorhome, Camping Albufeira (www.campingalbufeira.pt/) is also the best choice. It has nice plots with rates starting from around €10 (approx. $10, £8, $14 CAD, $16 AUD) per night. You can also visit www.algarvemotorhomepark.com to find some decent camping spots in Algarve. This website is convenient for finding the perfect place according to your preference to park your caravan.
Packing List
Weather: The fall, winter, and spring weather in Albufeira (Portugal) will normally be chilly during the day and cold during the night. Of course in the fall and spring it will be warmer than in the winter. You have to pack accordingly.

Warm clothing: Even when you go to a warm location like Albufeira (Portugal) you should not forget to take some things with you for your trip back home. When you return you are adapted to the warmer weather and need something to protect you from your hometown temperatures.

Consider the Weather: Always look at the type of weather in Albufeira (Portugal). Things like humidity, wind, and rain do not show up in the temperature graph but can have a great impact on your wardrobe. There are several sites with long term forecasts and climate information. Is there often a short afternoon downpour like in the tropics, you maybe need to take a strong umbrella and shoos that can cope with the rain. If there is often a lot of wind you might need a more wind-resistant coat.

Check the local Shopping options: Try to find information about the local shopping options near your location in Albufeira (Portugal). Are there stores where you can buy all your daily supplies, or are some things difficult to get? For some more remote locations, the options can be limited. If a certain item is really important for you might need to take it with you.

Look at the Local Culture: The local culture in Albufeira (Portugal) can impact your wardrobe. If most activities are in more upscale locations you might take some more appropriate clothes with you. Or travelling if you travel to certain countries women need to cover themselves in certain areas.

Amenities: Know what's Included in your house or apartment. Is there a coffee maker, a toaster, a washer and dryer, an iron, what is in the kitchen, what kind of towels are there? Things that are there means you do not have to take them with you. A furnished apartment or house can mean something from a few pieces of furniture to a well-stocked place with all the things you have at home. But most of the time your rental will not be stocked.

Mix and match: Wear layers so you can use your wardrobe more efficiently. And do not worry about wearing something more often, probably only you will notice this.

Important for you: If there is something that is really important for you that you want to have present in your house or apartment, take it with you. This can be something like a special knife for the kitchen, or a small mirror that you use in the morning. You can also purchase it locally if it is not that expensive.

Pet supplies: If you take your pet with you don't forget to take supplies for a few days with you. And enough medication, vitamins, or other supplies if you can not purchase them in Albufeira (Portugal) locally.

Food: Don't take a lot of food with you. Only when there is something you really can not live without you, and it is not too heavy you could consider taking it with you.

Towels: Not all locations include bigger towels for the swimming pool or a visit to the beach. If you have to take them and don't have a lot of room you can buy some big thin towels.

Office supplies: Normally you will not find any office supplies in your house or apartment. If you think you will use them you could pack some supplies like a scissor, notepaper, envelopes, some pens, and more depending on your needs.

Limit yourself: Don't take too many shoes and jackets, you will not need them that often.

Best-fitting: Bring your favorite and best-fitting items that can multi-function

Washer: Do you have a washer and dryer onsite, you don't need to pack a lot of clothes
Clothing
Basics
Casual
Smart
Footwear
Toiletries
Beauty
Hygiene
Clothing
Basics
Casual
Outdoor
Footwear
Accessories
Toiletries
Medicine
Miscellaneous
Other
Toiletries
Beauty
Hygiene
Hair
Other
Medicine
Miscellaneous
Technology
Travel and Free time
Travel
Free time
Important
Documents
Money
Other locations close to this location:
Travelers' Map is loading...
If you see this after your page is loaded completely, leafletJS files are missing.
If you have any additions, or comments on the content on this page, please use our contact form to let us know.
Detailed weather during the year for Albufeira Portugal
What to do during the year in Albufeira Portugal