Conil de la Frontera is a white fishing village in the province of Andalusia. It is located on the Atlantic side of Spain. It used to be a fishing town, together with agriculture they were the traditional occupation of the people living there. Now tourism has become a much more important part of the local economy. Conil de La Frontera has very nice serene beaches and the center has a very authentic old Spanish feel. There is a much less developed countryside as well with a large forest that covers 14 km (9 Miles) of the coastal area. Conil de la Frontera has a very rich history and also in the surrounding area, there are many places worth a visit.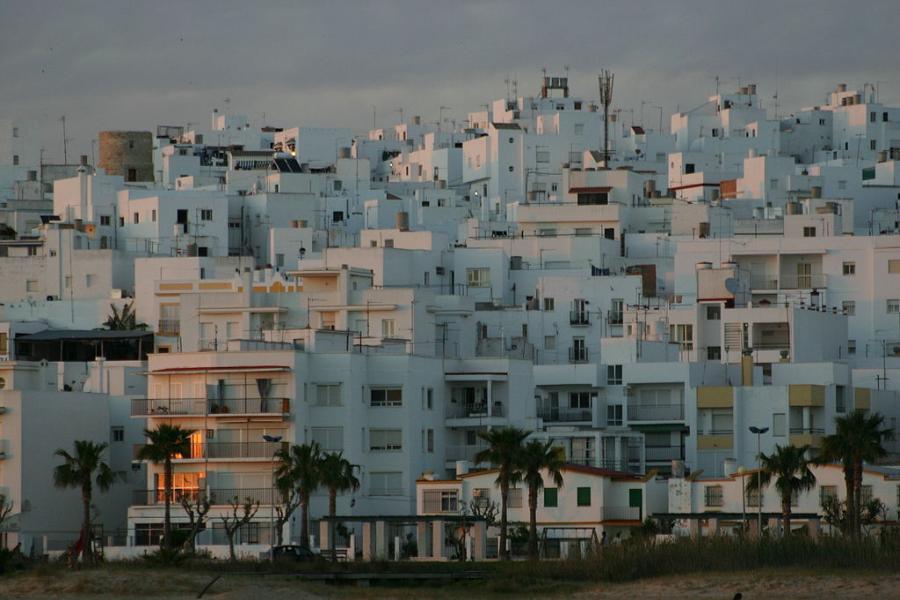 Why should people stay in Conil de la Frontera during the winter?
If you are looking for a relaxing place that is not extremely busy, Conil de la Frontera could be something for you. The weather can be pleasant in winter, with a lot of sunshine, but also cloudy and rainy days. You can easily find affordable houses and there are enough open restaurants and shops. It is suitable for walks and strolls around the city, and there is enough beautiful place to visit.
Climate
Conil de la Frontera touches the Atlantic part of Spain, this means enough sunny days, but it can be quite windy as well, and the winter period will see cloudy and rainy days. When the sun is shining during the day the temperature will be very pleasant, but during the night it can get much lower. Some days even to almost freezing, depending on how far you are from the sea. It is recommended to have heating in your residence.

Things to see in Conil de la Frontera
Conil de la Frontera has several places that are worth visiting:
Calle Paseo Del Atlantico: it is a beachfront promenade. There are many cafés and bars adjacent to the beach. A lot will be closed in the winter, but you will always find open ones as well.
Hidden Coves of Roche: It is one of the more unspoiled areas.
Municipal museum of Conil: It is an ethnographic museum with the history of Conil de la Frontera.
Plaque de la Atalaya: Famous for twisted pine trees.
Mirador El Jabiguero: Lookout point to watch the ocean.
Parroquia de Santa Catalina: Church that dates back to the 16th century.
El Taller Del Arte: Local art museum.
Entre Ramas Aventura: Adventure park
Things to see not far from Conil de la Frontera
There are a lot of things you can do from Conil de la Fontera. Here a small selection:
Vejer de la Frontera: It is a nice old village in Andalusia, only 16 km (10 Miles) from Conil de la Fontera.
Barbate: Another town 26 km (16 Miles) from Conil de la Fontera.
Sancha Pèrez: Here olive oil and wine are produced in traditional ways. 15 km (9 Miles) from Conil.
El Plamar beach: A good beach to watch the sunset.
Zahara de los Atunes: It is known as the unspoiled paradise. 36 km (22 Miles) from Conil.
Cadiz: The closest biggest town, around 40 min by car. Visit the Catedral de Cadiz, or do some shopping.
Gibraltar: Visit the famous rock with apes.
Activities in Conil de la Frontera in the winter
Conil de la Frontera will be quit in winter, but that doesn't mean there is nothing to do:
Fishing: you can go fishing in Puerto de Conil.
Carnival: Many festivals are held in winter months like the night of terror and the costume parades.
Yoga classes: there are some yoga options in Conil de la Frontera like Ashtanga Yoga and Polarity.
Pilates: you can also join Pilate classes
Bird watching: There are several spots where you can do Bird Watching. Many incredible species of birds use the area for a stop. You can get the details of sites and bird species available here http://www.discoveringdonana.com/Bird%20List%20-%20Summer.htm
Cycling and walking: the region is plain, so perfect for cycling and walking. Check the local tourist office for routes.
Sailing: You can go sailing in Cadiz bay.
Fish auction: you can watch live fish auction in Puerto de Conil.
Golf: Club de Golf Campano is 12 km (7 Miles) from Conil de la Frontera.
Fitness: If you like to keep fit you can find several gym's and group training, also in English.
Horse Riding: You can book rides at Centro Hipico Pinares y mar.
Shopping + Restaurants. Are they open in the winter?
Conil de la Frontera can be quit in winter. That means that a lot of shops and restaurants targeting tourists will be closed, or only open on weekends when it usually is busier with people arriving from Madrid and Sevilla. But that does not mean that all shops and restaurants will be closed, you will always find a nice selection of open ones. If you plan to do a lot more shopping you can also visit the nearest bigger town, Cadiz.
You can find different types of restaurants, both budget and more up class, including:
Mistura Conil: Mediterranean, Italian, Spanish and Seafood.
Desayuneria: vegan.
El Escondite de Conil: Mediterranean cuisine.
There are several grocery stores where you can get your day to day products, or visit the Mercado Municipal de Abastos for fresh meat and poultry.
Transport
The nearest airport from Conil de la Frontera is Jerez airport, approximately 72 km (45 Miles) away. To travel from the airport to Conil you can take the train from the airport to Cadiz. In Cadiz, you can catch a bus to Conil de la Frontera.
The main bus station is on Av. Cañada Honda. You can travel within the city or use the bus to visit nearby locations. You can check http://www.tgcomes.es/rutas.htm for details.
Health
Conil de la Frontera has 2 medical centers. Normally there will be somebody that can help you in English:
The nearest hospital, Viamed Novo Sancti Petri, is around nearly 20 min away: https://www.viamednovo.com/
There are a several dental clinics:
Accommodation
There is a good selection of apartments and houses available for the winter period in Conil de la Frontera.
You can get a small studio apartment/flat from around €450 (approx. $536, £402, $697 CAD, $728 AUD). Prices may vary according to location and size. You can also get a small house, fully equipped and furnished starting from €850 (approx. $1013, £760, $1317 CAD, $1375 AUD) per month.
If you want a larger penthouse, good view and super-luxury living, there are many excellent options starting from just €900 (approx. $1072, £804, $1394 CAD, $1456 AUD) per month
Winter Camping
Conil de la Frontera has a couple of camping options available. All are equipped with facilities like electricity, a pool and restaurants:
Camping la Rosaleda: There are different sizes of plots available with extra charges and all the facilities available. It is located near to the beach. For a single person you can get a single plot from €15 (approx. $17, £13, $23 CAD, $24 AUD) per night. https://campinglarosaleda.com/en/camping/
Camping Roche: The site has 335 pitches with many facilities and just 9 min from the main town. Rent is €18 (approx. $21, £16, $27 CAD, $29 AUD) per night. https://www.campingroche.com/pitches.html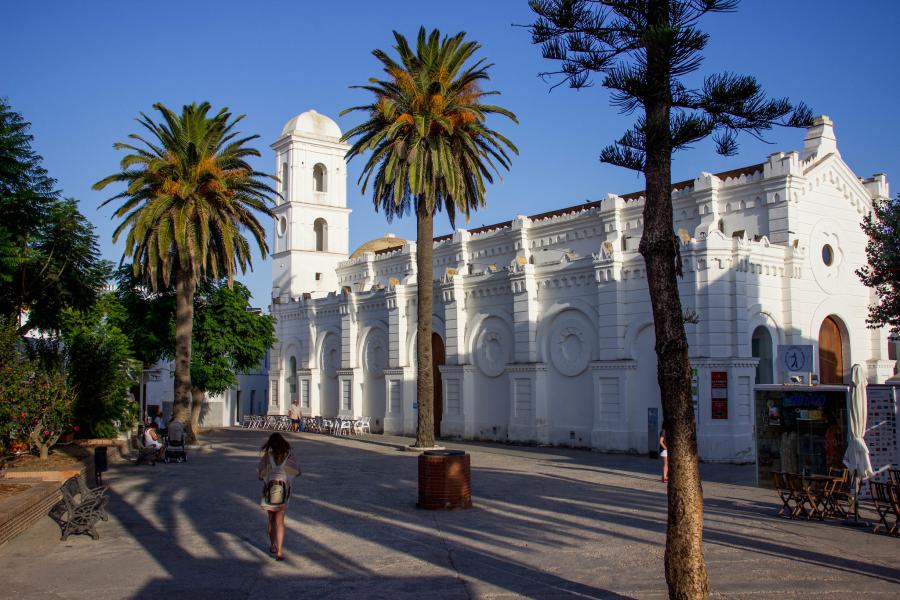 RV/Campers/Motorhome
If you have a Camper or Motorhome there are several locations in Conil de la Frontera:
Packing List
Weather: The winter weather in Conil de la Frontera (Spain) will normally be warm during the day and can be cold during the night. You have to pack accordingly.

Warm clothing: Even when you go to a warm location like Conil de la Frontera (Spain) you should not forget to take some things with you for your trip back home. When you return you are adapted to the warmer weather and need something to protect you from your hometown temperatures.

Consider the Weather: Always look at the type of weather in Conil de la Frontera (Spain). Things like humidity, wind, and rain do not show up in the temperature graph but can have a great impact on your wardrobe. There are several sites with long term forecasts and climate information. Is there often a short afternoon downpour like in the tropics, you maybe need to take a strong umbrella and shoos that can cope with the rain. If there is often a lot of wind you might need a more wind-resistant coat.

Check the local Shopping options: Try to find information about the local shopping options near your location in Conil de la Frontera (Spain). Are there stores where you can buy all your daily supplies, or are some things difficult to get? For some more remote locations, the options can be limited. If a certain item is really important for you might need to take it with you.

Look at the Local Culture: The local culture in Conil de la Frontera (Spain) can impact your wardrobe. If most activities are in more upscale locations you might take some more appropriate clothes with you. Or travelling if you travel to certain countries women need to cover themselves in certain areas.

Amenities: Know what's Included in your house or apartment. Is there a coffee maker, a toaster, a washer and dryer, an iron, what is in the kitchen, what kind of towels are there? Things that are there means you do not have to take them with you. A furnished apartment or house can mean something from a few pieces of furniture to a well-stocked place with all the things you have at home. But most of the time your rental will not be stocked.

Mix and match: Wear layers so you can use your wardrobe more efficiently. And do not worry about wearing something more often, probably only you will notice this.

Important for you: If there is something that is really important for you that you want to have present in your house or apartment, take it with you. This can be something like a special knife for the kitchen, or a small mirror that you use in the morning. You can also purchase it locally if it is not that expensive.

Pet supplies: If you take your pet with you don't forget to take supplies for a few days with you. And enough medication, vitamins, or other supplies if you can not purchase them in Conil de la Frontera (Spain) locally.

Food: Don't take a lot of food with you. Only when there is something you really can not live without you, and it is not too heavy you could consider taking it with you.

Towels: Not all locations include bigger towels for the swimming pool or a visit to the beach. If you have to take them and don't have a lot of room you can buy some big thin towels.

Office supplies: Normally you will not find any office supplies in your house or apartment. If you think you will use them you could pack some supplies like a scissor, notepaper, envelopes, some pens, and more depending on your needs.

Limit yourself: Don't take too many shoes and jackets, you will not need them that often.

Best-fitting: Bring your favorite and best-fitting items that can multi-function

Washer: Do you have a washer and dryer onsite, you don't need to pack a lot of clothes
Clothing
Basics
Casual
Smart
Footwear
Toiletries
Beauty
Hygiene
Clothing
Basics
Casual
Outdoor
Footwear
Accessories
Toiletries
Medicine
Miscellaneous
Other
Toiletries
Beauty
Hygiene
Hair
Other
Medicine
Miscellaneous
Technology
Travel and Free time
Travel
Free time
Important
Documents
Money