Spend Your Fall, Winter, or Spring in Turks And Caicos: Is Turks and Caicos A Good Snowbird Location?
Snowbirds looking for something different by visiting the archipelagos between the northern West Indies and the Atlantic Ocean can make a stop at the beautiful tropical islands of Turks and Caicos. These 40+ islands consist of a combination of the large Caicos and smaller Turks Islands.  The islands are an autonomous British overseas territory since receiving their own governor in 1973 and they are a major tourist center in addition to being an offshore financial center.
The majority of the island's people live in the city of Providenciales on Caicos islands while the capital- Cockburn Town is located on Grand Turk Island. The records of Europeans first sighting of these stunning islands was in 1512 but before then it was inhabited by the Taino people of Amerindian descent. After the island was discovered by the Spanish, the natives were used as slaves in neighboring plantations and they gradually died out. Soon the islands were being used as a hideout for pirates and buccaneers, after they were successfully done away with, the island's viability as a major salt export location started to be exploited by the European settlers. Today, the island has a rich culture and historical influence, and luxury tourism has become one of its major exports thanks to the amazing scenery and weather the islands enjoy.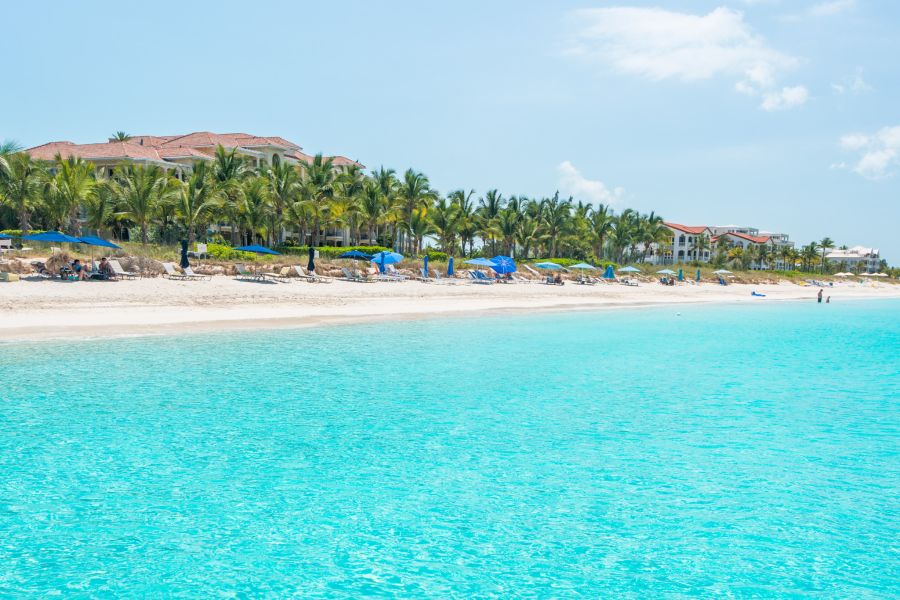 Why should people visit during the fall, winter, or spring?
The Turks and Caicos Islands have really low rainfall compared to the other Caribbean islands in the area such as the Bahamas. This means the weather is sunny and warm most of the time which makes it perfect as a winter destination. Tourism is a major export of the islands so they have all the facilities you need to make your winter sojourn as comfortable and enjoyable as possible. The people speak English as the island is a British territory so you won't have to worry about learning a new language in such a short time. Most of the islands are small and breathtaking with clear blue waters and pale sandy beaches. You can spend most of your trip exploring each island to your heart's content.
Climate
Turks and Caicos have a tropical climate. This means for most of the year, the weather is hot and sunny even in the winter. It's usually muggy and hot in the summer but during the winter it cools down and the weather becomes absolutely perfect for outdoor activities. Cool winds from the United States tend to come this way from December to March and they have a marked influence on cooling down the weather. On average, the temperatures in the warmer months are around 28°C (82°F) during the winter, it drops to 23°C (73°F) and can get even cooler at night time. The winter period normally does not see hurricanes (the hurricane season is from June to November).

Safety
The islands of Turks and Caicos are among the safest tourist destinations in the Caribbean. The crime rates are low and targeted attacks on tourists rarely ever happen. You can equate its safety levels to the larger North American cities like Miami. There are a few isolated cases of crime however if you stay vigilant and take the necessary precautions, you will be just fine during your visit. Smaller islands see fewer crimes so if you are staying in any of these places, you can relax a little however the larger populated islands can have their fair share of crime. Snowbirds should avoid flashing cash and displaying wealth. Expensive jewelry should be left at home to discourage pickpockets and only small amounts of money should be traveled around with. Avoid remote, isolated, or dark and dimly lit areas especially at night.
Communication, Internet, and cellphone in Turks And Caicos
Being a former British colony, the main language spoken in Turks and Caicos is English. Snowbirds will have no trouble communicating with the locals including service people as English is the first language for many of them. A few of the migrant workers from neighboring Caribbean countries speak Haitian Creole or Spanish so don't be surprised if you hear other languages besides English being spoken here.
Check your own carrier about the roaming cost for Turks and Caicos. Depending on your plan roaming can be very expensive, and in those cases, we advise winter visitors to purchase a local Sim card. There are two major mobile network service providers in Turks and Caicos. If you would like to make calls and access the Internet then we advise buying a low sim from either flow or Digicel outlets. Flow SIM cards support coverage for Sprint and Verizon phones. You can either purchase a SIM card at the airport or when you arrive at your preferred location. You need an ID to register and activate a SIM card (your passport should suffice) buying a local SIM card would cost you around $10 (approx. €9, £7, $13 CAD, $15 AUD).
Snowbird locations in Turks and Caicos
Grace bay: Grace Bay is located in the highly populated city of Providenciales and can be described as elegant and stylish. There are lots of affordable accommodation options and supermarkets that service the area. The town also has its share of attractions like the princess Alexandra national park.
Cockburn Town- although this is the capital city of Turks and Caicos, the entire island can be driven across in just one hour. The small colonial town has rich historical attractions as well as beaches and other relaxation spots.
The Bight Settlement – home to the Bight park where there are Thursday nightly congregations for music and seafood fish fry. The area also has stunning beaches and it is just a stone's throw away from the airport
Things to see in Turks And Caicos
Grace bay beach – arguably the most stunning beach in all of the Caribbean, the bright blue waters and powder-soft sands of grace bay beach call to tourists year-round. It is a part of the Princess Alexandra marine park where snorkelers can get an underwater view of marine life at the many reefs in the area.
Chalk sound national park – the national park is separated from the ocean by a thin strip of sand. The lagoon has turquoise blue waters and limestone deposits in its many rock islands. Many iguanas live on these islands and the waters can be explored via kayaks and paddleboards.
Little water cay – this island is home to rare species of endangered iguanas. Also called iguana island, the island is accessible by boat and welcomes tourists to see some of the species that once roamed the entire Turks and Caicos.
Crossing place trail – the coastal path is a national trust heritage site and was used as a path by slaves and plantation settlers. There are cave formations to explore, beaches, coastal headlines, and views of the coastline.
Salt cay – salt cay is a nominated UNESCO world heritage site and was the island's former major source of income as the largest exporter of salt in the world.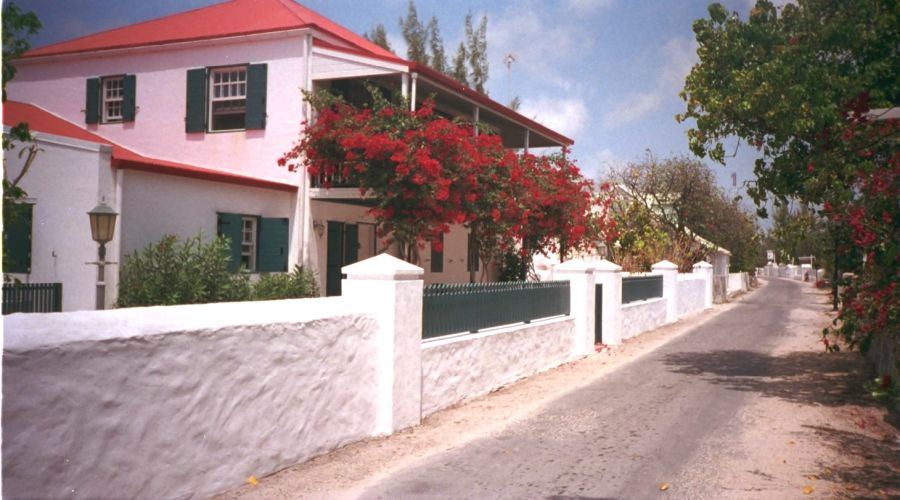 Activities in the winter in Turks and Caicos
Visit the museum – the museum is located in an old stone building with artifacts and displays that showcase the country's history. There are reef wrecks, ancient messages in bottles, and an attached botanical garden with interesting plants.
Relax on the beach – the amazing winter weather is perfect for relaxing by the most beautiful beaches located in Turks and Caicos. You can go for a swim as the ocean is warm and pleasant.
Cheshire Hall – this slice of history is open for tours and snowbirds can take the opportunity to learn about the island's history when exploring the 200-year-old ruins of Cheshire Hall.
Whale watching – these sea giants frequent the waters around the Turks and Caicos Islands and can be seen in guided tours.
Shopping + Restaurants. Are they open in the fall, winter, or spring?
Shops and restaurants are open all through the winter on the Turks and Caicos Islands. There are a number of malls and plazas where you can shop for jewelry, clothes, and other items. There are also big supermarkets where you can purchase essential items. The local markets are also open in the winter and tourists can shop for locally made items for gifts and souvenirs. The restaurants are also open and it has one of the most thriving culinary scenes in the Caribbean. Seafood plays a major role in the food the islanders eat. There are also food stalls and shacks littered around the islands.
Transport
There are airports in Turks and Caicos that facilitate inter-island travel and other domestic flights. The international airport is located in the capital city of Cockburn Town on the Grand Turks island.
There are taxis that take you around a particular island which can be summoned using a ride-hailing service called conch cab.
Ferries are the main source of transport from one island to another. With only two islands (middle and North Caicos) connected by a motorway. There are no busses or trains in Turks and Caicos.
Renting a car is a great way to get around the island you are staying in as they are convenient and flexible. The road networks are decent but b careful of taxi drivers who sometimes drive recklessly and will stop at any point to pick up passengers. Renting a car in Turks and Caicos will cost around $40 (approx. €37, £31, $54 CAD, $60 AUD).
Health
Healthcare in Turks and Caicos is decent and there are no endemic diseases. It has pollution-free air and water and there are a number of private clinics readily available 24 hours. In addition to this, there is a new general hospital and modern dental clinics.
The doctors are well trained and all the medical staff speaks fluent English. Minor ailments and accidents are easily handled on the island however more serious cases may need to be flown out to Nassau or Miami. There are several pharmacies where you can top up prescription drugs and buy other over-the-counter drugs.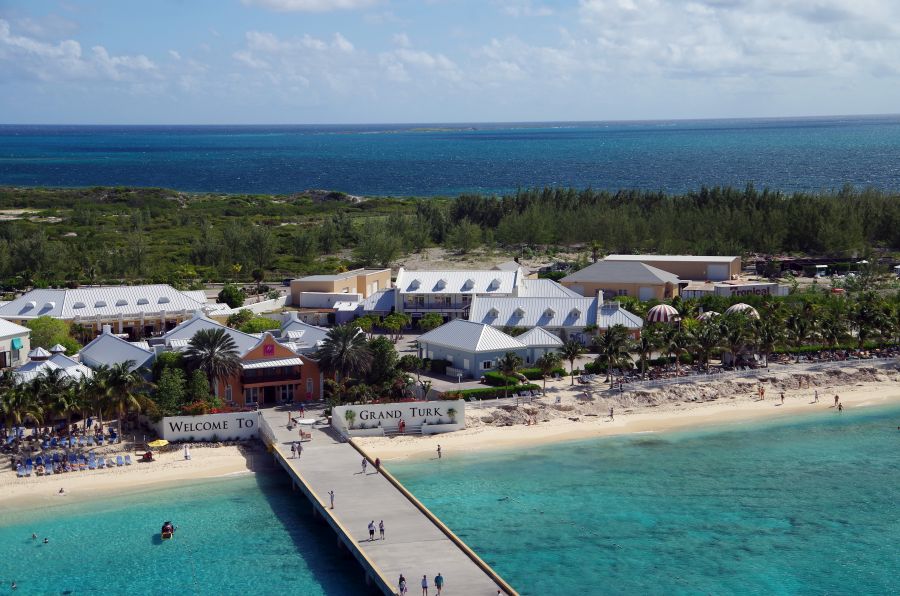 Accommodation
There are a number of apartments and flats available to rent in Turks and Caicos. Some of these apartments are self-catering and have the basic amenities you need to enjoy your stay. Apartments cost almost as much as in the United States as a one-bedroom outside the city center costs around $1066 (approx. €987, £846, $1446 CAD, $1619 AUD) while a 3 bedroom outside the city costs $3,266 (approx. €2.78, £2.38, $4.07 CAD, $4.56 AUD).
Packing List
Weather: The fall, winter, and spring weather in Turks and Caicos will normally be hot during the day and hot/warm during the night. Of course in the fall and spring it will be warmer than in the winter. You have to pack accordingly.

Warm clothing: Even when you go to a warm location like Turks and Caicos you should not forget to take some things with you for your trip back home. When you return you are adapted to the warmer weather and need something to protect you from your hometown temperatures.

Consider the Weather: Always look at the type of weather in Turks and Caicos. Things like humidity, wind, and rain do not show up in the temperature graph but can have a great impact on your wardrobe. There are several sites with long term forecasts and climate information. Is there often a short afternoon downpour like in the tropics, you maybe need to take a strong umbrella and shoos that can cope with the rain. If there is often a lot of wind you might need a more wind-resistant coat.

Check the local Shopping options: Try to find information about the local shopping options near your location in Turks and Caicos. Are there stores where you can buy all your daily supplies, or are some things difficult to get? For some more remote locations, the options can be limited. If a certain item is really important for you might need to take it with you.

Look at the Local Culture: The local culture in Turks and Caicos can impact your wardrobe. If most activities are in more upscale locations you might take some more appropriate clothes with you. Or travelling if you travel to certain countries women need to cover themselves in certain areas.

Amenities: Know what's Included in your house or apartment. Is there a coffee maker, a toaster, a washer and dryer, an iron, what is in the kitchen, what kind of towels are there? Things that are there means you do not have to take them with you. A furnished apartment or house can mean something from a few pieces of furniture to a well-stocked place with all the things you have at home. But most of the time your rental will not be stocked.

Mix and match: Wear layers so you can use your wardrobe more efficiently. And do not worry about wearing something more often, probably only you will notice this.

Important for you: If there is something that is really important for you that you want to have present in your house or apartment, take it with you. This can be something like a special knife for the kitchen, or a small mirror that you use in the morning. You can also purchase it locally if it is not that expensive.

Pet supplies: If you take your pet with you don't forget to take supplies for a few days with you. And enough medication, vitamins, or other supplies if you can not purchase them in Turks and Caicos locally.

Food: Don't take a lot of food with you. Only when there is something you really can not live without you, and it is not too heavy you could consider taking it with you.

Towels: Not all locations include bigger towels for the swimming pool or a visit to the beach. If you have to take them and don't have a lot of room you can buy some big thin towels.

Office supplies: Normally you will not find any office supplies in your house or apartment. If you think you will use them you could pack some supplies like a scissor, notepaper, envelopes, some pens, and more depending on your needs.

Limit yourself: Don't take too many shoes and jackets, you will not need them that often.

Best-fitting: Bring your favorite and best-fitting items that can multi-function

Washer: Do you have a washer and dryer onsite, you don't need to pack a lot of clothes
Clothing
Basics
Casual
Smart
Footwear
Toiletries
Beauty
Hygiene
Clothing
Basics
Casual
Outdoor
Footwear
Accessories
Toiletries
Medicine
Miscellaneous
Other
Toiletries
Beauty
Hygiene
Hair
Other
Medicine
Miscellaneous
Technology
Travel and Free time
Travel
Free time
Important
Documents
Money
Other locations close to this location:
Travelers' Map is loading...
If you see this after your page is loaded completely, leafletJS files are missing.
If you have any additions, or comments on the content on this page, please use our contact form to let us know.
Detailed weather during the year for Turks And Caicos
What to do during the year in Turks And Caicos