Spend your fall, winter, or spring in Benidorm, Spain: Is Benidorm a good snowbird location?
Benidorm is among the most popular destinations at the Costa Blanca as it has been in the spotlight for visitors in Spain since 1925. The city of Benidorm is vastly developed and has a lot to offer whether you are looking for a peaceful retreat or an adventurous vacation. With widespread beaches, multiple options for accommodation, remarkable cuisine and several places to visit, Benidorm has something enjoyable for every visitor. Not to forget the perfect weather conditions, which is undeniably the cherry on top.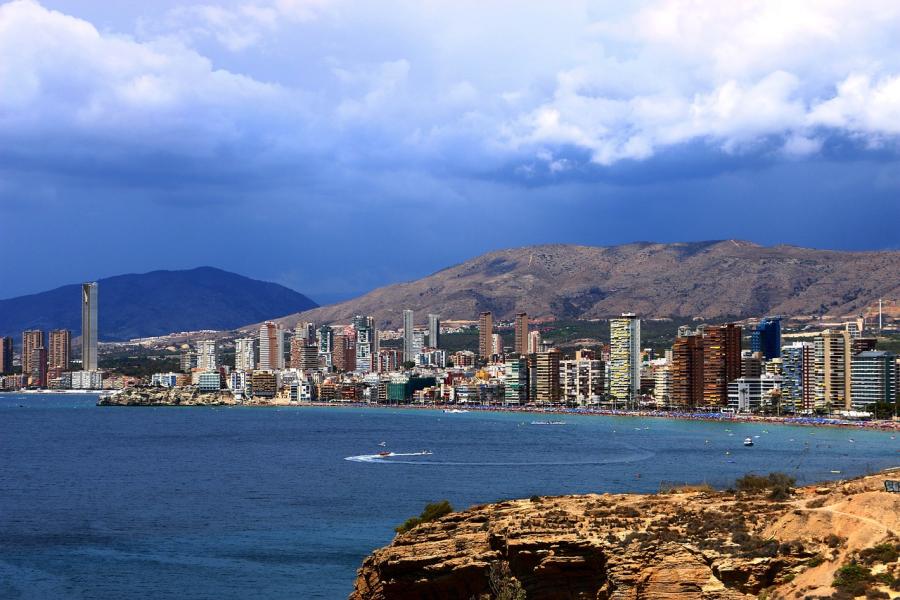 Why should people stay in Benidorm during the fall, winter, or spring?
Maybe the most known snowbird location from mainland Spain. Due to the many winter visitors it is even in the quietest month very busy. It is really different from most other places in Spain due to the huge amount of high rise buildings. The city won't attract all winter visitors, but it has a lot to offer for those who choose it as there destination. There are many places to visit and things to do. Benidorm is an all year round destination because it has something for everybody. With golden sand beaches, a spectacular skyline, beautiful weather, and countless activities right around the corner, there is no stopping you from having a wonderful time there and enjoy the good winter weather.
Climate
Benidorm has a semi-arid climate with comfortably mild weather in winter and hot summers. Due to the microclimate, it is often seen as having the best winter climate in mainland Spain. The temperature in the winter often exceeds 20 with a lot of sunshine, and generally less rainy days than on the Costa del Sol in the south of Spain. There are more than 3,000 hours of sunshine all year round and with a fairly agreeable environment, Benidorm makes a popular winter destination for the people who take retreats to escape the severe weather conditions.

Things to see in Benidorm
Benidorm occupies a number of amusing places one can visit during the winters. As the town itself is quite new, do not expect an old town and old buildings. The most popular destinations include:
Levante Beach: Known as the Sunrise beach and is among the most popular beaches of Benidorm. It is conveniently placed near the developed part of the city, making it easier for the people to visit the nearby shops and restaurants.
Poniente Beach: The largest beach of the city with numerous facilities available for the people who are visiting. Generally less crowded than the Levante beach.
Tapas Alley: A place that has it all when it comes to food. Offers cuisines from around the world including Chinese, Italian, English, and Indian etc. The place is a must-visit for non-Spanish visitors.
Terra Mítica: One of the largest theme parks in Spain. The park is beautifully designed to highlight the importance of ancient civilizations like Egypt, Rome and Greece.
Balcón del Mediterráneo: A white marbled terrace placed on the edge of the sea, overlooking the miraculous views of Benidorm's modern skyline. The place was once a site of Benidorm's Castle.
La Cruz de Benidorm: The place had religious significance back in the old days but later grew into a popular tourist destination as people came by to grasp the sight of the wooden cross. The cross was later replaced by a more permanent monument.
Things to see not far from Benidorm
Benidorm is surrounded by many potential sightseeing areas that one can visit. Some of them are mentioned below.
Benidorm Island: A few km/miles offshore from the main city. One can plan a day trip around the island for a peaceful and fascinating experience.
Peñón de Ifach Nature Reserve: Located near Calpe. The place is popular among non-Spanish visitors and has an interesting monumental heritage.
Island of Tabarca: Famous for its marine reserve and is currently the smallest islet in Spain where people have taken settled. It is located within Alicante and is a great place to visit for a day trip.
Altea (North of Benidorm): People who are looking for a peaceful day out can visit Altea to enjoy the calm surroundings and explore the rich history of the city.
Villajoyosa (South of Benidorm): The small coastal town is famous for its chocolate industry.
Guadalest: A well-recommended destination for a day trip as the small town holds immense beauty and astounding views of Aitana and Xorta.
Activities in Benidorm in the fall, winter, or spring
Being one of the most popular winter destinations in mainland Spain means that there are a huge amount of activities going on in Benidorm. This overview just names a few things that you can do:
Benidorm Cuisine: The local gastronomy set aside, Benidorm offers a large variety of options all the way to international food chains. Every foodie is bound to find something to satisfy their taste buds.
Visit the beaches
Golf Clubs: A number of Golf courses and competitions held at Benidorm. You will find many players at their golf clubs.
Yoga retreats: Numerous yoga retreats and classes held at Benidorm. There are many options available for you to choose from.
Fiesta de la Carxofa: A winter festival held in November highlighting the different customs and traditions of the people of Spain. The festival lasts up to 3 days and is a fascinating insight for visitors.
Fallas: A traditional festival held in March where huge statues are set up and burnt down in the streets.
Benidorm Carnival
Learn Spanish: take Spanisch languages classes
Boat Excursions and Fishing: Boat excursions to the island of Benidorm for a day out to the sea.
Walking and Cycling: Benidorm offers a large promenade and multiple parks where people can spend their time roaming around the town and exploring the different aspects of life spent in Spain. The possibilities are endless.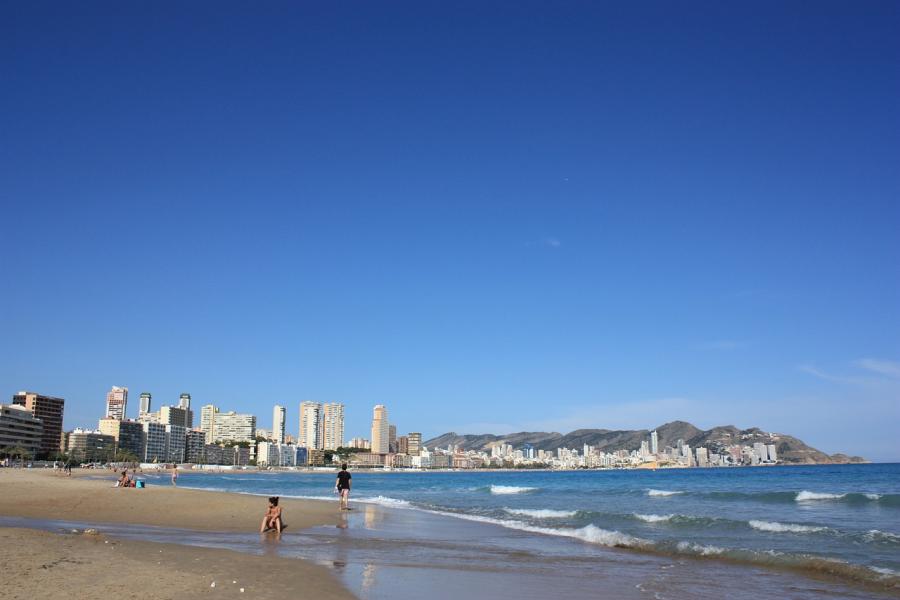 Shopping + Restaurants. Are they open in the fall, winter, or spring?
Considering the high-status Benidorm holds when it comes to being the ideal tourist destination, it is no surprise when we hear about the famous gastronomy of the city and how spectacular it really is. From local to international cuisines, Benidorm has it all. There are numerous famous eateries in the city. Expect that almost all restaurants will be open for the busy winter season. Some of the most famous dishes and restaurants are mentioned below:
Ians' Restaurant
Amigos Restaurant and Roof Terrace Benidorm
Amigos Bistro by Nas & Dino
Paella (most symbolic dish of the city)
Misteleta and Horchata (famous local wines)
Home-made desserts
When it comes to having a good market place, Benidorm has numerous shops present in Avenida Martinez Alejos of the old town in Benidorm. This local bazaar is a busy place and a must-visit because of the large variety of products it has to offer. Not only is the Benidorm bazaar popular for the basic products, the city's fashion boutiques, but designers and gift shops are also ideal for people who are looking for the perfect souvenir to bring back home. Benidorm also has several smaller to larger shopping malls. Expect that almost all the stores will be open for the busy winter season. Some of the popular market places include:
Benidorm Shopping Center La Marina
Mercadillo Foietes Market (Wednesdays)
Benidorm Outdoor Market (Sundays and Wednesdays)
Mercat Municipal Benidorm
Mercaloix Indoor Market
Transport
Moving around in Benidorm is a lot easier than in other towns on the Costa Blanca. There are many different modes of public transport available for the people living in the city which cover up for day-to-day affordable rides to move in and around the city.
The Tram (www.tramalicante.es/) is a public transport service which operates from Alicante to Benidorm and all the towns in between. It is affordable and most preferred if you are looking for day trips to the nearby towns in the area.
The Limon Express is another public train service which has been running in Europe since 1910. The service is convenient for exploring the city and is easily accessible 5 days a week.
Public Bus Service is an excellent option for the people living in the city as it is affordable and always on schedule. The buses are comfortable and clean and the routes are preplanned and easy to follow which helps save a lot of time and money.
Taxi Cabs are readily available in case of emergencies or if public transportation isn't available at some point. Taxis here are relatively cheaper than other private cabs.
In case you're flying, the easiest way of getting to Benidorm is through the Alicante International Airport. The ride from the airport to the city is mostly booked through Shuttle Direct (www.shuttledirect.com/) which is a private transportation facility and can be easily booked beforehand.
Benidorm is also easily reached by car using the AP-7 toll road, or the N-332. Closer to the see the traffic can get busy, and parking can be difficult. There is paid parking.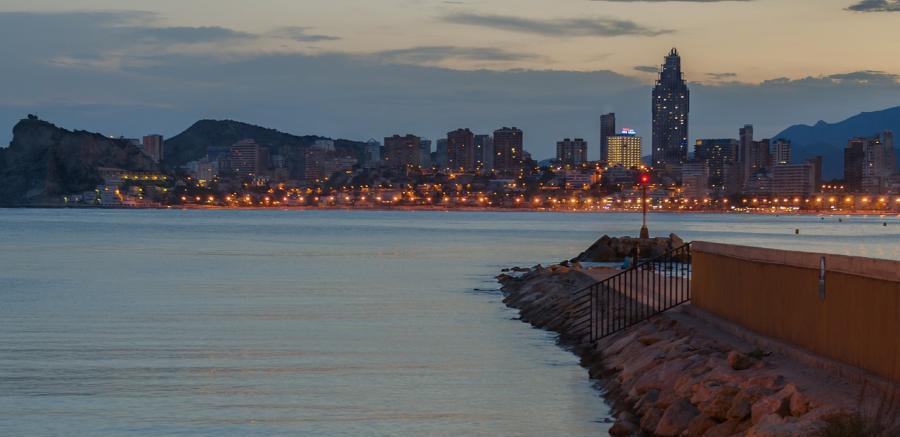 Health
Public and private healthcare facilities are widely available. As Benidorm caters to foreign visitors expect doctors and dentist that can help in English and a lot of other languages. The closest public hospital is in Villajoyosa, the next town south of Benidorm. In Benidorm itself are several private clinics, also there are no language barriers. Don't forget that you must have health insurance or an EHIC card. Some of the popular healthcare facilities are mentioned below.
Hospital Villajoyosa
Hospital Clinica Benidorm
Hospital de Levante
Farmacia Europa 24h Benidorm
Accommodation
Benidorm is among the most popular tourist destinations in all of Spain and so, offers numerous accommodation facilities to people who want to spend their time at Benidorm. Whether you're looking for an apartment or a villa, you will be surprised by the variety of options available for you to choose from. Some of the most popular rental organizations include 
HomeAway (www.homeaway.co.uk) which offers a large variety of rental properties like apartments and villas that are available for longer periods of time.
Idealista (www.idealista.com), Sublet (https://www.sublet.com)  and HomeToGo (www.hometogo.com) are other establishments that connect you to local renters and real estate agents who offer apartments with rates starting from €300 (approx. $351, £255, $443 CAD, $462 AUD) per month.
Other options like Airbnb (www.airbnb.com) are also available in case you're looking for a more customized offer. The prices vary according to the location and the size of the accommodation.
Winter Camping 
Benidorm has several camping options. Expect that prices will be higher than in other locations, and you have to make reservations well in advance:
Villasol Camping and Resort: (www.camping-villasol.com). Located near the Lavante Beach with a beautiful setting, the cabins make for a popular camping site. Offers a luxurious experience when it comes to camping with its highly cooperative staff, numerous facilities and easy access from the city. No language barriers. Starting from €640 (approx. $750, £545, $946 CAD, $986 AUD) per month.
Camping Armanello: (www.campingarmanello.com). Very near to central Benidorm. Most preferred camping site after the Villasol Resort. The place offers a comfortable living arrangement for campers and has many facilities to offer making it fairly enjoyable for the visitors. Expect prices from €500 (approx. $586, £426, $739 CAD, $770 AUD) per month and up. No language barriers.
Camping Arena Blanca (www.campingarenablanca.com). Nice camping. Expect prices from €500 (approx. $586, £426, $739 CAD, $770 AUD) per month and up.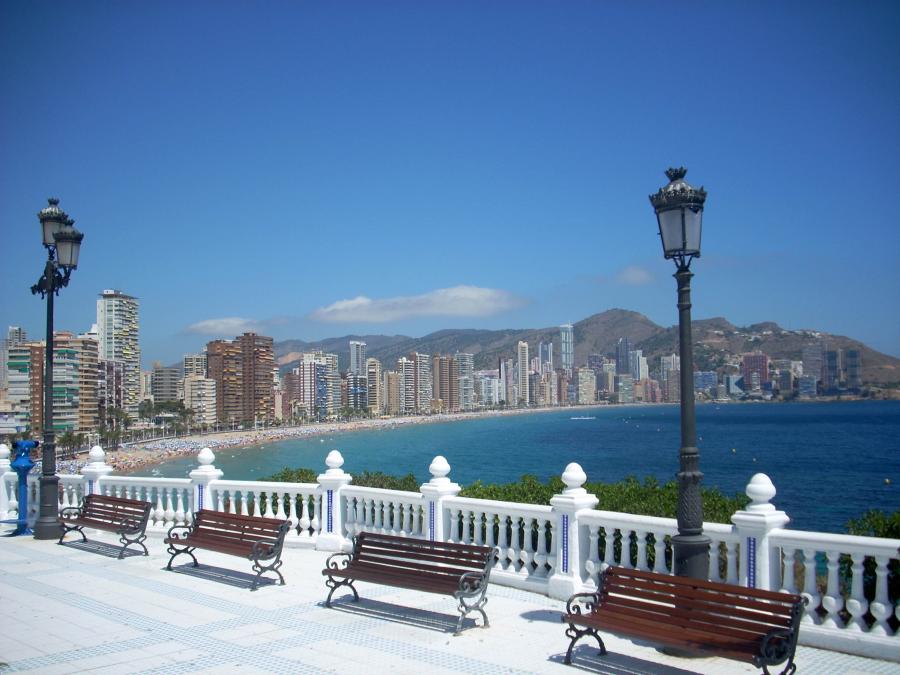 RV/Campers/Motorhome
If you are travelling with a Motorhome, Camping Armanello (www.campingarmanello.com) and Camping El Raco(www.campingraco.com) have decent locations to offer rates starting from €15 (approx. $17, £12, $22 CAD, $23 AUD) per night.
Packing List
Weather: The fall, winter, and spring weather in Benidorm (Spain) will normally be warm during the day and can be cold during the night. Of course in the fall and spring it will be warmer than in the winter. You have to pack accordingly.

Warm clothing: Even when you go to a warm location like Benidorm (Spain) you should not forget to take some things with you for your trip back home. When you return you are adapted to the warmer weather and need something to protect you from your hometown temperatures.

Consider the Weather: Always look at the type of weather in Benidorm (Spain). Things like humidity, wind, and rain do not show up in the temperature graph but can have a great impact on your wardrobe. There are several sites with long term forecasts and climate information. Is there often a short afternoon downpour like in the tropics, you maybe need to take a strong umbrella and shoos that can cope with the rain. If there is often a lot of wind you might need a more wind-resistant coat.

Check the local Shopping options: Try to find information about the local shopping options near your location in Benidorm (Spain). Are there stores where you can buy all your daily supplies, or are some things difficult to get? For some more remote locations, the options can be limited. If a certain item is really important for you might need to take it with you.

Look at the Local Culture: The local culture in Benidorm (Spain) can impact your wardrobe. If most activities are in more upscale locations you might take some more appropriate clothes with you. Or travelling if you travel to certain countries women need to cover themselves in certain areas.

Amenities: Know what's Included in your house or apartment. Is there a coffee maker, a toaster, a washer and dryer, an iron, what is in the kitchen, what kind of towels are there? Things that are there means you do not have to take them with you. A furnished apartment or house can mean something from a few pieces of furniture to a well-stocked place with all the things you have at home. But most of the time your rental will not be stocked.

Mix and match: Wear layers so you can use your wardrobe more efficiently. And do not worry about wearing something more often, probably only you will notice this.

Important for you: If there is something that is really important for you that you want to have present in your house or apartment, take it with you. This can be something like a special knife for the kitchen, or a small mirror that you use in the morning. You can also purchase it locally if it is not that expensive.

Pet supplies: If you take your pet with you don't forget to take supplies for a few days with you. And enough medication, vitamins, or other supplies if you can not purchase them in Benidorm (Spain) locally.

Food: Don't take a lot of food with you. Only when there is something you really can not live without you, and it is not too heavy you could consider taking it with you.

Towels: Not all locations include bigger towels for the swimming pool or a visit to the beach. If you have to take them and don't have a lot of room you can buy some big thin towels.

Office supplies: Normally you will not find any office supplies in your house or apartment. If you think you will use them you could pack some supplies like a scissor, notepaper, envelopes, some pens, and more depending on your needs.

Limit yourself: Don't take too many shoes and jackets, you will not need them that often.

Best-fitting: Bring your favorite and best-fitting items that can multi-function

Washer: Do you have a washer and dryer onsite, you don't need to pack a lot of clothes
Clothing
Basics
Casual
Smart
Footwear
Toiletries
Beauty
Hygiene
Clothing
Basics
Casual
Outdoor
Footwear
Accessories
Toiletries
Medicine
Miscellaneous
Other
Toiletries
Beauty
Hygiene
Hair
Other
Medicine
Miscellaneous
Technology
Travel and Free time
Travel
Free time
Important
Documents
Money
Other locations close to this location:
Travelers' Map is loading...
If you see this after your page is loaded completely, leafletJS files are missing.
If you have any additions, or comments on the content on this page, please use our contact form to let us know.