Spend your fall, winter, or spring in Alicante, Spain: Is Alicante a good snowbird location?
Alicante is a port city and the capital of the province of Alicante. It is situated on the Mediterranean coast; in the region known as Costa Blanca. It is a small coastal city with historic and cultural significance. The ancient architecture, beaches, museums, natural parks, the old town, and the stunning promenade are the hallmarks of the city. Alicante enjoys a privileged Mediterranean climate due to its strategic location. The city offers plenty of rich cultures, diverse cuisine, and exciting nightlife and promises amazing recreational opportunities for all.
Why should people visit during the fall, winter, or spring?
Alicante is an excellent location for anyone trying to escape the harsh winters in their hometowns. Winters are milder and comfortable in this region and the temperature is ideal for relaxing in the sun or for other outdoor activities. Many snowbirds visit this coastal town to enjoy nautical activities, golfing, exploring nature and history of the town, haggling at the local street markets, and please their palates by indulging in the diverse local and international cuisines this place has to offer. Alicante also has a buzzing nightlife and the Alicante Marina has many discos, bars, and even a casino for unlimited entertainment. Winters also mark the holiday season and many celebrations and festivities surrounding the city during this time. Christmas, New Year, and the Three Kings Parade are the main festivals held during winters.
Climate
Alicante enjoys a Mediterranean climate. The winters are mild and the region receives little rain. The average temperature during winters is usually around 17°C (63°F). The weather is pleasant and ideal for sun-seekers wishing to spend time outdoors and connecting with nature.

Things to see in Alicante, Spain
Alicante offers many interesting places for its visitors to explore. Some of them are listed below:
The Beaches: Alicante's main charm is its endless beaches including the famous Playa San Juan. These splendid beaches are well equipped having restaurants, beach bars, and designated sports areas. These beautiful beaches have been awarded the prestigious Blue Flag and the pristine waters make this a perfect place to go sailing and snorkeling to discover incredible marine life.
Castillo de Santa Bárbara or the Santa Bárbara Castle is situated 166m above sea level on the top of Mount Benacantil, overlooking the city. The tallest tower, La Torreta, is the oldest part of the castle and offers panoramic views of the region. The castle has canons, dungeons, a moat, and the ruins of a small church.
Museums: There are many museums in Alicante which are worth a visit. The Archaeological Museum of Alicante (MARQ) exhibits artifacts dating from 100,000 years ago. Museum of Contemporary Art and Gravina Museum of Fine Arts (MUBAG) features an impressive collection of Spanish 20th-century works from artists including Picasso, Dalí, Miró, Tàpies, and Chillida.
Explanada de España is one of the loveliest promenades in Spain. It is lined with palm trees and paved with 6.5 million marble floor tiles. It extends from the Port of Alicante and ends at the famous statue of Mark Hersch. For the locals, this is the preferred place for a traditional paseo and a venue for other forms of outdoor entertainment like musical concerts.
Parque de La Ereta is situated on the foothills of Mount Benacantil. It includes walking trails, children's playgrounds, ponds and brooks, picnic tables, and an auditorium for concerts.
Basílica of St Mary is the oldest active church in Alicante, Spain. It is a church built in a Gothic style between the 14th and 16th centuries over the remains of a Mosque. The Church was later promoted to the rank of a Basilica in 2007.
Port of Alicante The Port of Alicante is a seaport on the Mediterranean Sea used for commercial and passenger traffic. Marina Alicante on the port offers all forms of entertainment including a vibrant nightlife. The cafes, pubs, night clubs, restaurants, casinos, shops, and nautical companies offer you endless options without having to leave the port area.
Things to see not far from Alicante, Spain
When you are done exploring Alicante, there are some places nearby which are equally beautiful and worth visiting:
Tabarca Island: Located a short distance from Alicante on the Mediterranean Sea, this island has a rich history and is known as the pirate island due to its long years of occupancy by pirates. It is now the smallest inhabited island in Spain.
Elche is a historic city located27.9 km (17 Miles) from Alicante and is mainly famous for its massive groves of palm trees, the Palmeral of Elche, which is a World Heritage site.
El Campello is a quiet fishing town easily accessible by the Tram. The towns boast of two beautiful beaches and water sports activities that visitors of all ages can enjoy. The historic buildings give a glimpse into the past and add to the charm of this authentic town.
Santa Pola is located approximately 19.7 km (12 Miles)

away from Alicante. It has a small fishing port, a marina, and local markets which sell a variety of items from fresh produce to clothing. It is a quiet place with fresh air and a breathtaking landscape.

Benidorm is an old fishing town located around44.8 km (28 Miles)

from Alicante and is now considered the most popular resort of the province. It offers wide sandy beaches, high rise buildings, a vibrant nightlife, and beautiful natural parks.

L'Albir is a small quiet town situated near Benidorm, around 50 km (31 Miles)

from Alicante. It boasts amazing clean beaches, secluded coves, and a stunning palm-lined promenade.
Activities in Alicante, Spain during winter
Alicante has a lot of activities for its visitors to engage in to make the most of their time. Some of these are:
Nautical Activities: Enjoy nautical activities like sailing and snorkeling in the Mediterranean Sea.
Golfing: Playing a round of golf at the wide range of golf courses in Alicante.
Horseback riding: Hire magnificent horses from the local ranches and ride with experienced riders through the natural trails and wilderness of the coastal area.
Bike Tours: Rent a bicycle or motorized bike and tour the city on your own.
Shopping: The Farmer markets and street markets are a good way to learn about the cultural and social characteristics of a place and can prove to be an interesting shopping experience.
Hiking: There are many nature trails in the parks which offer a peaceful connection with the wildlife and nature surrounding Alicante.
Cooking classes: Learn how to make paella and tapas with fresh local ingredients by signing up for cooking classes in Alicante.
Gourmet Tours: Enjoy authentic tapas, paellas, and wine tasting tours which prove to be an exciting experience for the visitors.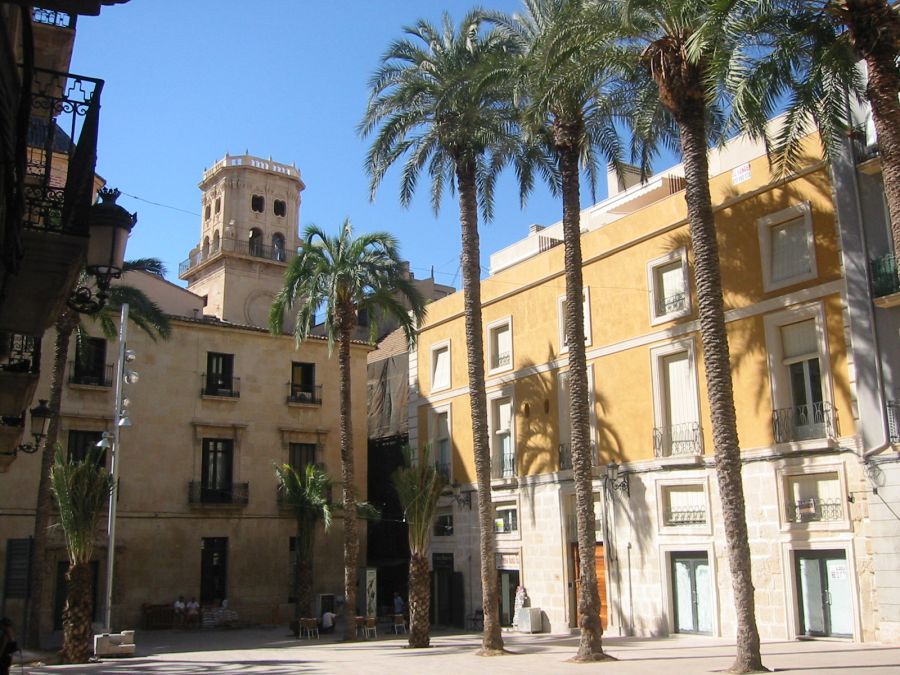 Shopping + Restaurants. Are they open in the fall, winter, or spring?
As Alicante is a major town with mostly permanent residents you will find shops and restaurants open year around. Alicante has extensive opportunities for those visitors who enjoy their time shopping. Mercado Central is Alicante's main market housing above 200 stalls, mostly owned by families from in and around Alicante. They sell fresh local ingredients like red prawn, sardines, crabs, mussels, organic vegetables, stuffed olives, and artisan bread. Mercadillo Teulada is a street market for clothing and food. The Alicante Marina also has an exclusive commercial area along with many bars and restaurants for an overall enjoyable experience. In December the Christmas Craft Market opens up at the Federico Soto Walk, selling a variety of Christmas themed merchandise.
Alicante offers its visitors a remarkable dining experience in addition to the diverse shopping. Fresh local ingredients and fresh seafood enhance the delicious taste of all cuisines this city has to offer. Rice is a staple food in Spain and the Paella, which is a rice dish made with chicken, rabbit, and snails, is worth a try when visiting Alicante. Spanish Tapas is also a popular food and there are many Tapas bars in Alicante. You must also try Jijona turrón which is a traditional nougat dessert made with honey, sugar, and egg white topped with toasted nuts. Visitors can also enjoy some excellent local wine to complete their meal. The authentic taste and variety offered by Alicante make it one of the best among the region of Costa Blanca.
Transport
Health
Alicante has good medical facilities available at the public hospitals and medical centers in the area. Doctors are competent and many specialists are also present. Dentists are also easily available for consultation. English speaking staff are easily available as well. A few hospitals and dental clinics are listed below: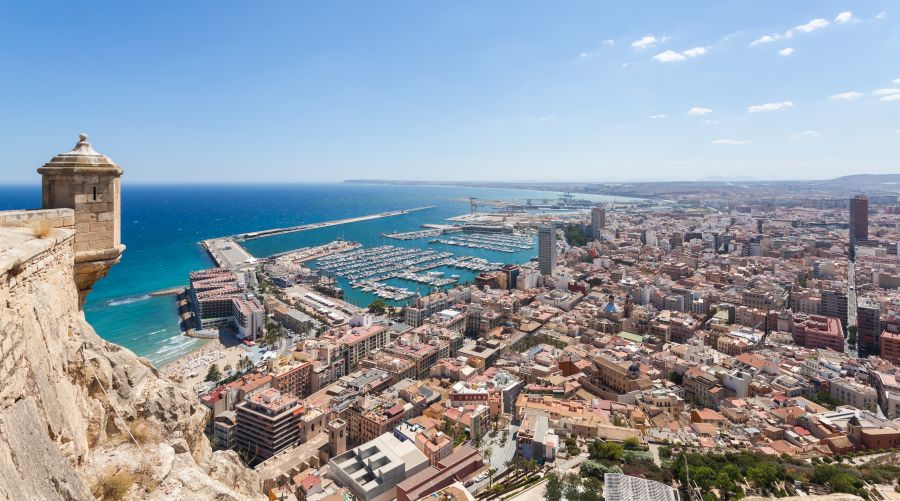 Accommodation
Alicante is a coveted destination for snowbirds and many online rental websites dealing with potential visitors offer reasonable rates. Winters are busy periods and you need to keep a lookout for good deals and reasonable rates. You can easily find studio apartments for two persons at around €450 (approx. $471, £390, $646 CAD, $747 AUD) per month. Some websites to visit for more information are listed below:
Winter Camping
Camping in Spain is a popular attraction and there are many well-equipped campsites and RV parks which allow avid campers to enjoy the weather and natural surroundings of the region. Some of these campsites are mentioned below:
RV/Campers/ Motor home
If you own a Motor home or RV then you can visit one of these Campsites and RV parking areas in and nearby Alicante:
Packing List
Weather: The fall, winter, and spring weather in Alicante (Spain) will normally be warm during the day and can be cold during the night. Of course in the fall and spring it will be warmer than in the winter. You have to pack accordingly.

Warm clothing: Even when you go to a warm location like Alicante (Spain) you should not forget to take some things with you for your trip back home. When you return you are adapted to the warmer weather and need something to protect you from your hometown temperatures.

Consider the Weather: Always look at the type of weather in Alicante (Spain). Things like humidity, wind, and rain do not show up in the temperature graph but can have a great impact on your wardrobe. There are several sites with long term forecasts and climate information. Is there often a short afternoon downpour like in the tropics, you maybe need to take a strong umbrella and shoos that can cope with the rain. If there is often a lot of wind you might need a more wind-resistant coat.

Check the local Shopping options: Try to find information about the local shopping options near your location in Alicante (Spain). Are there stores where you can buy all your daily supplies, or are some things difficult to get? For some more remote locations, the options can be limited. If a certain item is really important for you might need to take it with you.

Look at the Local Culture: The local culture in Alicante (Spain) can impact your wardrobe. If most activities are in more upscale locations you might take some more appropriate clothes with you. Or travelling if you travel to certain countries women need to cover themselves in certain areas.

Amenities: Know what's Included in your house or apartment. Is there a coffee maker, a toaster, a washer and dryer, an iron, what is in the kitchen, what kind of towels are there? Things that are there means you do not have to take them with you. A furnished apartment or house can mean something from a few pieces of furniture to a well-stocked place with all the things you have at home. But most of the time your rental will not be stocked.

Mix and match: Wear layers so you can use your wardrobe more efficiently. And do not worry about wearing something more often, probably only you will notice this.

Important for you: If there is something that is really important for you that you want to have present in your house or apartment, take it with you. This can be something like a special knife for the kitchen, or a small mirror that you use in the morning. You can also purchase it locally if it is not that expensive.

Pet supplies: If you take your pet with you don't forget to take supplies for a few days with you. And enough medication, vitamins, or other supplies if you can not purchase them in Alicante (Spain) locally.

Food: Don't take a lot of food with you. Only when there is something you really can not live without you, and it is not too heavy you could consider taking it with you.

Towels: Not all locations include bigger towels for the swimming pool or a visit to the beach. If you have to take them and don't have a lot of room you can buy some big thin towels.

Office supplies: Normally you will not find any office supplies in your house or apartment. If you think you will use them you could pack some supplies like a scissor, notepaper, envelopes, some pens, and more depending on your needs.

Limit yourself: Don't take too many shoes and jackets, you will not need them that often.

Best-fitting: Bring your favorite and best-fitting items that can multi-function

Washer: Do you have a washer and dryer onsite, you don't need to pack a lot of clothes
Clothing
Basics
Casual
Smart
Footwear
Toiletries
Beauty
Hygiene
Clothing
Basics
Casual
Outdoor
Footwear
Accessories
Toiletries
Medicine
Miscellaneous
Other
Toiletries
Beauty
Hygiene
Hair
Other
Medicine
Miscellaneous
Technology
Travel and Free time
Travel
Free time
Important
Documents
Money
Other locations close to this location:
Travelers' Map is loading...
If you see this after your page is loaded completely, leafletJS files are missing.
If you have any additions, or comments on the content on this page, please use our contact form to let us know.
Detailed weather during the year for Alicante Spain
What to do during the year in Alicante Spain