Belek is a small town located on Turkey's southern Mediterranean coast and is very famous for its sparkling white-sandy beaches and luxurious gold courses. It is a pure delight for history buffs as this town also happens to be very rich in Turkish history. Top up that tan by spending a long, relaxing day at the beach or simply visit the beautiful historical places in the city because Belek has it all. Moreover, the weather here is very pleasant which further adds to its beauty and makes it a popular visiting spot for snowbirds.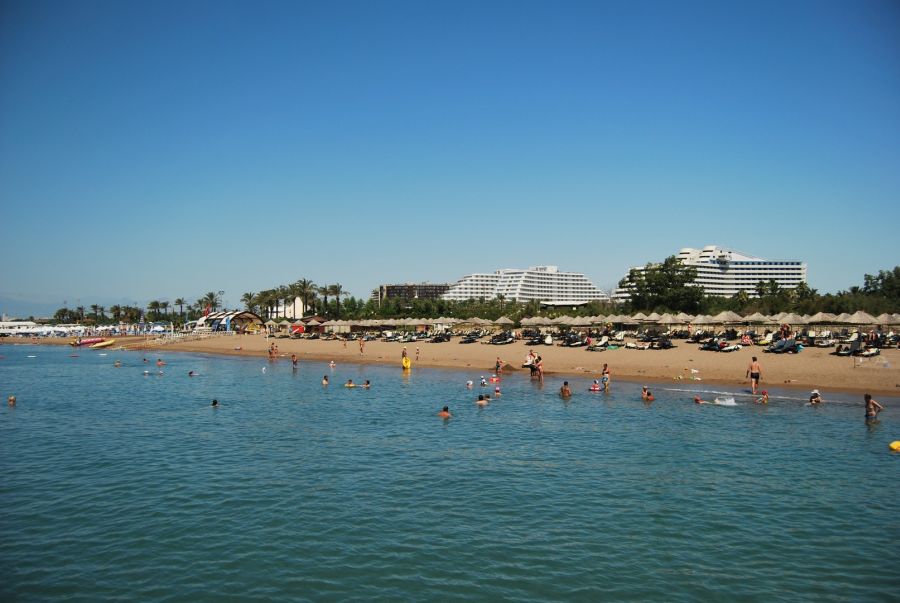 Why should people visit during the winter?
Belek in winter is not crowded because summers are considered to be the ideal time for tourists. For visitors, these months are least expensive and you can easily get discounted air tickets and affordably priced rentals. Apart from this, Belek has many stupendous destinations nearby where one can visit for day trips. The best time to visit Belek in this season would be in November when the weather is pleasant with little chances of rainfall. There are several recreational activities that one can participate in during their stay in winters.
Climate
The winter season in Belek is mild, wet, and partly cloudy. It normally starts from November and lasts till February when the temperature goes as low as 41.7°F (5°C). January is considered to be the coldest month of the year as it consists of a lot of rainy days and colder nights.

Things to see in Belek, Turkey
Belek has many beautiful places within it that are a must-see. Some of them are listed below
Titanic Golf Course: This golf course is the first 27 holed golf course of Turkey and is designed by the Architects of Hawtree Golf Course of the United Kingdom. This golf course is undoubtedly one of a kind. So head out to this place for some amazing sports activity and to capture some beautiful scenery.
Belek Public Beach: Top up that tan, take good pictures or stroll around, this beach has got you covered. It is much cleaner and peaceful in winter. Moreover, it has good facilities and is much cheaper. There are a number of restaurants and bars over here too.
Belek Merkez Camii: This place is a mosque and is so beautifully built by highly talented and skilled architects that it's one of a kind in Belek. So, if you're in Belek this place is unmissable.
The Montgomerie Golf Complex: Is rated as one of the top golf resorts in the world, providing high-quality service. It also has a traditional clubhouse with excellent food and drinks service.
Things to see not far from Belek, Turkey
Belek has some beautiful destinations close to it for a day trip, some of them are listed below
Old Town (Kaleiçi): Located at a distance of 44.3 km (28 Miles)

from Belek, this town has breathtaking architecture. It almost seems like it was made for strolling. It has beautiful cobblestone streets and is home to a wide range of hotels, restaurants, small shops, boutiques and so much more. This town has a lot of sightseeing destinations such as Tekeli Mehmet Pasa Mosque and Kesik Minare. Truly a perfect place for you to spend your day.

Antalya Museum: This museum is located around 46 km (29 Miles) from Belek and depicts rich Turkish history. Spend a day here learning about the history of the country and do not miss out on the popular exhibits such as divinity statues from Perge and the mosaics from Seleukeia. You can know more about it on the official site; www.antalya-ws.com/english/museum
Perga: Located at a distance of 28.2 km (18 Miles) from Alanya, this large, prehistoric city dates back to the Bronze Age. You can visit the city to learn about the different archeological sites from the Roman Empire like the famous Roman baths, Hellenistic Gate, and Acropolis.
Aspendos: Take a day trip to Aspendos and don't forget to see the famous Aspendos Theatre. This theatre was built by the famous architect Zenon in the 2nd Century. With a seating capacity of 20,000, this theatre remains well preserved to date. The beautiful large galleries and stage decorations make it a place worth visiting. It is almost 20 minutes away from Belek.
Hadrian Gate: This architecture is for the history curious lots visiting the city, this is the only gate left in the walls that surrounded the city. It is located at a distance of 42.9 km (27 Miles)

from Belek.

Phaselis: About 99.4 km (62 Miles)

away from Belek, Phaselis is a splendid setting combined with an ancient site. So whether you are a nature lover or history buff, this place is your getaway from almost everything.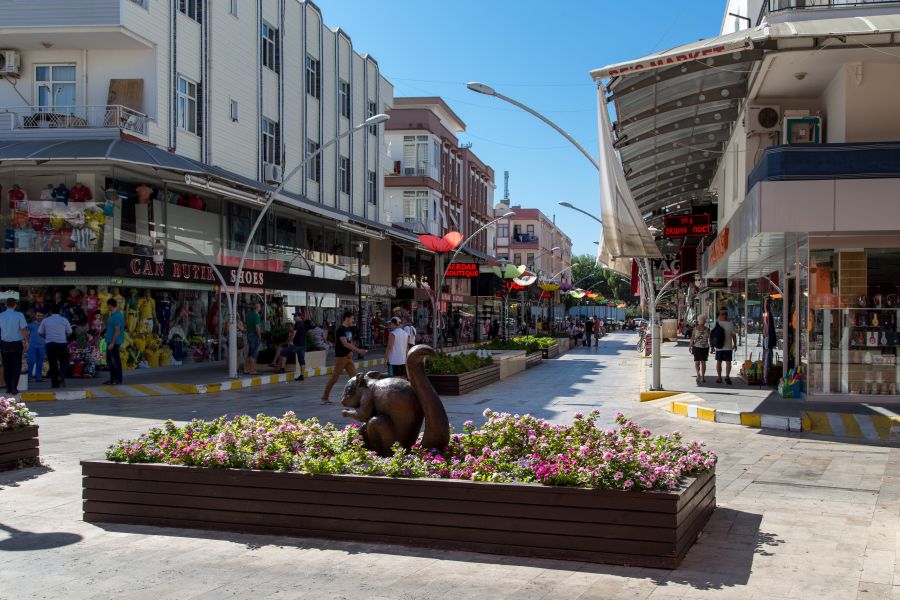 Activities in Belek, Turkey in the winter
Things you can do in Belek include:
Golf: Belek being the golf capital of Turkey is home to some huge and well-maintained golf courses such as the Titanic Golf and many more. So don't forget to play this world-famous sport while you're here at Belek.
Sightseeing: Belek and the Antalya province has many beautiful attractions within it. So sightseeing is an activity that should be listed. Make a list of all the historical sites and visit them during your stay.
Museum Tour: Explore the various museums that offer a wide range of exhibits and are immensely rich in Turkish history.
Relax at a Hammam (Turkish bath): Go to a local hammam and spend some time in the marble tiles sauna rooms, take a long relaxing warm bath and then enjoy a massage. Don't forget to add this to your list of things to do at Belek.
Sunbathing: Take in some Vitamin D and top up your tan by sunbathing at the beach. Sun is the favorite thing for all in the winter anyway!
Picnic: Belek has beautiful widespread beaches, providing the perfect spots for a nice afternoon picnic. Grab some food at the local restaurant and eat by the beach with your beloved. A perfect romantic picnic indeed!
Day trips: Belek has some ancient, historical, and full of nature destinations to it as listed above. Do not forget to visit them while your stay at Belek.
Shopping + Restaurants. Are they open in the winter?
Local grocery options at Belek include Belek Saturday Market which is open on Saturdays. There are lots of local grocery options such as Antalya Belek Tourism Street CarrefourSA, Belek Ela Market & Fast Food, Sultan Lokum, and a few more. Belek Center also has a large shopping area where you can go out on a shopping spree and buy anything you need. These shops are open 7 days a week till midnight and have a variety of products for sale. There are no big brands or malls in Belek.
You can find a wide array of restaurants at Belek, serving the best quality food ranging from local to international cuisines. If you're a fan of the local cuisine, you can always head out to the towns nearby to satisfy your food cravings.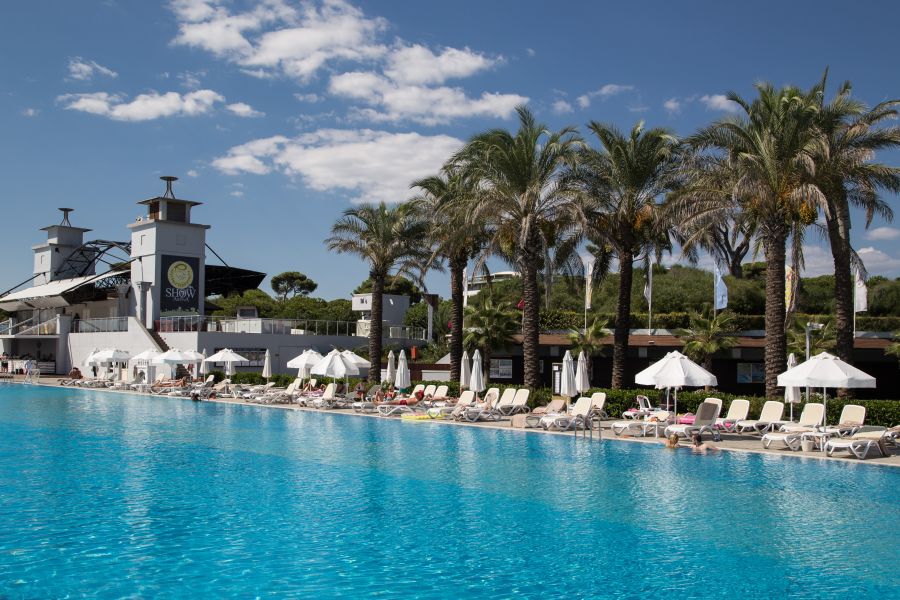 Transport
The nearest airport to Belek is Antalya International Airport (AYT) which is about 23 km (14 Miles) away from Belek. You can easily find a shuttle or a bus from the airport to your destination. Local taxis also operate in the region. However, keep in mind that the taxi fares double at night so it's advisable to travel in the day.
The public transport system is well developed in the city. The local buses and micro-buses work from morning till evening. You can find easily catch a bus on one of the bus-stops located in the city eg. Bus 502 has a stop near Belek. You can further find the bus schedules and routes on this website; https://moovitapp.com/
Health
Hospitals in Belek are not very advanced, but some decent options for health care in and about Belek include:
Belek Gazel Family Health Center: In this hospital, you will find professionals who speak good English but the nurses and paramedical staff don't. However, they do have a translator so there's nothing to worry about. This hospital provides adequate facilities and serves its patients well.
Aspendos Hospital (private hospital) (http://aspendoshospital.com/)
Accommodation
There are several websites to look for long term rentals. Apartment prices usually begin from rates as low as $218.80 (approx. €181, £156, $276 CAD, $280 AUD) per month. Some of the top options where you can find long term rentals include:
Winter Camping
Belek itself has no major campsite, but some of the decent options nearby include:
Captain Caravan & Tent Camping: Rates for tent sites begin from

$14.59 (approx. €12, £10, $18 CAD, $18 AUD)

per night and this park offers a huge range of facilities and recreational activities. It is at a distance of 86 km (53 Miles) from Belek which is about a 2-hour drive. Check more details at this website: https://www.campercontact.com/
RV/Campers/Motorhome
Belek being a small town has no RV Park. A good option nearby includes:
Lara Caravan Park: Around 25.8 km (16 Miles)

away from Belek, lies this beautiful oceanfront park with a scenic view offering all amenities such as clean restrooms, delicious food, and electricity. There are also loads of recreational activities offered to keep you well entertained.
Packing List
Weather: The winter weather in Turkey will normally be chilly during the day and cold during the night. You have to pack accordingly.

Warm clothing: Even when you go to a warm location like Turkey you should not forget to take some things with you for your trip back home. When you return you are adapted to the warmer weather and need something to protect you from your hometown temperatures.

Consider the Weather: Always look at the type of weather in Turkey. Things like humidity, wind, and rain do not show up in the temperature graph but can have a great impact on your wardrobe. There are several sites with long term forecasts and climate information. Is there often a short afternoon downpour like in the tropics, you maybe need to take a strong umbrella and shoos that can cope with the rain. If there is often a lot of wind you might need a more wind-resistant coat.

Check the local Shopping options: Try to find information about the local shopping options near your location in Turkey. Are there stores where you can buy all your daily supplies, or are some things difficult to get? For some more remote locations, the options can be limited. If a certain item is really important for you might need to take it with you.

Look at the Local Culture: The local culture in Turkey can impact your wardrobe. If most activities are in more upscale locations you might take some more appropriate clothes with you. Or travelling if you travel to certain countries women need to cover themselves in certain areas.

Amenities: Know what's Included in your house or apartment. Is there a coffee maker, a toaster, a washer and dryer, an iron, what is in the kitchen, what kind of towels are there? Things that are there means you do not have to take them with you. A furnished apartment or house can mean something from a few pieces of furniture to a well-stocked place with all the things you have at home. But most of the time your rental will not be stocked.

Mix and match: Wear layers so you can use your wardrobe more efficiently. And do not worry about wearing something more often, probably only you will notice this.

Important for you: If there is something that is really important for you that you want to have present in your house or apartment, take it with you. This can be something like a special knife for the kitchen, or a small mirror that you use in the morning. You can also purchase it locally if it is not that expensive.

Pet supplies: If you take your pet with you don't forget to take supplies for a few days with you. And enough medication, vitamins, or other supplies if you can not purchase them in Turkey locally.

Food: Don't take a lot of food with you. Only when there is something you really can not live without you, and it is not too heavy you could consider taking it with you.

Towels: Not all locations include bigger towels for the swimming pool or a visit to the beach. If you have to take them and don't have a lot of room you can buy some big thin towels.

Office supplies: Normally you will not find any office supplies in your house or apartment. If you think you will use them you could pack some supplies like a scissor, notepaper, envelopes, some pens, and more depending on your needs.

Limit yourself: Don't take too many shoes and jackets, you will not need them that often.

Best-fitting: Bring your favorite and best-fitting items that can multi-function

Washer: Do you have a washer and dryer onsite, you don't need to pack a lot of clothes
Clothing
Basics
Casual
Smart
Footwear
Toiletries
Beauty
Hygiene
Clothing
Basics
Casual
Outdoor
Footwear
Accessories
Toiletries
Medicine
Miscellaneous
Other
Toiletries
Beauty
Hygiene
Hair
Other
Medicine
Miscellaneous
Technology
Travel and Free time
Travel
Free time
Important
Documents
Money