Spend your fall, winter, or spring in Bodrum, Turkey: Is Bodrum a good snowbird location?
This seaside resort in Turkey is a brilliant place to reside in even during the winter months. Casually resting on the tip of the Mediterranean, Bodrum holds a strong identity in the minds of the visitors. Its charming aura and beautiful weather are just some of the attributes that make it a popular spot for tourists all year round. With a brilliant selection of amenities, traditions, and cultural attractions, the city has been a well-favored spot for many years.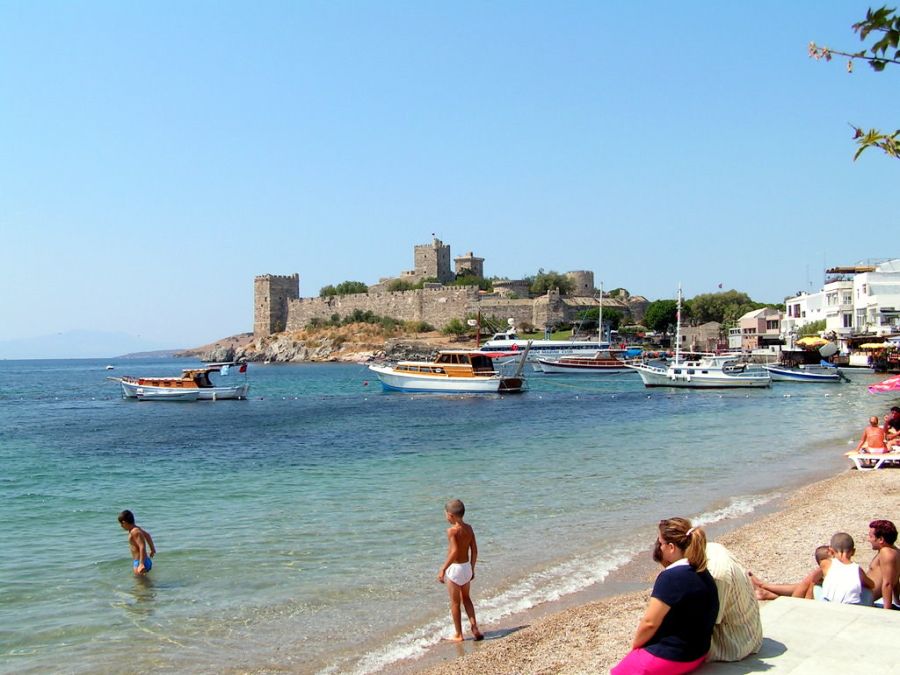 Why should people visit during the winter?
Bodrum is well-known for its year-round friendly climate and is, therefore, quite popular among snowbirds as well. The city offers scenic views and has a significant cultural background which is an attractive feature for those curious travelers who are willing to go the extra mile and explore the city's in-depth history. You can't expect the town to completely shut down during this season as it is quite big and features many attractions which operate throughout the year. The fewer crowd makes it a lot easier to roam around the city and the temperate weather is the cherry on top.
Climate
Bodrum is located above sea-level. It experiences a typical Mediterranean climate with long, hot summers and mild winters. The average temperature stays around 17°C (63°F) in winters with February being the coldest month of the year. The winter months experience the most rainfall but despite the wet weather, it is perfectly suitable and comfortable.

Things to see in Bodrum, Turkey
Bodrum is a beautiful city with many potential sightseeing destinations. Here is a list of some of the best places you can visit during winter:
Bodrum Museum of Underwater Archeology: An award-winning museum, featuring an outstanding collection of artifacts dating back as far as 1400 BC. There are multiple exhibits displayed here and the museum is open for visitors throughout the year.
Bodrum Castle: Is among the popular landmarks of the city. The castle has an astonishing architectural structure that simply cannot be ignored. It was designed by Heinrich Schlegelholt, a German architect. The museum of Underwater Archeology is located here as well.
Amphitheater: This historic landmark from the 4thCentury BC, represents the ancient times of Bodrum when the city was known as Halicarnassus. The theatre is located near to the Aegean Sea and is easily accessible from the main city.
Bodrum Port: The port is quite popular among the locals and tourists as most of the boat tours start from here. The place is surrounded by many seaside restaurants where you can find fresh seafood. Many people like to come here to admire the colorful and lively atmosphere.
Myndos Gate: The gate was among the few entrances to the old city of Halicarnassus. Many people come by to see the remains of the famous Myndos gate. The place is quite peaceful and offers stunning views.
Things to see not far from Bodrum, Turkey
There are many places and towns in the surrounding areas that one can visit. Some of these include:
Milas: Located at a distance of 50.8 km (32 Miles)

from Bodrum, this small town is the hub of archeological sites and boasts of a long history in the simple art of carpet-making. You can find beautifully woven carpets in the local bazaars.

Camel Beach: Where visitors in Bodrum are unable to access beautiful wide-spread sandy beaches in the city, Camel Beach gives you exactly what you're looking for. Located 14.4 km (9 Miles)

away from Bodrum, this place is the ideal place to visit for the perfect beach day.

Bitez Beach: Located at a distance of 6.3 km (4 Miles)

from the city. This is another beach destination located near the city. Many people come by to soak in the warm winter sun and enjoy the picturesque views of the sunsets.

Rabbit Island: The Island is located near the city of Bodrum (approximately 40 minutes away) and is accessible only through the Sea. It is a small island where you can find the historical ruins of the city of Myndos. Make sure you're able to spot the small, fluffy rabbits while you're visiting the area.
Activities in Bodrum, Turkey in the fall, winter, or spring
You can spend a wonderful time at Bodrum as there is a great selection of things to do. Here is a list of activities you should consider doing during your stay:
Boat Trips: There are multiple public boat tours arranged from Bodrum Port which take you on different adventures to explore the beauty of the Mediterranean Sea. You can even take a trip to one of the nearby Islands for some quality time.
Seafood: There are many restaurants located near the marina which are quite famous for their freshly cooked fish. If you're a seafood lover, this is the ideal place for you to enjoy a good meal in the town.
Turkish Hammam: The traditional Hammam (bath) is a popular cultural attraction that was inherited from the Romans. Don't miss the chance to relax and get that lavish spa treatment.
Strolling around the town: The town center is a lovely place to walk around. The narrow streets of Bodrum are beautifully decorated and boast of strong cultural values. You will notice the locals are very patriotic as the Turkish Flag can be seen at every corner.
Archeological sites: Get a chance to explore the fascinating historical sites of Bodrum which are well-preserved and depict the older times when the city was better known as Halicarnassus.
Daytrips to nearby towns: There are many interesting sites worth visiting in the close locality where you can easily go for a day trip.
Shopping: Enjoy shopping at the local marketplaces during winters.Local clothing brands are very popular in Bodrum bazaars and you can easily find great quality items.
Shopping + Restaurants. Are they open in the fall, winter, or spring?
This seaside resort boasts a large array of marketplaces where visitors can fulfill all their shopping desires. As the city slowly makes its way among the top destinations to visit in Turkey, you can expect most of these shopping districts to be fully operational even in winters. There is a large variety of local goods available in these markets. From fresh greens to leather products and a bunch of clothing items, you can never stop exploring these beautiful markets. Some of the most popular market places in the area include:
Old Town Shopping District
Oasis Shopping Center
Textile Market
Vegetables and Fruits Market
Turkish cuisine is widely known for having the most unique and delightful flavors. Besides other local specialties like the Turkish Breakfast, Borek, and Turkish delights which are easily available within the city, the best part about the food in Bodrum is the delicious, flavorful seafood that is available at the restaurants near the Marina. You must try their freshly cooked fish.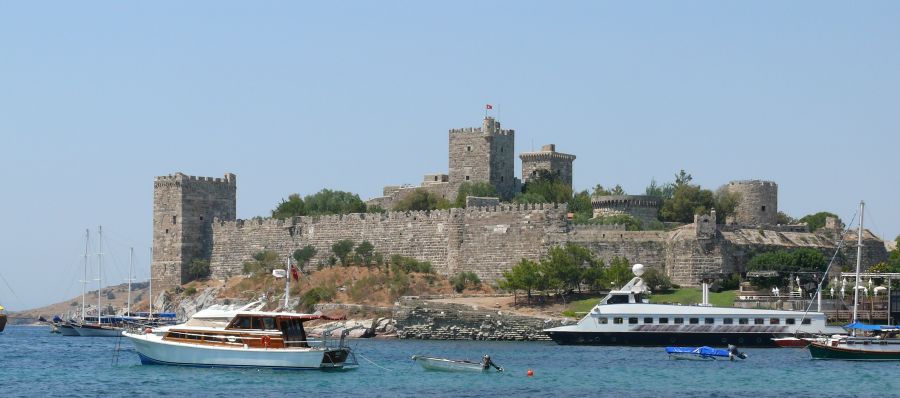 Transport
The nearest airport is the Bodrum-Milas Airport, located at a distance of 35 km (22 Miles) from the city. You can easily get to the main area through the Havas Coach which takes the route from the airport to Bodrum Center. This is a convenient and affordable form of transport and it's highly recommended.
If you want to rely on public transport when visiting Bodrum, you should keep an eye out for Dolmus mini-buses which is the most efficient form of public transport in the area. The Dolmus operates on a fixed schedule and its route covers almost the entire city. You can catch a Dolmus at the Bodrum Bus Terminal.
Many bus services operate on intercity routes which let you travel regionally to the nearby towns quickly and feasibly. You can visit all the major cities of Turkey through these lines.
Health
Bodrum Private Hospital is one of the major healthcare centers in the area. It has a Foreign Patient's Department which was specifically designed to cater to the problems of international visitors. This ensures that all issues regarding language and insurance are professionally handled with care. The hospital is well-maintained and has a 24/7 emergency care unit. The medical staff is extremely professional and well equipped with the latest technology. You can find more information on their website at www.vavmedica.com/
If you need to see a dentist, visit Bodrum Dental Clinic or Clinic Oral (https://www.clinicoral.com/)
Pharmacies here are referred to as "Eczane" in Turkish. You can easily identify them from afar as there is a large 'E' sign hanging on the door front of every Pharmacy.
Accommodation
If you are a visitor to Bodrum, you can easily find a nice place to stay in the town during winters for $175 (approx. €162, £138, $237 CAD, $265 AUD) /month. With the right sources and research, you can find yourself the perfect second home. Some of the most commonly used websites are mentioned below:
Winter Camping
Bodrum has many potential camping grounds located in and near the city. This provides a great opportunity for people who want a fairly good camping experience but still want to stay near the city. These camping sites are well-maintained and provide you with all the basic amenities you need. The rates are quite affordable and many snowbirds prefer staying here in winters when the town returns to its true roots. You should check out the list of camping sites mentioned below:
Zetas Camping
Volo Camping
Pitos Bungalows
The Camp Bodrum
RV/Campers/Motorhome
If you are traveling with a Motorhome, Zetas Camping is a good option as it is located very near to the city. There are about 75 pitches available. The owners are quite friendly and speak English as well. It is a well-suited parking ground and provides you with all the basic amenities. Camping Place is another option that is located close by and provides an authentic RV experience.
Packing List
Weather: The fall, winter, and spring weather in Bodrum (Turkey) will normally be chilly during the day and cold during the night. Of course in the fall and spring it will be warmer than in the winter. You have to pack accordingly.

Warm clothing: Even when you go to a warm location like Bodrum (Turkey) you should not forget to take some things with you for your trip back home. When you return you are adapted to the warmer weather and need something to protect you from your hometown temperatures.

Consider the Weather: Always look at the type of weather in Bodrum (Turkey). Things like humidity, wind, and rain do not show up in the temperature graph but can have a great impact on your wardrobe. There are several sites with long term forecasts and climate information. Is there often a short afternoon downpour like in the tropics, you maybe need to take a strong umbrella and shoos that can cope with the rain. If there is often a lot of wind you might need a more wind-resistant coat.

Check the local Shopping options: Try to find information about the local shopping options near your location in Bodrum (Turkey). Are there stores where you can buy all your daily supplies, or are some things difficult to get? For some more remote locations, the options can be limited. If a certain item is really important for you might need to take it with you.

Look at the Local Culture: The local culture in Bodrum (Turkey) can impact your wardrobe. If most activities are in more upscale locations you might take some more appropriate clothes with you. Or travelling if you travel to certain countries women need to cover themselves in certain areas.

Amenities: Know what's Included in your house or apartment. Is there a coffee maker, a toaster, a washer and dryer, an iron, what is in the kitchen, what kind of towels are there? Things that are there means you do not have to take them with you. A furnished apartment or house can mean something from a few pieces of furniture to a well-stocked place with all the things you have at home. But most of the time your rental will not be stocked.

Mix and match: Wear layers so you can use your wardrobe more efficiently. And do not worry about wearing something more often, probably only you will notice this.

Important for you: If there is something that is really important for you that you want to have present in your house or apartment, take it with you. This can be something like a special knife for the kitchen, or a small mirror that you use in the morning. You can also purchase it locally if it is not that expensive.

Pet supplies: If you take your pet with you don't forget to take supplies for a few days with you. And enough medication, vitamins, or other supplies if you can not purchase them in Bodrum (Turkey) locally.

Food: Don't take a lot of food with you. Only when there is something you really can not live without you, and it is not too heavy you could consider taking it with you.

Towels: Not all locations include bigger towels for the swimming pool or a visit to the beach. If you have to take them and don't have a lot of room you can buy some big thin towels.

Office supplies: Normally you will not find any office supplies in your house or apartment. If you think you will use them you could pack some supplies like a scissor, notepaper, envelopes, some pens, and more depending on your needs.

Limit yourself: Don't take too many shoes and jackets, you will not need them that often.

Best-fitting: Bring your favorite and best-fitting items that can multi-function

Washer: Do you have a washer and dryer onsite, you don't need to pack a lot of clothes
Clothing
Basics
Casual
Smart
Footwear
Toiletries
Beauty
Hygiene
Clothing
Basics
Casual
Outdoor
Footwear
Accessories
Toiletries
Medicine
Miscellaneous
Other
Toiletries
Beauty
Hygiene
Hair
Other
Medicine
Miscellaneous
Technology
Travel and Free time
Travel
Free time
Important
Documents
Money
Other locations close to this location:
Travelers' Map is loading...
If you see this after your page is loaded completely, leafletJS files are missing.
If you have any additions, or comments on the content on this page, please use our contact form to let us know.
Detailed weather during the year for Bodrum Turkey
What to do during the year in Bodrum Turkey