Spend your fall, winter, or spring in Dubai, UAE: Is Dubai A Good Snowbird Location?
Dubai is one of the world's most popular travel destinations in the world. When many people think of Dubai, they immediately picture luxury, sports cars, endless beaches, and gold jewelry. But it is a misconception that this desert city is only for rich people, far from it. There are tons of other affordable activities and attractions for snowbirds who prefer a calmer travel experience.
Currently, it is the most popular city in the United Arab Emirates and lies in the Arabian Peninsula's eastern region on the Persian Gulf coast. Thanks to an abundance of crude oil discovered years ago, the city was quickly developed and transformed from a bleak desert region mostly used for trade into one of the most dazzling cities in the world. This brought about a large influx of workers who finally settled to live in the city and its population quadrupled. Its economy is now held up mostly from revenue from tourism, real estate, trade, and financial services.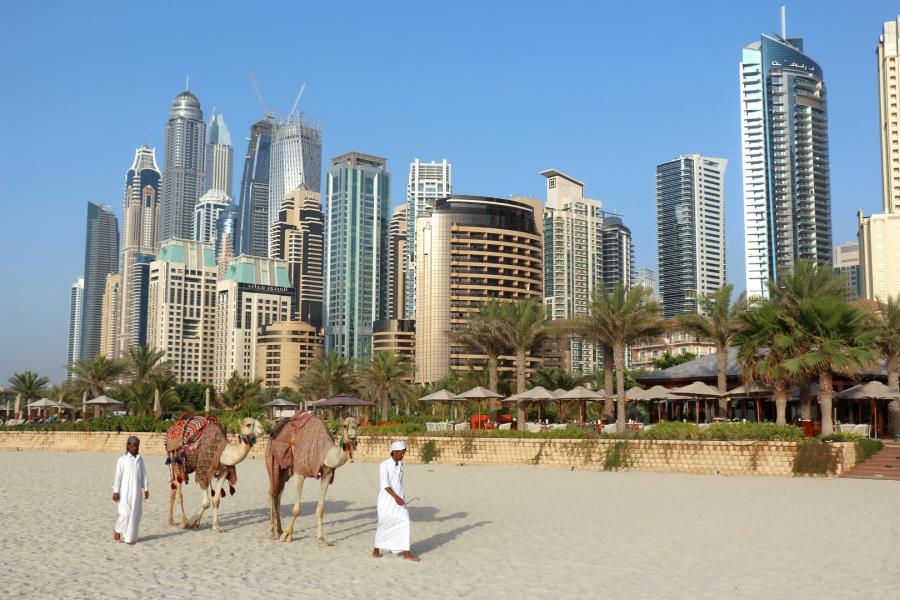 Why should people visit in winter?
The weather in Dubai during the winter months is warm, whereas the summer is extremely hot. The winter is also when most people visit the awesome man-made beaches in Dubai. Festivals and celebrations around this time are quite grand such as the magical new year's celebrations held every year in the city. This is also the time when the Dubai Grand Prix is hosted and the sunsets are simply sunning providing the perfect backdrop for perfect evenings spent sipping a cocktail or enjoying a walk on the beach.
Climate
Dubai has a subtropical desert climate. It gets very hot and humid during its summers and can feel almost oppressive at that time. Temperatures can even rise up to 41°C (106°F). Winters in Dubai however are generally much milder and pleasant which makes it an ideal time to visit this desert gem. You can experience most of its outdoor activities with just a bit of protective clothing and sunscreen as temperatures are usually around 25°C (77°F) during the day and at night around the coastline, it can drop to 12°C (54°F).

Safety
Dubai is a heavily monitored city with low crime rates. It is considered to be a very safe place for visitors. Snowbirds are however to stay alert and watch out for petty theft, scams, and harassment. Always keep your belongings safe and maintain awareness of your surroundings at all times.
Communication
The official language in Dubai is Arabic, however, English is the language you will hear most people speaking during your visit. Signs and markers are mostly in English and Arabic, and getting around is relatively easy as you'll have no trouble reading signs or communicating with people.
Upon your arrival in Dubai, we advise you to purchase a local UAE sim card to use for the duration of your stay. Sim cards can be purchased at the airport or in mobile network shops in shopping malls in the city. Sim cards can be a bit expensive, so you may also consider using as much wifi as well. Sim cards start from $15 (approx. €14, £12, $20 CAD, $23 AUD) with 1GB of mobile data, and 20 minutes call time.
Things to see in Dubai
Burj Khalifa – one of the most iconic creations of man and the world's tallest building, one cannot visit Dubai without stopping to marvel at the beauty of the Burj Khalifa. You can go up on the observation deck and have a simultaneous view of the ocean on one side and the desert on the other.
Underwater zoo – located in the largest mall in the world, this aquarium and underwater zoo is home to various species of aquatic wildlife snowbirds will thoroughly enjoy getting to meet.
Dubai marina – the largest man-made marina in the world, the canals, and yachts lined up in its pristine waters are an interesting sight and dinner cruises are also a must at sunset. You can also stop by for some shopping at the JBR "the walk".
Dubai miracle garden – picnics at the stunning Dubai miracle garden is one of the most beautiful experiences one can have while visiting the country. There are over 50 million flower species with stunning colors made into amazing arrangements and shapes
Palm Jumeirah – this tree-shaped island is one of the most beautiful places in Dubai and what is even more amazing is that it is an artificially man-made island and is the top spot for Dubai nightlife.
Things to see not far from Dubai
Desert safaris – if you would like to experience the rolling sand waves of the desert, there are a number of excursions planned into nearby deserts which can be accessed either via buggies, jeeps, or camel rides.
Musandam Peninsula – nicknamed the Arabian fjords, this is one of the most scenic places to see 194 km (121 Miles)

from Dubai in Oman. Catch glimpses of the sea from the Arabian Gulf and if you're lucky, you may also see some dolphins.

AL Ain- popularly called the 'Garden City', this place is packed with cultural attractions like museums where fine art, ethnography, and archeologic pieces are displayed. There are also restored fortresses, bronze age archaeology sites, and an interesting zoo.
Abu Dhabi – Visit the other well known UAI city with its many attractions.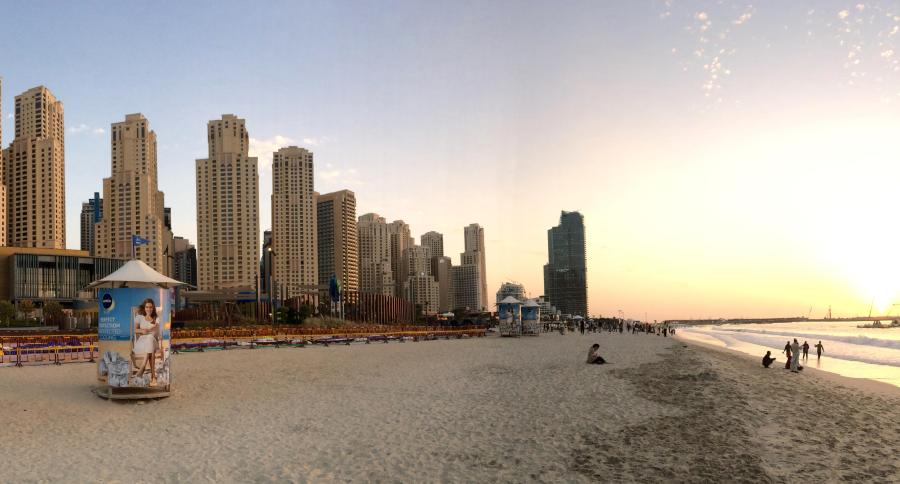 Activities in Dubai in the fall, winter, or spring
Visit Dubai creek – the oldest part of Dubai city is one of the best places to visit in the winter months. With the weather being much cooler, you can do everything you want to like visiting jewelry and spice souks. The Business bay is another attraction you can see while around the Dubai creek as well as the Arabian Tea house.
Beach hopping – there are dozens of pretty beaches in Dubai and snowbirds can spend their time moving from one beach to another. Sunbathing, swimming, and strolling on its pristine sands are just a few things you can do while on any of the city's beaches.
Museums – there are several museums celebrating Dubai's rich culture and history littered in and around the city.
Dubai fountain show – surrounded by amazing restaurants with outdoor seating, the Dubai fountains at the base of the Burj Khalifa put on a show to music at different times of the day. So whether you are walking past in between shopping or seated at one of the restaurants, you can enjoy the amazing display of waterworks.
There are also several festivals and celebrations during the winter period, such as the magical new year's celebrations. And if you like motorsports, the Dubai Grand Prix.
Shopping + Restaurants. Are they open in the fall, winter, or spring?
Dubai is famous for being one of the biggest shopping capitals in the world. Tons of shops in malls, chain stores, and independent outlets are open during the winter months. Snowbirds can dedicate entire days to shopping while visiting Dubai and never exhaust its extensive stores. For your day-to-day shopping, there are enough supermarkets and specialty shops.
Local markets are also a big attraction for visitors where you can get locally made wares. Restaurants that serve Arabian cuisines are easily found and if you are craving something more familiar, lots of foreign chains also have restaurants in Dubai serving halal versions of their popular creations.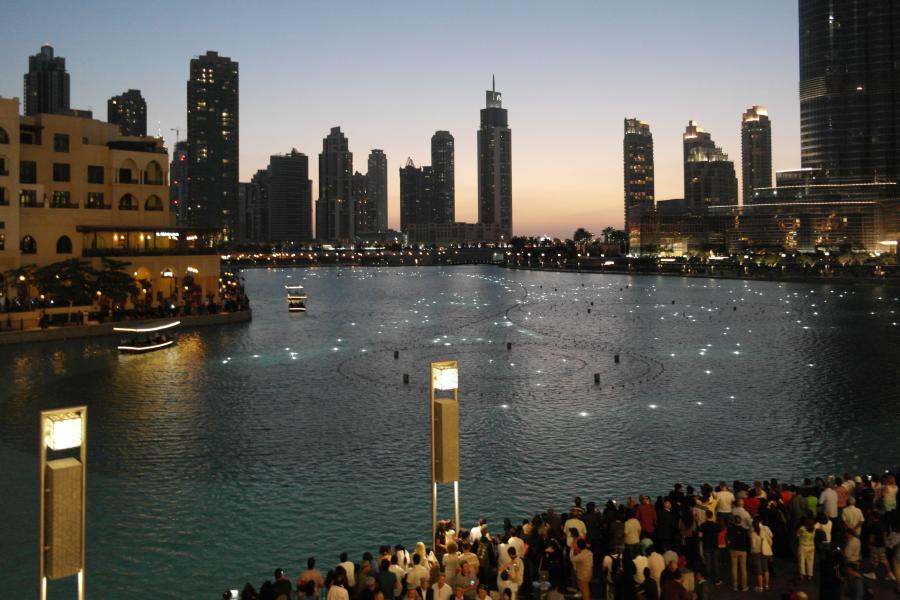 Transport
Dubai has an international airport which is located 5 km (3 Miles) from the city centre. You can get to the city or to your hotel using the metro red line service. Hotels are also mostly about 30 km (19 Miles) from the airport. The metro is the most used form of transport in Dubai and it is very efficient. It is also the longest fully automated rail network in the world.
Buses in Dubai are clean, scheduled, and usually arrive and depart on time. They have extensive networks that connect major attractions and landmarks. Bus fares start at $0.54 (approx. €0.51, £0.45, $0.74 CAD, $0.85 AUD)
There are metered taxis available in Dubai and they go almost everywhere in the city. Taxi fares are quite affordable. Ride-hailing services like Uber are also available. Taxi fares start at $0.44 (approx. €0.42, £0.36, $0.6 CAD, $0.69 AUD) per kilometer.
Although the roads in Dubai are of impressive standards, we do not advise snowbirds to rent a car while visiting the city because driving can be hectic due to the intense traffic.
Health
Healthcare in Dubai is either free or low-cost in public hospitals. The city has highly developed medical infrastructure with a high standard of healthcare, hospitals are modern and facilities are easily accessible to both visitors and residents of the city. Most of the doctors and medical staff are well trained and speak English. You can apply for a health card as a visitor if you wish to use public healthcare however we advise that you also have comprehensive travel insurance.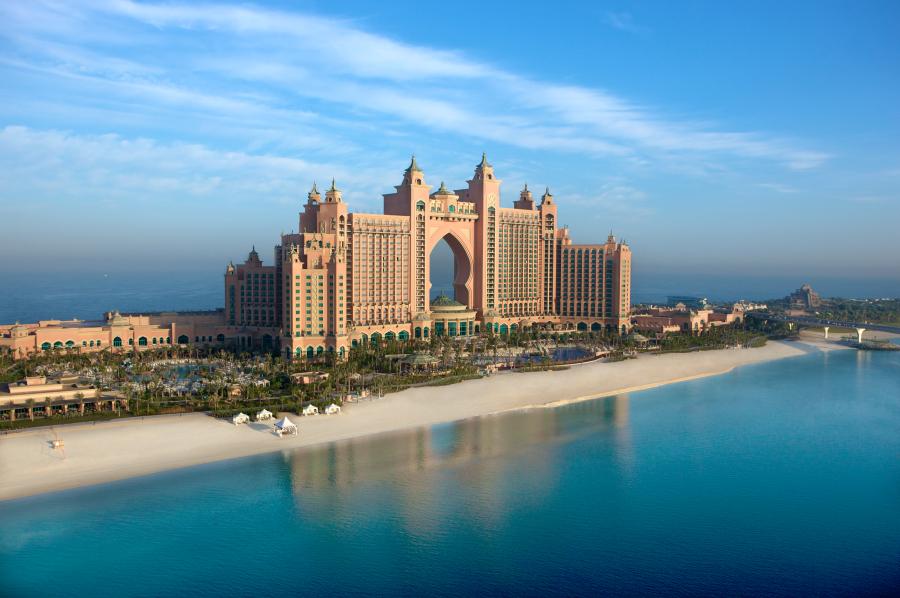 Accommodation
There are numerous options for accommodation in Dubai. You can either sublet an apartment for the duration of your stay or stay in any of the flats listed on Airbnb or bookings.com. The price of renting a 900 square feet flat starts from $2079 (approx. €1980, £1715, $2840 CAD, $3262 AUD) in an expensive area, and $1390 (approx. €1324, £1146, $1899 CAD, $2181 AUD) in a cheaper area.
Packing List
Weather: The fall, winter, and spring weather in UAE will normally be warm during the day, but can be chilly during the night. Of course in the fall and spring it will be warmer than in the winter. You have to pack accordingly.

Warm clothing: Even when you go to a warm location like UAE you should not forget to take some things with you for your trip back home. When you return you are adapted to the warmer weather and need something to protect you from your hometown temperatures.

Consider the Weather: Always look at the type of weather in UAE. Things like humidity, wind, and rain do not show up in the temperature graph but can have a great impact on your wardrobe. There are several sites with long term forecasts and climate information. Is there often a short afternoon downpour like in the tropics, you maybe need to take a strong umbrella and shoos that can cope with the rain. If there is often a lot of wind you might need a more wind-resistant coat.

Check the local Shopping options: Try to find information about the local shopping options near your location in UAE. Are there stores where you can buy all your daily supplies, or are some things difficult to get? For some more remote locations, the options can be limited. If a certain item is really important for you might need to take it with you.

Look at the Local Culture: The local culture in UAE can impact your wardrobe. If most activities are in more upscale locations you might take some more appropriate clothes with you. Or travelling if you travel to certain countries women need to cover themselves in certain areas.

Amenities: Know what's Included in your house or apartment. Is there a coffee maker, a toaster, a washer and dryer, an iron, what is in the kitchen, what kind of towels are there? Things that are there means you do not have to take them with you. A furnished apartment or house can mean something from a few pieces of furniture to a well-stocked place with all the things you have at home. But most of the time your rental will not be stocked.

Mix and match: Wear layers so you can use your wardrobe more efficiently. And do not worry about wearing something more often, probably only you will notice this.

Important for you: If there is something that is really important for you that you want to have present in your house or apartment, take it with you. This can be something like a special knife for the kitchen, or a small mirror that you use in the morning. You can also purchase it locally if it is not that expensive.

Pet supplies: If you take your pet with you don't forget to take supplies for a few days with you. And enough medication, vitamins, or other supplies if you can not purchase them in UAE locally.

Food: Don't take a lot of food with you. Only when there is something you really can not live without you, and it is not too heavy you could consider taking it with you.

Towels: Not all locations include bigger towels for the swimming pool or a visit to the beach. If you have to take them and don't have a lot of room you can buy some big thin towels.

Office supplies: Normally you will not find any office supplies in your house or apartment. If you think you will use them you could pack some supplies like a scissor, notepaper, envelopes, some pens, and more depending on your needs.

Limit yourself: Don't take too many shoes and jackets, you will not need them that often.

Best-fitting: Bring your favorite and best-fitting items that can multi-function

Washer: Do you have a washer and dryer onsite, you don't need to pack a lot of clothes
Clothing
Basics
Casual
Smart
Footwear
Toiletries
Beauty
Hygiene
Clothing
Basics
Casual
Outdoor
Footwear
Accessories
Toiletries
Medicine
Miscellaneous
Other
Toiletries
Beauty
Hygiene
Hair
Other
Medicine
Miscellaneous
Technology
Travel and Free time
Travel
Free time
Important
Documents
Money
Other locations close to this location:
Travelers' Map is loading...
If you see this after your page is loaded completely, leafletJS files are missing.
If you have any additions, or comments on the content on this page, please use our contact form to let us know.
Detailed weather during the year for Dubai UAE
What to do during the year in Dubai UAE