The beautiful town of Estepona is a gateway to the fascinating history of the district where many different rulers swooped in to change the landscape of the entire region. Located on the Mediterranean Coast in the province of Malaga, this small, yet culturally rich town was named Estepona by the Moorish rulers who played a major role in shaping its history which goes back as far as the Stone Age. Today, not only does the town offer archeological attractions, but the modern world has skillfully managed to carve its way into the city, making it a great holiday destination for both tourists and senior visitors.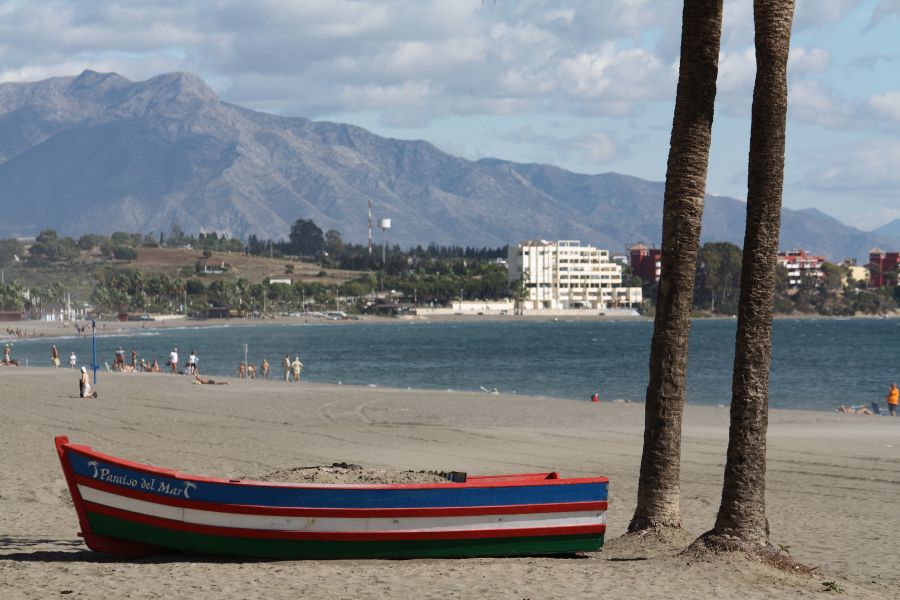 Why should people visit during the winter?
Estepona is one of the most famous tourist attractions. Although this place is bustling with tourists, the city has managed to maintain its unrivaled beauty. As the place has seen diversified rulers and accumulated several cultures, you can find traces of the different nations embedded in the streets and museums of the city. A lot of archeological sites had been washed out by the sea over time, but there is still a lot to see around the city. You can enjoy the diversity in cultures and visit all these spectacular historical sites in winter as the town never hibernates.
Climate
Estepona has cool and mild winters due to the Mediterranean warm breezes during winters. You can enjoy a lot of sunshine during the winter season as there is very little rainfall. Days are warm and perfect for walking around the city. You can expect a low of 8.5°C (47°F) and a high of 24°C (75°F).

Things to see in Estepona, Málaga, Spain
Estepona is an important tourist location. There are many places that you can visit in the area. Some of these include:
Playa del Cristo: It is a resort beach. There is a seawall on the east side of the beach in conjunction with the natural curvature of the bay and the east-facing direction of the beach. This helps shelter the beach from sea currents and breezes. This keeps the translucent, pool-like waters astoundingly warm too.
Botanical and Orchid Garden: This place has vertical gardens, over 4,000 diverse species of orchids, vegetation fetched from all the around the world, and waterfall that lights up with a large dome. A remarkable place you will adore.
Santaverde Cosmética Natural: All the visitors who visit Andalusia and people who are fascinated by Aloe Vera must-visit Finca Santaverde. Here, on the hills, you will study a lot about organic agriculture, the transformation, and the use of this antique medicinal plant. You can also buy fresh leaves and plants from the field, in addition to natural juices and cosmetic products.
Centro Historico de: descending the cobblestone streets adorned with geraniums you can explore the Castillo de San Luis, a fortress built by Spain's Catholic Monarchs at the end of the fifteenth century. Plaza del Reloj, a clock. This charming little square also has a bell-tower that is the only remaining structure of the original Iglesia de Los Remedios, demolished in an earthquake in the mid-eighteenth century.
Teatro Auditorio Felipe VI: Plays and shows of all kinds are offered at this theatre. This theatre is decorated with an artificial starry ceiling. You can get a chance to experience the first-hand touch with Andalusian culture, along with this, you can observe the diverse exhibitions that are presented in this theatre.
Things to see not far from Estepona, Málaga, Spain
There are many neighboring towns and places that one can visit:
Selwo Aventura: It is located 11.2 km (7 Miles) from Estepona. There are over 2,000 animals from diverse continents walking with comparative freedom here. The attraction is so far-reaching that you'll visit many of the attachments on the camouflaged off-road trucks of the park, getting terrific views of Bengal tigers, white rhinos, zebras, giraffes and lions in partial-captivity.
Marbella: It is located 32 km (20 Miles) from Estepona. It is a stunning town that is worth a visit when you are visiting Estepona. Marbella is all about the luxurious lifestyle. You can ride one of the fancy yachts here, take a stroll down the posh neighborhoods or dine in one of the fancy restaurants.
Castellar de la Frontera: It is located 40 km (25 Miles) from Estepona. It is a small medieval time village located in the walls of the castle. It was abandoned and taken over by the Germans during the 1970s but later on, it was inhabited again.
Benahavís: It is located 23.6 km (15 Miles) from Estepona. It is one of the most mountainous villages in Malaga. This village has a very rich Arab history so you can experience that culture here. The culture and food make this place a must-visit.
Activities in Estepona, Málaga, Spain during winter
When it comes to finding a good activity to entertain yourself, Estepona has several options:
Sea excursions: one of the best ways to visit nearby islands and spend a day breathing in the incredible sea breeze is through excursions.
Swimming: There are a lot of options in Estepona where you can go swimming. You can go to the sea, a lake, any of the natural pools or clubs.
Historical tour of the city: You can book a guided tour or just stroll around the city to explore the history of Estepona.
Fishing: Fishing is a year-round option in Málaga. You can hop onto one of the fishing boats and spend an entire day fishing or visit the coast on your own.
Dolphin watching: you can go dolphin watching by booking a tour on a cruise. You can also enjoy other amenities on the tour.
Walking: There are many walking routes available throughout the region. These routes are long and adventurous and you get to see incredible sights along the way.
Flamenco: While you are in Spain you cannot miss the most eminent dance of Spanish region.
Carnival: Spanish traditional carnival that is held in February is a must go. There are parades, singing, dancing and much more.
Yoga Retreats: You can find some top-class fitness and yoga retreats in Estepona so that you can stay healthy.
Golf: Valle Romano dates is an 18 holes golf course resort located in Estepona. You can play golf, enjoy incredible views and food at this resort.
Day trips to other cities: there are many places worth visiting outside Estepona. You can visit the nearby preserves and villages as well.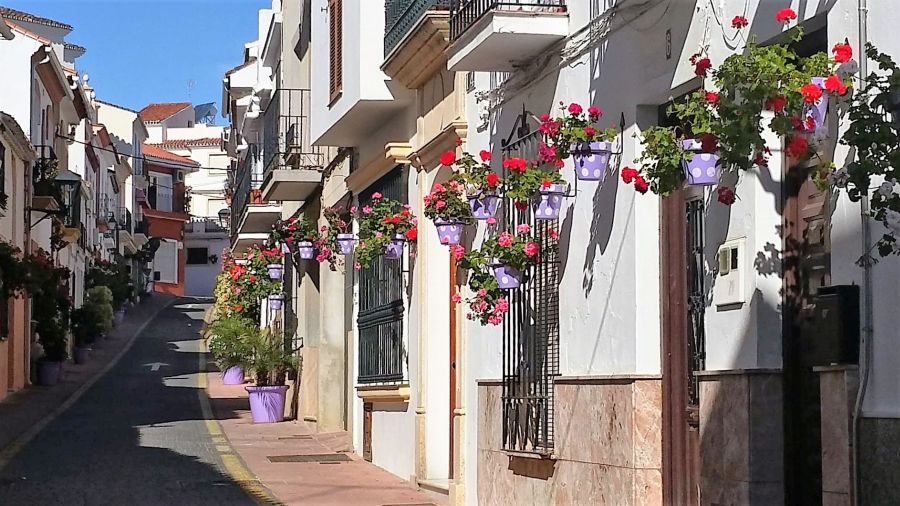 Shopping + Restaurants. Are they open in the winter?
You will find enough restaurants and shops that are open in the winter period. Some of them targeting tourists only can be closed during the most quiet winter months, but there will be enough choice left.
Wednesday BIG Market is one of the largest markets in the area. You can find endless stalls of products here. You can find anything here. Fruits, vegetables, olives, loose spices, jewelry, clothes, and anything that you can name could be found here. It is open in all seasons. You can also find souvenirs at this market but you can also visit other local shops like Koral Bay Souvenirs.
When visiting Estepona you cannot pass on some of the specialties of the region. As it is a coastal city, seafood is a must-try. You can find some of the best mussels and Espetos in this region. Soups like Ajoblanco and gazpacho are a delicacy that can be found in nearly all restaurants. Olives are the souvenir from this region.
Transport
The nearest airport to Estepona is Gibraltar Airport which is located 48.4 km (30 Miles) away, but only a limited amount of flights are using that airport. The busiest airport will be Malaga, which has many flights all year round. The easiest and cheapest way to get to Estepona from Airport is by bus. You can take a local bus from the main bus station afterward. Taxi and hiring a car is also an option.
The main bus station is located in the north of the town. This bus station is for inter-city bus travel. If you want to travel to another city, you can book a ride online or can collect tickets on the spot from the bus station as well. Estepona also has a local bus service to travel within the city. These buses are called Linea 1 and 2. These buses are a cheap means of travel.
Estepona does not have its train station. The nearest train station is more than 30 km (19 Miles) away.
Health
In Estepona, you can find several fine medical and health care facilities. Both private and general hospitals are available within the city. If you want to consult a doctor separately for an illness, you can also find private clinics with diverse services. Private hospitals have more English speaking staff than general hospitals but you can find English speaking doctors in general hospitals as well. Some health care facilities are: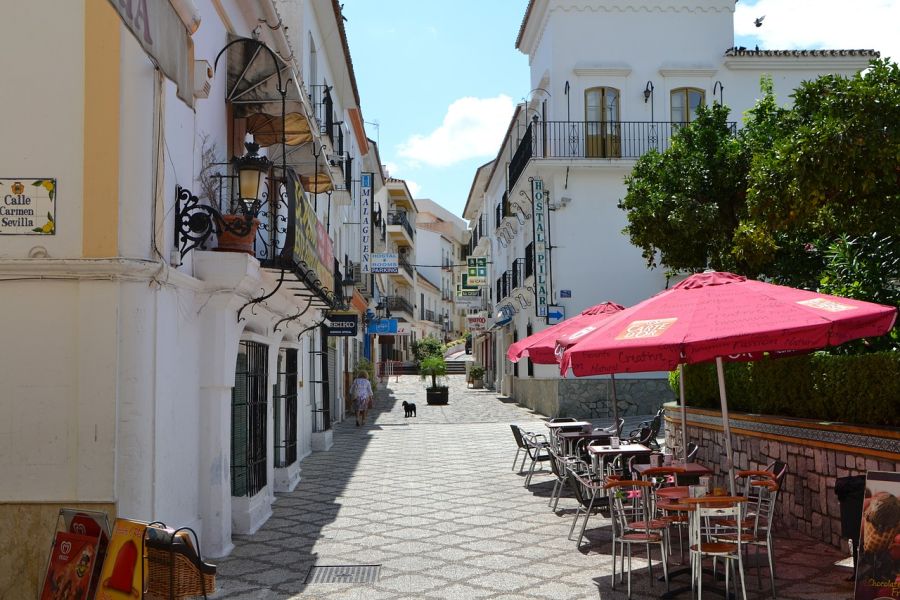 Accommodation
You can find several real estates working in Estepona. You can rent accommodation based on what you want. Some major operators in Estepona are:
In Estepona, you can also find a 1-bed apartment for €300 (approx. $357, £268, $464 CAD, $485 AUD) during the low season.
Winter Camping
There is one campground located in Estepona. Others are located outside the city. The only campground in the region is:
CAMPING PARQUE TROPICAL: 90 plots are available for camping and tents. Prices start from €5.3 (approx. $6, £4, $8 CAD, $8 AUD) per night. (https://www.campingparquetropical.com/).
RV/Campers/ Motor home
There is just one site available for motorhomes or RVs. Other sites are located at a distance from the town:
CAMPING PARQUE TROPICAL: 90 plots are available for Motorhomes and RV Parking. Prices start from €5.3 (approx. $6, £4, $8 CAD, $8 AUD) per night. (https://www.campingparquetropical.com/).
Packing List
Weather: The winter weather in Estepona (Spain) will normally be warm during the day and can be cold during the night. You have to pack accordingly.

Warm clothing: Even when you go to a warm location like Estepona (Spain) you should not forget to take some things with you for your trip back home. When you return you are adapted to the warmer weather and need something to protect you from your hometown temperatures.

Consider the Weather: Always look at the type of weather in Estepona (Spain). Things like humidity, wind, and rain do not show up in the temperature graph but can have a great impact on your wardrobe. There are several sites with long term forecasts and climate information. Is there often a short afternoon downpour like in the tropics, you maybe need to take a strong umbrella and shoos that can cope with the rain. If there is often a lot of wind you might need a more wind-resistant coat.

Check the local Shopping options: Try to find information about the local shopping options near your location in Estepona (Spain). Are there stores where you can buy all your daily supplies, or are some things difficult to get? For some more remote locations, the options can be limited. If a certain item is really important for you might need to take it with you.

Look at the Local Culture: The local culture in Estepona (Spain) can impact your wardrobe. If most activities are in more upscale locations you might take some more appropriate clothes with you. Or travelling if you travel to certain countries women need to cover themselves in certain areas.

Amenities: Know what's Included in your house or apartment. Is there a coffee maker, a toaster, a washer and dryer, an iron, what is in the kitchen, what kind of towels are there? Things that are there means you do not have to take them with you. A furnished apartment or house can mean something from a few pieces of furniture to a well-stocked place with all the things you have at home. But most of the time your rental will not be stocked.

Mix and match: Wear layers so you can use your wardrobe more efficiently. And do not worry about wearing something more often, probably only you will notice this.

Important for you: If there is something that is really important for you that you want to have present in your house or apartment, take it with you. This can be something like a special knife for the kitchen, or a small mirror that you use in the morning. You can also purchase it locally if it is not that expensive.

Pet supplies: If you take your pet with you don't forget to take supplies for a few days with you. And enough medication, vitamins, or other supplies if you can not purchase them in Estepona (Spain) locally.

Food: Don't take a lot of food with you. Only when there is something you really can not live without you, and it is not too heavy you could consider taking it with you.

Towels: Not all locations include bigger towels for the swimming pool or a visit to the beach. If you have to take them and don't have a lot of room you can buy some big thin towels.

Office supplies: Normally you will not find any office supplies in your house or apartment. If you think you will use them you could pack some supplies like a scissor, notepaper, envelopes, some pens, and more depending on your needs.

Limit yourself: Don't take too many shoes and jackets, you will not need them that often.

Best-fitting: Bring your favorite and best-fitting items that can multi-function

Washer: Do you have a washer and dryer onsite, you don't need to pack a lot of clothes
Clothing
Basics
Casual
Smart
Footwear
Toiletries
Beauty
Hygiene
Clothing
Basics
Casual
Outdoor
Footwear
Accessories
Toiletries
Medicine
Miscellaneous
Other
Toiletries
Beauty
Hygiene
Hair
Other
Medicine
Miscellaneous
Technology
Travel and Free time
Travel
Free time
Important
Documents
Money