Spend your fall, winter, or spring in Bermuda: Is Bermuda a good snowbird location?
Bermuda (in full, the Islands of Bermuda) is a British Overseas Territory in the North Atlantic Ocean. It is approximately 956 Miles (1538 km) due north of the British Virgin Islands. The capital city of Bermuda is Hamilton and its largest economic sectors are offshore insurance, reinsurance, and tourism. Bermuda has 9 parishes. They are like districts or counties.
Other than the parishes, there are three important places in the island – Royal Naval Dockyard at the west end is the major cruise port of Bermuda where the large cruise ships dock, St. George in the east is a historical town and the former capital of Bermuda (there is a port in St. George as well for smaller ships to dock), and
Hamilton City at the center is the capital of the island (Hamilton too has a port where smaller ships dock). Hamilton City, the capital of Bermuda is NOT in Hamilton Parish. It is in Pembroke Parish instead. Bermuda's 9 parishes include:
Sandys
Southampton
Warwick
Paget
Pembroke
Devonshire
Smith's
Hamilton Parish
St. George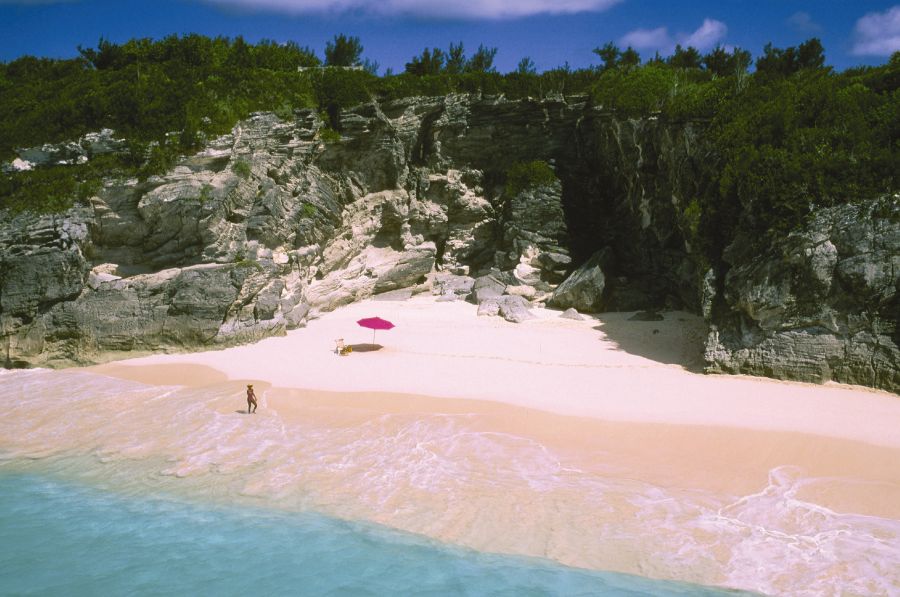 Why should people visit during the fall, winter, or spring?
Bermuda is known for its rugged beauty, island landscape, and legendary hospitality. Few places in the world boast the charm of Bermuda. With its curvaceous shoreline, azure lagoons, and inland sanctuaries, it's a colorful and alluring place to. One of the things that set this island country apart is the warmth, pride, and diversity of Bermudians.
Climate
It is subtropical, thanks to two natural allies: the Gulf Stream and the Bermuda-Azores High. The Gulf Stream pushes warm, equatorial water to the west and north of the island, up from the Gulf of Mexico. This ensures comfortable temperatures year-round.
The Bermuda-Azores High is a high-pressure zone that lies east of the island in the summer, shielding Bermuda from storm systems to the north and wafting light, southerly winds its way. In winter, from November to March, temperatures are very mild, with average temperature ranging from 15°C - 22°C (59°F - 72°F). The winter period normally does not see hurricanes (the hurricane season is from June to November).

Safety
Bermuda has always been considered a safe destination, especially when compared to countries of the Caribbean such as Jamaica. Criminal activity continues to take place at St. George, a popular cruise-ship destination. Snowbirds should be aware, petty theft does still exist here, as it does nearly everywhere. Personal possessions should not be left unattended.
Communication, Internet, and cellphone in Bermuda
The predominant language in Bermuda is Bermudian English.
Though Bermuda may be small in size, its international telecommunication system ranks among the best in the world for reliability, quality, and sophistication. The island provides telephone, fax, Internet, wireless, and wireless roaming services. Direct dialing is possible to and from the island and the country code is 441.
Worldwide and international prepaid calling cards can be purchased locally. Many shops and hotels sell prepaid phone cards usable at public phones. Snowbirds who want to use their phones in Bermuda should remember to contact their phone provider before flying to Bermuda and ask them if their service works on the island. If so, ask for an international plan.
Using one's sim card while in Bermuda can cost snowbirds hundreds of dollars. However, buying a new sim card (local phone number) will save money. The main post office is located in the City of Hamilton and it's operating hours are Mon. through Fri. 8 am to 5 pm, Sat. 8 am to 12 pm.
Things to see in Bermuda
Bermuda has notable places that are worthwhile visiting:
The Beaches: Horseshoe Bay Beach, Jobson's Cove Beach, Warwick Long Bay Beach, Elbow Beach, Church Bay Beach, Tobacco Bay Beach, St. Shelly Bay.
History & Museum: Masterworks Museum of Bermuda Art, Gibb's Hill Lighthouse.
Gardening/Nature & Parks: Fort Hamilton, Crystal and Fantasy caves, Botanical Gardens, and The Bermuda Railway Trail National Park.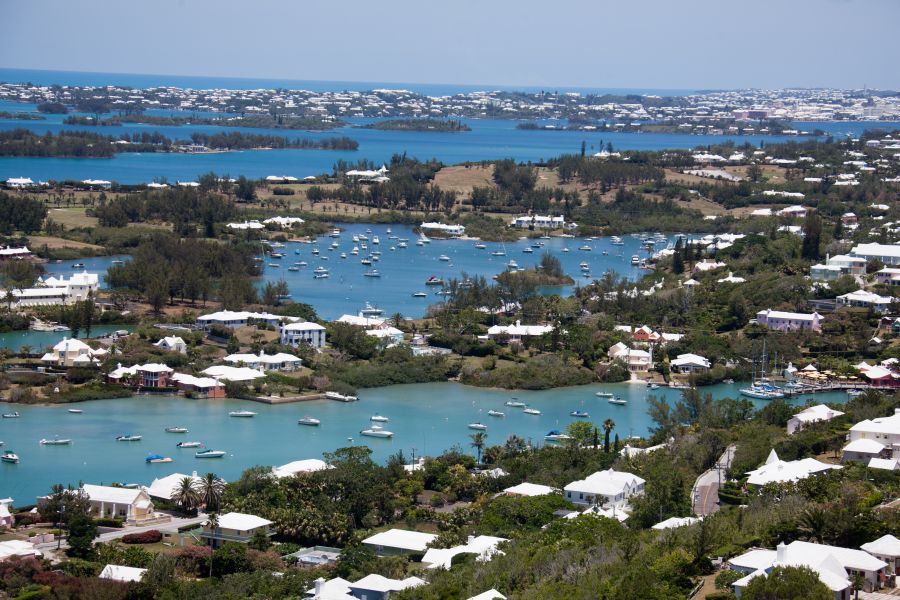 Activities in Bermuda during winter
Have fun at Horseshoe Bay- the beaches where the sand is coloured pink
Set sail on the Atlantic Ocean
Paddle around coastal cliffs
Take a sunset cruise in the Great Sound
Go scuba diving to explore colourful coral reefs and ghostly shipwrecks.
Take a whale watching tour
Fish for wahoo, tuna, rockfish and spiny lobster
Experience the rich arts scene at the Masterworks Museum of Bermuda Art.
Explore the 35-acre Botanical Gardens.
Tour the Camden House, the official residence of the Premier of Bermuda.
Enjoy an exclusive voyage aboard the Spirit of Bermuda while learning about Bermuda's rich maritime history. This 112-foot, the 3-mast vessel was built in 2006 to serve as an educational tool to provide character and educational development through sail training.
Unwind at Rock Island Coffee in the City of Hamilton.
Opt for a spa experience in one of Bermuda's beautiful underground caves
Spend the day at the Bermuda Aquarium, Museum & Zoo which showcases more than 200 species of fish and delicate marine invertebrates as well as over 300 birds, reptiles and mammals from oceanic islands.
Experience an underground world of splendour at the Crystal Caves, a natural underground wonder of the island.
Treat yourself to delicious local cuisine and favourite cocktail, the Rum Swizzle.
Enjoy an evening on one of Bermuda's smaller islands located in the Great Sound
Hike through The Bermuda Railway Trail National Park
Tour the modern art collection of the Hamilton Princess, a historic hotel featuring works by Ai Weiwei, Jeff Koons and Banksy.
Explore mystery at the new exhibit "Bermuda Triangle: Unlock the Secrets" at Bermuda Underwater Exploration Institute (BUEI).
Shopping + Restaurants. Are they open in the fall, winter, or spring?
Snowbirds will find retail bliss in Bermuda. Going on a shopping spree that takes them to the boutiques and studios of the island's artful innovators – they will come across treasures like rare vintage pieces, perfumes crafted using island essences, or jewelry made with Bermuda's legendary pink sand. The shops on Hamilton's Front Street offer stylish fashions, while the Royal Naval Dockyard and the Town of St. George offer everything from locally made arts and crafts to colorful island accessories.
Snowbirds should check out Atelerie, a well-edited women's boutique that mixes island theme accessories like jewelry, bags, water bottles, and candles with brands like Diane Von Furstenberg, Helmut Lang, Joie, and Vince, plus extensive resort collections from Calypso St. Barths, Roberta Freymann, Mara Hoffman and more. Men can find stylish fashions at Coral Coast.
Bermudian food is inspired by a unique combination of global influences and an incredible natural bounty of fresh produce and seafood. Bermudian cuisine was born from a mix of British, Caribbean, African, Native American, and Portuguese influences and ingredients. Snowbirds can sample a classic Bermudian specialty like fish chowder or taste the modern spins that innovative chefs around the island are bringing to the table. They can enjoy good steak, curry, pasta, or ribs, but it's the seafood that wows. Nothing tastes better than local fish caught daily. A-must-try is the cocktails too – the rum-based varieties are island favorites.
Whether snowbirds are looking to enjoy a delicious fish sandwich on the water or sit down for a formal gourmet meal from the island's most buzzed-about chef, Bermuda offers a dining experience to fill their craving. The nightlife scene is equally satisfying. In the City of Hamilton, snowbirds will find upscale bars, sports bars, and chilled out pubs as well as clubs and lounges. Many have live cover bands or DJs in the summer, and snowbirds can catch live jazz, reggae and calypso year-round
Transport
The taxis pretty much have a monopoly on getting snowbirds from L.F. Wade International Airport (BDA) to the hotel. Many snowbirds arrive at Bermuda on a cruise ship. Most docks in Hamilton, though there are a few that anchor around Historic St. George or the Royal Navy Dockyard. Taxi drivers are always waiting at all the docks to show snowbirds around.
The best way to get around Bermuda is on a bus. Snowbirds will find the island-wide bus an excellent, hassle-free way to see Bermuda. Routes travel from the outer parishes to Hamilton and back, with stops at several tourist sites along the way. And they're color-coded; to go to Hamilton, look out for the pink pole. If one wants to leave Hamilton, stand by the blue one. Fare is determined by zone; the main island has 14 zones and it costs $3.50 (approx. €3, £2, $4 CAD, $5 AUD) to travel up to three zones or $5 (approx. €4, £4, $6 CAD, $7 AUD) for more than three. Snowbirds need to carry exact change or use tokens, which are sold at bus terminals and hotels. They can get a bus schedule in the visitor centers.
Taxis are available; although the downside to taking a taxi is the cost. Cab fares are either per hour starting around $50 (approx. €47, £41, $68 CAD, $78 AUD) for one to four passengers or per distance traveled for one to four passengers, the meter starts around $8 (approx. €7, £6, $10 CAD, $12 AUD) and each additional mile costs about $3.50 (approx. €3, £2, $4 CAD, $5 AUD). Be aware that fares go up at least 25 percent between midnight and 6 a.m. and on Sundays and holidays. Cabs are abundant since visitors aren't allowed to have cars. The taxis displaying a blue flag are specifically for tours.
To sit back and enjoy the Bermudian sights, snowbirds can take a ferry. The government-operated boats cross the Great Sound between Hamilton and Sandys parish and from Hamilton to the parishes of Paget and Warwick (where a lot of the hotels are located). There are four color-coded routes to choose from, all of which depart from the ferry terminal on Front Street in Hamilton. A one-way fare varies from $2.75 (approx. €2.62, £2.27, $3.76 CAD, $4.32 AUD), depending on age and route. And just like the bus, snowbirds need to pay with exact change. SeaExpress operates Bermuda's ferries.
Health
The Bermuda Hospitals Board operates the King Edward VII Memorial Hospital, located in Paget Parish, and the Mid-Atlantic Wellness Institute, located in Devonshire Parish. Boston's Lahey Medical Center has an established visiting specialists program on the island which provides Bermudians and expats with access to specialists regularly on the island.
There are no paramedics on the island. The Bermuda Hospitals Board says that they were not vital in Bermuda because of its small size. Nurse practitioners on the island, of which there are not many, can be granted authority to write prescriptions "under the authority of a medical practitioner". Snowbirds can find doctors and dentists that speak English as well as other languages.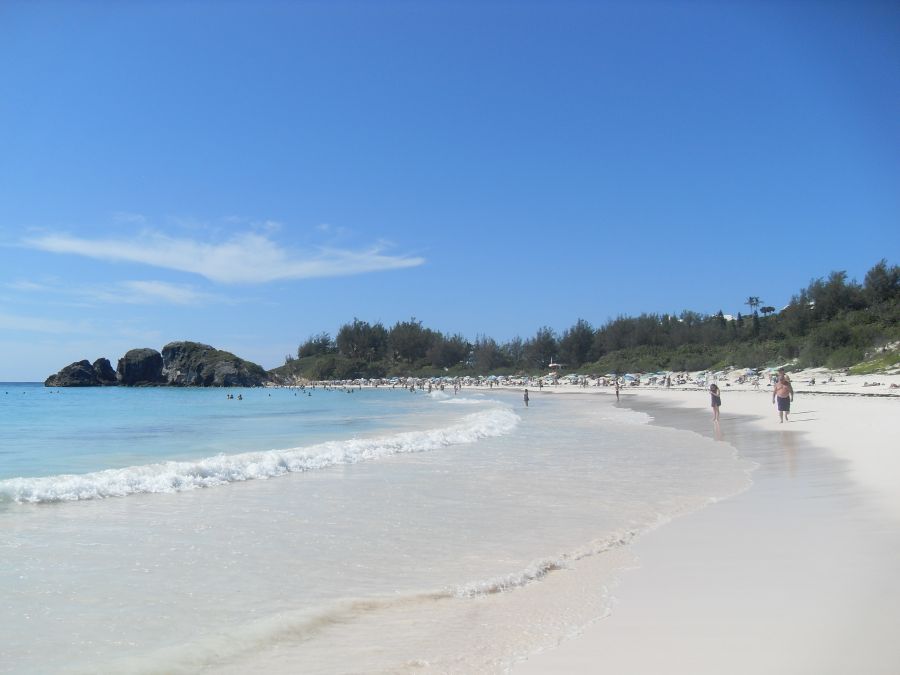 Accommodation
If snowbirds want cheap accommodation, they will need to book rooms for at least a month in advance. Avoid hotels and resorts and instead, stay at a bed and breakfast or home rental property. If snowbirds are staying with a group, definitely rent a large apartment, as it's far less per person than a hotel room.
The best places to stay in Bermuda are St. George's, Warwick, Southampton, Pembroke while hotels by the beach in Bermuda include Pompano Beach Club, The Loren at Pink Beach, and The Reefs. Accommodation prices range from $56 (approx. €53, £46, $76 CAD, $87 AUD) per night.
Packing List
Weather: The fall, winter, and spring weather in Bermuda will normally be warm during the day, but can be chilly during the night. Of course in the fall and spring it will be warmer than in the winter. You have to pack accordingly.

Warm clothing: Even when you go to a warm location like Bermuda you should not forget to take some things with you for your trip back home. When you return you are adapted to the warmer weather and need something to protect you from your hometown temperatures.

Consider the Weather: Always look at the type of weather in Bermuda. Things like humidity, wind, and rain do not show up in the temperature graph but can have a great impact on your wardrobe. There are several sites with long term forecasts and climate information. Is there often a short afternoon downpour like in the tropics, you maybe need to take a strong umbrella and shoos that can cope with the rain. If there is often a lot of wind you might need a more wind-resistant coat.

Check the local Shopping options: Try to find information about the local shopping options near your location in Bermuda. Are there stores where you can buy all your daily supplies, or are some things difficult to get? For some more remote locations, the options can be limited. If a certain item is really important for you might need to take it with you.

Look at the Local Culture: The local culture in Bermuda can impact your wardrobe. If most activities are in more upscale locations you might take some more appropriate clothes with you. Or travelling if you travel to certain countries women need to cover themselves in certain areas.

Amenities: Know what's Included in your house or apartment. Is there a coffee maker, a toaster, a washer and dryer, an iron, what is in the kitchen, what kind of towels are there? Things that are there means you do not have to take them with you. A furnished apartment or house can mean something from a few pieces of furniture to a well-stocked place with all the things you have at home. But most of the time your rental will not be stocked.

Mix and match: Wear layers so you can use your wardrobe more efficiently. And do not worry about wearing something more often, probably only you will notice this.

Important for you: If there is something that is really important for you that you want to have present in your house or apartment, take it with you. This can be something like a special knife for the kitchen, or a small mirror that you use in the morning. You can also purchase it locally if it is not that expensive.

Pet supplies: If you take your pet with you don't forget to take supplies for a few days with you. And enough medication, vitamins, or other supplies if you can not purchase them in Bermuda locally.

Food: Don't take a lot of food with you. Only when there is something you really can not live without you, and it is not too heavy you could consider taking it with you.

Towels: Not all locations include bigger towels for the swimming pool or a visit to the beach. If you have to take them and don't have a lot of room you can buy some big thin towels.

Office supplies: Normally you will not find any office supplies in your house or apartment. If you think you will use them you could pack some supplies like a scissor, notepaper, envelopes, some pens, and more depending on your needs.

Limit yourself: Don't take too many shoes and jackets, you will not need them that often.

Best-fitting: Bring your favorite and best-fitting items that can multi-function

Washer: Do you have a washer and dryer onsite, you don't need to pack a lot of clothes
Clothing
Basics
Casual
Smart
Footwear
Toiletries
Beauty
Hygiene
Clothing
Basics
Casual
Outdoor
Footwear
Accessories
Toiletries
Medicine
Miscellaneous
Other
Toiletries
Beauty
Hygiene
Hair
Other
Medicine
Miscellaneous
Technology
Travel and Free time
Travel
Free time
Important
Documents
Money
Other locations close to this location:
Travelers' Map is loading...
If you see this after your page is loaded completely, leafletJS files are missing.
If you have any additions, or comments on the content on this page, please use our contact form to let us know.
Detailed weather during the year for Bermuda
What to do during the year in Bermuda