Spend Your Fall, Winter, or Spring in Phu Quoc, Vietnam: Is Phu Quoc A Good Snowbird Location?
One of the undiscovered gems of Southeast Asia is Phu Quoc Island in Vietnam. It's abundance of idyllic beaches coupled with a serene atmosphere is more than enough to make the stay one you remember for years to come. Phu Quoc is located off the coast of Cambodia, west of Ha Tien in the Ken Giang Province which is in the far south part of Vietnam. The majority of the island's area is a UNESCO listed national park and so it remains untouched by industries and excess development. Most of the area is made up of resorts, restaurants, and cafes ideal for a peaceful stay.
The largest island in Vietnam, this island covers only 574 square km (222 square Miles) with a population of 103,000 people. Phu Quoc is made up of the main island and a couple of smaller islets. Originally a simple fishing village, the remarkable beauty of this island continuously draws people to its shore thus giving birth to the budding tourism industry.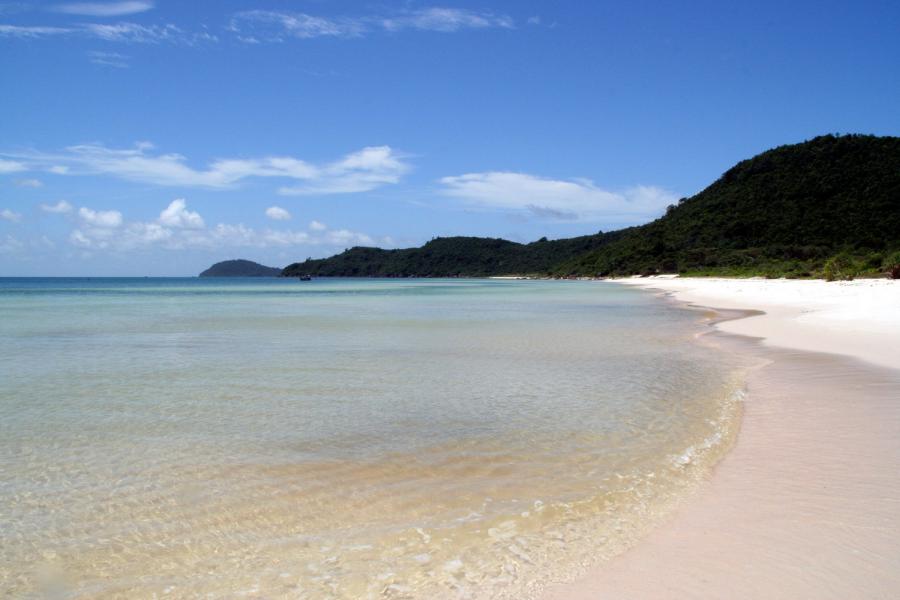 Why should people visit in winter?
The pleasant weather and numerous beaches along Phu Quoc's coastlines are just one of the many reasons why it is an ideal winter location. There are so many interesting sites and activities to engage in such as nature parks, Buddhist pagodas, and traditional villages. The people are extremely hospital and willing to share their beautiful island and culture with visitors. The local food is delicious including continental dishes and street food caught fresh from the ocean. The island is also largely undiscovered so there are hardly any crowds during the winter months.
Climate
Phu Quoc has a subequatorial monsoon climate which means it has heavy rainfall during its rainy seasons (April – November). Its dry season falls between December to March and the weather is usually warm and pleasant with a little rainfall. This means it has perfect weather for snowbirds to enjoy their stay here engaging in the many outdoor activities available. The temperature in the winter remains balmy hovering around 20°C (68°F).

Safety
The island of Phu Quoc is generally very safe for visitors with low crime rates. However, as with most tourists attracting places, there are a few incidences of scams, pickpocketing, and exploitation. Snowbirds are cautioned to keep their valuable items safe and be alert all the time especially when they are in crowded places.
Communication, internet, and cellphone in REGION
Since Phu Quoc is located in Vietnam, its official spoken language is Vietnamese. However, snowbirds do not have to worry about a language barrier as many of the locals especially those who work in hospitality also speak some English. Other common languages spoken in Phu Quoc are, Chinese, Japanese, Russian, and French. Snowbirds are also encouraged to learn a few common Vietnamese phrases to make everyday conversations smoother.
Getting a sim card in Phu Quoc is inexpensive and is the best option for you to stay connected. Mobile network coverage is good in most parts of the island and data speeds are decent. Viettel has the best coverage even when you venture off the major coverage areas. You can buy a sim card at the international airport but be sure to only buy from official outlets. Sim cards cost $2.20 (approx. €2.08, £1.8, $2.97 CAD, $3.43 AUD) and 3GB of data costs an additional $3 (approx. €2.84, £2.46, $4.05 CAD, $4.68 AUD)
Things to see in Phu Quoc
Fish sauce factories – a major feature in Vietnamese cuisine is fish sauce. It is also one of the country's major exports so a chance to see how this condiment is produced and manufactured is something most food lovers would enjoy.
Pepper farms – Phu Quoc is also known as the pepper island as there are different types of unique peppers that grow here. Besides tasting them in most of the local dishes, you can see how some of the best peppers in the world are grown in their multiple plantations.
National park – although the park takes up half of the island's area, it is a wonderful place to explore and observe the island's native fauna and flora. The lush foliage and rolling mountains are truly a stunning sight.
Waterfalls – there are stunning waterfalls only 8 km (5 Miles)

from Duong Dong, the capital of the island.

Dinh Cau Rock – just by the Duong Dong harbor, Cau temple is a rock formation where local fishermen pray to the Sea Goddess, Thien Hau before embarking on a fishing trip. There are a Buddhist shrine and colored lighthouse that makes the scene even more interesting.
Things to see not far from Phu Quoc
Visit An Thoi islands – located off the south end of Phu Quoc island, this cluster of 15 small islands is the perfect destination for beach relaxation, slow-paced fishing, and sunbathing. You may also see some dolphins and whales swim by.
Bioluminescent algae – take a dive into the sea at night to see the glowing underwater life forms take on a brilliant luminescence.
Fingernail island – stunning beaches abound on this serene island. You can also enjoy the island's version of iced tea made with herbs and freshly caught and prepared seafood.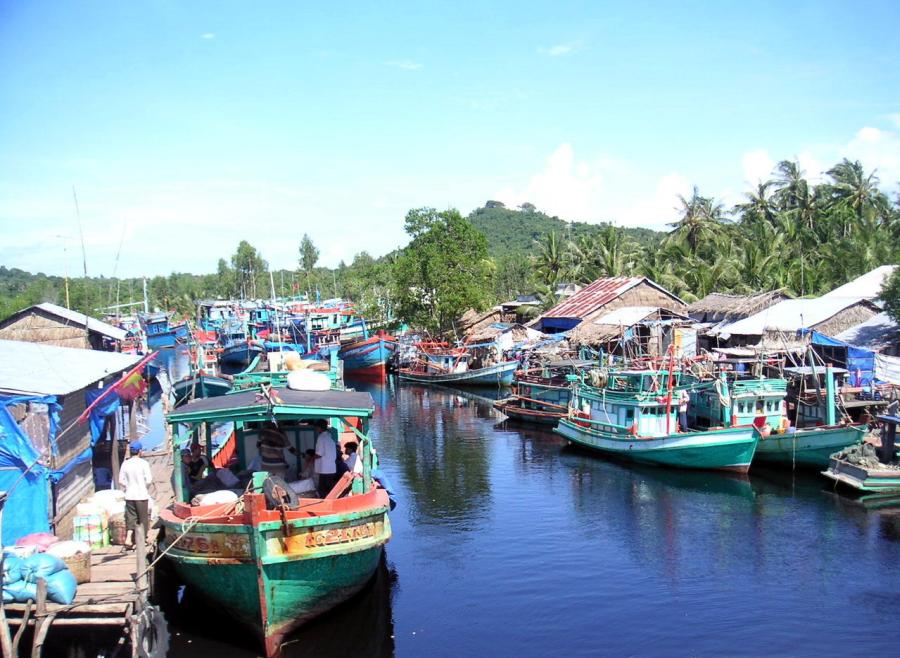 Activities in Phu Quoc in the fall, winter, or spring
Visit the night market – open from 5 pm to 10 pm, one of the most interesting things to do in Phu Quoc is to visit its bustling night market. You can either shop locally made items or visit any of the many restaurants selling freshly caught seafood.
Beaches – as it is an island, Phu Quoc is blessed with numerous immaculate beaches. The water is clear, warm, and perfect for swimming. If you are not interested in getting wet, you can relax by the beach in the warm sunshine instead.
Museums – Coi Nguon Museum is located near Long Beach and you can visit to get a feel for the history of the small island. There are also artifacts, paintings, and other items that date back to the 15th century on display. There is also a war memorial and prison museum displaying where Vietnamese soldiers were tortured during the war.
Pearl hunting – get a look at how sea pearls grow, are cleaned and collected. You can also purchase some pearl gifts and souvenirs.
Take a cooking class – try out your cooking skills and learn how to make some of the Vietnamese local cuisine you enjoy.
Shopping + Restaurants. Are they open in the fall, winter, or spring?
Shops and restaurants are open during the winter on this quaint island. There are numerous bars that serve delicious cocktails including local coconut and herb-flavored creations. There are also a few restaurants serving western cuisine but most of the foodservice places offer up various local recipes with seafood playing a major role in most of the dishes. There are also shops and supermarkets where you can purchase essentials.
Transport
There is one international airport in Phu Quoc. Some flights land directly here or you may land in mainland Vietnam and take a connecting flight to Phu Quoc.
Taxis are the most reliable way to get around the island as it does not have a working public transport system. You can hail a metered taxi from the airport to your accommodation. Taxi fares from the airport into the city centre cost around $4.40 (approx. €4, £3, $5 CAD, $6 AUD).
You can also rent a bicycle to help you get around the island during your stay for $1 (approx. €0.95, £0.82, $1.35 CAD, $1.56 AUD) per day. Motorbikes can be rented if you have an international driver's license for $45 (approx. €42, £36, $60 CAD, $70 AUD) per week.
Moving from one island to the other will involve taking a boat or ferry ride.
Car rentals are only available to people with a Vietnamese driver's license. However, you can hire a car that comes with a driver who is a resident of the islands. This can set you back around $25 (approx. €23, £20, $33 CAD, $38 AUD) per day.
Buses go from Duong Dong and An Thoi every few hours taking people who arrive by ferries into the city center.
Health
Healthcare in Phu Quoc island is basic with public and private hospitals. The private hospitals tend to be better equipped with well-trained doctors so they would be your best bet for treatment. They can also arrange an evacuation to the mainland in the event of a serious emergency they cannot handle themselves. Snowbirds are also advised to have comprehensive travel health insurance to cover the costs of whatever incident may occur.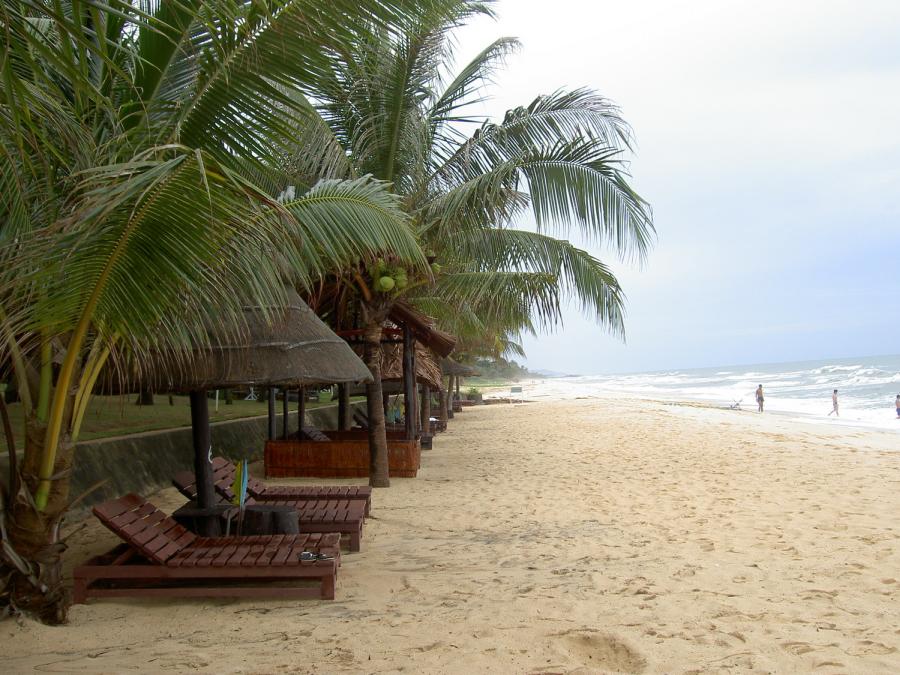 Accommodation
Beautiful and clean apartments are available for rent in Phu Quoc for reasonable prices. To rent a one-bedroom apartment costs about $369 (approx. €349, £302, $498 CAD, $575 AUD) and a 3 bedroom costs about $560 (approx. €530, £459, $755 CAD, $873 AUD) per month.
Packing List
Weather: The fall, winter, and spring weather in Phu Quoc (Vietnam) will normally be hot during the day and hot/warm during the night. Of course in the fall and spring it will be warmer than in the winter. You have to pack accordingly.

Warm clothing: Even when you go to a warm location like Phu Quoc (Vietnam) you should not forget to take some things with you for your trip back home. When you return you are adapted to the warmer weather and need something to protect you from your hometown temperatures.

Consider the Weather: Always look at the type of weather in Phu Quoc (Vietnam). Things like humidity, wind, and rain do not show up in the temperature graph but can have a great impact on your wardrobe. There are several sites with long term forecasts and climate information. Is there often a short afternoon downpour like in the tropics, you maybe need to take a strong umbrella and shoos that can cope with the rain. If there is often a lot of wind you might need a more wind-resistant coat.

Check the local Shopping options: Try to find information about the local shopping options near your location in Phu Quoc (Vietnam). Are there stores where you can buy all your daily supplies, or are some things difficult to get? For some more remote locations, the options can be limited. If a certain item is really important for you might need to take it with you.

Look at the Local Culture: The local culture in Phu Quoc (Vietnam) can impact your wardrobe. If most activities are in more upscale locations you might take some more appropriate clothes with you. Or travelling if you travel to certain countries women need to cover themselves in certain areas.

Amenities: Know what's Included in your house or apartment. Is there a coffee maker, a toaster, a washer and dryer, an iron, what is in the kitchen, what kind of towels are there? Things that are there means you do not have to take them with you. A furnished apartment or house can mean something from a few pieces of furniture to a well-stocked place with all the things you have at home. But most of the time your rental will not be stocked.

Mix and match: Wear layers so you can use your wardrobe more efficiently. And do not worry about wearing something more often, probably only you will notice this.

Important for you: If there is something that is really important for you that you want to have present in your house or apartment, take it with you. This can be something like a special knife for the kitchen, or a small mirror that you use in the morning. You can also purchase it locally if it is not that expensive.

Pet supplies: If you take your pet with you don't forget to take supplies for a few days with you. And enough medication, vitamins, or other supplies if you can not purchase them in Phu Quoc (Vietnam) locally.

Food: Don't take a lot of food with you. Only when there is something you really can not live without you, and it is not too heavy you could consider taking it with you.

Towels: Not all locations include bigger towels for the swimming pool or a visit to the beach. If you have to take them and don't have a lot of room you can buy some big thin towels.

Office supplies: Normally you will not find any office supplies in your house or apartment. If you think you will use them you could pack some supplies like a scissor, notepaper, envelopes, some pens, and more depending on your needs.

Limit yourself: Don't take too many shoes and jackets, you will not need them that often.

Best-fitting: Bring your favorite and best-fitting items that can multi-function

Washer: Do you have a washer and dryer onsite, you don't need to pack a lot of clothes
Clothing
Basics
Casual
Smart
Footwear
Toiletries
Beauty
Hygiene
Clothing
Basics
Casual
Outdoor
Footwear
Accessories
Toiletries
Medicine
Miscellaneous
Other
Toiletries
Beauty
Hygiene
Hair
Other
Medicine
Miscellaneous
Technology
Travel and Free time
Travel
Free time
Important
Documents
Money
Other locations close to this location:
Travelers' Map is loading...
If you see this after your page is loaded completely, leafletJS files are missing.
If you have any additions, or comments on the content on this page, please use our contact form to let us know.
Detailed weather during the year for Phu Quoc Vietnam
What to do during the year in Phu Quoc Vietnam