Spend Your Fall, Winter, or Spring in Puerto Rico, Gran Canaria: Is Puerto Rico A Good Snowbird Location?
Located on the south-west coast of the Spanish island of Gran Canaria, Puerto Rico is a small holiday resort that attracts tourists and snowbirds from different parts of the world, all year round. Puerto Rico has a beautiful sandy beach and two small harbors.
Inland, there are many shops and restaurants in the area that many consider to be top class. Most of these shops and restaurants can be found in small shopping centers. One of the popular shopping centers, the Pasarela, is the closest to the beach. The main shopping centers, as well as other exclusive stores, are in the center of the town.
Puerto Rico is not bare of some Spanish flavor. Spanish is spoken widely, alongside English. From the restaurants, music, art, and craft, you are sure to find some Spanish culture in the area. Snowbirds can enjoy swimming, golfing, dolphin-watching cruises, boat trips, sailing, fishing, and a couple of other activities.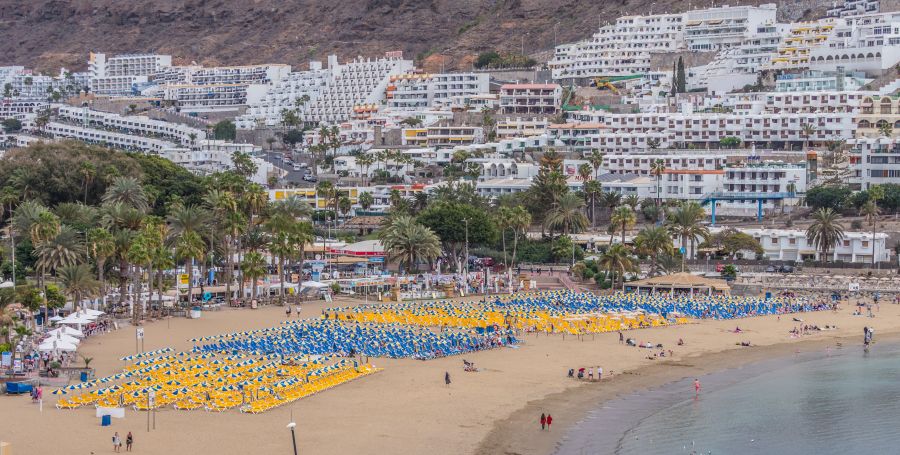 Why should people visit during the winter?
Puerto Rico Gran Canaria is a treasure trove of holiday activities. Many of its attractions and activities are available to visitors throughout the year.
The weather in Puerto Rico is one of the main reasons snowbirds should visit. It is known to be one of the warmest and sunniest spots in Gran Canaria, so you won't be worried about traces of winter creeping up to you.
The ideal weather, a splendid beach, and interesting activities are just some of the reasons why snowbirds should choose Puerto Rico as their winter location.
Climate
One thing that is guaranteed about Puerto Rico is that the weather stays warm all year long. Its proximity to Africa's west coast provides a balanced and conducive climate.
In the winter, the temperatures range from a minimum of 20°C (68°F) to a maximum of 25°C (77°F). However, there is always a gentle breeze blowing, and the sea stays calm.
So, the climate in Puerto Rico offers perfect conditions for snowbirds after some warm comfortable weather, and great conditions for all the activities you might engage in while in the area.

Safety
There is hardly any crime in the area. As a small resort town, the locals know themselves and that affects criminal behavior. Tourists hardly have any cases of petty crimes committed against them. So snowbirds can enjoy their time without worrying about their safety.
Communication, internet, and cellphone in Puerto Rico, Gran Canaria
Spanish is the official language of Puerto Rico, but English is also spoken to a large extent, to the favor of snowbirds who cannot speak Spanish. You shouldn't have an issue communicating with locals or other tourists, and making a purchase will be easy.
As Gran Canaria is part of Spain, European residents can use their mobile phones without any problems (roam like home). For non-EU residents, it is advised to check the rates, and if needed buy a local sim card.
If you choose to purchase a new phone in Puerto Rico, it could be cheaper than you will expect, but be sure to verify that the phone can still be used when you get back home, or you will be left with a somewhat useless device.
In terms of network service providers, Vodafone, Movistar, and Simyo are some of the networks available. They all offer considerably cheap calls and data services.
Alternatively, you could use the phones in your apartment or hotels to make international calls, or you could make use of one of the phone booths that are around some local shops.
Things to see in Puerto Rico, Gran Canaria
The Europa Center: the Europa Center, also known as the Europa Centre Puerto Rico, is a great hub of top quality restaurants, entertaining bars, and other sorts of activities for snowbirds. It is one of the top spots in Puerto Rico.
The Pasarela center: This is a great mall located close to the beach. It has some splendid stores that snowbirds can visit to make essential purchases, and also get a thing or two to take back home with them.
Playa de Puerto Rico: this is a busy sandy beachside that is surrounded by multiple lodging & dining spots. It's a great place to meet and socialize with other tourists, get a suntan, or just lay back with your feet in the sand and watch a beautiful sunset.
Angry Birds Activity Park: for snowbirds traveling with younger children, this is a great location. There are lots of activities here like ziplining. It is a great way to allow children to have some fun while on holiday. Food, like burgers, pizza, and ice cream is also available here.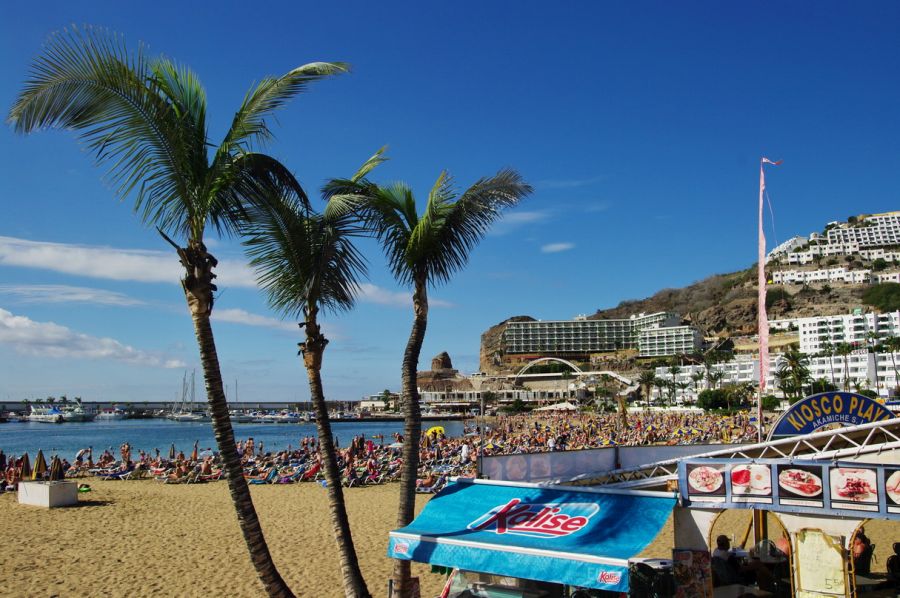 Things to see not far from Puerto Rico, Gran Canaria
Playa de Amadores: located in Puerto Rico and Puerto Mogan, Playa de Amadores is a beautiful man-made beach that is fast becoming a top tourist attraction in Gran Canaria. It is a busy beach that snowbirds can swim in or just sunbathe.
Anfi Del Mar: this is a peaceful and quiet golf resort. Here, snowbirds can enjoy as many golfing activities as they would like, and there is also a less crowded beach they can enjoy.
Activities in Puerto Rico, Gran Canaria in the fall, winter, or spring
Sailing: Surrounded by the sea, snowbirds can go sailing across the calm waters. There are usually organized sailing activities available by businesses in the area. They don't cost much, but they are certainly worth the price.
Scuba diving: sea life is abundant around Puerto Rico. Snowbirds can explore this beauty through scuba diving tours into the deep.
Dolphin watching: there are dedicated cruises that offer you the opportunity to see the friendly and amazing dolphins in their natural habitat. You could find them playing in the water, flying into the air, or just swimming around. These cruises are usually inexpensive and generally interesting.
Food tasting: Snowbirds can indulge their taste buds in the great restaurants available. They serve meals all day. You can either go for a simple takeaway or a full course Spanish meal. There are many delicious local cuisines you can try like the canary potatoes with mojo sauce.
Shopping + Restaurants. Are they open in the fall, winter, or spring?
Snowbirds are guaranteed to have a great shopping and dining experience in Puerto Rico. All the shops you will find around stay open all year round. Although you may not find the kind of high-end shops you might like, those available don't disappoint. You can shop for all you want to buy at a cheaper rate than you will likely get them back home.
The food in Puerto Rico indulges your taste buds. The restaurants offer some really tasty meals that you will definitely won't forget easily. Thanks to the sea, seafood is not in short supply. You can explore local recipes or settle for familiar meals.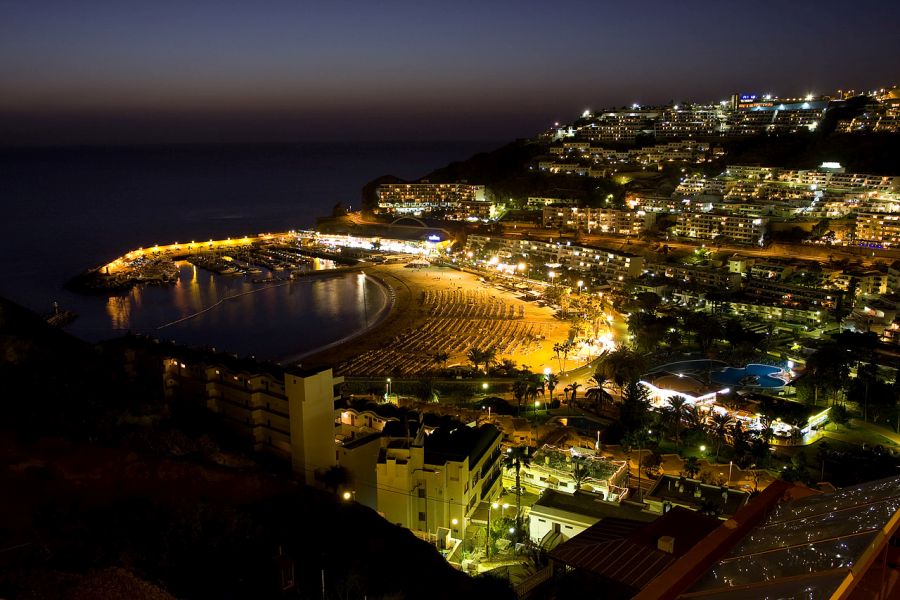 Transport
Snowbirds can arrive on the island at the Gran Canaria Las Palmas Airport. As a popular tourist destination, you might see many other tourists in taxi queues at the airport. But you can avoid all that by booking a taxi beforehand.
Given the size of Puerto Rico, there is no problem getting around wherever you want to go on time, and conveniently too.
Taxis and buses run through all the major destinations. They are cheap and reliable. You will get to wherever you want to go in less than an hour. Snowbirds can also rent cars from local car rental agencies at affordable rates.
There is no existing rail network or an airport in Puerto Rico.
Health
Snowbirds can rest easy knowing that there aren't any serious diseases or illnesses in the area. Many snowbirds with arthritis or MS visit Puerto Rico to get some relief in the warmer weather.
The medical services in Puerto Rico can be rated above average. You could either go for public or private services. As expected, private health care typically costs more. Many doctors and dentists speak English. You could get recommendations for good doctors or hospitals from hotels, or even a restaurant. One of the popular Clinics in the area is the British Medical Clinic.
There are also local chemists (farmacias) available. They usually stay open after hours and they have almost anything you may need.
Accommodation
It shouldn't be a difficult task to find accommodation in Puerto Rico, but if you can book before time, you should. From single bedrooms to as many as three rooms, There are lots of apartment buildings and beachfront housing you can choose from, depending on your budget and how many people would be living in the space. You will find that they all have the basic amenities you would normally need back home like a pool or wifi connection. However, renting an apartment is very pricey. This is mainly due to the fact it's a resort town with large numbers of tourists. Typically, rent is charged per night, so over a month, you could find yourself with a bill of over $1200 (approx. €1108, £995, $1609 CAD, $1733 AUD).
Packing List
Weather: The fall, winter, and spring weather in Puerto Rico (Gran Canaria) will normally be warm during the day, but can be chilly during the night. Of course in the fall and spring it will be warmer than in the winter. You have to pack accordingly.

Warm clothing: Even when you go to a warm location like Puerto Rico (Gran Canaria) you should not forget to take some things with you for your trip back home. When you return you are adapted to the warmer weather and need something to protect you from your hometown temperatures.

Consider the Weather: Always look at the type of weather in Puerto Rico (Gran Canaria). Things like humidity, wind, and rain do not show up in the temperature graph but can have a great impact on your wardrobe. There are several sites with long term forecasts and climate information. Is there often a short afternoon downpour like in the tropics, you maybe need to take a strong umbrella and shoos that can cope with the rain. If there is often a lot of wind you might need a more wind-resistant coat.

Check the local Shopping options: Try to find information about the local shopping options near your location in Puerto Rico (Gran Canaria). Are there stores where you can buy all your daily supplies, or are some things difficult to get? For some more remote locations, the options can be limited. If a certain item is really important for you might need to take it with you.

Look at the Local Culture: The local culture in Puerto Rico (Gran Canaria) can impact your wardrobe. If most activities are in more upscale locations you might take some more appropriate clothes with you. Or travelling if you travel to certain countries women need to cover themselves in certain areas.

Amenities: Know what's Included in your house or apartment. Is there a coffee maker, a toaster, a washer and dryer, an iron, what is in the kitchen, what kind of towels are there? Things that are there means you do not have to take them with you. A furnished apartment or house can mean something from a few pieces of furniture to a well-stocked place with all the things you have at home. But most of the time your rental will not be stocked.

Mix and match: Wear layers so you can use your wardrobe more efficiently. And do not worry about wearing something more often, probably only you will notice this.

Important for you: If there is something that is really important for you that you want to have present in your house or apartment, take it with you. This can be something like a special knife for the kitchen, or a small mirror that you use in the morning. You can also purchase it locally if it is not that expensive.

Pet supplies: If you take your pet with you don't forget to take supplies for a few days with you. And enough medication, vitamins, or other supplies if you can not purchase them in Puerto Rico (Gran Canaria) locally.

Food: Don't take a lot of food with you. Only when there is something you really can not live without you, and it is not too heavy you could consider taking it with you.

Towels: Not all locations include bigger towels for the swimming pool or a visit to the beach. If you have to take them and don't have a lot of room you can buy some big thin towels.

Office supplies: Normally you will not find any office supplies in your house or apartment. If you think you will use them you could pack some supplies like a scissor, notepaper, envelopes, some pens, and more depending on your needs.

Limit yourself: Don't take too many shoes and jackets, you will not need them that often.

Best-fitting: Bring your favorite and best-fitting items that can multi-function

Washer: Do you have a washer and dryer onsite, you don't need to pack a lot of clothes
Clothing
Basics
Casual
Smart
Footwear
Toiletries
Beauty
Hygiene
Clothing
Basics
Casual
Outdoor
Footwear
Accessories
Toiletries
Medicine
Miscellaneous
Other
Toiletries
Beauty
Hygiene
Hair
Other
Medicine
Miscellaneous
Technology
Travel and Free time
Travel
Free time
Important
Documents
Money
Other locations close to this location:
Travelers' Map is loading...
If you see this after your page is loaded completely, leafletJS files are missing.
If you have any additions, or comments on the content on this page, please use our contact form to let us know.
Detailed weather during the year for Puerto Rico Gran Canaria
What to do during the year in Puerto Rico Gran Canaria