Curaçao, a Dutch Caribbean island, is known for its beaches tucked into coves and its expansive coral reefs rich with marine life. It's also a gateway to western beaches like Blue Bay, a popular diving site. It is situated some 37 Miles (60 km) north of the coast of Venezuela. The capital is Willemstad.
Curaçao is an island in the Caribbean, among the group known as the ABC Islands alongside Aruba and Bonaire. This trio is located near Venezuela, and is considered to be outside the Caribbean's so-called "hurricane zone"; vacations to the island are rarely disrupted by tropical storms.
The cities are Willemstad, Sint Michiel Liber, Barber, Dorp Soto, Newport, Sabana Westpunt, Dorp Sint Willebrordus, Lagún
Why should people visit during the winter?
It is a beautiful island where people live, work, and raise their families. They also have a thriving tourist industry but it is not the dominant activity – life is. Snowbirds will also find that there is a good mix of activities, nature, history, shopping, and just plain enjoyment and relaxation with lovely warm weather.
Climate
In Curaçao, the climate is tropical, hot all year round, with average temperatures ranging from 28°C - 29°C (82°F - 84°F). The winter period normally does not see hurricanes (the hurricane season is from June to November).

Safety
Most visits to Curaçao are trouble-free. However, petty theft and street crime is a concern in some parts of the island. The main tourist areas are generally safe, but winter visitors should take normal precautions. Personal possessions should not be left unattended.
Communication, Internet, and cellphone in Curaçao
Most native speakers will use Dutch, English, and Papiamentu with equal aplomb. Dutch is the official language, while Papiamentu is the most common. Spanish is also spoken by most Curacaons, and English is widely used.
Curaçao has two main cell providers, UTS and Digicel. International roaming is also available for many carriers but it is usually cheaper to purchase a prepaid SIM card from one of the local providers. Both carriers have good coverage around the island although UTS is slightly better.
Quite a number of restaurant/bar establishments also offer free Wi-Fi so, snowbirds can also use that, although the connection can be sporadic at times.
Snowbird Locations in Curaçao
Mambo Beach Blvd: This area is great for families, groups of friends and honeymooners
Piscadera/Blue Bay area: It's not so busy but still close to the town. Also, the nice beaches on the west side are not too far away.
Coral Estates Rif St Marie: is something for snowbirds who really want to enjoy the tranquillity. It is not too far from town or even some good restaurants in the area. Snowbirds will also be a short drive away from the best beaches in Curacao.
Things to see in Curaçao
Curaçao has notable places that are worthwhile visiting:
The Beaches: Cas Abou Beach, Playa Grandi, Blue Bay Beach Resort, Porto Marie, Playa Kenepa, Playa Kalki, Mambo Beach, and Jan Thiel Beach amongst others.
Gardening/Nature & Parks: Christoffel National Park and Shete Boka National Park.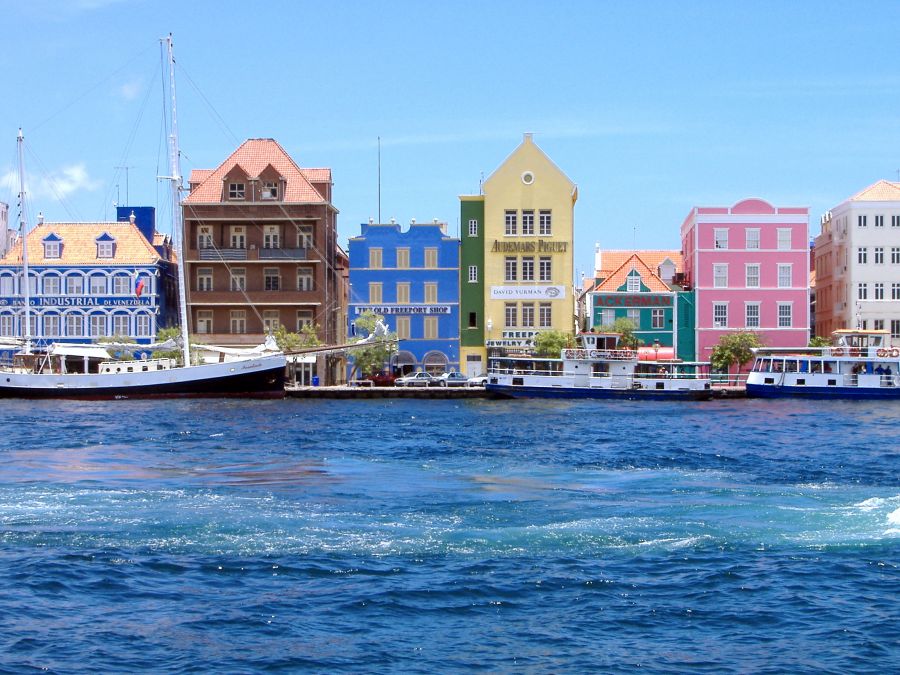 Activities in Curaçao during winter
Tour Willemstad Historic Buildings
Cross the Queen Emma Pontoon Bridge
See the Colorful Handelskade: This waterfront strip of colorful buildings in Punda
Explore the Hato Caves
Parasailing & Paragliding
Scuba diving & Snorkeling
Submarine Tours
Surfing, Windsurfing & Kitesurfing
Swim with Dolphins
Waterskiing & Jetskiing in Curacao.
Fishing Charters & Tours
Paddleboarding
Visit Christoffel National Park and Shete Boka National Park
Visit the Curaçao Sea Aquarium,
Tour Curaçao Ostrich & Game Farm
A trip to The Kura Hulanda Village & Spa which is just a short drive from Hato Caves and features beautifully restored colonial buildings.
Shopping + Restaurants. Are they open in the winter?
There are a plethora of random shops and markets around Willemstad offering clothing, souvenirs, crafts, and other goods.
A waterfront market lies on the near north side of the main shopping area. It's packed with fresh foods and flowers, best seen or shopped in the mornings. On Sundays, however, most businesses other than restaurants in the city are closed.
Curaçao is littered with 'Snacks,' small bar restaurants which serve Chinese Food. These are typically inexpensive, double as convenience stores and bars, and are typically open later than most other restaurants which cater to local (rather than European) patrons.
Other budget friendly restaurants where snowbirds can eat an amazing array of cuisines include Plasa Bieu, Downtown Cafe at the Hotel Estoril, Seaside Terrace, On y va picnic, Gouverneur de Rouville, Oceans Restaurant, WilhelminaPlein Cafe and Vincent's Cafe CopaCabana amongst others.
For snowbirds who are not staying close to the city center, buying groceries on one of the local supermarkets (Centrum supermarket, for example) might be cheaper than eating out.
Transport
Snowbirds get in first at Curaçao's airport, Hato International Airport located in Plaza Margareth Abraham, not far from the capital of Willemstad. It services most international and regional carriers.
The best way to get around Curaçao is by car. Renting a car is a worthwhile investment if one plans to explore outside major urban areas like Willemstad. Car rentals can cost a pretty penny, but snowbirds don't have to keep the car for their entire stay. Several major car rental chains are stationed at the airport, including Alamo, Avis, Budget, Dollar, Hertz, and Thrifty. Rates can vary by season and company, but snowbirds should expect to pay between [exchanges value="39″ value_to="69″ from="USD"] a day. A driver's license is sufficient for driving in Curacao.
Taxis are good for short journeys around Willemstad, but longer journeys and island tours will put a considerable dent in one's wallet. Curaçao's taxis are unmetered, but drivers may have rate sheets available for different destinations. A cab ride to the northwestern side of the island will cost about $80 (approx. €65, £58, $101 CAD, $103 AUD). Before 6 a.m. and after 11 p.m., or if there are more than four passengers, cab drivers raise fares by 25 percent. Also, taxi drivers expect a 10-percent tip. It's best to agree on a fare before entering the cab. Public transportation in Curaçao is limited. The large "Konvooi" buses will get snowbirds around Willemstad, with stations located in Punda and Otrobanda. However, convoys only run about once an hour on weekdays, and even more rarely on weekends. One-way fares vary, but generally cost about .
Health
Curaçao's healthcare system is based on that of the Netherlands. There are three hospitals in Curaçao and some medical centers. They include Curaçao Medical Center, Willemstad, The Antillean Adventist Hospital and The Capriles Clinic is a psychiatric hospital. Snowbirds can find doctors and dentists that speak English as well as other languages.
Accommodation
There are a fair number of resorts, hotels, short-let apartments available for rent in Curacao. The houses are usually well equipped with basic amenities and furnished. Accommodation prices range from €56 (approx. $68, £49, $86 CAD, $88 AUD) per night, long term periods will be cheaper.
Packing List
Weather: The winter weather in Curaçao will normally be hot during the day and hot/warm during the night. You have to pack accordingly.

Warm clothing: Even when you go to a warm location like Curaçao you should not forget to take some things with you for your trip back home. When you return you are adapted to the warmer weather and need something to protect you from your hometown temperatures.

Consider the Weather: Always look at the type of weather in Curaçao. Things like humidity, wind, and rain do not show up in the temperature graph but can have a great impact on your wardrobe. There are several sites with long term forecasts and climate information. Is there often a short afternoon downpour like in the tropics, you maybe need to take a strong umbrella and shoos that can cope with the rain. If there is often a lot of wind you might need a more wind-resistant coat.

Check the local Shopping options: Try to find information about the local shopping options near your location in Curaçao. Are there stores where you can buy all your daily supplies, or are some things difficult to get? For some more remote locations, the options can be limited. If a certain item is really important for you might need to take it with you.

Look at the Local Culture: The local culture in Curaçao can impact your wardrobe. If most activities are in more upscale locations you might take some more appropriate clothes with you. Or travelling if you travel to certain countries women need to cover themselves in certain areas.

Amenities: Know what's Included in your house or apartment. Is there a coffee maker, a toaster, a washer and dryer, an iron, what is in the kitchen, what kind of towels are there? Things that are there means you do not have to take them with you. A furnished apartment or house can mean something from a few pieces of furniture to a well-stocked place with all the things you have at home. But most of the time your rental will not be stocked.

Mix and match: Wear layers so you can use your wardrobe more efficiently. And do not worry about wearing something more often, probably only you will notice this.

Important for you: If there is something that is really important for you that you want to have present in your house or apartment, take it with you. This can be something like a special knife for the kitchen, or a small mirror that you use in the morning. You can also purchase it locally if it is not that expensive.

Pet supplies: If you take your pet with you don't forget to take supplies for a few days with you. And enough medication, vitamins, or other supplies if you can not purchase them in Curaçao locally.

Food: Don't take a lot of food with you. Only when there is something you really can not live without you, and it is not too heavy you could consider taking it with you.

Towels: Not all locations include bigger towels for the swimming pool or a visit to the beach. If you have to take them and don't have a lot of room you can buy some big thin towels.

Office supplies: Normally you will not find any office supplies in your house or apartment. If you think you will use them you could pack some supplies like a scissor, notepaper, envelopes, some pens, and more depending on your needs.

Limit yourself: Don't take too many shoes and jackets, you will not need them that often.

Best-fitting: Bring your favorite and best-fitting items that can multi-function

Washer: Do you have a washer and dryer onsite, you don't need to pack a lot of clothes
Clothing
Basics
Casual
Smart
Footwear
Toiletries
Beauty
Hygiene
Clothing
Basics
Casual
Outdoor
Footwear
Accessories
Toiletries
Medicine
Miscellaneous
Other
Toiletries
Beauty
Hygiene
Hair
Other
Medicine
Miscellaneous
Technology
Travel and Free time
Travel
Free time
Important
Documents
Money