Fuerteventura, the second largest of Spain's Canary Islands, sits in the Atlantic Ocean 10 km (6 Miles) off the north coast of Africa. It's known primarily as a holiday destination due to its white-sand beaches and year-round warmth cooled by constant winds. The multitude of beaches that wrap around it is interrupted by cliffs and sheltered coves. It is popular for water sports, especially surfing, windsurfing and waterskiing.
The island's name is a compound word formed by the Spanish words for "strong" (fuerte) and "fortune" (ventura). Fuerteventura is the oldest island in the Canary Islands dating back 20 million years to a volcanic eruption from the Canary hotspot. However, the last volcanic activity in Fuerteventura occurred between 4,000 and 5,000 years ago.
Fuerteventura was chosen among 500 European destinations by the Quality Coast International Certification Program of the European Coastal and Marine Union as one of the most attractive tourist destinations for visitors interested in cultural heritage, environment, and sustainability.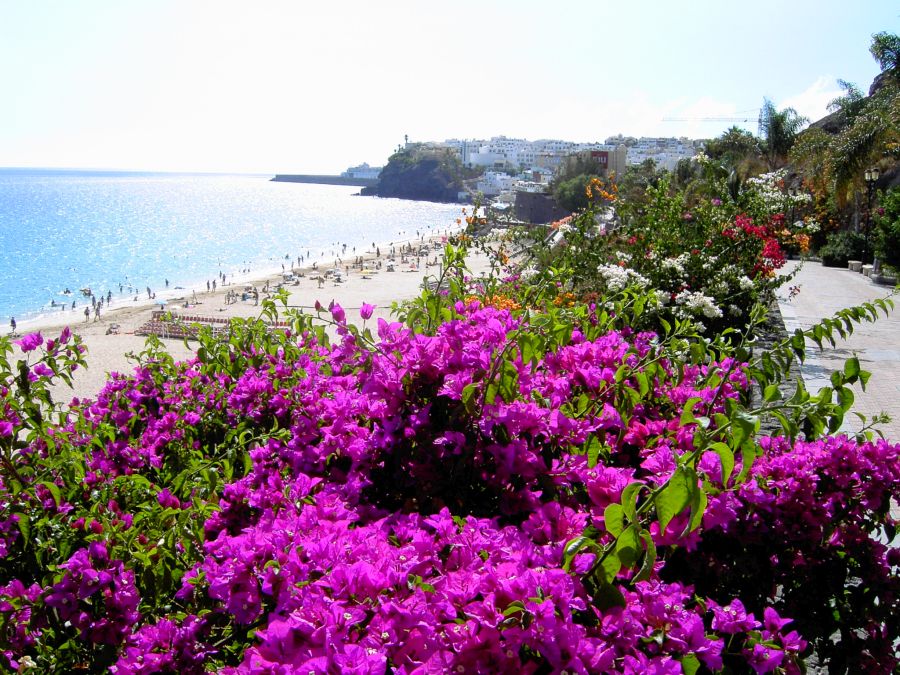 Why should people stay in Fuerteventura
The weather in Fuerteventura is generally warm and sunny. Snowbirds can absorb some Vitamin D and be rid of those winter blues. The flights are cheap – easy to find a return for less than €150 (approx. $182, £133, $231 CAD, $236 AUD).
The island offers snowbirds an escape from their stressful and busy lives at home with its seemingly endless golden or minks colored sand beaches and plenty of space in the waves.
In order to balance out all the relaxation Fuerteventura has, it also has an amazing nightlife. Most of the parties and the best restaurants are found in the town of Corralejo, so snowbirds can go out for a late dinner of fresh local seafood, enjoy a glass or two of sangria, and then party the night away in any of the small bars or clubs are hidden down the winding alleys.
Climate
Climate in Fuerteventura is pleasant throughout the year; because of this, the island is referred to as the island of eternal spring. The sea regulates air temperature, diverting hot Sahara winds away from the island.
During the winter months, temperatures average can range from 22°C - 28°C (72°F - 82°F) whereas during the summer, temperatures can range from 20°F - 28°F (-7°C - -2°C) can be expected.

Safety
Fuerteventura is a relatively safe island, but as with all major tourist destinations, there are always reports of crimes against unsuspecting snowbirds .
Snowbirds should be aware, petty theft does still exist here, as it does nearly everywhere. Personal possessions should not be left unattended.
Communication, internet, and cellphone in Fuerteventura
As in the rest of Spain, in the Canary Islands, the official language is Spanish. However, there are many people who speak English, the second most spoken language, and many people also understand German. In almost all public establishments, such as stores, restaurants, hotels, etc., there is at least one person who speaks English or German.
As Fuerteventura is part of Spain, European residents can use their mobile phones without any problems (roam like home). For non-EU residents, it is advised to check the rates, and if needed buy a local sim card. For snowbirds arriving in Fuerteventura, the quickest way to get connected is via a prepaid SIM card. This can also give them time to settle in and determine how much they are able to use their mobile phone in accordance with their social and/or work life. Pay-as-you go options require a nominal fee for a SIM card usually €5 (approx. $6, £4, $7 CAD, $7 AUD) and a minimum of €10 (approx. $12, £8, $15 CAD, $15 AUD) in credit. Vouchers are also available for€20 (approx. $24, £17, $30 CAD, $31 AUD). When purchasing a SIM card, it has to be registered by law. Therefore, before mobile phone shops are permitted to sell a Spanish SIM card, snowbirds will have to present a photo ID in the form of a passport, national ID card, or driving license in Spain.
International telephone calls can be made from almost anywhere in the Canary Islands. Snowbirds should look out for the distinctive blue booths around and they will have the choice of using coins, phone cards (tarjetas telefónicas) and sometimes credit cards.
Snowbirds who have important or urgent mail, it is better they use one of the international courier companies instead.
There are a number of Internet cafés on the island and access costs around €2 (approx. $2.43, £1.78, $3.09 CAD, $3.15 AUD) per hour. If snowbirds are traveling with their laptop and need access to a phone connection, they should be wary of using hotel-room outlets – the PABX system could destroy their processor. Jacks like those used in the US are standard and make connecting a modem simple. Also, most hotels in Fuerteventura offer a wifi connection free of charge.
Wintersun Locations in Fuerteventura
Corralejo: Located on the north side of Fuerteventura, Corralejo has the best atmosphere and nightlife of the island. You can find some great restaurants and it is close to Corralejo Natural Park and Corralejo Sand Dunes.
El Cotillo: On the north-west of the island El Cotillo is known for its breathtaking beach.
Puerto del Rosario: The biggest sport of Fuerteventura is the capital, Puerto del Rosario.
Caleta de Fuste: Close to the airport and the capital Puerto del Rosario on the east side of the island. Relaxing location with all the amenities you normally need.
Costa Calma: Located about 1 hour from the airport in the east of the island Costa Calma is a popular destination. You can find a long sandy beach, many hotels, resorts, and restaurants, but it is not as busy as Corralejo and Caleta de Fuste.
Morro Jable: On the most southern part of Fuerteventura Morro Jable is an old fishing village. It has a nice long beach and takes about 75 min from the airport by car.
Things to see in Fuerteventura
Fuerteventura has notable places that are worthwhile visiting:
The Beaches: Cofete beach, La Concha beach, El Cotillo, La Concha beach on the Isle of Lobos, Costa Calma beach
Museum: The Antigua Windmill Craft Centre, The Salt Museum, The Atalayita Archeological Interpretation Centre
Nature & Parks: Corralejo Natural Park
Bookstore: The Central Library of the Island is located in Antigua's city centre, in the public university
Dunes: Visit the famous sand dunes.
Activities in Fuerteventura in the winter
Snorkeling
Isla de Lobos: Visit the little island off Fuerteventura called Isla de Lobos.
Go fishing in El Cotillo. It is a small fishing village in the north-west of the Island famous
Camel riding
Walking: Take a walk in the fine sand dunes of Parque Natural de Corralejo and El Jable.
Diving: Two of the most useful points for diving are the coast of Playa del Matorral in the South and the zone between Lobos Island and Corralejo in the north.
Swimming: There are many swimming pools on the island but the most obvious place to swim is in the open sea. There is an annual swim from Lobos Island to Fuerteventura, held every year since 1999.
Take a walk through Betancuria: a walk through Betancuria gives snowbirds a glimpse of the previous way of life in Fuerteventura.
Watch a wrestling match: The wrestling takes place in a ring of sand called the Terrero. Inside it, the two contestants try to knock each other over. Fuerteventura has 14 Terreros distributed through all the towns except Betancuria.
Festival of Music: The festival usually takes place between January and February and is one winter visitors should not miss.
Festival Internacional de Cometas/International Kite Festival: usually held in the second week of November.
Festival of San Andrés: Snowbirds who are food and wine lovers will be thrilled with this festival. Traditionally served to celebrate Saint Andrés, this festival occurs towards the end of November, unveiling the new season's wine.
Puerto del Rosario Carnival: usually takes place early February and as always, the event will consist of several days of partying, with music and activities throughout the day and night.
Shopping + Restaurants. Are they open in the winter?
Most shops and restaurants are open in the winter.
The cuisine is fairly basic due to the customs and climate conditions. They share this simplicity with the other Canary islands, and similarly to them, they use a large quantity of fish. There are huge numbers of restaurants along the marina on the island of Fuerteventura. Some of these include Cantante Cafe's, La Arroceria Restaurante Mahoh, Restaurante Avenida, La Playita, El Mirador, and El Andaluz amongst others.
Fuerteventura has many treats for shopaholics with an abundance of small, independent stores as well as larger shopping centers to choose from. The largest shopping center on the island is Las Rotondas, in Puerto del Rosario, Fuerteventura's capital. Dozens of shops are set out over four, refreshingly air-conditioned, floors. Outside of the center, amidst the capital's streets, many other stores can be uncovered on a stroll, often with frontages that do not fully show the size of what is within.
Outside of the capital, all of Fuerteventura's resorts offer shopping opportunities and supermarkets. In addition, Fuerteventura offers many intriguing local and craft markets like the markets that can be found in Corralejo, Caleta de Fuste, Morro Jable, and Costa Calma.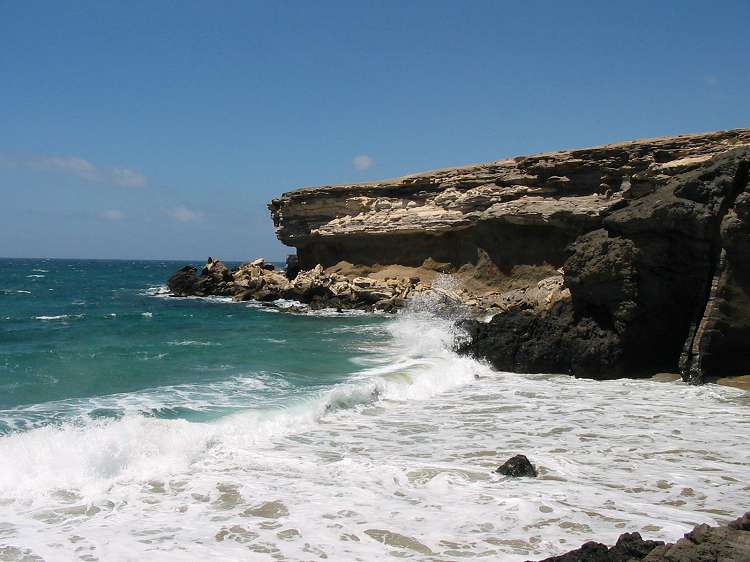 Transport
Fuerteventura Airport also is known as El Matorral Airport, is an airport serving the Spanish island of Fuerteventura. For snowbirds that do not want to hire a car, a pre-booked Airport transfer to their resort can be the most trouble-free and economical option.
Depending on where snowbirds are staying, public buses may be a good option for getting around the Island. Buses are known locally as Guaguas (pronounced Wah-wah) – a term that is also used in the Caribbean, but not in Mainland Spain. The public bus company on Fuerteventura is Tiadhe and it has an extensive public bus network. However many places (including Corralejo) do not have a direct connection to the airport. Passengers wanting to get to areas not connected directly to the airport must change buses in Puerto del Rosario.
Taxis are a very convenient way of getting around inside a resort of town, however, once your Taxi leaves its locality, fares mount up very quickly. For example; a taxi from one part of Corralejo to another typically costs around €3 (approx. $3.65, £2.67, $4.64 CAD, $4.73 AUD) or a little more at night, however a taxi from Corralejo to the airport will be around €50 (approx. $60, £44, $77 CAD, $78 AUD) and a taxi to Morro Jable can be as much as €150 (approx. $182, £133, $231 CAD, $236 AUD).
For car rentals, considering that a week's car hire costs as little as €110 (approx. $133, £97, $170 CAD, $173 AUD) the savings made getting to and from the airport alone makes hiring a car worthwhile. Not to mention the advantages of having a car while sightseeing the island.
Health
Snowbirds will find a wide selection of clinics and hospitals offer high-quality medical care, both private and national. Thankfully, the Canary Islands are not renowned for any particular diseases and the worst snowbirds can get is a hangover from too much partying. It is however very important for snowbirds to be aware of the risks from sunburn, dehydration, or insect bites.
The local chemists (farmacias), recognizable by a green cross sign, will have just about anything you may require and there is always one open after hours in each area. The location of the duty chemist is indicated on every chemist's door.
The hospital are well equipped; some of them include:
Fuerteventura General Hospital in Puerto del Rosario
Fuerteventura General Hospital Virgen de la Peña
Hospital Parque Fuerteventura
Centro salud presidente juan negrín fuerteventura
Dental Fuer
Jandía Medical Center
Medical Center · Morro Jable, Spain
CEM Medical Specialties Center Jandía
There are many English-speaking doctors and dentists. The hotel will always be able to recommend one.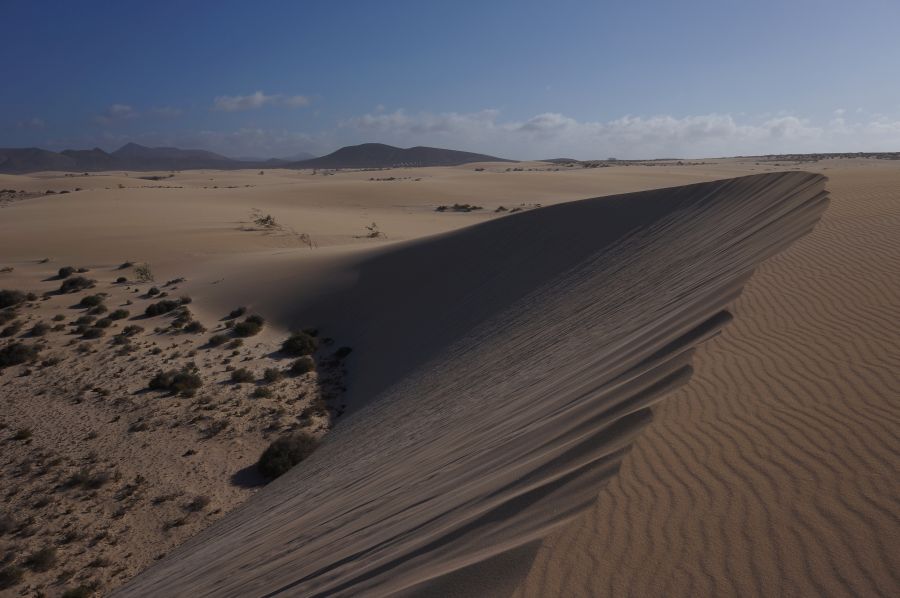 Accommodation
There are a fair number of resorts, hotels, short-let apartments available for rent in Fuerteventura. The houses are usually well equipped with basic amenities and furnished.
Some of the best and budget-friendly places to stay are Caleta de fuste, Costa de Antigua, Jandia Playa, Mahoh, Barcelo Castillo Beach Resort, Elba Palace Golf & Vital Hotel and the Avanti Boutique Hotel.
Accommodation prices range from €68 (approx. $82, £60, $105 CAD, $107 AUD) per night.
Packing List
Weather: The winter weather in Fuerteventura (Spain) will normally be warm during the day, but can be chilly during the night. You have to pack accordingly.

Warm clothing: Even when you go to a warm location like Fuerteventura (Spain) you should not forget to take some things with you for your trip back home. When you return you are adapted to the warmer weather and need something to protect you from your hometown temperatures.

Consider the Weather: Always look at the type of weather in Fuerteventura (Spain). Things like humidity, wind, and rain do not show up in the temperature graph but can have a great impact on your wardrobe. There are several sites with long term forecasts and climate information. Is there often a short afternoon downpour like in the tropics, you maybe need to take a strong umbrella and shoos that can cope with the rain. If there is often a lot of wind you might need a more wind-resistant coat.

Check the local Shopping options: Try to find information about the local shopping options near your location in Fuerteventura (Spain). Are there stores where you can buy all your daily supplies, or are some things difficult to get? For some more remote locations, the options can be limited. If a certain item is really important for you might need to take it with you.

Look at the Local Culture: The local culture in Fuerteventura (Spain) can impact your wardrobe. If most activities are in more upscale locations you might take some more appropriate clothes with you. Or travelling if you travel to certain countries women need to cover themselves in certain areas.

Amenities: Know what's Included in your house or apartment. Is there a coffee maker, a toaster, a washer and dryer, an iron, what is in the kitchen, what kind of towels are there? Things that are there means you do not have to take them with you. A furnished apartment or house can mean something from a few pieces of furniture to a well-stocked place with all the things you have at home. But most of the time your rental will not be stocked.

Mix and match: Wear layers so you can use your wardrobe more efficiently. And do not worry about wearing something more often, probably only you will notice this.

Important for you: If there is something that is really important for you that you want to have present in your house or apartment, take it with you. This can be something like a special knife for the kitchen, or a small mirror that you use in the morning. You can also purchase it locally if it is not that expensive.

Pet supplies: If you take your pet with you don't forget to take supplies for a few days with you. And enough medication, vitamins, or other supplies if you can not purchase them in Fuerteventura (Spain) locally.

Food: Don't take a lot of food with you. Only when there is something you really can not live without you, and it is not too heavy you could consider taking it with you.

Towels: Not all locations include bigger towels for the swimming pool or a visit to the beach. If you have to take them and don't have a lot of room you can buy some big thin towels.

Office supplies: Normally you will not find any office supplies in your house or apartment. If you think you will use them you could pack some supplies like a scissor, notepaper, envelopes, some pens, and more depending on your needs.

Limit yourself: Don't take too many shoes and jackets, you will not need them that often.

Best-fitting: Bring your favorite and best-fitting items that can multi-function

Washer: Do you have a washer and dryer onsite, you don't need to pack a lot of clothes
Clothing
Basics
Casual
Smart
Footwear
Toiletries
Beauty
Hygiene
Clothing
Basics
Casual
Outdoor
Footwear
Accessories
Toiletries
Medicine
Miscellaneous
Other
Toiletries
Beauty
Hygiene
Hair
Other
Medicine
Miscellaneous
Technology
Travel and Free time
Travel
Free time
Important
Documents
Money