Grenada is a Caribbean country that consists of the island of Grenada itself plus six smaller islands that lie to the north of the main island. It is located northwest of Trinidad and Tobago, northeast of Venezuela and southwest of Saint Vincent and the Grenadines. Its size is 134.6 Miles (217 km). Dubbed the "Spice Isle," the hilly main island is home to numerous nutmeg plantations.
The capital, St. George's, on the southwest coast, is also the main port, having a fine natural harbor, and its picturesque pastel-colored houses rise up the hillsides from the waterfront. The waterfront itself is known as the Carenage because island schooners were once careened (beached for cleaning or repair) there. St. George's is the yachting and charter-boat center of the eastern Caribbean.
On his third voyage to the region in 1498, Christopher Columbus sighted Grenada and named it "La Concepción" in honor of the Virgin Mary. Years later, the French maintained the name ("La Grenade" in French) after settlement and colonization in 1649. On 10 February 1763, the island of La Grenade was ceded to the British under the Treaty of Paris. The British renamed it "Grenada", one of many place name anglicization they carried out on the island during this time.
Grenada has a small economy in which tourism is the major foreign exchange earner. Tourism is the mainstay of Grenada's economy. Agriculture and tourism are the most important sectors of the economy, although fishing and agriculturally based industries are becoming more significant. Grenada's major towns include the capital, St. George's, Grenville, and Gouyave.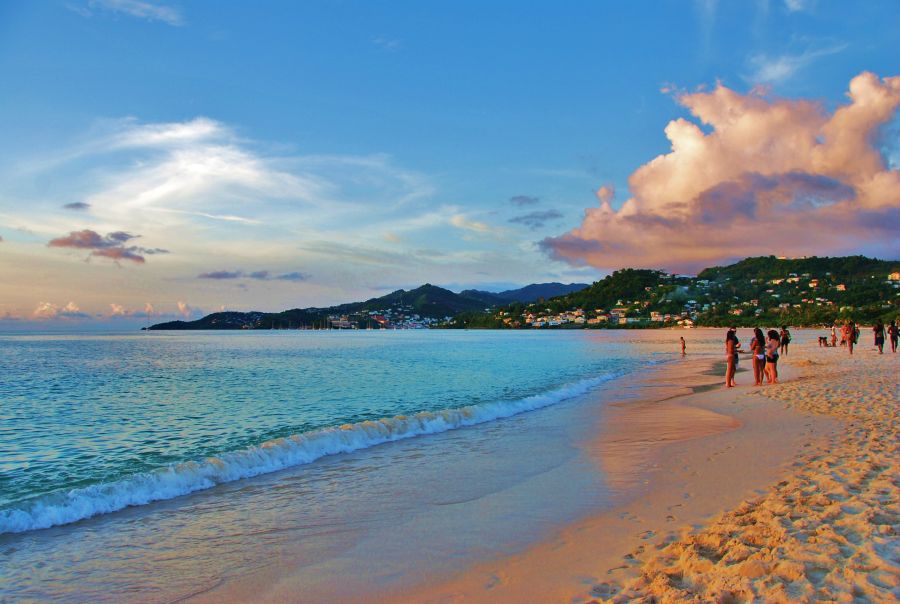 Why should people visit during the winter?
The best time for snowbirds to visit Grenada is during the winter season because this is the period with the least rainfall, which means their chances of a picture-perfect vacation are that much higher.
It isn't the cost of the airfare or the caliber of the hotel that snowbirds will remember most about their trip to Grenada. It's the kaleidoscope of reds, yellows, and greens that characterize St. George's harbor (arguably the most beautiful in the Caribbean) and how they're reflected in the cerulean water.
It's the sound of the waves lapping against Grand Anse's soft sands that echoes in one's ears long after the sun goes down. It's the aroma of nutmeg and vanilla that wafts through Market Square and throughout the islands' spice plantations. It's the warm sensation snowbirds feel in their stomachs and on their tongue after sampling the River Antoine Distillery's 150-proof rum. Grenada isn't just meant to be seen; it's meant to be savored.
Climate
The climate of Grenada is tropical, hot, and humid all year round, with a relatively cool and dry season from January to mid-April and a hot, humid, and rainy season from June to December.
In the former period, the northeast trade winds, constant winds typical of tropical climates, blow steadily and with moderate intensity, while in the latter period, these winds are more irregular, and may have some pauses, increasing the feeling of sultriness. Between mid-April and late May, before the hot and rainy season, both the temperature and the frequency of downpours gradually increase. The average temperature ranges from 22°C - 31°C (72°F - 88°F). The winter period normally does not see hurricanes (the hurricane season is from June to November).

Safety
Grenada is generally considered one of the safer parts of the Caribbean, where other islands suffer from high murder rates and crime levels. But tourists are still warned against visiting isolated areas alone. Snowbirds should be aware, petty theft does still exist here, as it does nearly everywhere. Personal possessions should not be left unattended.
Communication, Internet, and cellphone in Grenada
English is the country's official language but the main spoken language is either of two creole languages (Grenadian Creole English and, less frequently, Grenadian Creole French) (sometimes called 'patois') which reflects the African, European, and native heritage of the nation. The creoles contain elements from a variety of African languages, French and English. Grenadian Creole French is mainly spoken in smaller rural areas.
Check your own carrier about the roaming cost for Grenada. Depending on your plan roaming can be very expensive, and in those cases, we advise winter visitors to purchase a local Sim card.
Quite a few restaurants/bar establishments also offer free Wi-Fi, so snowbirds can also use that, although the connection can be sporadic at times.
Snowbird locations in Grenada
El Albaicin: It is the oldest neighbourhood in Granada, and also the most picturesque. It has been built in the medieval times by the Moors on the hillside facing the Alhambra. A place for those on a budget.
El Centro: This is the city centre of Granada and one of the most popular neighbourhoods to stay in for snowbirds.
El Realejo: It is located in the central area of Granada and used to be the Jewish quarter of the city. It is a vibrant neighbourhood and it displays a really cool modern urban vibe that snowbirds will love. It is the coolest place to stay in.
Bola de Oro: is a quieter neighbourhood in Granada and as such is perfect for families who are looking for some rest from the hustle and bustle of the city at night
Things to see in Grenada
Grenada has notable places that are worthwhile visiting:
Landmarks: Grenada's highest point is Mount St. Catherine. Other major mountains include Mount Granby and South East Mountain.
The Beaches: these include Grand Anse Beach (definitely one of the best beaches in Grenada), La Sagesse Beach, Magazine Beach, Morne Rouge Beach, Petit Bacolet Bay, Hog Island, and Levera Beach amongst others.
Waterfalls: nearest to St. George's is the Annandale Waterfalls, but there are other notable ones like Mt. Carmel, Concord, Seven Sisters, and Tufton Hall also being within easy reach.
Cricket: Cricket lovers can visit The Grenada National Cricket Stadium in St. George's
History/culture: The Grenada National Museum in St. George's is dedicated to archaeology and history and houses the Grenada Historical Society.
Golf: Golf lovers will be pleased to know that they can unwind at Grenada's golf course & country club.
Other attraction sites: top attractions to visit in Grenada are River Antoine Estate Rum Distillery, Underwater Sculptures and House of Chocolate
Activities in Grenada during winter
A visit to the Palm Tree Gardens Botanical Garden
Chill at Grand Anse Beach
A trip to Sandy Island
Visit the Seven Sisters Falls
Take a trip to Hog Island
Listen to steel pan music
Unwind at a Friday night bonfire & BBQ at St. George's
Golf: Tee-off at Grenada's golf course & country club
Stop by Grenada's fish market
Give bowling a try at Lavo Lanes
Eat at the Creole Shack restaurant
Explore Dougaldston Spice Estate
Visit nearby islands like Carriacou & Petit Martinique
Spend the day at Grand Etang National Park located at the northeast of Constantine
Take a cool walk along The Carenage, which is a lively waterfront promenade in St. George, the capital of Grenada.
A visit to Fort Matthew is both intriguing and exciting, particularly for those who can appreciate the intricacy of 18th-century style amenities
Experience Fish Friday- locals and snowbirds come out in large numbers to enjoy some of the delectable fish meals, which include lobster, fish, lamb, and other scrumptious seafood. The festivities begin at 6 pm and continue well into the morning with steel pan entertainment and Caribbean rhythms.
Join the Grenada Hash House Harriers: Approximately 150 to 300 men and women meet up every Saturday for a cross country fun walk in Grenada. This social group is open to everyone, regardless of age and agility and they actually call themselves "drinkers with a running problem
Attend the following festivals:

Carriacou Maroon
String Band Music Festival
The Annual Budget Marine Spice Island BillFish Tournament
The Island Water World Sailing Week
Grenada Sailing Festival Workboat Regatta.
The Grenada Music Festival
Shopping + Restaurants. Are they open in the winter?
While Grenada doesn't have a big restaurant scene like some other Caribbean islands, in the more tourist-friendly south-west of the island there's a pretty good choice of appealing places to eat out, ranging from upmarket fine-dining establishments, which are mostly in hotels, to simpler and more affordable local restaurants.
Some of the best and affordable restaurants are Sweet Traditions, BB's Crab back, Sails Restaurant & Bar, The Nutmeg Bar & Restaurant, and Ocean Grill Restaurant & Bar.
Grenada has a wonderful selection of traditional recipes to try, ranging from wholesome savory dishes to sweet treats. With year-round sunshine and fertile soil, Grenada produces many organic fruits and vegetables. Not to forget the great variety of freshly caught fish and seafood available too. Healthy and delicious, snowbirds will be drooling over the options available during your stay.
From fiery stews to succulent, fresh seafood and delicious desserts to tempt one's sweet tooth, here are some meals that snowbirds must eat in Grenada.
Oil Down. Oil down is Grenada's national dish, so pop it at the top of the list of foods to try
Fried Bake and Saltfish
Lambie Souse
Callaloo Soup
Pelau
Roti
Crab Back
Curry Goat
Shopping in Grenada offers snowbirds a colorful palette of souvenirs: wood carvings and paintings – ranging from naive to sophisticated; jewelry – from natural materials to emeralds and gold; batiks in the fabulous colors of the Caribbean; and of course spices, jams, jellies, and our many different plantation rums. Most of its big shopping centers are located in the Grand Anse area, but snowbirds will also find a huge variety of souvenirs shops and art galleries in St. George's town.
Snowbirds will also find the vendor market directly on the Grand Anse beach. The general business hours are 8 am – 4 pm from Monday – Friday and Saturdays from 8 am-noon. The larger supermarkets are open until 7 pm, with the IGA Real Value Supermarket in the Spiceland Mall (Grand Anse) open until 9 pm weekdays and open on Sunday until 4 pm. There is also Foodland, on Lagoon Road, and FoodFair, in Grand Anse Shopping Mall, as well as the MBIA at the Excel Plaza.
Snowbirds will also enjoy a stop at the Spice Market in St.George. It is always a great place to visit. Lots of local fruits, vegetables, and spice – plus anything else snowbirds could want.
Transport
Maurice Bishop International Airport is Grenada's main airport connecting the country with other Caribbean islands, the United States, Canada, and Europe. There is also an airport on Carriacou. Snowbirds can also access Carriacou by plane from Grenada's Maurice Bishop International Airport (GND) to Carriacou's Lauriston Airport (CRU). Planes fly out twice in the morning and twice in the afternoon, with tickets priced at $44 (approx. €36, £32, $55 CAD, $57 AUD) one-way and $87 (approx. €71, £63, $110 CAD, $112 AUD) roundtrip, on average. The flight takes approximately 20 minutes.
The best way to get around Grenada is by car. Rental cars are available from kiosks at Maurice Bishop International Airport (GND) and from agencies located in St. George's and Grand Anse Beach. In order to rent a car, you will need a valid driver's license as well as a local permit, which you can purchase for $11 (approx. €9, £8, $13 CAD, $14 AUD) from the Central Police Station in St. George's or from some rental agencies. Also, be aware that some companies will not allow snowbirds to rent a car in Grenada if one is under 21 years old. Some of the car rental services include David's Car Rentals and Y & R Car Rentals.
Certain areas of Grenada are best explored on foot; St. George's, for example, appeals to those who like to wander. However, if snowbirds want to see more of the islands, they will need another form of transportation.
Minibus- snowbirds can hop aboard one of Grenada's reliable minibusses, as long as they don't mind staying put on the weekends. Minibusses run from Melville Street in St. George's to towns around Grenada Island, including Grand Anse Beach, Grenville, and Gouyave. However, minibusses only run from 7 a.m. to 7 p.m. on weekdays, and there is no set timetable. One-way fares range from depending on the distance traveled.
Finding a taxi in Grenada is not a difficult task, especially in St. George's and Grand Anse. Rates are fixed, so snowbirds don't have to worry about getting scammed. The ride from St. George's to Grand Anse Beach, for example, will cost you $13 (approx. €10, £9, $16 CAD, $16 AUD). Taxi fares on Carriacou are generally cheaper, though no matter where you are, relying on taxis as your primary form of transportation can get expensive.
Osprey Lines Ltd. provides regular ferry service from Grenada Island to Carriacou and Petit Martinique. Ferries depart from St. George's every morning at 9 a.m. and returns every afternoon at 3:30 p.m. The trip from Grenada Island takes roughly two hours. A one-way trip from Grenada to Carriacou costs $30 (approx. €24, £21, $38 CAD, $38 AUD) for adults; continuing on to Petit Martinique requires an extra $7 (approx. €5, £5, $8 CAD, $9 AUD).
Health
Grenada has several main health centers, as well as district medical stations. Medical and dental treatment in government hospitals and clinics is free. The government has launched a program to eradicate malaria and mongoose-spread rabies.
The Ministry of Health is responsible for the provision of health services in Grenada, Carriacou, and Petit Martinique. There is a lot of emphasis on primary health care and preventative measures.
There are thirty medical stations, six health centers, and eight hospitals (four public and four private). Every household has a healthcare provider within three miles. The General Hospital in St. George's is the premier facility. The closest mental health facility is at Mount Gay Hospital on Carriacou. Snowbirds can find doctors and dentists that speak English as well as other languages.
Accommodation
Most small eco-friendly guest houses are located in Saint David and Saint John parishes. Snowbirds can save big on transportation if you base yourself on Grand Anse Beach. Hotels here are within walking distance of the ocean, and minibusses serve this area (and St. George's).
There are a fair number of resorts, hotels, short-let apartments available for rent in Grenada. The houses are usually well equipped with basic amenities and furnished. Accommodation prices range from $56 (approx. €46, £41, $71 CAD, $72 AUD) per night.
Packing List
Weather: The winter weather in Grenada will normally be hot during the day and hot/warm during the night. You have to pack accordingly.

Warm clothing: Even when you go to a warm location like Grenada you should not forget to take some things with you for your trip back home. When you return you are adapted to the warmer weather and need something to protect you from your hometown temperatures.

Consider the Weather: Always look at the type of weather in Grenada. Things like humidity, wind, and rain do not show up in the temperature graph but can have a great impact on your wardrobe. There are several sites with long term forecasts and climate information. Is there often a short afternoon downpour like in the tropics, you maybe need to take a strong umbrella and shoos that can cope with the rain. If there is often a lot of wind you might need a more wind-resistant coat.

Check the local Shopping options: Try to find information about the local shopping options near your location in Grenada. Are there stores where you can buy all your daily supplies, or are some things difficult to get? For some more remote locations, the options can be limited. If a certain item is really important for you might need to take it with you.

Look at the Local Culture: The local culture in Grenada can impact your wardrobe. If most activities are in more upscale locations you might take some more appropriate clothes with you. Or travelling if you travel to certain countries women need to cover themselves in certain areas.

Amenities: Know what's Included in your house or apartment. Is there a coffee maker, a toaster, a washer and dryer, an iron, what is in the kitchen, what kind of towels are there? Things that are there means you do not have to take them with you. A furnished apartment or house can mean something from a few pieces of furniture to a well-stocked place with all the things you have at home. But most of the time your rental will not be stocked.

Mix and match: Wear layers so you can use your wardrobe more efficiently. And do not worry about wearing something more often, probably only you will notice this.

Important for you: If there is something that is really important for you that you want to have present in your house or apartment, take it with you. This can be something like a special knife for the kitchen, or a small mirror that you use in the morning. You can also purchase it locally if it is not that expensive.

Pet supplies: If you take your pet with you don't forget to take supplies for a few days with you. And enough medication, vitamins, or other supplies if you can not purchase them in Grenada locally.

Food: Don't take a lot of food with you. Only when there is something you really can not live without you, and it is not too heavy you could consider taking it with you.

Towels: Not all locations include bigger towels for the swimming pool or a visit to the beach. If you have to take them and don't have a lot of room you can buy some big thin towels.

Office supplies: Normally you will not find any office supplies in your house or apartment. If you think you will use them you could pack some supplies like a scissor, notepaper, envelopes, some pens, and more depending on your needs.

Limit yourself: Don't take too many shoes and jackets, you will not need them that often.

Best-fitting: Bring your favorite and best-fitting items that can multi-function

Washer: Do you have a washer and dryer onsite, you don't need to pack a lot of clothes
Clothing
Basics
Casual
Smart
Footwear
Toiletries
Beauty
Hygiene
Clothing
Basics
Casual
Outdoor
Footwear
Accessories
Toiletries
Medicine
Miscellaneous
Other
Toiletries
Beauty
Hygiene
Hair
Other
Medicine
Miscellaneous
Technology
Travel and Free time
Travel
Free time
Important
Documents
Money