Spend your fall, winter, or spring in Guardamar del Segura, Spain: Is Guardamar del Segura a good snowbird location?
Guardamar del Segura or Guardamar is famous for its fine, white sandy beaches and sand dunes. It is situated on the mouth of the River Segura, north of Torrevieja, in southern Costa Blanca. In Spanish, "guardar" means "safekeeping" and "mar" means "sea", and this is another possible basis for its current name. This Spanish seaside town has beaches that are almost twelve kilometers long, beautiful parks with wildlife, numerous fine restaurants, historical sites, and an assortment of traditional street markets which make this town an ideal destination when you visit Costa Blanca.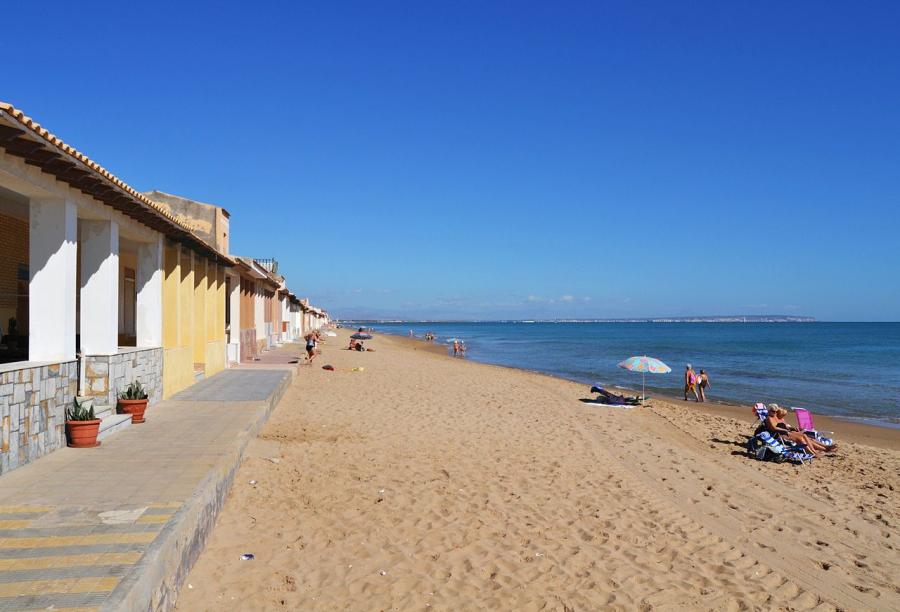 Why should people stay in Guardamar del Segura during the fall, winter, or spring?
Guardamar del Segura is perfect for snowbirds who wish to experience an ideal time away from the harsh winters of other European countries. This region of Costa Blanca is seen as having the best winter weather in mainland Spain, but Guardamar will be quieter in winter. Only during some of the holiday periods (like Christmas), do more visitors arrive.
Climate
Guardamar has a typical Mediterranean climate with long summers and mild winters. Perfect for outdoor winter activities. The temperature during winters rarely drops below 16°C (61°F) during the day. The evening can be a little bit cooler, and some nights can get really cold, so make sure that you have some heating in your house or apartment as well as appropriate clothing gear.

Things to see in Guardamar del Segura
Following is a list of the places which are worth visiting in Guardamar:
Playa El Moncoyo is a white sandy beach ideal for sunbathing and resting. There are plenty of bars with snacks as well.
Playa El Campo An awesome beach almost 11 km (7 Miles)

long and located just by the town center of Guardamar with lots of bars and restaurants nearby.

The Parque Reina Sofia (Queen Sofia Park) with its Mediterranean vegetation, pine trees land lakes is also another area where visitors can enjoy a pleasant stroll. For the enthusiastic bird watcher, there is an observation post and the Parque Natural de Laguna de La Mata provides an area for cycling, horse riding, and photography.
Castillo de Guardamar is situated quite high and offers a panoramic view of the town. Plenty of history and information boards tell you about the castle.
Parque Alfonso XIIII is a park ideal for walkers, runners, cyclists, and people who enjoy observing birds and wildlife. A great place for a peaceful picnic as well.
Things to see not far from Guardamar del Segura
There are some nice places you can visit near Guardamar del Segura. Here are some options:
Torrevieja is 11 km (7 Miles)

from Guardamar. Visitors can enjoy not only the beautiful beaches but also the salt lakes which the town is famous for. If you are into Golf you will find some good options there.

Catral, situated around 22 km (14 Miles) from Guardamar, is a hidden gem. It is smaller but a beautiful destination that is worth a visit. There are parks and castles like Castillo De La Mola.
Orihuela is a small town around 33 km (21 Miles)

from Guardamar. It has beautiful museums and buildings with historical and religious significance. The town center is worth a visit as it is declared a historic and artistic monument due to its rich heritage.

Elche is known as the city of the Palms and is situated about 30 km (19 Miles)

from Guardamar. The Palmeral park of Elche is the largest in Europe with 200 000 trees and has an international UNESCO award.
Activities in Guardamar del Segura in the fall, winter, or spring
Guardamar is much quieter in winter, but still has enough things to do:
Cycling through the town and surrounding areas to enjoy nature. There are numerous routes for a healthy and refreshing experience.
Walking is a healthy option for visitors to enjoy the landscape.
Golf courses are plenty and beautiful in this town for a leisurely experience.
Yoga retreats are a refreshing and healthy way to enjoy and connect to nature.
Birding or nature walks can be arranged by different operators in the various parks within the town or surrounding areas.
Nautical activities like sailing, and recreational fishing on the sea.
There is an opportunity for visitors to learn the Spanish language in language centers to make their experience more interesting and widen their horizons.
The town has extensive sports facilities for those interested.
Shopping + Restaurants. Are they open in the fall, winter, or spring?
Guardamar can be quit in the winter low season. In the center, you will find that a lot of shops and restaurants are open, but further from the center, a lot will be closed. Particular shops and restaurants targeting tourists will be closed from Jan to march, or only open during the weekend.
There are various supermarkets for your daily needs like the Mercadona and the Dia. But you will also find a British supermarket (https://picknpay.es/)
There is a traditional street market every Wednesday near the town center and runs through all of the roads in the area. This market has everything from clothing, shoes, and toys to local fresh produce. In the low season, it will be smaller than during the busy summertime.
The most famous market is the Mercadillo de Campo de Guardamar also called the Lemon tree market which is set up every Sunday and is located just outside of Guardamar town center towards Los Montesinos. It is very diverse with a good range of local products. There are also small cafes and bistros for snacks and drinks.
Guardamar also holds a night market throughout the year for visitors from around the world who wish to buy local merchandise.
Transport
Guardamar del Segura is served by Alicante Airport (ALC) which is 32 km (20 Miles). By bus, it will take you around 1 hour to Guardamer (https://www.rome2rio.com/s/Alicante-Airport-ALC/Guardamar-del-Segura)
The alternative airport when traveling to Guardamar is the Murcia Airport, which is 45 km (28 Miles)

away.

There is no train station in Guardamer. The nearest train station is in Callosa de Segura (25 km (16 Miles)) or San Isidro Albatera (24 km (15 Miles)

)

If you visit by car the town can be accessed easily by the motorway A7.
The Guardamar Bus terminal is located on the Carrer Molivent 2, 03140. In order to find the ideal bus route to and from the town, you can use the Moovit Application. It has the current schedule and step-by-step directions for Bus or Train routes that pass through Guardamar del Segura www.moovitapp.com/
Taxis can also be a convenient but a bit more costly means of transport.
Health
The main public health center is located on the Carrer Molivent, near the top of the town. It is open during weekdays from 8 am till 9 pm whereas the emergency unit remains open 24/7 throughout the week.
The nearest public hospital is the Dr Manuel Garcia General Hospital in Torrevieja which is around 20 min by car.
There are several dentists in Guardamar del Segura, like Clinica Salgado (https://www.clinicasalgado.com/en/home/) and Dentamed Dental Centers (https://www.dentamed.es/principal/) that even have English websites.
Accommodation
Guardamar Del Segura has a large selection of apartments and rentals for longer periods. You can expect prices for apartments from €450 (approx. $472, £389, $645 CAD, $741 AUD) per month for a small apartment. Chalets and houses will start from around €800 (approx. $839, £692, $1147 CAD, $1317 AUD). For more information on availability and bargains visit Solmar Estates (www.solmarestates.com) or Spain Houses (www.spainhouses.net)
Other options like Airbnb (www.airbnb.com) are also available in case you're looking for a more customized offer. The prices vary according to the location and the size of the accommodation.
Winter Camping
There are numerous campsites and resorts which offer great services to the visitors who want to find nice camping in the area. Some of the popular ones are listed below:
Alannia Guardamar Camping Resort www.alanniaresorts.com
Camping Palm – Mar www.campingpalmmar.es/
Camping Rincón de Luna
Campsite Marjal Guardamar Resort
RV/Campers/Motorhome
If you have a Camper or RV you can find several locations near the white coastal area of Guardamar and the surrounding countryside. Some of the popular ones are listed below:
Playa Rebollo
Camper Park San Fulgencio – Camping
Camping Palm – Mar
Packing List
Weather: The fall, winter, and spring weather in Guardamar del Segura (Spain) will normally be warm during the day and can be cold during the night. Of course in the fall and spring it will be warmer than in the winter. You have to pack accordingly.

Warm clothing: Even when you go to a warm location like Guardamar del Segura (Spain) you should not forget to take some things with you for your trip back home. When you return you are adapted to the warmer weather and need something to protect you from your hometown temperatures.

Consider the Weather: Always look at the type of weather in Guardamar del Segura (Spain). Things like humidity, wind, and rain do not show up in the temperature graph but can have a great impact on your wardrobe. There are several sites with long term forecasts and climate information. Is there often a short afternoon downpour like in the tropics, you maybe need to take a strong umbrella and shoos that can cope with the rain. If there is often a lot of wind you might need a more wind-resistant coat.

Check the local Shopping options: Try to find information about the local shopping options near your location in Guardamar del Segura (Spain). Are there stores where you can buy all your daily supplies, or are some things difficult to get? For some more remote locations, the options can be limited. If a certain item is really important for you might need to take it with you.

Look at the Local Culture: The local culture in Guardamar del Segura (Spain) can impact your wardrobe. If most activities are in more upscale locations you might take some more appropriate clothes with you. Or travelling if you travel to certain countries women need to cover themselves in certain areas.

Amenities: Know what's Included in your house or apartment. Is there a coffee maker, a toaster, a washer and dryer, an iron, what is in the kitchen, what kind of towels are there? Things that are there means you do not have to take them with you. A furnished apartment or house can mean something from a few pieces of furniture to a well-stocked place with all the things you have at home. But most of the time your rental will not be stocked.

Mix and match: Wear layers so you can use your wardrobe more efficiently. And do not worry about wearing something more often, probably only you will notice this.

Important for you: If there is something that is really important for you that you want to have present in your house or apartment, take it with you. This can be something like a special knife for the kitchen, or a small mirror that you use in the morning. You can also purchase it locally if it is not that expensive.

Pet supplies: If you take your pet with you don't forget to take supplies for a few days with you. And enough medication, vitamins, or other supplies if you can not purchase them in Guardamar del Segura (Spain) locally.

Food: Don't take a lot of food with you. Only when there is something you really can not live without you, and it is not too heavy you could consider taking it with you.

Towels: Not all locations include bigger towels for the swimming pool or a visit to the beach. If you have to take them and don't have a lot of room you can buy some big thin towels.

Office supplies: Normally you will not find any office supplies in your house or apartment. If you think you will use them you could pack some supplies like a scissor, notepaper, envelopes, some pens, and more depending on your needs.

Limit yourself: Don't take too many shoes and jackets, you will not need them that often.

Best-fitting: Bring your favorite and best-fitting items that can multi-function

Washer: Do you have a washer and dryer onsite, you don't need to pack a lot of clothes
Clothing
Basics
Casual
Smart
Footwear
Toiletries
Beauty
Hygiene
Clothing
Basics
Casual
Outdoor
Footwear
Accessories
Toiletries
Medicine
Miscellaneous
Other
Toiletries
Beauty
Hygiene
Hair
Other
Medicine
Miscellaneous
Technology
Travel and Free time
Travel
Free time
Important
Documents
Money
Other locations close to this location:
Travelers' Map is loading...
If you see this after your page is loaded completely, leafletJS files are missing.
If you have any additions, or comments on the content on this page, please use our contact form to let us know.
Detailed weather during the year for Guardamar del Segura Spain
What to do during the year in Guardamar del Segura Spain