Nerja is a coastal town located along Costa del Sol (Coast of the Sun) not very far from Málaga. Though it is rich in history and cultural heritage nowadays the main attractions are its mesmerizing beaches and thriving resorts.
Nerja was once a small fishing village under Muslim rule called "Narixa", which means "Abundant source" (of water). The town is famous for the caves which home to the world's most unique stalactites and stalagmites. Besides this, the town has an unmatched combination of both beaches and cliffs and shores. The coast near Nerja has many breathtaking sights and offers a lot of scenic walks.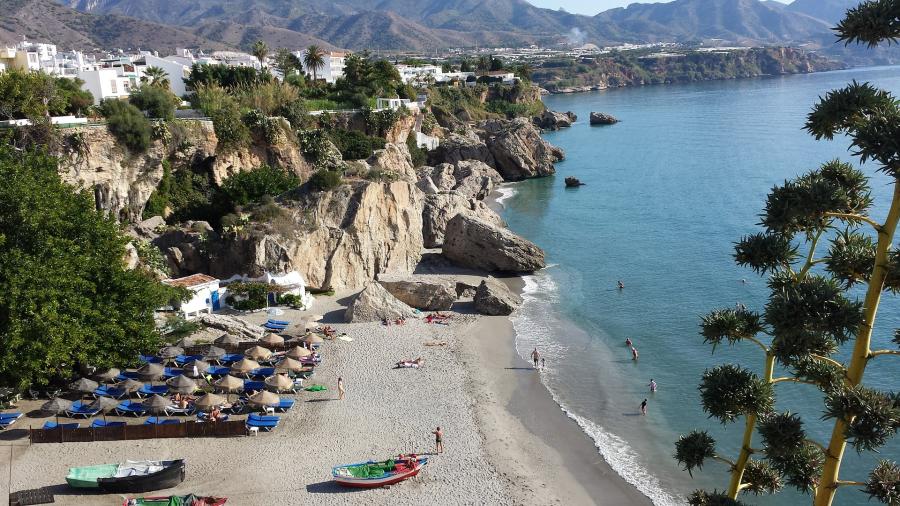 Why should people stay in Nerja during the winter?
If you are looking for a warmer place to spend your winter, Nerja could be a good choice. During the winter it is much quieter and tranquil than during the summer, but due to the ex-pat community in the area, there are enough open restaurants and shops. The winter period in Nerja is generally mild and pleasant and has fantastic opportunities for sightseeing and outdoor activities. You will have many nice, sunny days where you can enjoy the sun. But you will also have some rainy and colder days. Nerja and the area surrounding it has enough things to do and see.
Climate
Winter is the coldest season in Nerja, but it will still see a lot of nice days where a T-shirt will do (bear in mind that the evenings and nights are colder). The winter sees more rain, and it is possible to have several days with a storm, no sun and a lot of rain. But this is often followed by some really nice days. Nerja has a sort of microclimate shielded by the Sierra Nevada from some of the cold winds from the north.

Things to see in Nerja
Some places that are really worth paying a visit:
The Beaches: Nerja has a number of beaches each with distinct characteristics and amusement to offer.
Museo de Nerja (Museum of Nerja), the museum is a good place to see the history of Nerja. The entrance fee of

€4 (approx. $4, £3, $6 CAD, $6 AUD)

is reasonable. You can also purchase a combined ticket with access to the nearby caves. https://entradas.cuevadenerja.es/en
Balcón de Europa (Balcony of Europe), an astonishing piece of art present at the top of a cliff and the view from the cliff is enough to mitigate all your sorrows and make you feel a little more alive.
Cueva de Nerja, According to some sources the 3rd. most visited tourist destinations in Spain. The cave is home to the largest stalagmite rock in the world. The caves are almost an art gallery that exhibits some of the oldest pieces of art known to man. Some caves are said to be more than 3000 years old. There is a free visit, from Monday to Friday at 9:30 hours for 60 people, but only for members of the European Union. https://entradas.cuevadenerja.es/en
Acueducto Del Aguila, a marvelous piece of civil work built in the 19th century to serve the purpose of transporting water to sugar mills.
Things to see not far from Nerja
Andalucía has many things to offer, from beautiful white towns to a city like Malaga:
Salobreña, it takes almost half an hour to get to this village. It has some ancient towers which provide an impressive view of the streets as well as the houses.
Montefrio, although this village is further away, 146 km (91 Miles)

from Nerja, it is still worth the trip. It has some unique places such as the Iglesia de la Encarnación.

Frigiliana a small yet beautiful town located a few miles away from Nerja. It also has some really good restaurants such as Las Chinas, Gloria Bendita Frigiliana. And not to forget Los Caracoles that looks very special https://www.hotelruralloscaracoles.com/en/photo-tour.html
Day trip to Malaga. The biggest town in Andalusia offers a lot of things to see and do. You can take the bus from Nerja, and there are also enough things to do for a rainy day.
Day trip to Granada. Definitely a place you have to see could be combined with the Alhambra.
Alhambra, a fortress built in the late 8th century which is located in Granada, Andalusia. This place only sells a limited number of tickets to prevent overcrowding, we advise you to purchase the tickets well in advance to avoid inconvenience. The price of tickets depends on the type of visit and guide hired.
Sierras of Tejeda, a natural park not far from Nerja.
Sierra Nevada, the big natural park near Granada which has some beautiful mountains and snow in the winter. It even hosts a ski resort.
Activities in Nerja in the winter
Nerja has a lot of activities for winter visitors. Here is a small selection:
Pilates and Air Yoga in Nerja: http://www.mytradereview.es/pilates-air-yoga-nerja.html
Golf: If you want to play golf during your vacations, Nerja has got some impressive courses like Club Internacional de Nerja and Lessaggro cars & golf.
Tennis: There are quite a few tennis courts in the town such as the Nerja Padel.
Learn Spanish, with special classes and activities for 50+ https://www.idnerja.com/
Theatre: English movies are usually played on Tuesdays at Cinesur.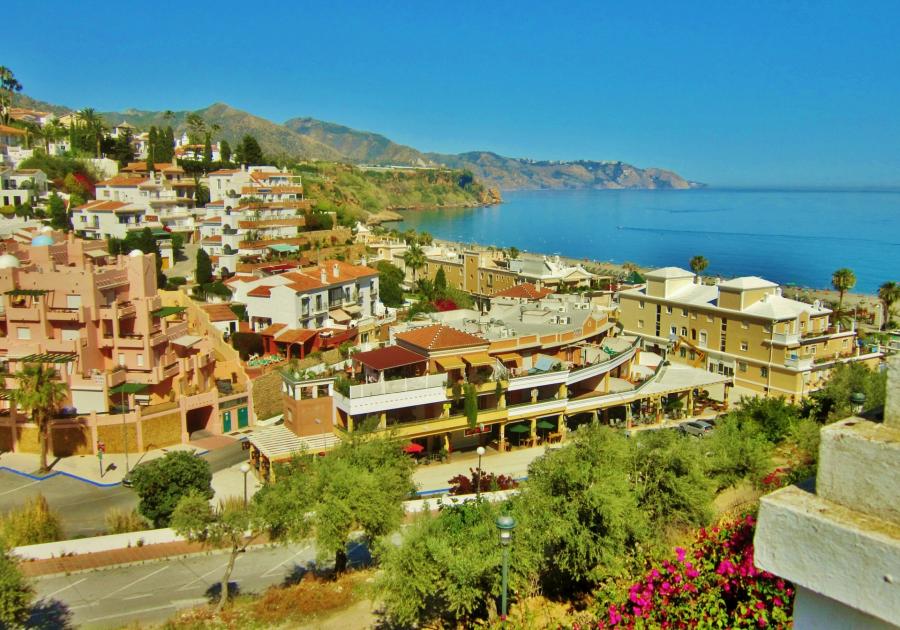 Shopping + Restaurants. Are they open in the winter?
Due to the large ex-pat community near Nerja there a lot of open shops and restaurants. Some more tourist places will be closed.
There are also several modern shopping malls such as Muelle Uno and Centro Comercial El Ingenio.
Some of the restaurant options include:
La Fuente, beautiful view with very limited good dishes, you should try their pie.
Posada de Iberica, a heaven for meat lovers.
Bakus, you can have some great seafood here.
Taste of India Restaurant, as the name, suggests you can have some unmatched desi Indian dishes for a reasonable price.
RAW lounge & tapas, if you are short of time simply get to this restaurant they have a very quick and great service.
Transport
– Car
Nerja can be easily accessed by car from the A-7 motorway. It runs both in the direction of Malaga in the west and to Almeria in the east.
– Airport
Malaga airport is 72 km (45 Miles) from Nerja and has flights to numerous locations. There is an airport bus to Nerja that cost from €5 (approx. $6, £4, $7 CAD, $7 AUD) to €9 (approx. $10, £8, $13 CAD, $14 AUD). A cap will be much more expensive with a price of around €81 (approx. $98, £72, $125 CAD, $127 AUD).
– Bus
Nerja is served by both local and intercity buses. There are buses that go to Malaga, Frigilina and other places (https://getbybus.com/en/bus-from-nerja). You can find the bus station at Calle Antonio Jiménez, 4. You can find a cabin that sells bus tickets, but you can also purchase them online (https://www.alsa.com/en/web/bus/alsa-experience/plan-your-journey/purchase-channels/internet).
– Train
Nerja does not have a train station.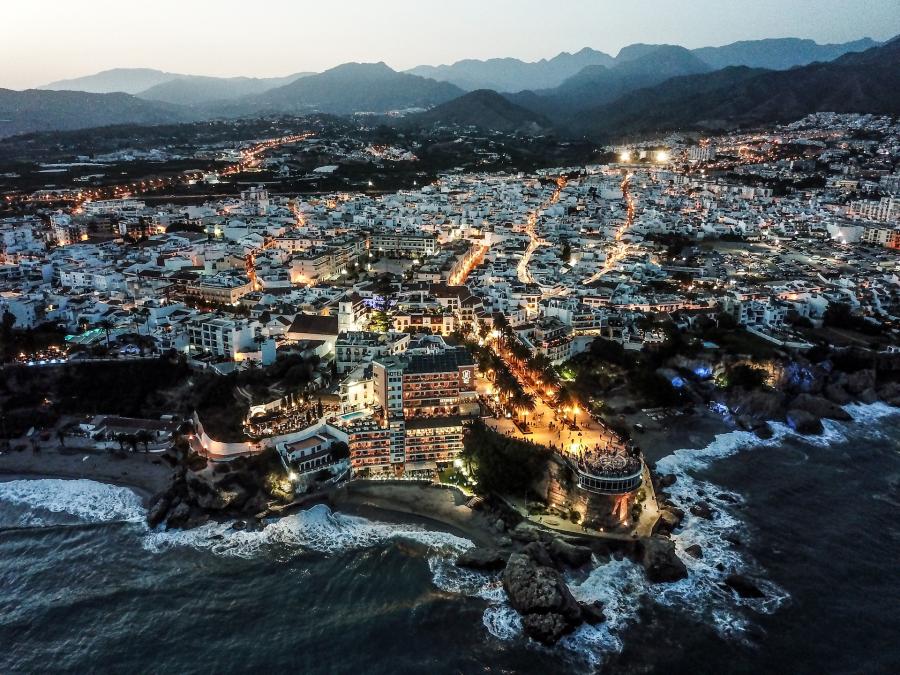 Health
There is an Ambulatorio (Health Centre) in Nerja. Here you can have an x-ray if needed. The nearest hospital is Comarcal in Velez-Malaga. Getting there will cost around €20 (approx. $24, £17, $30 CAD, $31 AUD) in a taxi, or you can take the bus.
There is also a private clinic/hospital in Nerja, Clinica Rincon.
In all places, English will not be a problem. In Ambulatorio they also have volunteer interpreters.
Also normal doctors and dentists are not difficult to find. A lot of them will speak and understand English.
Accommodation
Finding a long term rental is not difficult, but take care that you book in advance as the best locations will fill up quickly.
You can expect prices from €500 (approx. $607, £445, $772 CAD, $788 AUD) for a simple apartment, depending on the location, the size, and the facilities.
A house will start at around €1000 (approx. $1215, £890, $1545 CAD, $1577 AUD), also depending on the size and location. You can use websites like Airbnb or use a more local site like http://mynerja.com/rentals/nerja-long-term-rentals/ or https://www.nerjapropertyservices.com/xtndd/?lang=eng&all=YES
Winter Camping
Near Nerja you have several options for a winter camping:
Camping El Pino is a camping site located 800 meters from the sea and 13 min from Nerja. Prices start from

€15 (approx. $18, £13, $23 CAD, $23 AUD)

. https://www.campingelpino.com/en
Campsite Laguna Playa: 143 campsites, 30 min from Nerja and located at the beach. The Bus Station is 750 m away with busses going to Nerja and Málaga. Prices start from

€300 (approx. $364, £267, $463 CAD, $473 AUD)

per month for a stay of 90 days. https://www.lagunaplaya.com/en/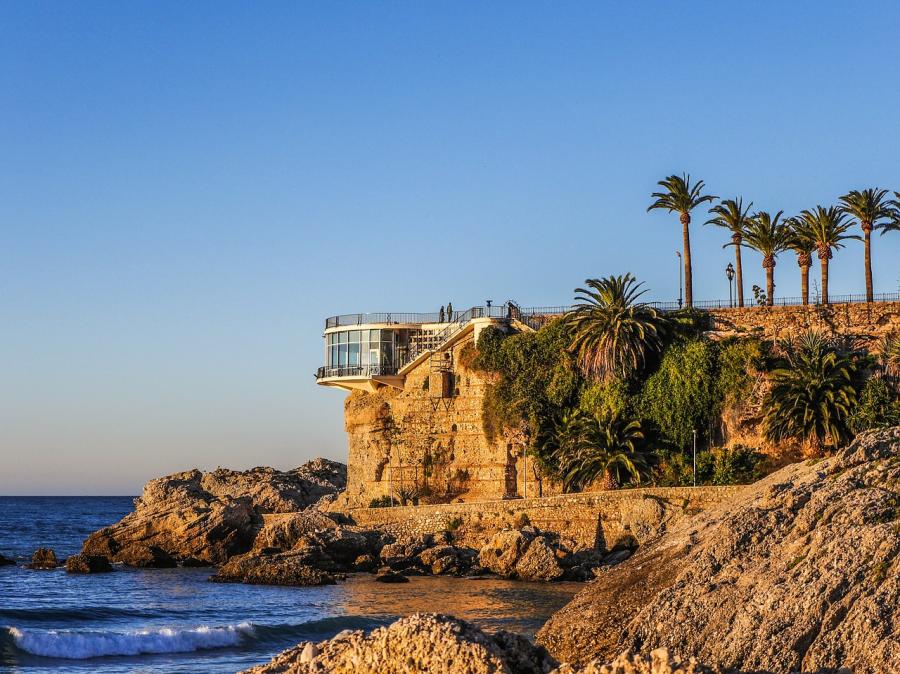 RV/Campers/Motorhome
If you have a Camper or Motorhome you can find several locations near Nerja. Some options:
Camper Area Milucar, Almost at the sea (there is a road in between) and 10 min from Nerja. 28 plots with electricity. From

€9,50 (approx. $10, £8, $13 CAD, $14 AUD)

for more than 15 nights. https://milucar.es/en
Aula de Naturaleza, Cortijo San Miguel, A family run campsite, 2 km from Nerja. Price around

€25 (approx. $30, £22, $38 CAD, $39 AUD)

per night. Check https://www.campercontact.com/en/spain/andalucia-04-11-14-18-21-23-29-41/nerja/62174/aula-de-la-naturaleza-cortijo-san-miguel
Packing List
Weather: The winter weather in Nerja (Spain) will normally be warm during the day and can be cold during the night. You have to pack accordingly.

Warm clothing: Even when you go to a warm location like Nerja (Spain) you should not forget to take some things with you for your trip back home. When you return you are adapted to the warmer weather and need something to protect you from your hometown temperatures.

Consider the Weather: Always look at the type of weather in Nerja (Spain). Things like humidity, wind, and rain do not show up in the temperature graph but can have a great impact on your wardrobe. There are several sites with long term forecasts and climate information. Is there often a short afternoon downpour like in the tropics, you maybe need to take a strong umbrella and shoos that can cope with the rain. If there is often a lot of wind you might need a more wind-resistant coat.

Check the local Shopping options: Try to find information about the local shopping options near your location in Nerja (Spain). Are there stores where you can buy all your daily supplies, or are some things difficult to get? For some more remote locations, the options can be limited. If a certain item is really important for you might need to take it with you.

Look at the Local Culture: The local culture in Nerja (Spain) can impact your wardrobe. If most activities are in more upscale locations you might take some more appropriate clothes with you. Or travelling if you travel to certain countries women need to cover themselves in certain areas.

Amenities: Know what's Included in your house or apartment. Is there a coffee maker, a toaster, a washer and dryer, an iron, what is in the kitchen, what kind of towels are there? Things that are there means you do not have to take them with you. A furnished apartment or house can mean something from a few pieces of furniture to a well-stocked place with all the things you have at home. But most of the time your rental will not be stocked.

Mix and match: Wear layers so you can use your wardrobe more efficiently. And do not worry about wearing something more often, probably only you will notice this.

Important for you: If there is something that is really important for you that you want to have present in your house or apartment, take it with you. This can be something like a special knife for the kitchen, or a small mirror that you use in the morning. You can also purchase it locally if it is not that expensive.

Pet supplies: If you take your pet with you don't forget to take supplies for a few days with you. And enough medication, vitamins, or other supplies if you can not purchase them in Nerja (Spain) locally.

Food: Don't take a lot of food with you. Only when there is something you really can not live without you, and it is not too heavy you could consider taking it with you.

Towels: Not all locations include bigger towels for the swimming pool or a visit to the beach. If you have to take them and don't have a lot of room you can buy some big thin towels.

Office supplies: Normally you will not find any office supplies in your house or apartment. If you think you will use them you could pack some supplies like a scissor, notepaper, envelopes, some pens, and more depending on your needs.

Limit yourself: Don't take too many shoes and jackets, you will not need them that often.

Best-fitting: Bring your favorite and best-fitting items that can multi-function

Washer: Do you have a washer and dryer onsite, you don't need to pack a lot of clothes
Clothing
Basics
Casual
Smart
Footwear
Toiletries
Beauty
Hygiene
Clothing
Basics
Casual
Outdoor
Footwear
Accessories
Toiletries
Medicine
Miscellaneous
Other
Toiletries
Beauty
Hygiene
Hair
Other
Medicine
Miscellaneous
Technology
Travel and Free time
Travel
Free time
Important
Documents
Money