If you know of the autonomous community of the Canary Islands, Spain, then you may have heard of La Gomera. This island is the second smallest among these group of islands which lie off the African coast in the Atlantic Ocean. The island has a small population with roughly 22,000 inhabitants who have a unique means of communicating with one another from miles away.
Before the Spaniard settlers arrived on these islands, they were inhabited by indigenous people called Guanches who had a rich and amazing culture. They worshipped their god at a sanctuary in the highest point of the island. Archeological explorations into the sanctuary have found altars, pyres, and other ceremonial constructions. This mountainous island has steep slopes and an interesting half-cut orange shape.
Why should people stay in La Gomera
Popularly called land of the winter sun, the island has great weather in the winter which is one of the reasons snowbirds are so drawn to La Gomera. The island is also blessed with amazing black sanded beaches, beautiful features of nature, and a scenic landscape including a national park that is also a UNESCO heritage site. The people are friendly and can always be seen with a smile. This infectious joy is one you wouldn't want to miss on your trip. The locals are hospitable and will engage with most tourists and answer questions. The cost of living is also affordable enough to keep you coming back for years.
Climate
The island has a subtropical oceanic climate which is extremely mild, warm, and sunny. The winters can be mistaken for spring with how warm the temperatures remain. While the temperatures on the coast remain inviting and pleasant, things get a little different on the interior. There is often heavy rainfall on some parts of the interior while other parts barely see any moisture. The altitude and how exposed the slopes are also influencing the weather. Winter temperatures are around . It can get colder in the evenings so bring an extra layer of warm clothes.

Safety
La Gomera has low crime rates and is considered to be very safe for tourists. You can go about your day without worrying about being attacked. However, keep your valuable items safe and secure at all times to avoid losing them. Take the usual security precautions you would take anywhere else and be careful not to wander around at night and you should be safe. Another concern travelers tend to have is whether or not a natural disaster will occur while they are visiting la Gomera. The likelihood of this happening is low as the island hasn't seen any such occurrences in the last few years. To put your mind at rest, you should follow local news reports for announcements of any unusual activity.
Communication, internet, and cellphone in La Gomera
The major language spoken in la Gomera is Spanish. Many of the locals only speak Spanish so snowbirds with a Spanish background will have no trouble communicating. A few people speak a bit of English and German, especially in the major tourist areas. Learning some words in Spanish will make your stay a lot easier. A whistling language native to the island is "Silbo Gomero" a means of communicating over long distances, especially through valleys and ravines. These whistles can travel over a distance of 5 kilometers.
As La Gomera is part of Spain, European residents can use their mobile phones without any problems (roam like home). For non-EU residents, it is advised to check the rates, and if needed buy a local sim card. You can buy one in Tenerife and have it registered before getting to La Gomera. They can also be purchased in dedicated outlets or supermarkets. SIM cards cost around $11 (approx. €9, £8, $14 CAD, $14 AUD) and come with free calls and texts valid for 28 days.
Wintersun Locations in La Gomera
San Sebastian: The capital of LA Gomera, and the port where Columbus set sail from. It is a popular and lively place to stay with some nice black beaches and charming historic buildings
Playa de Santiago: Seen as the second tourist resort area with a nice Golf course. Easy going atmosphere.
The hills: The hills of La Gomera are home to some great resorts. Most of them are located at the island's southern half, which sees the most sunshine.
Things to see in La Gomera
Garajonay national park – this UNESCO world heritage site is an ancient often misty forest with stunning greenery and a humid and subtropical climate. There are over 2000 species of fauna and flora and endemic wildlife.
Roque de Agando – this rock formation is a distinctive emblem of the island. Surrounded by stunning scenery, this tall edifice is a volcanic magma formed monument to itself.
San Sebastián – for a chance to walk in the footsteps of one of the foremost adventurers and explorers, San Sebastián's streets, markets, and manors are famous for being Christopher Columbus last port of call before discovering the Americas.
Los Organos- these rocks are shaped much like musical pipes at the edge of a cliff. They can be viewed by boat and are indeed a sight to behold.
Iglesia Virgen de la Candelaria – this 16th-century church is located in a small tranquil village of Chipude.
Tenerife – a short ferry ride across the sea and 20 km (12 Miles) away from la Gomera lies Tenerife, the largest of the Canary Islands. The tallest peak in Spain is located here and there are carnivals and festivals with music, bright colors, and dancing. It also has great beaches.
Activities in La Gomera in the winter
Whale and dolphin watching – winter is one of the best times to see these enormous and majestic sea creatures. The waters around la Gomera are frequented by whales during their migratory season and you can catch a glimpse of a fin or tail of a whale or dolphins diving out of the water.
Pottery lessons – some of the villages in la Gomera are dedicated to keeping the art of pottery and ceramic making alive. You can visit such studios for a tour or even take lessons.
Visit museums – there are a number of museums showcasing the history of this small island. One of the must-visit museums in the museum of ethnography which shoes the island's ecosystem, culture, and natural resources.
Relax on the beach – we're all used to white and pale brown sandy beaches so visiting the black sanded beaches of la Gomera is something different.
Wine tasting – because the island is so secluded from the rest of the world, a lot of the blights that vineyards faced never got to the island and so some of the oldest vines can be found here. Their wines are excellent and traditionally made.
Shopping + Restaurants. Are they open in the winter?
Shopping in la Gomera may not be the fanciest experience but there is a lot to buy and see. The local markets thrive and are usually crowded with a lot of vendors at the weekend. You can buy everything from local produce like fruits and vegetables as well as pottery, embroidered clothes, and souvenirs. Restaurants are also open in the winter where you can try the delicious seafood-based local cuisine as well as intercontinental cuisines.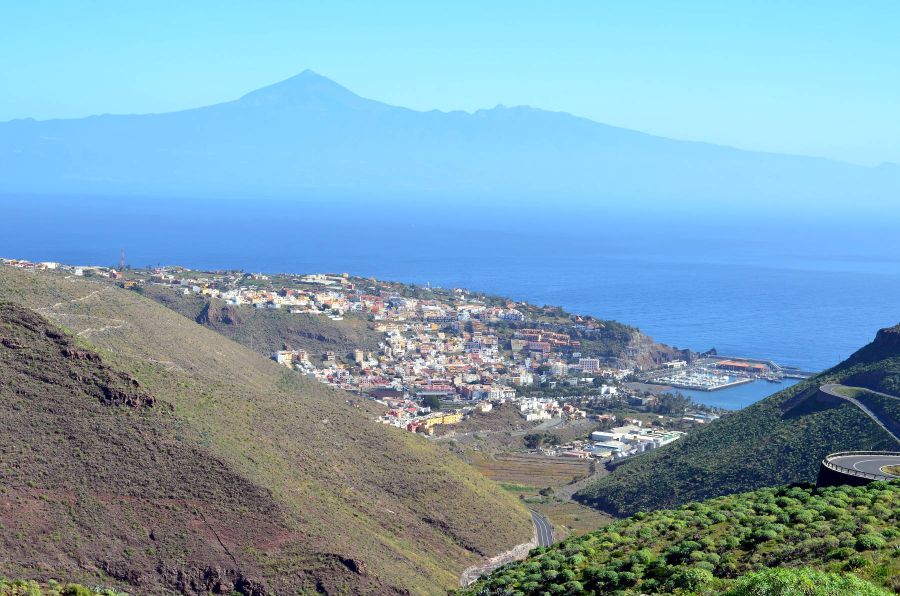 Transport
To get to La Gomera, you will have to land in Tenerife and take a ferry to the island as there is no airport you can use. The ferry ride is about 40 minutes long and gives you the opportunity to admire the ocean and get a coastal view of the island before disembarking.
Water taxis are one of the fastest ways to get around the island and they usually go from one end of the island to the other 3 times daily.
Buses called Guagua's also have a network around the island and can be used to get to the major parts of the cities and villages.
Motorcycles are also another option of getting to short distances within a city.
Car rentals are available although there are a few cars and they are a great way to fully explore the island on your own. The roads are good but winding and narrow which often translates to long rides. You can rent a car for $24 (approx. €20, £18, $31 CAD, $32 AUD).
Health
Healthcare in la Gomera is really good and snowbirds can be assured of excellent medical care during their stay on the island. Minor everyday ailments and injuries can be attended to and it is much cheaper than healthcare back home. There are medical aid centers and pharmacies where you can top up prescription drugs and they are open at all hours. There are also a number of wellness centers that offer massages and holistic treatments that are said to be healing. A few medical staff speak English and are available on request. Snowbirds should remember to get comprehensive travel insurance before leaving home so that their medical costs are covered.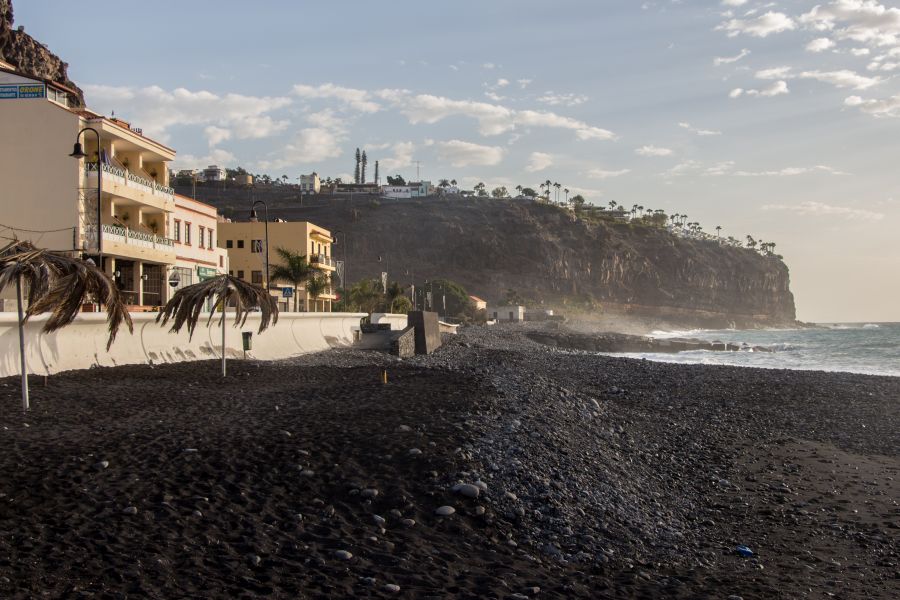 Accommodation
Getting accommodation in La Gomera is not difficult as there are a number of rental properties readily available for visitors to rent. You can find a good number of them online or explore the island when you arrive and make the choice for yourself. Rent for a month on a fully furnished self-catering 3 bedroom apartment outside of the capital will cost about for a month.
Packing List
Weather: The winter weather in La Gomera (Spain) will normally be warm during the day, but can be chilly during the night. You have to pack accordingly.

Warm clothing: Even when you go to a warm location like La Gomera (Spain) you should not forget to take some things with you for your trip back home. When you return you are adapted to the warmer weather and need something to protect you from your hometown temperatures.

Consider the Weather: Always look at the type of weather in La Gomera (Spain). Things like humidity, wind, and rain do not show up in the temperature graph but can have a great impact on your wardrobe. There are several sites with long term forecasts and climate information. Is there often a short afternoon downpour like in the tropics, you maybe need to take a strong umbrella and shoos that can cope with the rain. If there is often a lot of wind you might need a more wind-resistant coat.

Check the local Shopping options: Try to find information about the local shopping options near your location in La Gomera (Spain). Are there stores where you can buy all your daily supplies, or are some things difficult to get? For some more remote locations, the options can be limited. If a certain item is really important for you might need to take it with you.

Look at the Local Culture: The local culture in La Gomera (Spain) can impact your wardrobe. If most activities are in more upscale locations you might take some more appropriate clothes with you. Or travelling if you travel to certain countries women need to cover themselves in certain areas.

Amenities: Know what's Included in your house or apartment. Is there a coffee maker, a toaster, a washer and dryer, an iron, what is in the kitchen, what kind of towels are there? Things that are there means you do not have to take them with you. A furnished apartment or house can mean something from a few pieces of furniture to a well-stocked place with all the things you have at home. But most of the time your rental will not be stocked.

Mix and match: Wear layers so you can use your wardrobe more efficiently. And do not worry about wearing something more often, probably only you will notice this.

Important for you: If there is something that is really important for you that you want to have present in your house or apartment, take it with you. This can be something like a special knife for the kitchen, or a small mirror that you use in the morning. You can also purchase it locally if it is not that expensive.

Pet supplies: If you take your pet with you don't forget to take supplies for a few days with you. And enough medication, vitamins, or other supplies if you can not purchase them in La Gomera (Spain) locally.

Food: Don't take a lot of food with you. Only when there is something you really can not live without you, and it is not too heavy you could consider taking it with you.

Towels: Not all locations include bigger towels for the swimming pool or a visit to the beach. If you have to take them and don't have a lot of room you can buy some big thin towels.

Office supplies: Normally you will not find any office supplies in your house or apartment. If you think you will use them you could pack some supplies like a scissor, notepaper, envelopes, some pens, and more depending on your needs.

Limit yourself: Don't take too many shoes and jackets, you will not need them that often.

Best-fitting: Bring your favorite and best-fitting items that can multi-function

Washer: Do you have a washer and dryer onsite, you don't need to pack a lot of clothes
Clothing
Basics
Casual
Smart
Footwear
Toiletries
Beauty
Hygiene
Clothing
Basics
Casual
Outdoor
Footwear
Accessories
Toiletries
Medicine
Miscellaneous
Other
Toiletries
Beauty
Hygiene
Hair
Other
Medicine
Miscellaneous
Technology
Travel and Free time
Travel
Free time
Important
Documents
Money