Spend Your Fall, Winter, or Spring in Lake Chapala, Mexico: Is Lake Chapala, Mexico A Good Snowbird Location?
As the name suggests, Lake Chapala refers to the largest freshwater lake in Mexico and the area surrounding it. It is located in the border area between the Jalisco/Michoacàn region of Mexico. The shallow lake is a stunning sight to behold so it is no wonder that people flock to its town. The lake is quite shallow at just when the seasons are dry and it has a depth of when it is at its deepest.
There are three small islands located on the lake, Isla Mezcala, which is the largest containing an old prison and fort, Isla Alacarnes which can be seen from Chapala and la Isla Menor, the smallest of the three. This lake is more than just a pretty sight as it also plays some significant ecological roles for migratory birds like white pelicans amongst other birds. For now, the area is relatively not as touristy as some other locations in the world so snowbirds looking for unspoiled affordable winter locations can pack their bags and get ready for a worthwhile trip to Lake Chapala.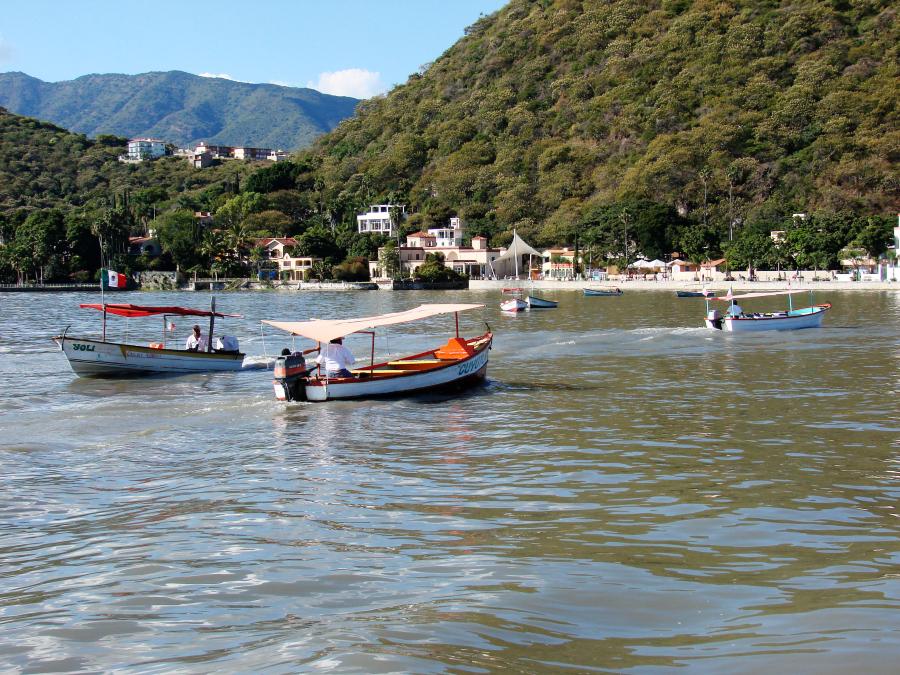 Why should people visit in the winter?
One of the most gorgeous things about this charming region is its moderate weather. Because it is located in Mexico's highlands, it's much cooler than the hotter parts of the country. The people of Lake Chapala are warm and friendly people who are more than happy to share their home with travelers. The cost of living is incredibly affordable and there is an unrivaled air of tranquility that is the perfect addition to your winter. The town has a colonial feel to it and is blessed with lush green vegetation as far as the eyes can see. The area was home to a volcano that is now extinct so there are many interesting sites one can visit to learn all about this interesting and eclectic little town.
Climate
Lake Chapala has a rich tropical climate that is stable year-round. The area experiences two major different seasons i.e the dry and raining seasons. The lake is surrounded by the Sierra Madre mountain ranges that block the northerly winds so the weather remains temperate all through the year with no fierce weather conditions like thunderstorms. The temperature in Lake Chapala hovers around 22°C (72°F) and only drops by a few degrees during its coldest, at night in the winter. It can drop to as low as 10°C (50°F) so snowbirds are advised to pack warm clothing for such periods.

Safety
Many tourist locations in Mexico are often plagued by the stigma that affects the more violent areas. For Lake Chapala, the crime rates are quite low and the region is considered to be very safe for tourists. In fact, the area's safety levels are among the reasons it has become so popular with visitors. However, because of some violent crime in surrounding areas like Guadalajara, and Jalisco, snowbirds are still advised to be cautious and observe safety precautions. Avoid carelessly displaying cash and other forms of wealth and remember to keep your valuable items in a secure place.
Communication
Spanish is the official language spoken in Lake Chapala however due to the high number of expatriates living there and the visitors who come from mostly English speaking regions in the world, many of the locals speak English quite well. Snowbirds will have little or no trouble with communication even those who do not speak more than a few phrases of Spanish will find that they can get by with the little they do speak.
Roaming your SIM card from home might incur high charges so we advise snowbirds to get a Mexican SIM card for the duration of their stay in Lake Chapala. Purchasing and activating a SIM card is quite easy and cheap and can even be done before you arrive in the country if you order one online. This option can be expensive so it's best to either buy from the airport where you land and have it registered there or wait until you make your way into the town itself. Then you can purchase one from any of the shops around and start using it immediately it is registered. Snowbirds are advised to purchase Telcel as they have the widest network coverage. A sim card costs about $3 (approx. €2.8, £2.41, $4.03 CAD, $4.54 AUD) and there are multiple data plans to chose from.
Things to see in Lake Chapala, Mexico
Thermal Springs – there are a number of thermal springs open to the public where you can relax in different temperatures of pools and even have a mud bath as the waters are said to have healing properties.
Foco Tonal – believed to be a high energy vortex or a power spot with high concentrates of power, these sites draw visitors who lean towards the spiritual or are simply curious. It is also surrounded by colorful buildings, a castle and other attractions.
Isla de Mezcala- located in the middle of Lake Chapala, this island was the base of the resistance against the Spaniards by the Indians before they surrendered. It then became the location for prison and fort whose ruins still stand to date.
Parroquia de San Francisco – this stunning baroque style church building is one of the most interesting sites in Lake Chapala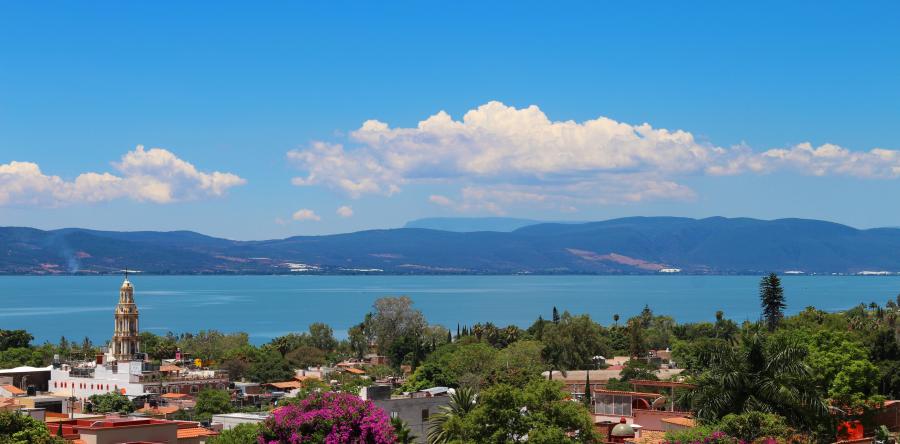 Things to see not far from Lake Chapala, Mexico
Parroquia de San Cristobal – located in mazamitla, this piece of beautiful architecture is among the most captivating buildings in a town filled with stunning painted wooden buildings.
Ajijic – this quaint town is just a few miles away from Lake Chapala and has an abundance of colonial architecture, gardens, and shops. You can get a spot of shopping in or simply relax by the water.
Tequila distilleries – the town of tequila has an abundance of Agave fields which made them the leading producer of the popular spirit.
Activities in Lake Chapala, Mexico in the winter
Take a walk in the Malecon – the town's boardwalk provides you with the opportunity to gaze at the beautiful water as you stroll around. You can also stop for a meal at any of the restaurants or buy local wares from the street vendors.
Attend a live show – music and dance are a major part of the Lake Chapala culture and every other night they put on a show with lots of music and dance that is highly entertaining.
Take a yoga class – the perfect winter weather in Lake Chapala makes it ideal for you to practice your mediation outdoors with the skilled teachers here.
Explore lakeside villages – there are a number of villages littered around the lake which you can visit for a feel of authentic Mexican life and food.
Visit galleries – another important part of Lake Chapala culture is an art that can be seen as murals on the walls of some buildings and also in the galleries that display work by local artists.
Shopping + Restaurants. Are they open in the fall, winter, or spring?
There is an abundance of flea markets, antique stores selling vintage pieces, galleries, and other interesting shops that offer you ample shopping opportunities in lake Chapala. They remain open in the winter and available for snowbirds to engage in retail therapy. For other shopping needs that can be done at a Walmart or Costco, you will have to travel to the neighboring town of Guadalajara to get your fix. Restaurants abound in Lake Chapala and they are open in the winter. These restaurants serve a variety of local Mexican dishes as well as intercontinental meals.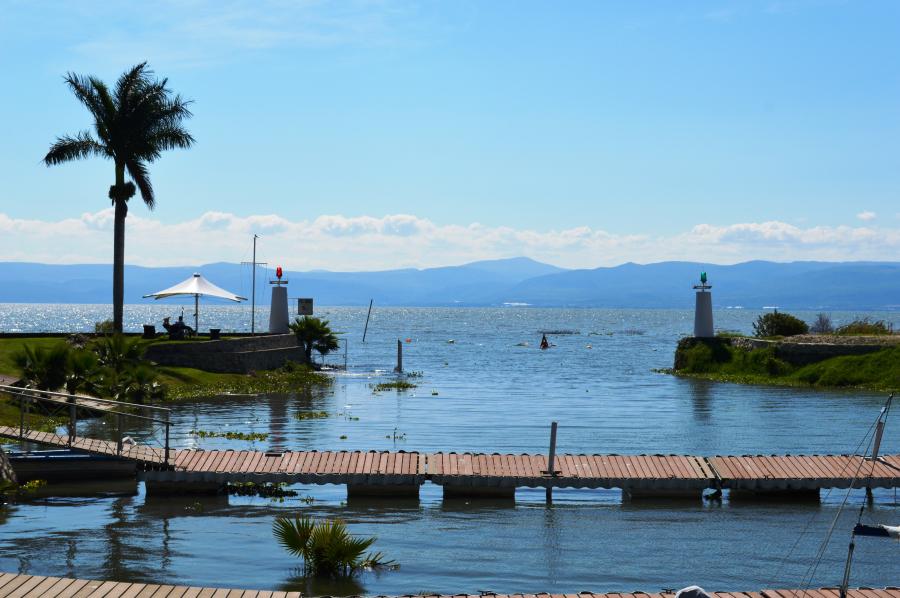 Transport
There is no airport in Lake Chapala so snowbirds will most likely land in Guadalajara and then take a bus or taxi to this town. The drive takes about 25-30 minutes and costs around $30 (approx. €27, £24, $40 CAD, $45 AUD)
There are a number of taxis available to move around within the town. Some are not metered so you may need to haggle a price before setting out.
Buses are the main mode of transportation and their routes connect the lakeside towns effectively. Buses are punctual and travel intercity but there are also local buses that have routes all around the town. Bus tickets start at about $2 (approx. €1.86, £1.61, $2.69 CAD, $3.02 AUD) or less.
You can also rent a car to get around at your convenience. You can rent a car for about $200 (approx. €186, £160, $268 CAD, $302 AUD) for a week. The roads are easy to navigate and some are cobblestones.
Walking is also a popular way to get around the town. Many locals walk and if your areas of interest are close to each other, even better! There are also bicycles, mopeds, and commercial motorcycles that also serve as a means of getting around Lake Chapala.
Health
Healthcare in Lake Chapala is a lot more affordable than it is in many western countries. Being less than 30 minutes away from the second-largest city in Mexico is an advantage as they have major hospitals that are well equipped with facilities and infrastructure. The hospitals in Guadalajara provide some of the best care in Mexico and most doctors are bilingual who have either trained home and abroad.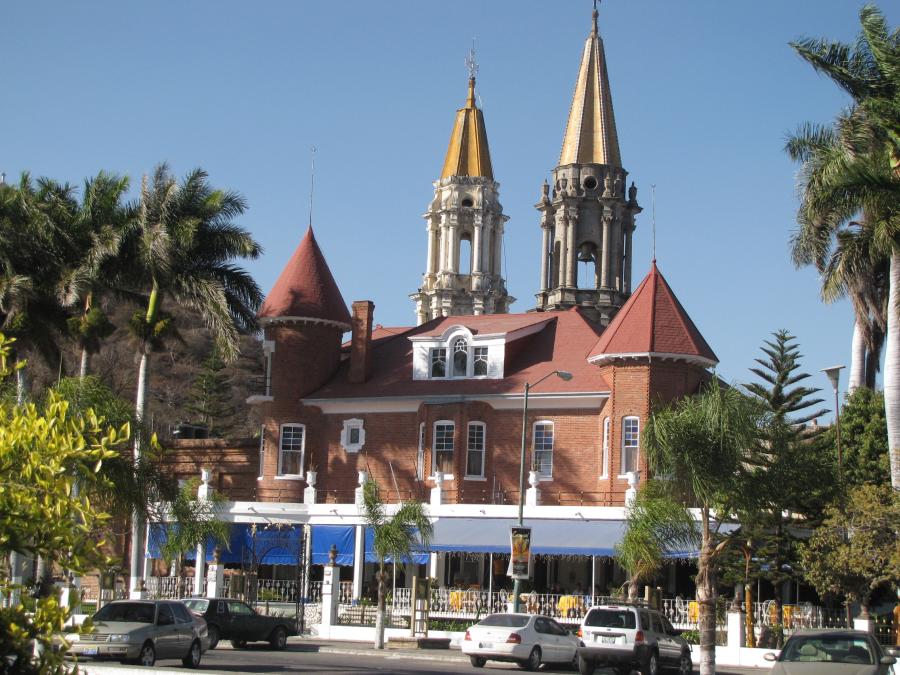 Accommodation
Living in Lake Chapala is quite affordable and prices mostly depend on your taste. There are short-let homes that come fully furnished so all you need to come with is your luggage. One-bedroom costs about $357 (approx. €332, £286, $479 CAD, $539 AUD) and three-bedroom costs $893 (approx. €832, £717, $1198 CAD, $1350 AUD) for a month.
Packing List
Weather: The fall, winter, and spring weather in Lake Chapala (Mexico) will normally be warm during the day and can be cold during the night. Of course in the fall and spring it will be warmer than in the winter. You have to pack accordingly.

Warm clothing: Even when you go to a warm location like Lake Chapala (Mexico) you should not forget to take some things with you for your trip back home. When you return you are adapted to the warmer weather and need something to protect you from your hometown temperatures.

Consider the Weather: Always look at the type of weather in Lake Chapala (Mexico). Things like humidity, wind, and rain do not show up in the temperature graph but can have a great impact on your wardrobe. There are several sites with long term forecasts and climate information. Is there often a short afternoon downpour like in the tropics, you maybe need to take a strong umbrella and shoos that can cope with the rain. If there is often a lot of wind you might need a more wind-resistant coat.

Check the local Shopping options: Try to find information about the local shopping options near your location in Lake Chapala (Mexico). Are there stores where you can buy all your daily supplies, or are some things difficult to get? For some more remote locations, the options can be limited. If a certain item is really important for you might need to take it with you.

Look at the Local Culture: The local culture in Lake Chapala (Mexico) can impact your wardrobe. If most activities are in more upscale locations you might take some more appropriate clothes with you. Or travelling if you travel to certain countries women need to cover themselves in certain areas.

Amenities: Know what's Included in your house or apartment. Is there a coffee maker, a toaster, a washer and dryer, an iron, what is in the kitchen, what kind of towels are there? Things that are there means you do not have to take them with you. A furnished apartment or house can mean something from a few pieces of furniture to a well-stocked place with all the things you have at home. But most of the time your rental will not be stocked.

Mix and match: Wear layers so you can use your wardrobe more efficiently. And do not worry about wearing something more often, probably only you will notice this.

Important for you: If there is something that is really important for you that you want to have present in your house or apartment, take it with you. This can be something like a special knife for the kitchen, or a small mirror that you use in the morning. You can also purchase it locally if it is not that expensive.

Pet supplies: If you take your pet with you don't forget to take supplies for a few days with you. And enough medication, vitamins, or other supplies if you can not purchase them in Lake Chapala (Mexico) locally.

Food: Don't take a lot of food with you. Only when there is something you really can not live without you, and it is not too heavy you could consider taking it with you.

Towels: Not all locations include bigger towels for the swimming pool or a visit to the beach. If you have to take them and don't have a lot of room you can buy some big thin towels.

Office supplies: Normally you will not find any office supplies in your house or apartment. If you think you will use them you could pack some supplies like a scissor, notepaper, envelopes, some pens, and more depending on your needs.

Limit yourself: Don't take too many shoes and jackets, you will not need them that often.

Best-fitting: Bring your favorite and best-fitting items that can multi-function

Washer: Do you have a washer and dryer onsite, you don't need to pack a lot of clothes
Clothing
Basics
Casual
Smart
Footwear
Toiletries
Beauty
Hygiene
Clothing
Basics
Casual
Outdoor
Footwear
Accessories
Toiletries
Medicine
Miscellaneous
Other
Toiletries
Beauty
Hygiene
Hair
Other
Medicine
Miscellaneous
Technology
Travel and Free time
Travel
Free time
Important
Documents
Money
Other locations close to this location:
Travelers' Map is loading...
If you see this after your page is loaded completely, leafletJS files are missing.
If you have any additions, or comments on the content on this page, please use our contact form to let us know.
Detailed weather during the year for Lake Chapala Mexico
What to do during the year in Lake Chapala Mexico