Located at the far edges of Guanajuato in Mexico's highlands is the stunning colonial town of San Miguel de Allende. Just 274 km (170 Miles) from Mexico City, this seemingly unassuming town played a major role in the Chichimeca war where the Spanish empire was defeated by the Chichimeca confederation. A part of this historic town is a UNESCO heritage site and its quiet beauty continues to draw visitors from all over the world year-round. After nearly being wiped out by an epidemic in the early 20th century, the town had life breathed back into it by artists who moved to the town thanks to its many neoclassical and baroque style buildings.
Most of the beautiful architecture in this town was constructed in the mid-18th century around the time the transition between neoclassical and baroque architecture was at its peak which is evidenced in most of the buildings still standing to this day. The town boasts of art schools, hotels, and tranquillity that has attracted tons of foreigners to settle here so it has a richly diverse culture that continues to flourish.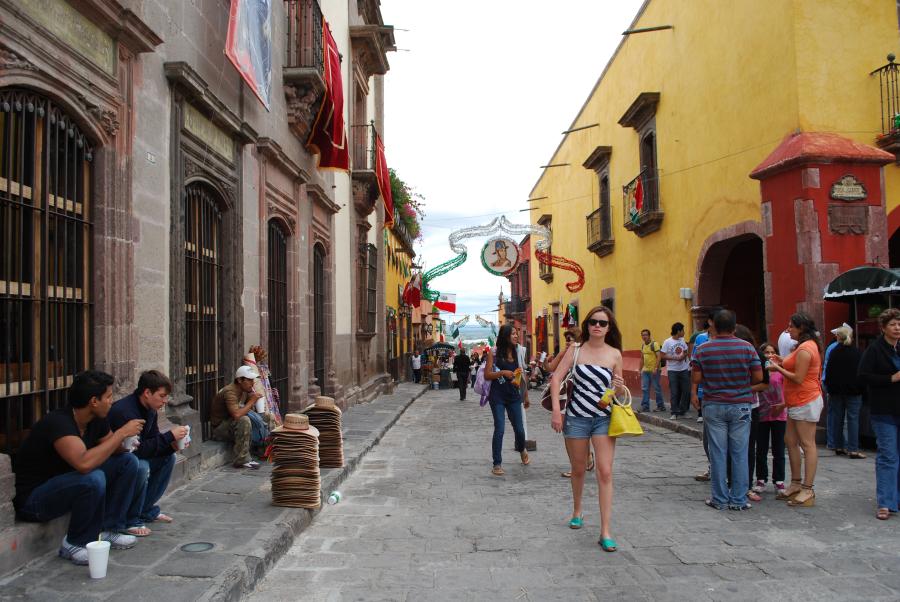 Why should people visit in the winter?
During the winter, the beauty of San Miguel de Allende is unrivaled. The temperatures are mild and the sunsets are amazingly beautiful in shades of gold and magenta. The old fashioned vibe of the town would make you feel like you are exploring the pages of a storybook and the food is simply amazing. The days in San Miguel de Allende are long and filled with many interesting activities. The town has an abundance of flowers tres and traditions like musicians flooding the streets during Christmas with lit candles. There are interesting sites that will awaken the art lover in you like galleries and museums. The people are welcoming and pleasant and there are many foreign settlers here so you will get to meet a ton of interesting people.
Climate
San Miguel de Allende has typical Mexican weather at most times of the year. With high temperatures and lots of sun, the town significantly cools down in the winter. There is a little rainfall during the wet seasons and overcast clouds. During the winter there is hardly any rainfall and temperatures are between 70°F (21°C) during the day which is pleasant enough for outdoor activities. Winter nights can get quite cold with temperatures dropping to 40°F (4°C). it's advisable to pack some warm layers of clothing to avoid getting too chilly when the temperature drops.

Safety
Travelers to San Miguel de Allende with safety concerns can rest easy as the town is considered to be safe for tourists. The few incidences of violence that do occur are often gang-related and tourists are hardly targeted. Snowbirds are however still advised to keep their valuables safe and avoid flashing expensive jewelry or gadgets. There are a few incidences of petty theft so try to keep wallets and purses safe. Do not travel with a lot of cash and be aware of your surroundings always.
Communication
Most of the locals in San Miguel de Allende speak Spanish as their first language. Thanks to its cosmopolitan nature, most residents of this quaint town are also English speaking. Snowbirds may still run into a few people who only speak Spanish so it is helpful to know a few phrases. You may also use your time in the city to brush up your Spanish skills.
Getting a local sim while you stay in San Miguel de Allende is the cheapest and most effective way to stay connected. Sim cards can be purchased from kiosks around the city or at the airport and they can also be registered and activated where they are purchased. Telcel is the most popular option for prepaid sim cards and they cost about $ (approx. €0, £0, $0 CAD, $0 AUD) which comes with a little free data. You can get 2GB of data, unlimited calls and texts to the USA, Canada and Mexico and unlimited use of social media apps valid for 26 days for only $8 (approx. €6, £5, $10 CAD, $10 AUD).
Things to see in San Miguel de Allende, Mexico
Canada de La Virgen – this nature preserve is an archaeological site with enough pyramids to keep you captivated for several hours. There are also astronomy tours, horseback tours, and other activities available.
La Parroquia de San Miguel Arcangel – one of the most iconic buildings in the town is the church of Saint Michael the archangel. The gothic façade is breathtaking, to say the least with an interesting history. Both the inside and outside of the church are stunning works of art and the image of Christ of the conquest is on display inside the church.
El Charco del Ingenio – this botanical garden is a wonder of nature that is home to many birds, waterfalls, and stunning views.
Sanctuary of Atotonilco – this UNESCO heritage site is an incredible piece of history that is beautiful as it is important. Nicknamed the Sistine chapel of Mexico, the baroque murals that adorn the walls can gaze at all day.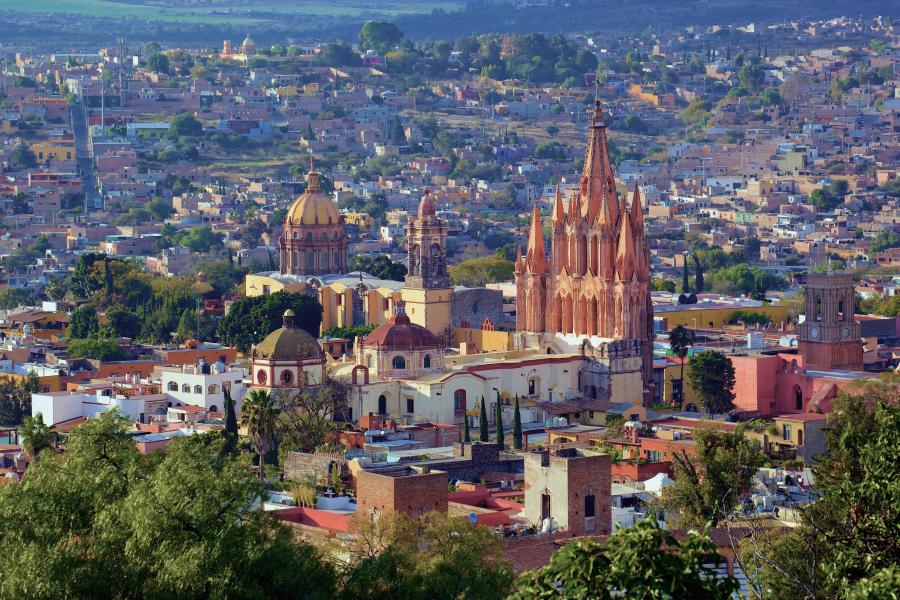 Things to see not far from San Miguel de Allende, Mexico
Toltec ruins – located in Tula, the Toltec ruins are a relic in the Mesoamerican sites. The Toltec were religious warriors and this fascinating archaeological site has interesting temples, pillars, and carvings depicting animals. The 'Tula Giants' a column of towering figures of warriors also gives insight into the power and ferocity of this ancient civilization.
Guanajuato – this valley town is also known as the place of frogs thanks to the froglike mountains that make up its terrain has a European feel to it with numerous cafes, markets, theatres, and beautiful cobblestoned streets.
National Museum of viceroyalty -this museum holds well-preserved pieces of colonial art including the building itself. It is located in the College of San Francisco Javier. Everything from glassware, ceramics paintings, and weapons can be found in the museums.
Activities in San Miguel de Allende, Mexico in the winter
Attend a festival – there are festivals in the city year-round and many of them happen in the winter. Festivals are filled with music, food, laughter, music, and dancing.
Visit galleries – snowbirds who are art lovers or looking to immerse themselves in the world of art will have tons of fun visiting the many art centers and galleries the city has to offer. Here are also museums and art institutes and you can even sign up for an art workshop.
El Jardin – this French-style quarter is always filled with entertainment and activities. There are performances by local acts, shady trees were you can sit back, relax and watch as the town goes about its day.
Visit the local markets – shop for locally made handcrafted items at the local markets in the town for some authentic souvenirs. There are also a lot of street food vendors selling local delicacies.
Shopping + Restaurants. Are they open in the winter?
There are ample shopping opportunities in San Miguel de Allende. Some even liken the shopping district to downtown Manhattan. There are lots of stores selling a variety of items. Due to the high number of foreigners who live here, there is a high demand for foreign goods in addition to local products. everything from art, clothing, shoes, and cigars can be found in this town at great prices. Shops stay open till late in the winter so you have enough time to shop. Restaurants are also open and one of the most interesting ways to dine is by sitting on the rooftops with a panoramic view of the city that is simply breathtaking.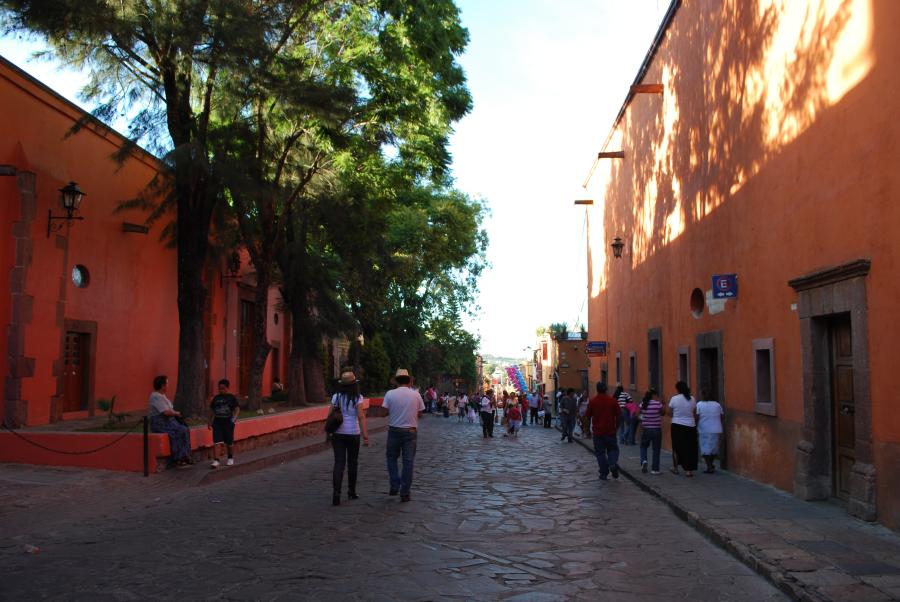 Transport
There is no international airport in the town so snowbirds are most likely to land in Leon/Guanajuato's airport – the Del Bajio Airport. You may also land in the airport in Mexico City and drive into San Miguel de Allende either by bus or car. The airport in Leon is about 9.5 km (6 Miles) from the city and takes about an hour and a half to get there. A taxi will cost about $90 (approx. €74, £65, $114 CAD, $116 AUD)
The most common form of transportation here is walking. Lots of people walk everywhere as they enjoy the novelty of its winding cobbled streets and walkways.
Hiring a car would only be practical if you intend to drive out of town a lot. The streets are tricky to navigate and tight so its best to either walk or take a bus.
Public transportation isn't a major feature of this town but there are a few buses that take people to major tourist attractions a few times a day. You can also rent a bicycle for a day.
Health
Healthcare in San Miguel de Allende is affordable with a few very good hospitals that are equipped with proper facilities. They also offer specialty medicine and the medical staff resident in the town are well trained and speak English. Remember to get a comprehensive health insurance package before leaving your home country to help you cover the costs of medical bills.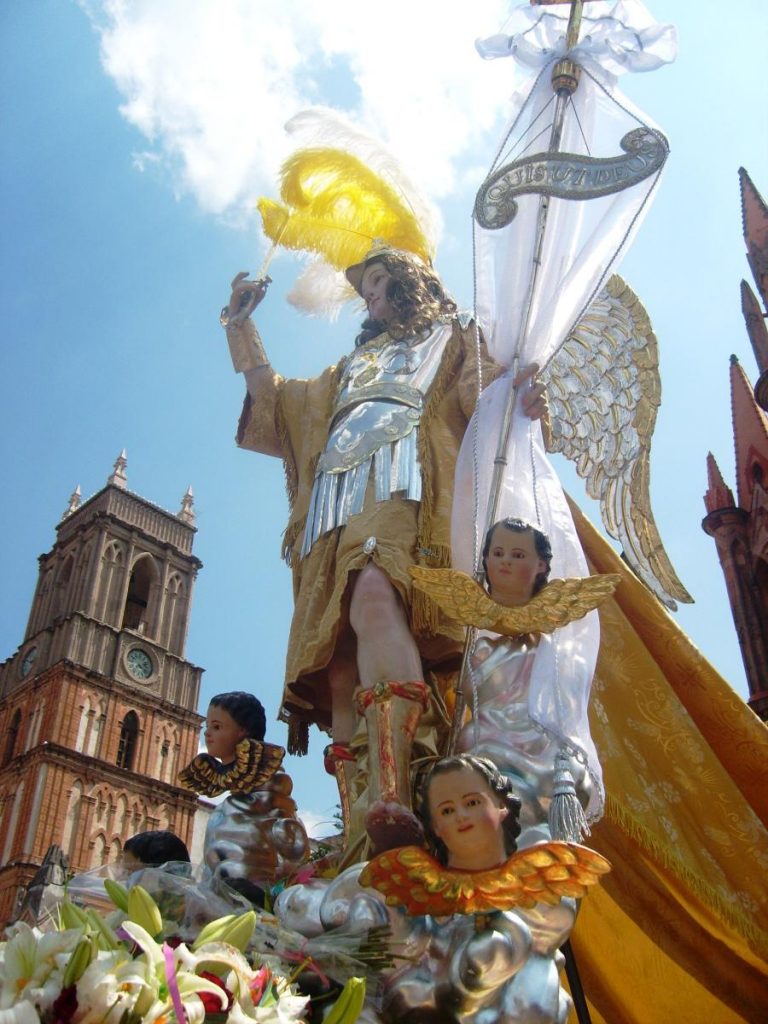 Accommodation
Because of the high number of expatriates living in the town, renting an apartment can be costlier than it is in other small towns. You can stay in an authentic colonial style house and immerse yourself in the lifestyle or opt for a more modern home. A month's rent for a furnished 2 bedroom apartment comes to about .
Packing List
Weather: The winter weather in San Miguel de Allende (Mexico) will normally be warm during the day and can be cold during the night. You have to pack accordingly.

Warm clothing: Even when you go to a warm location like San Miguel de Allende (Mexico) you should not forget to take some things with you for your trip back home. When you return you are adapted to the warmer weather and need something to protect you from your hometown temperatures.

Consider the Weather: Always look at the type of weather in San Miguel de Allende (Mexico). Things like humidity, wind, and rain do not show up in the temperature graph but can have a great impact on your wardrobe. There are several sites with long term forecasts and climate information. Is there often a short afternoon downpour like in the tropics, you maybe need to take a strong umbrella and shoos that can cope with the rain. If there is often a lot of wind you might need a more wind-resistant coat.

Check the local Shopping options: Try to find information about the local shopping options near your location in San Miguel de Allende (Mexico). Are there stores where you can buy all your daily supplies, or are some things difficult to get? For some more remote locations, the options can be limited. If a certain item is really important for you might need to take it with you.

Look at the Local Culture: The local culture in San Miguel de Allende (Mexico) can impact your wardrobe. If most activities are in more upscale locations you might take some more appropriate clothes with you. Or travelling if you travel to certain countries women need to cover themselves in certain areas.

Amenities: Know what's Included in your house or apartment. Is there a coffee maker, a toaster, a washer and dryer, an iron, what is in the kitchen, what kind of towels are there? Things that are there means you do not have to take them with you. A furnished apartment or house can mean something from a few pieces of furniture to a well-stocked place with all the things you have at home. But most of the time your rental will not be stocked.

Mix and match: Wear layers so you can use your wardrobe more efficiently. And do not worry about wearing something more often, probably only you will notice this.

Important for you: If there is something that is really important for you that you want to have present in your house or apartment, take it with you. This can be something like a special knife for the kitchen, or a small mirror that you use in the morning. You can also purchase it locally if it is not that expensive.

Pet supplies: If you take your pet with you don't forget to take supplies for a few days with you. And enough medication, vitamins, or other supplies if you can not purchase them in San Miguel de Allende (Mexico) locally.

Food: Don't take a lot of food with you. Only when there is something you really can not live without you, and it is not too heavy you could consider taking it with you.

Towels: Not all locations include bigger towels for the swimming pool or a visit to the beach. If you have to take them and don't have a lot of room you can buy some big thin towels.

Office supplies: Normally you will not find any office supplies in your house or apartment. If you think you will use them you could pack some supplies like a scissor, notepaper, envelopes, some pens, and more depending on your needs.

Limit yourself: Don't take too many shoes and jackets, you will not need them that often.

Best-fitting: Bring your favorite and best-fitting items that can multi-function

Washer: Do you have a washer and dryer onsite, you don't need to pack a lot of clothes
Clothing
Basics
Casual
Smart
Footwear
Toiletries
Beauty
Hygiene
Clothing
Basics
Casual
Outdoor
Footwear
Accessories
Toiletries
Medicine
Miscellaneous
Other
Toiletries
Beauty
Hygiene
Hair
Other
Medicine
Miscellaneous
Technology
Travel and Free time
Travel
Free time
Important
Documents
Money