Spend your fall, winter, or spring in Menorca, Spain: is Menorca a good snowbird location?
Menorca (Minorca) is one of Spain's Balearic islands in the Mediterranean Sea. Traditionally more low-key than its neighbors, Mallorca (Majorca) and Ibiza, it is known for its endless beaches, from miles-long sandy crescents to rocky, turquoise-watered bays called "calas." Pine trees fringe the coast. The capital, Mahon, is on a bluff overlooking a large harbor, with Georgian mansions and a church with 13th-century roots.
The island is known for its collection of megalithic stone monuments: navetes, taules, and talayots, which indicate very early prehistoric human activity. In October 1993, Minorca was designated by UNESCO as a biosphere reserve. In July 2005, the island's application to become the 25th member of the International Island Games Association was approved. It has proven to be an amazing snowbird location.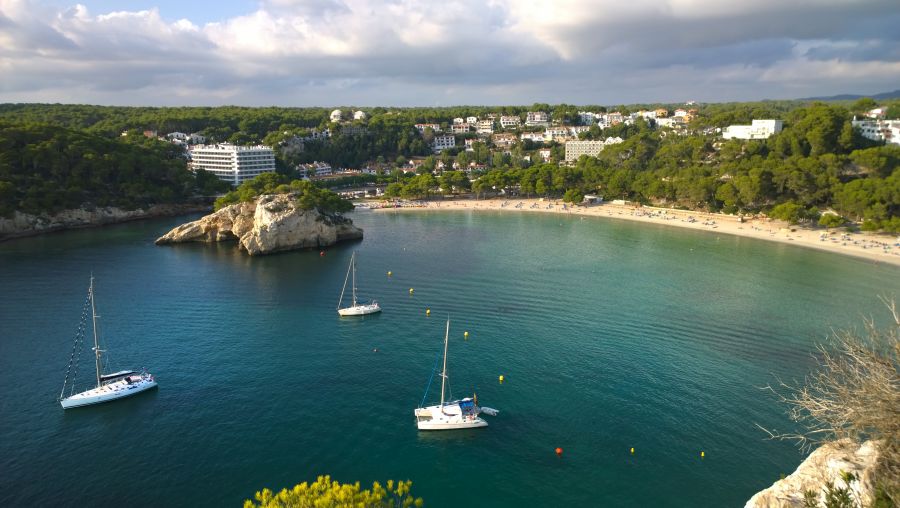 Why should people visit during the fall, winter, or spring?
During the winter months, the climate is quite mild. The sun often shines on the island but alternates with a few days of rain with a consequent drop in temperatures. Snowbirds will enjoy the sleepiness of low-season Menorca. They get to be charmed by this lovely, enigmatic and beguiling isle.
Climate
Menorca enjoys a classic Mediterranean climate, a mild all year climate. The winters are mild, although can get quite rainy, the scenery is spectacular during the rainy sessions. The average daily temperature ranges from 11°F - 12°F (-12°C - -11°C).

Safety
Menorca is pretty much a safe place. However, snowbirds should be aware, petty theft does still exist here, as it does nearly everywhere. Personal possessions should not be left unattended.
Communication in Menorca, Spain
The two official languages are Catalan and Spanish. Natives to the island speak the variety of Catalan called Menorquí, and Spanish as well. Other major languages like English, Italian, German, French, and Dutch can also be heard extensively due to mass tourism.
European residents can use their mobile phones without any problems (roam like home). For non-EU residents, it is advised to check the rates, and if needed buy a local sim card.
Snowbird locations in Menorca
Mahon: is Menorca's capital city and one of the best areas to stay. It is a small and atmospheric harbor town with tidy shuttered houses and charming cafes. It sits at the end of a long natural harbor (the largest in the Mediterranean) that once at.
The harbor town of Es Castell: this area continues the British feel of Mahon with its Georgian-inspired architecture. The Es Castells area is home to a host of military history sites. Eg. Military Museum, Fort Sant Felip, Mola Fortress, and Fort Marlborough. It makes a charming base for couples and there's a good range of relaxed restaurants and bars for the evenings.
Sant Lluis: this is the closest town for amenities (and further accommodation options), and it's only a 20-minute drive to Mahon.
Es Canutells: is a small village of whitewashed houses perched on cliffs surrounding two cove beaches. It's quiet, with one shop and a bar or two. The beaches boast of some dazzling turquoise waters but are quite short on sand space.
Things to see in Menorca, Spain
Menorca has notable places that are worthwhile visiting:
The Beaches: Menorca's beaches come in a full spectrum. There are tiny coves notched into the coastline everywhere. There is Son Bou beach and Cala Pregonda. Other beaches clustered along the southwestern coast are Cala Macarella, Son Saura, and Cala en Turqueta.
Megalithic sites: Megalithic sites like Taulas are T-shaped altars made up of two huge slabs of stone. The Navetas are burial chambers and Talayots are thought to be watchtowers. Other important sites include Talatí de Dalt, Trépuco, Torretrencada, Torralba d'en Salort, Torre d'en Gaumés, Naveta d'es Tudons and Rafal Rubí.
Nature/parks: The Albufera Natural Park des Grau, the salt flats of Addaia and Mongofre, and the point of Favàritx with its lunar landscape and rich slate, devoid of vegetation.
Golf: Snowbirds especially golf lovers will find golf clubs on the island.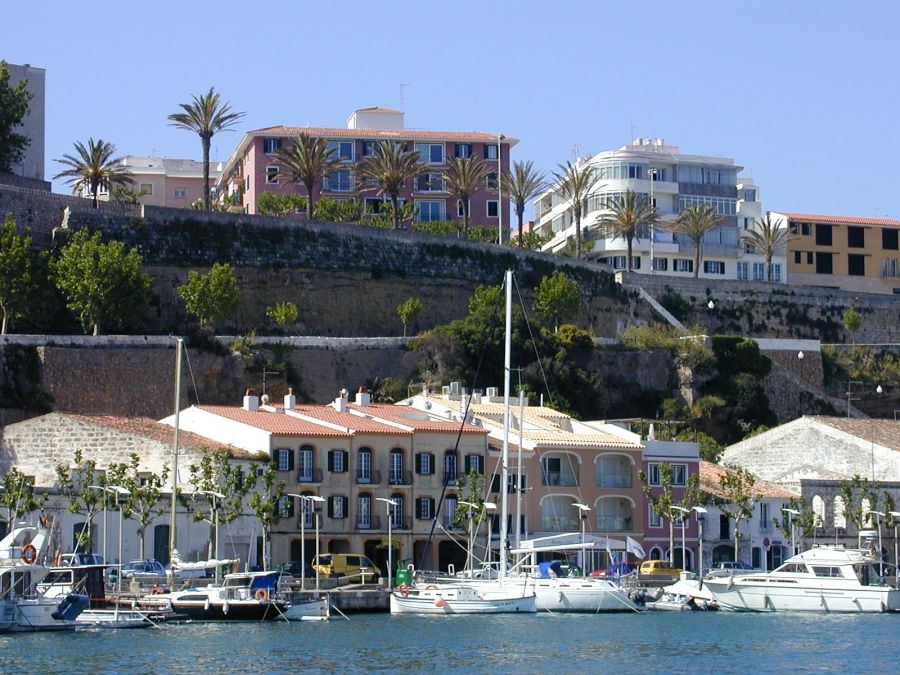 Activities in Menorca, Spain during winter
A trip to the megalithic sites like Talatí de Dalt, Trépuca
Cycling
Horse Riding
Simming
Sailing
Fishing
Walking along the coastal paths
Spend a morning strolling around the elegant towns of Ciutadella and Mahón at opposite ends of the island
Nice diner: Kick back at a harbourside table to devour a platter of shellfish.
Take a walk through the most famous and popular walking route which is the Camí de Cavalls which is a km (0 Miles)

track running along the perimeter of the island.

Visit the Xoriguer Gin Distillery: This is the only traditional distillery left, using copper stills that are more than 100 years old. Admission is free and it opens every day except Sundays.
Enjoy the nightlife of cool jazz music and cocktails at Cova D'en Xoroi with prices from around

€10 (approx. $10, £8, $14 CAD, $16 AUD)

and Akelarre with prices from around

€10 (approx. $10, £8, $14 CAD, $16 AUD)

including a drink. It opens daily from 6 pm-2 am.
Check out the elaborate nativity scenes which are on display in municipal buildings and churches all over the island. Admission is free and it takes place all through December.
Watch the Els Pastorets (The Shepherds) native plays from Mid-December to Christmas. They are performed in Ciutadella, Sant Lluís, and Mahón, among other places. Admission is free.
Shopping + Restaurants. Are they open in the fall, winter, or spring?
Many of Menorca's shops and restaurants close for the winter, but enough stay open to make for a perfectly wonderful low-key, low-season break. Handmade figures and decorations are sold at street stalls and these make good gifts. Snowbirds can choose from a variety of restaurants to enjoy the different meals offered on the island.
Some of the budget-friendly restaurants are Café Balear which allows reservations to only be taken for indoor tables. Prices start from €40 (approx. $41, £34, $57 CAD, $65 AUD) and cards are accepted. During winter, it opens on Monday. Another is the Cap Vermut and prices range from €10 (approx. $10, £8, $14 CAD, $16 AUD). No reservations needed and Cards are accepted.
Transport
Snowbirds will arrive at the Menorca airport first which is 2.8 Miles (4.5 km) south-west of Mahón.
Taxis are the main way to get around Menorca, there are several taxi companies and all areas can be reached on a metered fare. Two well-known companies are Taxis Mahon in the capital and Parada de Taxis in Ciutadella. These firms both serve the airport, which has an extra surcharge and an additional charge on top of that for luggage.
Car rental is recommended as there are many nooks and crannies to explore that can be a hassle to get to by bus. Avis, Budget, and Hertz are some of the available car rental firms and vehicles can be pre-booked online, as with local firms like Tui Cars, Beta car Menorca, and Centauro.
Trasmediterranea ferry services run frequently to Mahon from the Spanish mainland cities of Barcelona and Valencia, as well as from the Mallorca capital, Palma de Mallorca, and Alcudia on the north coast of Mallorca. In addition, there is also a ferry from Alcudia, Mallorca, to Ciutadella. Cruise ships dock at the ferry terminal in Mahon Harbor.
Bright red buses run between Mahon and Ciutadella often, and snowbirds can get to most towns and resorts by bus. Buses are single-decker, cheap, and depart hourly on the main routes from Plaza in Ciutadella and central Mahon. Snowbirds can pay the driver directly or use a prepaid travel card.
Health
Menorca has an integrated healthcare network, which guarantees medical and pharmaceutical care 365 days of the year. Modern healthcare installations at both a private and public level are distributed across the island and have the support of a network of more than 40 chemists to provide the appropriate medical coverage for the whole population. The benchmark hospital in Menorca is the Mateu Orfila, in Mahón. It has 142 beds, seven of them in the Intensive Care Unit, as well as five incubators, five operating theatres, and 35 doctors' consultancies with different specialties, as well as a daytime hospital and emergency and rehabilitation services. Over 700 professionals provide their services in this public hospital, opened in 2008.
Alongside this, in Menorca, there are several Primary Healthcare Centres, distributed among its eight district councils that cover primary healthcare and non-specialized care. Snowbirds should note that any citizen of the European Union can receive healthcare with the accreditation of their corresponding public health card. As regards private health, Menorca also provides general medical and specialized services focused mainly in Mahón and Ciudadela.
Finally, the 112 emergency phone number coordinates all calls to ambulances, the fire service, and security forces to enable an immediate and effective response to any emergency, whatever it may be. The call is free and snowbirds will be attended to quickly in 4 languages (Spanish, Catalan, English, and German). Snowbirds can find doctors and dentists that speak English as well as other languages.
Accommodation
Many of Menorca's hotels are closed for the winter, but enough stay open to make for a perfectly wonderful low-key, low-season break. Some of these include Menorca Experimental, Cugó Gran Menorca, and Biniarroca Rural Hotel. Accommodation prices range from €68 (approx. $71, £58, $97 CAD, $112 AUD) per night.
Winter Camping
Unfortunately for Camping lovers, the accommodation offer in campsites is very limited in Menorca. There are only two places prepared for camping in Menorca:
Camping Son Bou in the north
Atalaia Camping in the south.
Motorhomes/RV/Campers parks in Mallorca
Camping Son Bou in the north.
Atalaia Camping in the south.
Packing List
Weather: The fall, winter, and spring weather in Spain (Menorca) will normally be warm during the day and can be cold during the night. Of course in the fall and spring it will be warmer than in the winter. You have to pack accordingly.

Warm clothing: Even when you go to a warm location like Spain (Menorca) you should not forget to take some things with you for your trip back home. When you return you are adapted to the warmer weather and need something to protect you from your hometown temperatures.

Consider the Weather: Always look at the type of weather in Spain (Menorca). Things like humidity, wind, and rain do not show up in the temperature graph but can have a great impact on your wardrobe. There are several sites with long term forecasts and climate information. Is there often a short afternoon downpour like in the tropics, you maybe need to take a strong umbrella and shoos that can cope with the rain. If there is often a lot of wind you might need a more wind-resistant coat.

Check the local Shopping options: Try to find information about the local shopping options near your location in Spain (Menorca). Are there stores where you can buy all your daily supplies, or are some things difficult to get? For some more remote locations, the options can be limited. If a certain item is really important for you might need to take it with you.

Look at the Local Culture: The local culture in Spain (Menorca) can impact your wardrobe. If most activities are in more upscale locations you might take some more appropriate clothes with you. Or travelling if you travel to certain countries women need to cover themselves in certain areas.

Amenities: Know what's Included in your house or apartment. Is there a coffee maker, a toaster, a washer and dryer, an iron, what is in the kitchen, what kind of towels are there? Things that are there means you do not have to take them with you. A furnished apartment or house can mean something from a few pieces of furniture to a well-stocked place with all the things you have at home. But most of the time your rental will not be stocked.

Mix and match: Wear layers so you can use your wardrobe more efficiently. And do not worry about wearing something more often, probably only you will notice this.

Important for you: If there is something that is really important for you that you want to have present in your house or apartment, take it with you. This can be something like a special knife for the kitchen, or a small mirror that you use in the morning. You can also purchase it locally if it is not that expensive.

Pet supplies: If you take your pet with you don't forget to take supplies for a few days with you. And enough medication, vitamins, or other supplies if you can not purchase them in Spain (Menorca) locally.

Food: Don't take a lot of food with you. Only when there is something you really can not live without you, and it is not too heavy you could consider taking it with you.

Towels: Not all locations include bigger towels for the swimming pool or a visit to the beach. If you have to take them and don't have a lot of room you can buy some big thin towels.

Office supplies: Normally you will not find any office supplies in your house or apartment. If you think you will use them you could pack some supplies like a scissor, notepaper, envelopes, some pens, and more depending on your needs.

Limit yourself: Don't take too many shoes and jackets, you will not need them that often.

Best-fitting: Bring your favorite and best-fitting items that can multi-function

Washer: Do you have a washer and dryer onsite, you don't need to pack a lot of clothes
Clothing
Basics
Casual
Smart
Footwear
Toiletries
Beauty
Hygiene
Clothing
Basics
Casual
Outdoor
Footwear
Accessories
Toiletries
Medicine
Miscellaneous
Other
Toiletries
Beauty
Hygiene
Hair
Other
Medicine
Miscellaneous
Technology
Travel and Free time
Travel
Free time
Important
Documents
Money
Other locations close to this location:
Travelers' Map is loading...
If you see this after your page is loaded completely, leafletJS files are missing.
If you have any additions, or comments on the content on this page, please use our contact form to let us know.
Detailed weather during the year for Menorca Spain
What to do during the year in Menorca Spain