Spend your fall, winter, or spring in Puerto del Carmen, Lanzarote, Spain: is Puerto del Carmen a good snowbird location?
Puerto del Carmen is the main tourist town on the island of Lanzarote, Canary Islands, Spain and it is on the southeast side of Lanzarote in the Canary Islands. Puerto del Carmen was originally a small fishing village, and even though it has become a very lively holiday hub, the old harbor is still a delightful place to visit, boasting some excellent seafood restaurants. The waterside promenade doubles up as the main strip – it's packed with bars, clubs, and restaurants, and it also looks out over a trio of beaches.
The island has avoided heavy development and many of its top attractions were developed with the help of the artist César Manrique, who gave them a timeless, space-age style.
Although the resort has grown over the last twenty years, it now stretches along the whole 6 km (4 Miles) of golden sandy beaches. The town has been saved from the high-rise buildings that blight so many other destinations due to the strict planning restrictions.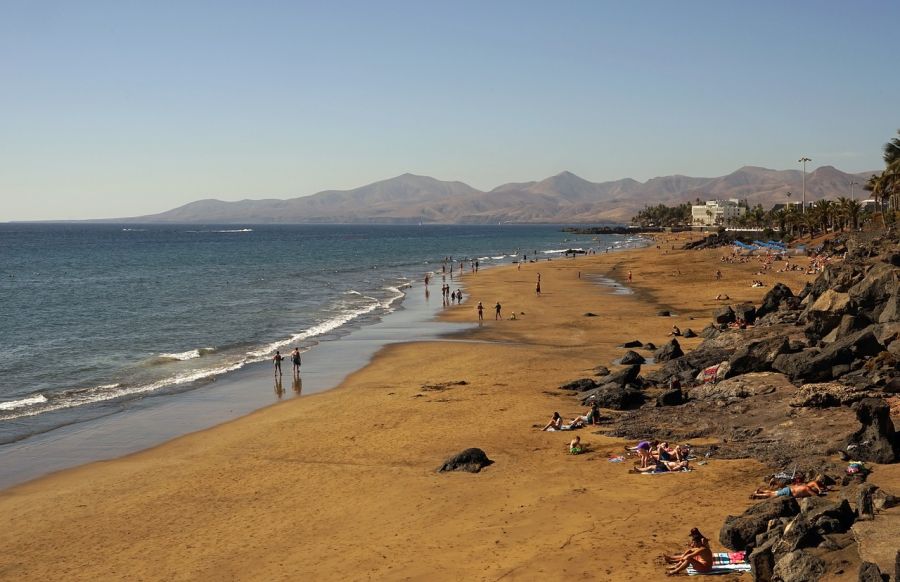 Why should people visit during the fall, winter, or spring?
The weather in Puerto del Carmen in the wintertime is generally quite warm and sunny over the coastal areas. There's a choice of beaches on the oceanfront, colorful nightlife, ideal scuba diving conditions, and a ton of things for snowbirds to do.
Climate
Even in winter, this pleasant Canary Island resort on Lanzarote is very mild and regularly has warm sunny days thanks to its Atlantic climate. The Puerto Del Carmen weather in December does see more rain than any other month, but rainfall is still quite low and showers are short and infrequent. The average weather temperature ranges from 15°C - 22°C (59°F - 72°F).

Safety
Puerto del Carmen is a very safe holiday island with very low crime rates even in Arrecife, the capital. However, snowbirds should be aware, petty theft does still exist here, as it does nearly everywhere. Personal possessions should not be left unattended. In the unlikely event of an emergency, police can be contacted on 112. Snowbirds can also speak to their hotel staff for more assistance. The hotel safety deposit boxes are available to snowbirds to store valuable belongings and personal documents.
Communication, Internet, and cellphone in Puerto del Carmen, Lanzarote, Spain
As in the rest of Spain, in the Canary Islands, the official language is Spanish. However, there are many people who speak English, the second most spoken language, and many people also understand German. In almost all public establishments, such as stores, restaurants, hotels, etc., there is at least one person who speaks English or German.
From different parts of the beautiful island, snowbirds will be able to keep in touch with people. Snowbirds need to look out for the public telephone booths that take coins, credit cards, and phone cards (tarjetas telefónicas). When making an international call from Lanzarote, dial 00 first, then your country code (the United Kingdom 44, Republic of Ireland 353, US 1, Canada 1, Australia 61, etc), followed by the area code and then the number you want to reach.
The country code for Lanzarote is 34, followed by a nine-digit number starting with 928. Telephone calls can also be made from the comfort of one's hotel room. Calls are cheaper on Sundays and after 22.00 hrs.
As Lanzarote is part of Spain, European residents can use their mobile phones without any problems (roam like home). For non-EU residents, it is advised to check the rates, and if needed buy a local sim card.
Post offices are open from 09.00 to 14.00 hrs and close an hour earlier on Saturdays, and there are no phones there. However, snowbirds can buy stamps for their postcards. The postal service is quite laid-back so for important or urgent mail, snowbirds should use an international courier company.
There are a number of Internet cafés on the island and access is very cheap. Wireless access is also available in many bars, cafés and of course, is accessible in hotels
Things to see in Puerto del Carmen, Lanzarote, Spain
Some of the top attractions to visit in Puerto Del Carmen are:
The Beaches: Puerto del Carmen comes with 3 sandy beaches. The Playa Grande, Playa Chica and Playa Pocillos.
Landscapes/Nature & Parks: Rancho Texas Lanzarote Park, Timanfaya National Park, and the Cueva de los Verdes lava tube.
Golf: Lanzarote Golf Resort – Puerto del Carmen
Books and Stationery: book lover snowbirds can head to the Bookshop located at either end of Puerto del Carmen to satisfy their reading needs. Photocopying services available at both shops.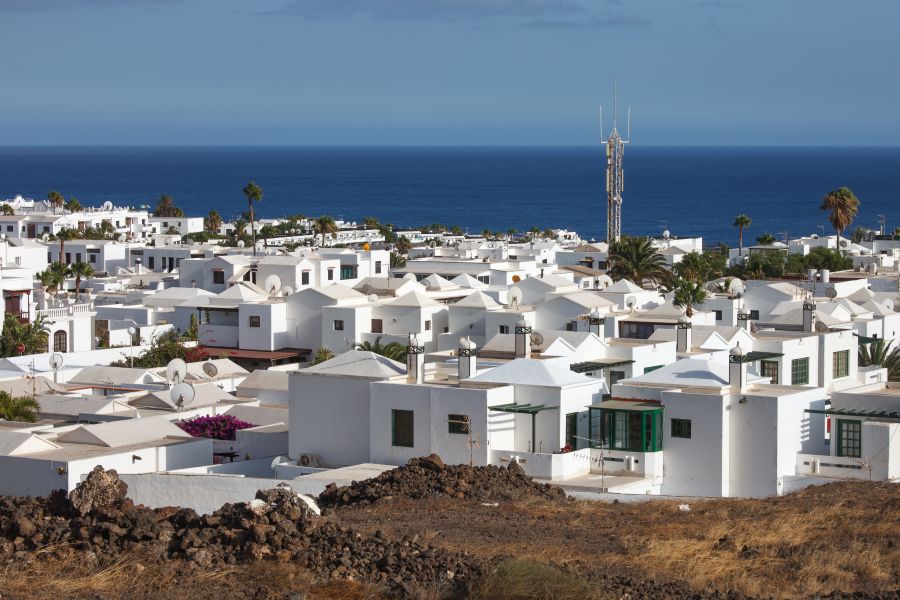 Activities in Puerto del Carmen, Lanzarote, Spain during winter
Full-Day La Graciosa Catamaran Cruise from Lanzarote
Volcano and Wine Region Tour from Fuerteventura
Luxury Catamaran Cruise Day Trip to La Graciosa without pick up service
Take a walk from Puerto del Carmen to Puerto Calero
Trips to the beautiful beaches
A trip to Rancho Texas Lanzarote Park and Timanfaya National Park.
Golf playing at Lanzarote Golf Resort.
Nightlife
Walking in the north of Lanzarote
Three Wise Men Festival which holds during the month of January. The best place to rejoice is in the capital where camel drawn processions and parades are held.
Carnaval is held in mid-February. Carnaval is the brightest and best festival on the Lanzarote. Puerto del Carmen is the center of the celebration with brilliant floats, parades, performances, dances, and more.
Shopping + Restaurants. Are they open in the fall, winter, or spring?
Puerto Del Carmen hosts a variety of shops that sell mainly tourist-oriented products and are open during the winter. The new town hosts bars, restaurants, and tourist shops. The old town has many restaurants with outdoor terraces that overlook the marina below and the distant volcanic peaks. The Biosfera Plaza is a newly constructed shopping plaza, opened in 2002, which includes many international brands and has entertainment facilities.
From souvenir shops to designer boutiques, Lanzarote offers a wealth of shopping opportunities for even the most ardent shopaholic. Shops that are located in the town centers include Arrecife and Tia. Arrecife, the capital of Lanzarote, offers a wide variety of shopping opportunities. With many of the existing shops being updated and national brand names moving in, it now reflects the more cosmopolitan makeup of the island. Tias offers a nice selection of smaller boutique-style shops, however, the more traditional centers of Yaiza and San Bartolomé tend to cater mainly to the local market and it's everyday needs.
There are many places for snowbirds to stock up for food. Most of the resort towns have a number of small supermarkets which have a reasonable selection, although the prices are not always the cheapest. For better value and wider choice, snowbirds could pay a visit to the Vivo Supermarket, which is opposite the airport in Playa Honda or Hiperdino in the Deiland Centre. Also at the Congelados Roper at Playa Honda, which not only offers frozen food, but also has fresh fish, delicatessen, and butcher counters. There is also an excellent fruit and veg section.
For the more local markets, the Teguise Market opens every Sunday between 09.00-14.00. It is the biggest and best-known street market; busy with hundreds of stalls and thousands of people. In total contrast to Teguise, Haria market stages a laid back, small-scale market every Saturday morning, with twenty to thirty stalls set up in the shade of the towns. It operates every Saturday between 09.00-14.00.
Transport
At César Manrique-Lanzarote Airport (ACE), Airport Transfer service provides snowbirds with a stress-free traveling alternative without the need to negotiate taxi fares or wait for a bus. Using Airport Transfers means that snowbirds can book online from anywhere in the world and one of the qualified drivers, who will be carrying a card with the snowbird's name printed on it will meet them in the arrivals lounge. Snowbirds can choose from a Standard/Private (Passengers 3 max), Business Car (Passengers 4 max), or a Minivan/Business Minivan (Passengers 8/12/16/28/54 max) with no hidden costs or extra fees, as well as free cancellation up to 24 hours before pick-up. It is advisable to book in advance.
Spotting taxis will not be difficult, as they are all over the place. Snowbirds should look out for white cars with a number and a green light on the roof that means it is available. Flag it down in the street or pick one up from a designated area. The drivers use a meter to calculate the cost of the fare, although it might be a good idea to get a rough idea of the price before setting off. There will also be an additional cost for luggage, on bank holidays, and after midnight. The taxis are cheap and convenient to get around.
The Public bus service in Puerto del Carmen is known locally as 'guaguas' and they are the most convenient and economical means of transportation. The bus passes can be purchased at the Arrecife bus station 'Estación de Guaguas' or directly from the driver "Intercity" buses.
Car Hires are cheap and arguably the most convenient form of transport for snowbirds seeking to discover the island at their own pace. There are many different companies to choose from – all in truth offering fairly similar levels of pricing and service.
Health
High-quality medical care, both private and national, is offered by a wide selection of clinics, medical centers, and hospitals throughout the Canary Islands. These include the Hospital General de Lanzarote, located in the capital city, Arrecife, as well as a private hospital in Lanzarote's popular resort of Puerto del Carmen on the south-east coast, called Hospiten Lanzarote.
In addition, all of the major holiday destinations have either government (Centro de Salud) or privately run medical centers. Of course, in private hospitals, snowbirds have to pay for treatment.
The Canaries are not known for any particular diseases but snowbirds should please bear in mind the climate there is very warm so they need to drink plenty of water to avoid becoming dehydrated and always make sure they are well protected from the sun.
State-run hospitals provide an interpretation service and there are many English-speaking doctors and dentists working in private clinics.
The local chemists (Farmacias), recognizable by a green cross sign, will have the most well-known brands of analgesics and popular remedies. It is always a good idea to bring a sufficient supply of any special medication and painkillers with you. Minor medical problems can often be solved at the chemist and there is always one open after hours in each area.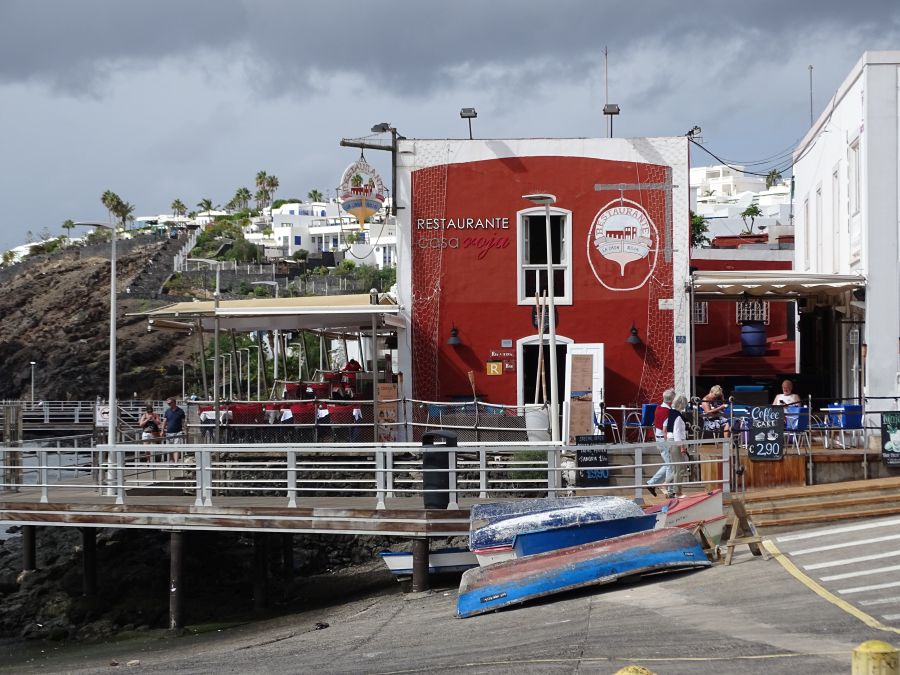 Accommodation
There are quite a number of resorts, hotels, short-let apartments available for rent in Puerto del Carmen. Apartamentos Cabrera, Harbour Lights, and Hotel Lava Beach are popular places snowbirds can stay.
Some budget-friendly and moderately priced hotels in Puerto del Carmen include Club del Carmen By Diamond Resorts is a 3-minute walk from Los Pocillos Beach and has free Wi-Fi, 24-hr front desk, outdoor pool, and self-service laundry facilities. Hyde Park Lane near Rancho Texas Park boasts 4 outdoor pools, a tennis court, free Wi-Fi, and an on-site convenience store.
The average price of a cheap hotel in Puerto del Carmen €62 (approx. $64, £53, $89 CAD, $103 AUD) based on Booking.com prices.
Winter Camping
There are two official sites for camping in Lanzarote and La Graciosa.
Papayagayo Beach, Playa Blanca: This is the island's largest site, and is also right on the beach. It is well equipped and has a good toilet block with private showers. Accommodation prices range from

€7 (approx. $7, £6, $10 CAD, $11 AUD)

per night. This includes electricity and the site has an access ramp to the beach for wheelchairs, a shaded area, ten BBQs, updated toilets, 24-hour electricity, fire system, and sewage treatment plant. Snowbirds can make reservations directly at the campsite.
La Graciosa: Camping on La Graciosa is fabulous. The site is on the beach, and there are reasonable facilities. The campsite has to be reserved in advance. It's very basic but free and situated right on Playa del Salado which is a bit slippery and shallow at low tide to get into the water but great for snorkeling.
Unofficial sites: Despite the "No camping" signs, snowbirds will find people on the beaches at Arrieta and Orzola for a spot of unofficial camping, and nobody seems to mind.
Packing List
Weather: The fall, winter, and spring weather in Puerto del Carmen (Lanzarote) will normally be warm during the day, but can be chilly during the night. Of course in the fall and spring it will be warmer than in the winter. You have to pack accordingly.

Warm clothing: Even when you go to a warm location like Puerto del Carmen (Lanzarote) you should not forget to take some things with you for your trip back home. When you return you are adapted to the warmer weather and need something to protect you from your hometown temperatures.

Consider the Weather: Always look at the type of weather in Puerto del Carmen (Lanzarote). Things like humidity, wind, and rain do not show up in the temperature graph but can have a great impact on your wardrobe. There are several sites with long term forecasts and climate information. Is there often a short afternoon downpour like in the tropics, you maybe need to take a strong umbrella and shoos that can cope with the rain. If there is often a lot of wind you might need a more wind-resistant coat.

Check the local Shopping options: Try to find information about the local shopping options near your location in Puerto del Carmen (Lanzarote). Are there stores where you can buy all your daily supplies, or are some things difficult to get? For some more remote locations, the options can be limited. If a certain item is really important for you might need to take it with you.

Look at the Local Culture: The local culture in Puerto del Carmen (Lanzarote) can impact your wardrobe. If most activities are in more upscale locations you might take some more appropriate clothes with you. Or travelling if you travel to certain countries women need to cover themselves in certain areas.

Amenities: Know what's Included in your house or apartment. Is there a coffee maker, a toaster, a washer and dryer, an iron, what is in the kitchen, what kind of towels are there? Things that are there means you do not have to take them with you. A furnished apartment or house can mean something from a few pieces of furniture to a well-stocked place with all the things you have at home. But most of the time your rental will not be stocked.

Mix and match: Wear layers so you can use your wardrobe more efficiently. And do not worry about wearing something more often, probably only you will notice this.

Important for you: If there is something that is really important for you that you want to have present in your house or apartment, take it with you. This can be something like a special knife for the kitchen, or a small mirror that you use in the morning. You can also purchase it locally if it is not that expensive.

Pet supplies: If you take your pet with you don't forget to take supplies for a few days with you. And enough medication, vitamins, or other supplies if you can not purchase them in Puerto del Carmen (Lanzarote) locally.

Food: Don't take a lot of food with you. Only when there is something you really can not live without you, and it is not too heavy you could consider taking it with you.

Towels: Not all locations include bigger towels for the swimming pool or a visit to the beach. If you have to take them and don't have a lot of room you can buy some big thin towels.

Office supplies: Normally you will not find any office supplies in your house or apartment. If you think you will use them you could pack some supplies like a scissor, notepaper, envelopes, some pens, and more depending on your needs.

Limit yourself: Don't take too many shoes and jackets, you will not need them that often.

Best-fitting: Bring your favorite and best-fitting items that can multi-function

Washer: Do you have a washer and dryer onsite, you don't need to pack a lot of clothes
Clothing
Basics
Casual
Smart
Footwear
Toiletries
Beauty
Hygiene
Clothing
Basics
Casual
Outdoor
Footwear
Accessories
Toiletries
Medicine
Miscellaneous
Other
Toiletries
Beauty
Hygiene
Hair
Other
Medicine
Miscellaneous
Technology
Travel and Free time
Travel
Free time
Important
Documents
Money
Other locations close to this location:
Travelers' Map is loading...
If you see this after your page is loaded completely, leafletJS files are missing.
If you have any additions, or comments on the content on this page, please use our contact form to let us know.
Detailed weather during the year for Puerto del Carmen Lanzarote Spain
What to do during the year in Puerto del Carmen Lanzarote Spain