Mérida is the capital and largest city in Yucatan state in Mexico as well as the largest city of the Yucatán Peninsula. The city of Merida itself was founded by Francisco de Montejo y León in 1542 on top of an ancient Maya city called T'ho. Mérida is sometimes called the "White City," (La Ciudad Blanca), because of its buildings made of white stone and the city's cleanliness.
In recent years, important science competitions and World events have been held in Mérida – FITA Archery World Cup Finals, the International Cosmic Ray Conference, a Physics Olympiad, etc. Mérida is in a prime location that allows for economic growth and has been a popular location for investment. This, in turn, has allowed the Yucatan economy to grow at three times the rate of the national average.
Mérida's culture is a distinctive blend of traditions inherited from the ancient Maya civilization dating back to 2600 B.C. and customs brought by Spanish conquistadors, who began colonizing the territory in the 16th century.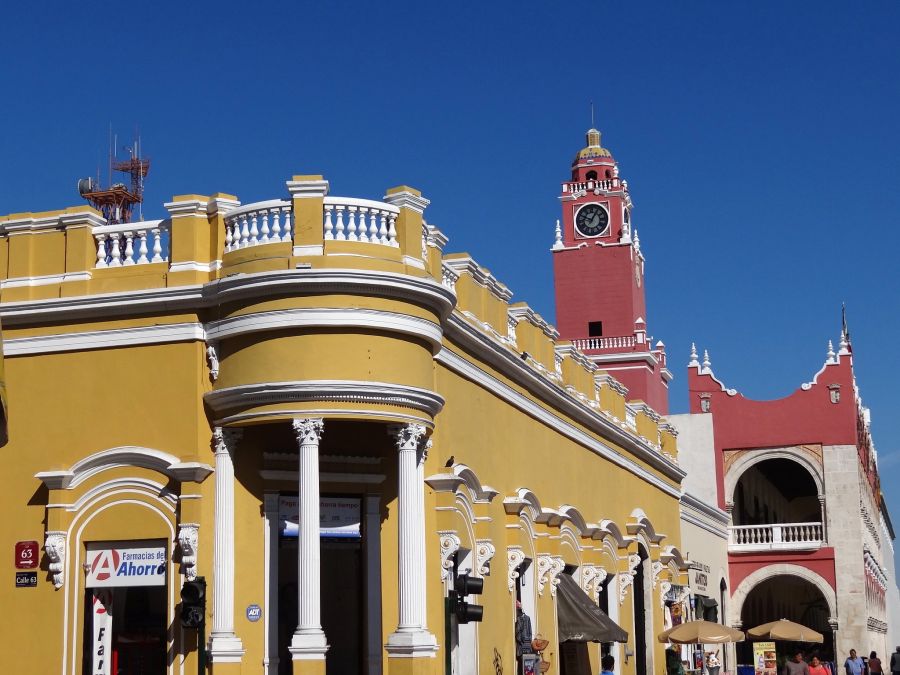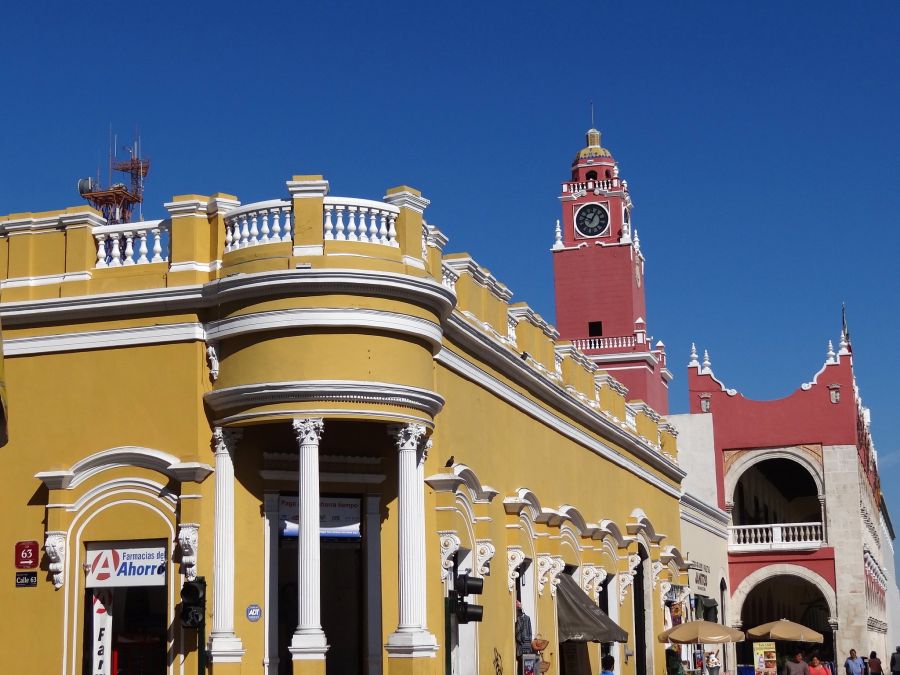 Why should people visit during the winter?
Unlike other cities, Mérida has most of the time, tropical weather, and snowbirds, the wintertime is ideal to visit, go to the beach, go fishing, swim in the cenotes or enjoy a good lounging by the pool in their own house. In addition, it is less prone to suffer from natural disasters such as earthquakes, which guarantees the structural quality of all homes. Snowbirds can find culture oozing all throughout Mérida.
Climate
Mérida features a tropical wet and dry climate. Mérida's climate is hot and its humidity is moderate to high, depending on the time of year. The average annual temperature typically varies from 65°F - 97°F (18°C - 36°C). It is most often a few degrees hotter in Mérida than in coastal areas due to its inland location and low elevation. The rainy season runs from June through October.

Safety
Mérida has remained for years as one of the safest cities in the country, with low crime and high arrest rates, the city is equipped with surveillance cameras, and well-trained police officers constantly patrolling the streets and keeping the city safe.
However, snowbirds should be aware, petty theft does still exist here, as it does nearly everywhere. Personal possessions should not be left unattended.
Communication, internet, and cellphone in Mérida, Mexico
Apart from the Mayan and Spanish language, which is the mother-tongue of many Yucatecans, English is also widely spoken.
Free wifi is a feature that is found in many of Mérida's relaxing squares throughout town.
As roaming cost can be really high it is advised to buy a local sim card. Once winter visitors have a local SIM card, it is quite cheap to phone or text (data is also pretty cheap). Snowbirds who are staying for a relatively short period of time can just get an Amigo SIM and pay as they go.
The Amigo Sin Frontera Sim plan on the other hand is geared toward snowbirds that:
use their Mexico phone while in Mexico to also call the U.S. and Canada,
and/or travel with their Mexico phone and use it while in the U.S. and Canada.
There are also internet cafes around town that offer services such as sending a fax and receiving one, making phone calls on a landline, making copies and printing out things.
Things to see in Mérida, Mexico
Mérida has notable places that are worthwhile visiting:
Plazas: The Plaza Grande is the perfect place, Parque Santa Lucia, Parque Santa Ana, Parque Santiago.
Art/Museums: A host of museums provide a window into Merida's storied past and spotlight the rich artistic epicenter it is today. The Gran Museo del Mundo Maya de Merida is a must-visit. The Museum of Anthropology and History, Popular Art Museum as well.
Archeological sites: Chichén Itzá, The Towering Pyramids of the Magician.
Nightlife: snowbirds can enjoy the nightlife in Merida alongside locals, dancing, and listening to beautiful Latin tunes. Popular spots are La Negrita Cantina, La Fundacion Mezcaleria, Hermana Republica Centro.
Architecture: snowbirds should experience the awe of the Meridian architecture like the Catedral de San Ildefonso built in the late 1500s and the Palacio de Gobierno built in the late 1800s.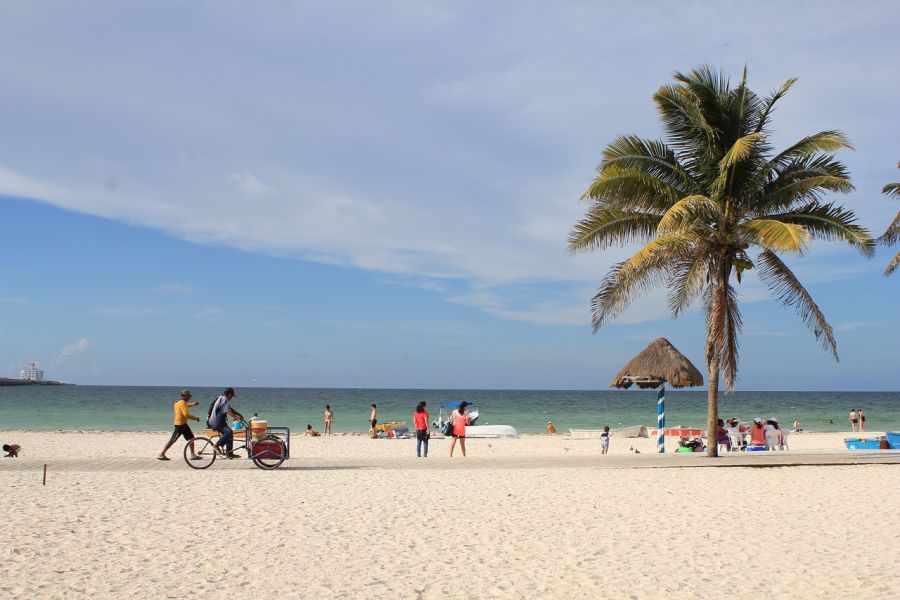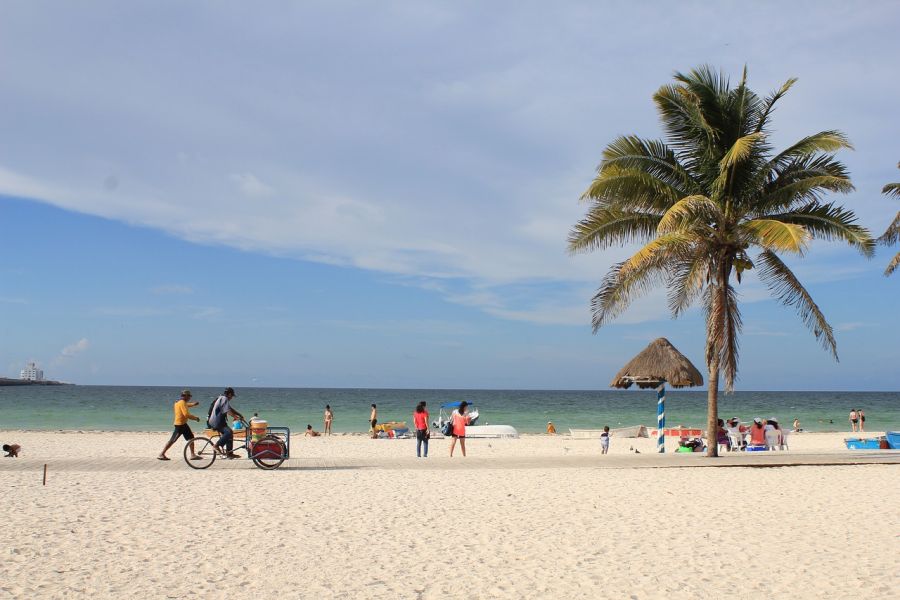 Activities in Mérida, Mexico in the winter
Merida market and Food tour: Snowbirds who want to try their hands in the kitchen, will find a number of local chefs offering cooking classes, or they can head to the city's fine-dining temples like Nectar, Apoala, and K'u'uk. There's also Mercado 60, a food hall with 18 restaurants, and the newly-opened Casa Dominga, for a more laid-back gourmet adventure. Average price $69 (approx. €58, £51, $90 CAD, $94 AUD).
Cenote Swimming
Day trips: a trip to The ruins of Uxmal and Chichen Itza.
Experience Pok Ta Pok: snowbirds can watch the ancient Mayan ball game called Pok. The tradition of this ancient sport is kept alive each Saturday night at 8:30 pm on Calle 60 in front of the Cathedral and Plaza Grand. Pok Ta Pok event in Merida is free and it is strongly advisable snowbirds arrive at least 15-20 minutes early to get a good spot in.
Take the Free Walking Tour: Every morning at 9:30 am, there is a free walking tour of Merida that departs from the centrally located Plaza Grande. A friendly guide offers a great lesson in the Merida's history while also providing you bearings to know your way around town. This free walking tour of Merida is put on by Merida's Tourism Office, for which they ask participants to register there.
Explore Merida by Horse & Carriage: Snowbirds can skip Merida's double-decker hop-on-hop-off tour bus and instead see Merida by horse & carriage. A friendly guide will lead them through the city center. Price ranges between exchange value="200″ value_to="300″ from="USD"] per night.
Merida's main market is something snowbirds should experience. At the Lucas de Galvez market, snowbirds can find everything from fresh vegetables, to homemade crafts, local clothing, and lots more in between.
Have a Night at the Theatre in Merida. E.g. the Teatro Jose Peon Contreras and the Peon Theatre. They are in itself stunning, which provides an air of elegance,
The Mérida fest: takes place every January. Snowbirds enjoy an awesome fireworks display to ring in Merida Fest.
Carnaval of Merida: usually around February/March. Events are held throughout the city, with several big parades now held at the X'matkuil Fairgrounds.
Festival of life and death: takes place usually between October/November. This intriguing festival is to celebrate the time-honored tradition; Day of the Dead for people of Mexican heritage. As a spectator, you get to see vibrant cultural plays and dances.
Shopping + Restaurants. Are they open in the winter?
Since it's a busy period, most restaurants and shops are open.
Yucatán food is its own unique style and is very different from what most people consider "Mexican" food. It includes influences from the local Mayan cuisine, as well as the Caribbean, Mexican, European, and Middle Eastern foods. Tropical fruit, such as coconut, pineapple, plum, tamarind, and mamey is often used in Yucatán cuisine.
One of Mérida's biggest draws is its Local markets, like the bustling Mercado Lucas De Galves and Mercado Santiago, which are bursting with exotic fruits and vegetables. The market operates between 6.00 am- 5.00 pm. The best places for shopping in Merida include Nahualli Casa de Los Artistas, Mercado de Santiago, Lucas de Galvez market, Plaza Altabrisa, La Isla Merida Malltertainment.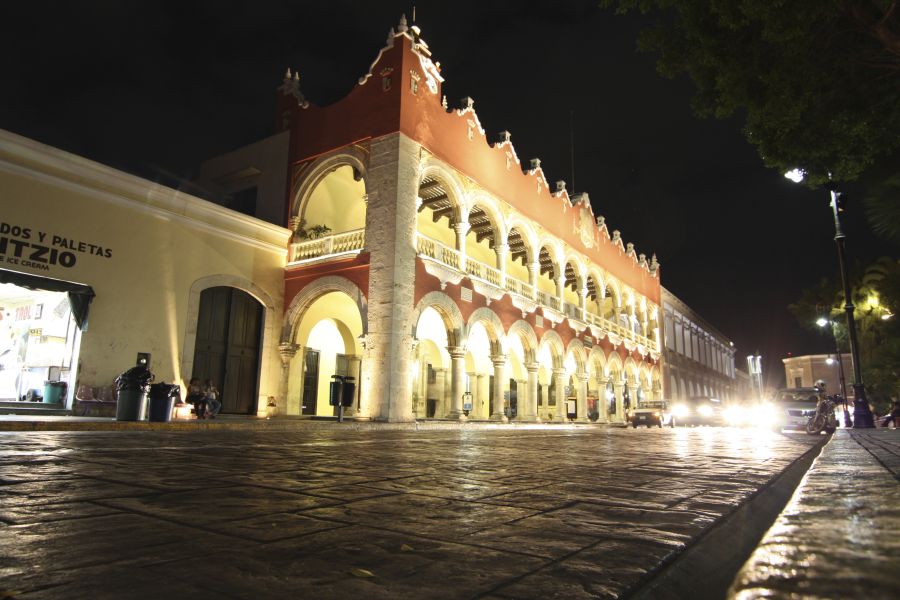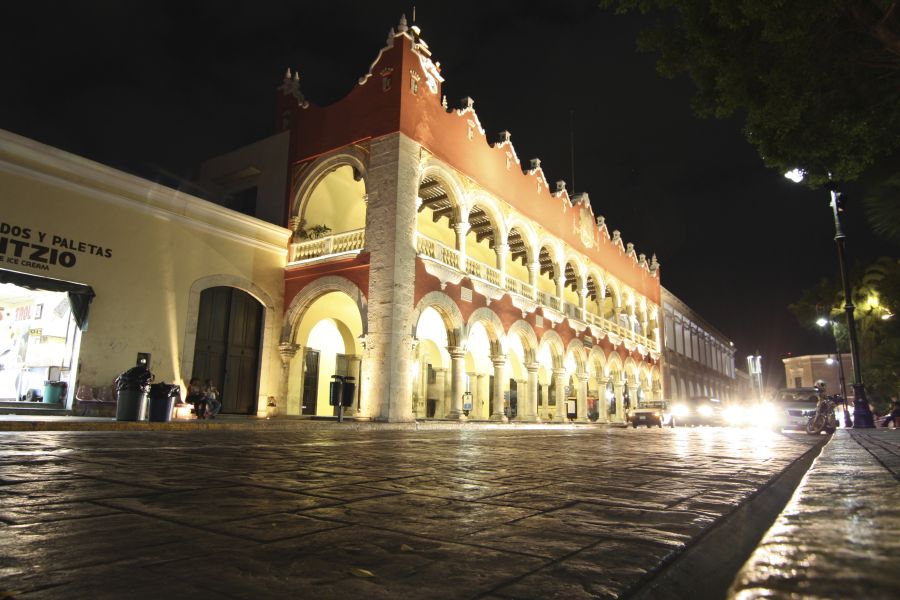 Transport
Mérida is serviced by Manuel Crescencio Rejón International Airport with daily non-stop services to major cities in Mexico including Mexico City, Monterrey, Villahermosa, Cancún, Guadalajara, Tuxtla Gutierrez, and Toluca. The airport has international flights to Miami, Houston, La Havana and Toronto.
Walking is the best way to enjoy central Merida, and the city has an easy-to-navigate grid pattern, which snowbirds can easily become accustomed to.
Bus City service is mostly provided by four local transportation companies: Unión de Camioneros de Yucatán (UCY), Alianza de Camioneros de Yucatán (ACY), Rápidos de Mérida, and Minis 2000.
Taxis can be either found at one of many predefined places around the city (Taxi de Sitio), waved off along the way, or called in by Radio. Another type of Taxi service is called "Colectivo". Colectivo taxis work like small buses on a predefined route and for a small fare. Usually accommodating 8 to 10 people. Uber also offers services in Mérida.
Health
Mérida has many regional hospitals and medical centers. All of them offer full services for the city and in the case of the Regional Hospitals for the whole Yucatán peninsula and neighboring states. The city has one of the most prestigious medical faculties in Mexico (UADY). Proximity to American cities like Houston allows local Doctors to cross-train and practice in both countries making Mérida is one of the best cities in Mexico in terms of health services availability.
Some public hospitals are Hospital Regional del ISSSTE, Hospital Ignacio García Téllez Mexican Social Security Institute (IMSS) and Hospital Benito Juárez IMSS while some of the private hospitals include Clínica de Mérida, Star Médica and Centro Médico de las Américas (CMA) amongst others.
You can find doctors and dentists that speak English as well as other languages.
Accommodation
Snowbirds trying to determine where to stay in Merida, are in luck because there seems to be an abundance of great Merida hotels at bargain prices. Snowbirds are advised to book early though and in advance. There are two main districts in Merida where most snowbirds stay:
The Centro around Plaza Grande, or
Plaza Fiesta Americana near the intersection of Colon and Paseo Montejo.
For solo snowbirds in Merida, hostels are a great choice. Hostel beds in shared dorms start around $10 (approx. €8, £7, $13 CAD, $13 AUD) per night in Merida.
Snowbirds traveling as a couple or a group can find a variety of very reasonably priced hotels instead. Accommodation prices start from $30 (approx. €25, £22, $39 CAD, $41 AUD).
Motorhomes/RV/Campers parks in Mérida
JOSH BED AND CAMPING- Located in Mérida, within 7 km (4 Miles) of Merida Cathedral and 8 km (5 Miles) of Main Square. Average price per night is $30 (approx. €25, £22, $39 CAD, $41 AUD).
Earth Connection Center in Tzacata provides accommodation, water sports facilities, free bikes, an outdoor swimming pool, and barbecue facilities. The price for camping is $33 (approx. €27, £24, $43 CAD, $45 AUD) per person.
The Rainbow Maya RV Park has been there for many years. However, its poor condition causes the park to sit empty most of the time. It is roomy, but not well-maintained and is surrounded by new commercial development. It cost around $17 (approx. €14, £12, $22 CAD, $23 AUD) per night.
Packing List
Weather: The winter weather in Mérida (Mexico) will normally be warm during the day and warm during the night. You have to pack accordingly.

Warm clothing: Even when you go to a warm location like Mérida (Mexico) you should not forget to take some things with you for your trip back home. When you return you are adapted to the warmer weather and need something to protect you from your hometown temperatures.

Consider the Weather: Always look at the type of weather in Mérida (Mexico). Things like humidity, wind, and rain do not show up in the temperature graph but can have a great impact on your wardrobe. There are several sites with long term forecasts and climate information. Is there often a short afternoon downpour like in the tropics, you maybe need to take a strong umbrella and shoos that can cope with the rain. If there is often a lot of wind you might need a more wind-resistant coat.

Check the local Shopping options: Try to find information about the local shopping options near your location in Mérida (Mexico). Are there stores where you can buy all your daily supplies, or are some things difficult to get? For some more remote locations, the options can be limited. If a certain item is really important for you might need to take it with you.

Look at the Local Culture: The local culture in Mérida (Mexico) can impact your wardrobe. If most activities are in more upscale locations you might take some more appropriate clothes with you. Or travelling if you travel to certain countries women need to cover themselves in certain areas.

Amenities: Know what's Included in your house or apartment. Is there a coffee maker, a toaster, a washer and dryer, an iron, what is in the kitchen, what kind of towels are there? Things that are there means you do not have to take them with you. A furnished apartment or house can mean something from a few pieces of furniture to a well-stocked place with all the things you have at home. But most of the time your rental will not be stocked.

Mix and match: Wear layers so you can use your wardrobe more efficiently. And do not worry about wearing something more often, probably only you will notice this.

Important for you: If there is something that is really important for you that you want to have present in your house or apartment, take it with you. This can be something like a special knife for the kitchen, or a small mirror that you use in the morning. You can also purchase it locally if it is not that expensive.

Pet supplies: If you take your pet with you don't forget to take supplies for a few days with you. And enough medication, vitamins, or other supplies if you can not purchase them in Mérida (Mexico) locally.

Food: Don't take a lot of food with you. Only when there is something you really can not live without you, and it is not too heavy you could consider taking it with you.

Towels: Not all locations include bigger towels for the swimming pool or a visit to the beach. If you have to take them and don't have a lot of room you can buy some big thin towels.

Office supplies: Normally you will not find any office supplies in your house or apartment. If you think you will use them you could pack some supplies like a scissor, notepaper, envelopes, some pens, and more depending on your needs.

Limit yourself: Don't take too many shoes and jackets, you will not need them that often.

Best-fitting: Bring your favorite and best-fitting items that can multi-function

Washer: Do you have a washer and dryer onsite, you don't need to pack a lot of clothes
Clothing
Basics
Casual
Smart
Footwear
Toiletries
Beauty
Hygiene
Clothing
Basics
Casual
Outdoor
Footwear
Accessories
Toiletries
Medicine
Miscellaneous
Other
Toiletries
Beauty
Hygiene
Hair
Other
Medicine
Miscellaneous
Technology
Travel and Free time
Travel
Free time
Important
Documents
Money