Spend Your Fall, Winter, or Spring in Guadeloupe: Is Guadeloupe A Good Snowbird Location?
Guadeloupe is a beautiful island group in the Lesser Antilles of the southern Caribbean Sea that resembles a butterfly. The main territories are the islands of Basse-Terre and Grande-Terre. Located in the west, Basse-Terre is the capital of the island, and to the east, Pointe-a-Pitre in Grande Terre is the economic hub. The two largest islands are separated by the Salee River. The island is a blend of different cultures in art, religion, music, and culinary practices that have all been influenced by French, Indian and Caribbean traditions. The spoken language is French and Creole between locals. The currency used is the Euro.
Grande-Terre Island has long beautiful beaches and sugarcane fields. On Basse-Terre Island, you will find the Parc National de la Guadeloupe, Carbet Falls, and the island's iconic landmark La Grande Soufrière, which is an active volcano. Smaller islands include Marie-Galante and La Désirade. Visitors are attracted to the islands' coastlines, picturesque beaches, lush vegetation, hot springs, sulfur springs, and blue skies. Snowbirds visiting the area will have a lot of activities to enjoy as a wonderful Caribbean vacation location.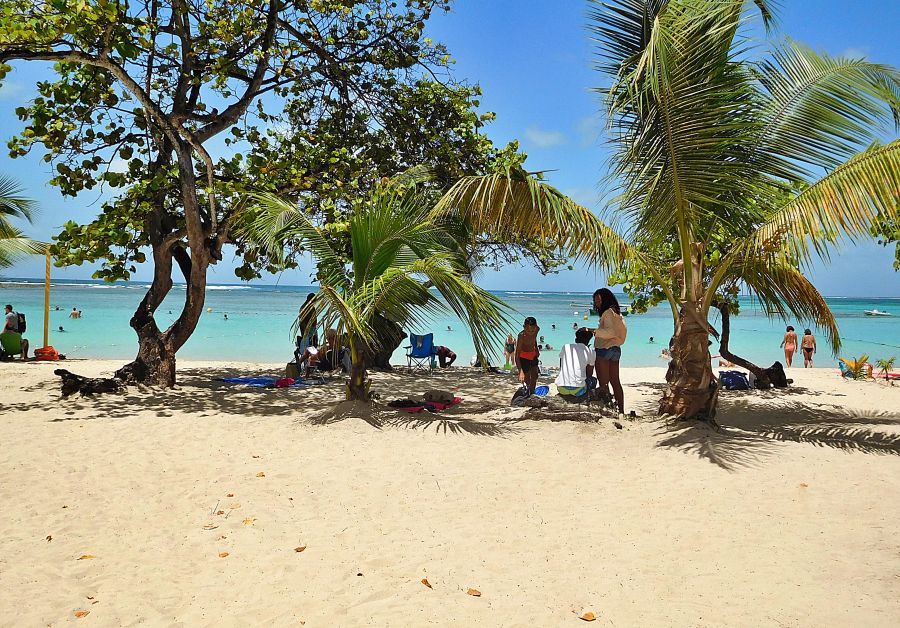 Why should people visit during the fall, winter, or spring?
Guadeloupe is a winter paradise that makes the season feel like one you wouldn't want to end. The sunny days make for perfect beach time and other outdoor activities. There's a lot to do during winter like exploring the beautiful vast landscape, walking the trails of a volcano, scuba diving, and many more. There is also an awesome shopping and dining scene you won't be missing out on. Whatever you may be interested in, Guadeloupe is a great location you will want to spend your winter in.
Climate
The climate in Guadeloupe is a tropical Caribbean one. The weather is relatively stable throughout the year, with sunny hot temperatures and some humidity. The average monthly temperatures vary only by about 3°C (37°F). The winter period normally does not see hurricanes (the hurricane season is from June to November).

Safety
Guadeloupe is a relatively safe place for snowbirds to visit. The rate of violent crime is considered to be higher than that of France. However, these violent crimes are not usually targeted at tourists. Snowbirds should be more worried about petty crimes such as pickpocketing, bag-snatching, and even thieves on motorbikes. As a precaution, snowbirds are advised to exercise a level of caution while visiting the country. Avoid carrying excessive cash around, ensure your doors are locked when leaving your accommodation, and always be aware of your surroundings.
Communication, Internet, and cellphone in Guadeloupe
Snowbirds might be able to roam with some of their home networks in Guadeloupe. Although this might be expensive, it will be convenient for snowbirds that won't want to purchase another SIM card. Local SIM cards could be purchased at the airport or other mobile stores located around the island. Some of the network service providers available are Orange, Only, and Digicel. These networks offer both call and internet prepaid plans. Snowbirds can easily find WIFI points across the island at some major tourist spots.
Snowbird locations in Guadeloupe
Sainte-Anne: Sainte-Anne is a beautiful location that has more than fifty outstanding beaches. you can enjoy peaceful strolls under palm trees, walks through the city, relaxing on white beach sand, scuba diving, or sailing.
Terre-de-Bas Island: Terre-de-Bas is a very quiet, tranquil, steep, and mountainous small island that is a great location for snowbirds. A spectacular rural oasis, the island is popular for its production of art craft, remains of ancient pottery, hiking trails, and the fabrication of the Salako hat.
La Desirade: La Desirade, which translates to "The Desired One" in English, is a beautiful island that is one of the least visited islands compared to the others. Snowbirds would be in awe of stunning white sand beaches, long coral reefs, and unmatched warm hospitality.
Things to see in Guadeloupe
La Soufriere: This is the highest mountain peak in the lesser Antilles. It is an active volcano that is part of the country's national park and is the main landmark of the landscape. Through scenic routes, you will enjoy breathtaking panoramic views.
Guadeloupe National Park: This is a vast protected rainforest that is home to various species of flora and fauna. It is recognized as a World Biosphere Reserve by UNESCO.
La Pointe des Chateaux: this scenic isthmus is a great spot to experience the majestic power of nature. Its outstanding rock formations and the huge littoral strip are home to some rare plant and animal species.
Jacques Cousteau's Underwater Reserve: Located off the coast of Basse-Terre, this underwater park is one of the world's top dive areas. The sub-aquatic scenery has a fragile ecosystem and beautiful water reefs with maritime species that are unforgettable.
Fort Napoleon des Saintes: this is an old fort located on Terre-de-Haut Island.
Carbet falls: A great waterfall to see or swim at.
Memorial ACTe: This is a cultural center dedicated to the Memory and History of the Slavery Trade. It is part of UNESCO's Slave Route Project.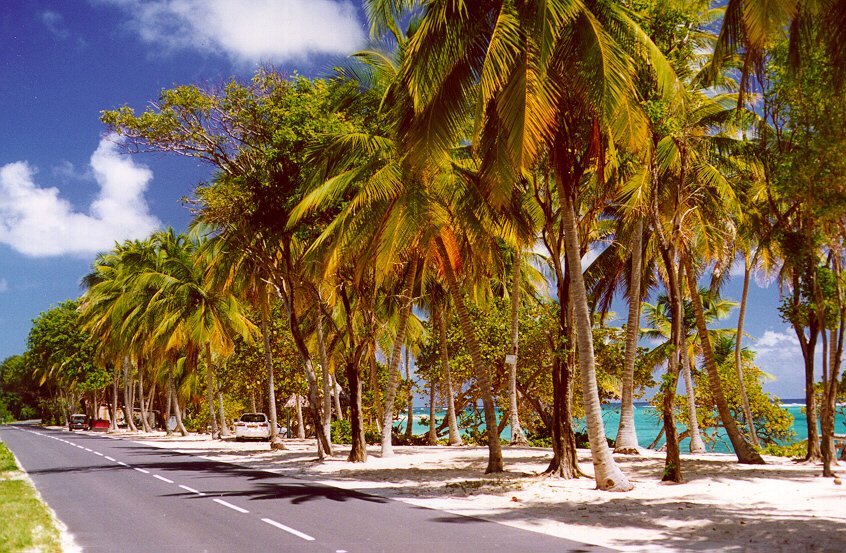 Activities in Guadeloupe during winter
Scuba Diving: The surrounding waters and thriving marine life, make scuba diving a thrilling experience in this area.
Visit beaches: Guadeloupe has numerous beaches that snowbirds can choose to visit during their stay on the islands.
Sailing: Sailing is a popular activity in the country, and at affordable rates, you can enjoy a great day of sailing around islands and open waters.
Explore vegetation: There is flourishing lush vegetation in Guadeloupe that snowbirds can have a breathtaking experience exploring.
Shopping + Restaurants. Are they open in the fall, winter, or spring?
There are several highly rated shops in Guadeloupe you can choose from. From major international brands to local handicrafts, you can have a fun time shopping in Guadeloupe. Many shops might be closed during the winter, but you won't lack options while in the country. Also, items you purchase will likely be cheaper than you will find them in your home country.
Naturally, Guadeloupe is heaven for seafood lovers. Exploring the dining scene of Guadeloupe is a whole other adventure on its own. Many restaurants specialize in French and Creole dishes, with a focus on using lots of spices and local fish and produce. Restaurants in the country offer a variety of dishes that your taste buds won't be forgetting anytime soon. Whether you are sticking to your favorite meal or trying out local delicacies, there will be a restaurant open during the winter to satisfy your needs.
Transport
Upon Arrival at Pointe-a-Pitre International Airport(PTP), you can easily find a car to take you to your destination. Taxis could easily be picked up at the airport, or you could flag one down by the road. Taxis are metered and fares vary by distance.
Renting your own car makes exploring Guadeloupe's main islands at your own pace a lot easier. Rental companies like Hertz and Budget are available. However, you will need your driver's license or an international driving permit to rent a car.
There's no rail network on the island, but there are ferries available for traveling between islands with roundtrip tickets starting at about $27 (approx. €25, £22, $36 CAD, $42 AUD).
Health
The healthcare service in Guadeloupe is of a really good standard. There are highly professional doctors and dentists in the country that speak English. Although medical treatment is quite inexpensive, Snowbirds are advised to have health insurance to cover the costs of treatment.
There is a University Hospital Centre in Pointe-a-Pitre, on Grande-Terre, a hospital on Basse-Terre, as well as several clinics.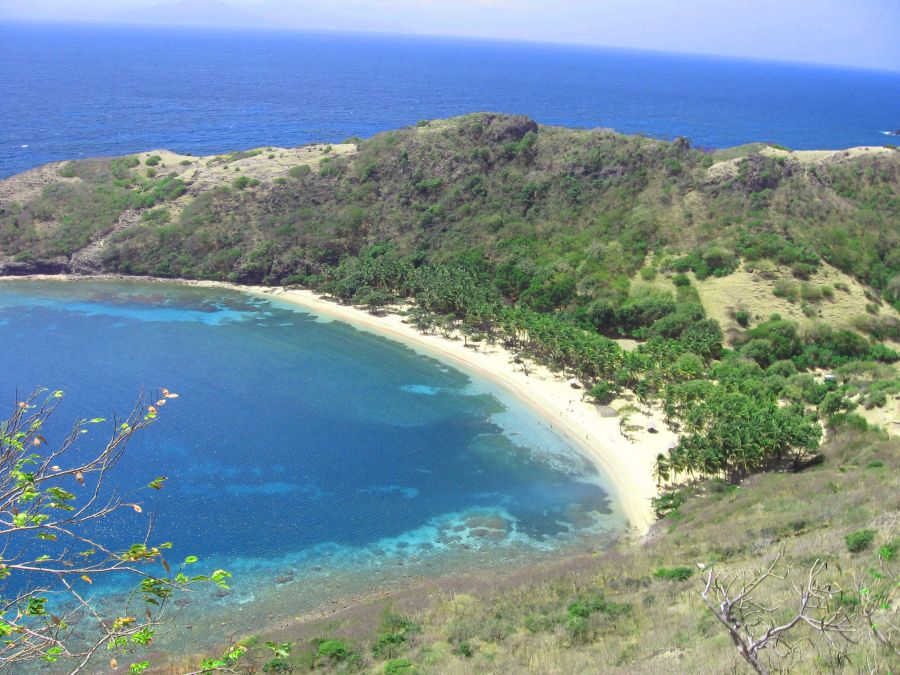 Accommodation
There numerous qualities of accommodation with basic and modern amenities, available in the country like villas, resorts, hotels, or apartments. The rental fees, however, are on the high side. A single room suitable for two guests costs about $2832 (approx. €2698, £2336, $3869 CAD, $4444 AUD) monthly, and two rooms cost $6000 (approx. €5716, £4949, $8198 CAD, $9416 AUD) a month.
Packing List
Weather: The fall, winter, and spring weather in Guadeloupe will normally be hot during the day and hot/warm during the night. Of course in the fall and spring it will be warmer than in the winter. You have to pack accordingly.

Warm clothing: Even when you go to a warm location like Guadeloupe you should not forget to take some things with you for your trip back home. When you return you are adapted to the warmer weather and need something to protect you from your hometown temperatures.

Consider the Weather: Always look at the type of weather in Guadeloupe. Things like humidity, wind, and rain do not show up in the temperature graph but can have a great impact on your wardrobe. There are several sites with long term forecasts and climate information. Is there often a short afternoon downpour like in the tropics, you maybe need to take a strong umbrella and shoos that can cope with the rain. If there is often a lot of wind you might need a more wind-resistant coat.

Check the local Shopping options: Try to find information about the local shopping options near your location in Guadeloupe. Are there stores where you can buy all your daily supplies, or are some things difficult to get? For some more remote locations, the options can be limited. If a certain item is really important for you might need to take it with you.

Look at the Local Culture: The local culture in Guadeloupe can impact your wardrobe. If most activities are in more upscale locations you might take some more appropriate clothes with you. Or travelling if you travel to certain countries women need to cover themselves in certain areas.

Amenities: Know what's Included in your house or apartment. Is there a coffee maker, a toaster, a washer and dryer, an iron, what is in the kitchen, what kind of towels are there? Things that are there means you do not have to take them with you. A furnished apartment or house can mean something from a few pieces of furniture to a well-stocked place with all the things you have at home. But most of the time your rental will not be stocked.

Mix and match: Wear layers so you can use your wardrobe more efficiently. And do not worry about wearing something more often, probably only you will notice this.

Important for you: If there is something that is really important for you that you want to have present in your house or apartment, take it with you. This can be something like a special knife for the kitchen, or a small mirror that you use in the morning. You can also purchase it locally if it is not that expensive.

Pet supplies: If you take your pet with you don't forget to take supplies for a few days with you. And enough medication, vitamins, or other supplies if you can not purchase them in Guadeloupe locally.

Food: Don't take a lot of food with you. Only when there is something you really can not live without you, and it is not too heavy you could consider taking it with you.

Towels: Not all locations include bigger towels for the swimming pool or a visit to the beach. If you have to take them and don't have a lot of room you can buy some big thin towels.

Office supplies: Normally you will not find any office supplies in your house or apartment. If you think you will use them you could pack some supplies like a scissor, notepaper, envelopes, some pens, and more depending on your needs.

Limit yourself: Don't take too many shoes and jackets, you will not need them that often.

Best-fitting: Bring your favorite and best-fitting items that can multi-function

Washer: Do you have a washer and dryer onsite, you don't need to pack a lot of clothes
Clothing
Basics
Casual
Smart
Footwear
Toiletries
Beauty
Hygiene
Clothing
Basics
Casual
Outdoor
Footwear
Accessories
Toiletries
Medicine
Miscellaneous
Other
Toiletries
Beauty
Hygiene
Hair
Other
Medicine
Miscellaneous
Technology
Travel and Free time
Travel
Free time
Important
Documents
Money
Other locations close to this location:
Travelers' Map is loading...
If you see this after your page is loaded completely, leafletJS files are missing.
If you have any additions, or comments on the content on this page, please use our contact form to let us know.