The charming city of Ocala is located in northern Florida's Marion County and it is the perfect place to visit for a nice, relaxing winter holiday. The city is known as the 'Horse Capital of the World' because it holds some of the most amazing horse farms. The place is also rich in culture and filled with adventure. In Ocala, you can roam around the exquisite parks and open fields and never get bored with spectacular views. For nature enthusiasts, the city is like a dream. Not to forget the perfectly warm climate which is literally, the cherry on top.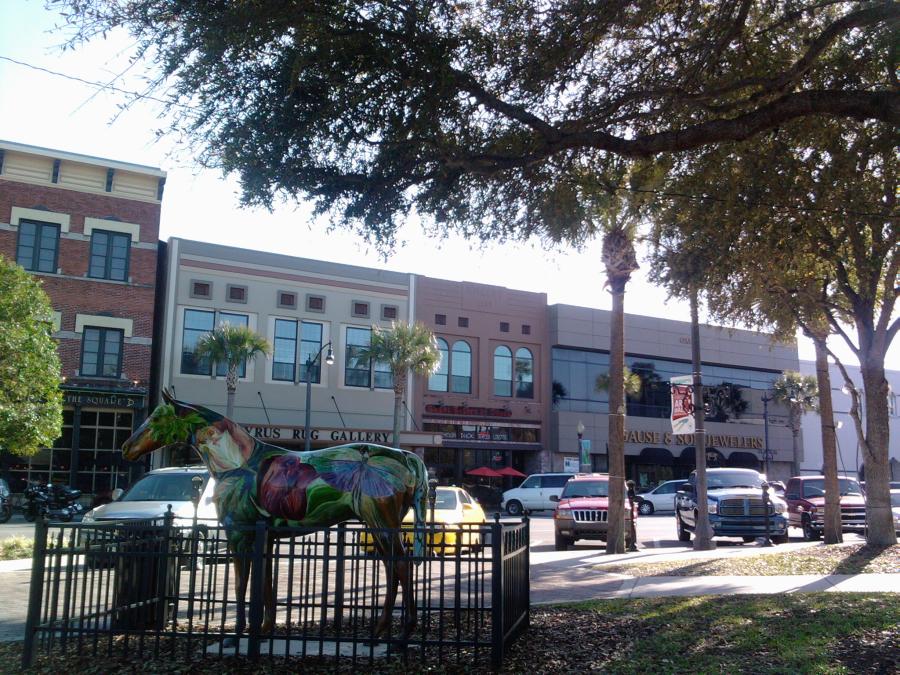 Why should people visit during the winter?
Winter in Ocala can easily be classified as one of the best seasons to travel because of the superb weather during this time of the year, dry and warm. The town resides in a serene, natural setting, and it offers an extremely favorable atmosphere for all nature lovers. There are abundant activities for one to participate in, along with spectacular sights to see, including the Silver Springs and Ocala Natural Forest. Snowbirds that are looking for a nice winter sun holiday will not be disappointed.
Climate
Ocala is located 32 meter (105 feet) above sea-level and it experiences a moderate tropical climate. In winter, the temperature stays around 55°F - 83°F (13°C - 28°C) on average, with January being the coldest month. The weather can be described as warm and dry with lots of sunshine. The winter period normally does not see hurricanes (the hurricane season is from June to November).

Things to see in The Ocala
Ocala has many places worth visiting:
Ocala Civic Theatre: This theatre has been a blessing to the community with quality entertainment for the past 60 years. Even though most of them are performed by the locals, they manage to pull off some of the most spectacular shows in all of Florida.
Gypsy Gold Horse Farm: The farm is home to a unique breed of horses known as the Gypsy Vanner. The farm dates back to the '90s and holds an interesting history. You can take a tour of the farm and enjoy watching these beautiful animals in the fields.
Silver Springs: Florida's oldest national landmark and nature theme park. Known as the state's original attraction. You can entertain yourself with some activities here including the famous glass-bottom boat ride.
Silver River Museum: Perfect place to get an insight of Silver Spring's relevance to the area. The museum is split into 2 exhibits; science and history. If you are a visitor to the area, you ought to visit the museum.
Appleton Museum: A remarkable art museum that offers a plethora of exhibits and multiple art galleries from all over the world to the visitors. The building is beautifully constructed with a splendid courtyard and it is a famous place for visitors in the area.
Ocala National Forest: State's most popular nature-friendly destination, featuring a large number of activities including fishing, camping, kayaking, nature viewing, and many more.
Things to see not far from Ocala
Also, the surrounding area has many places and towns worth visiting:
Devil's Millhopper Geological State Park: Located in Gainesville at a distance of 46.4 Miles (75 km) from Ocala. This is one of Florida's most unique natural attractions and it is famous for its giant sinkhole and the surrounding environment.
Haile Homestead: Located at a distance of 39 Miles (63 km) from Ocala, this homestead has an interesting history related to the booming cotton industry back in the times. It was set up in 1850 and the most attractive feature of the place is its Talking Walls.
Kanapaha Botanical Gardens: Located at a distance of 37.4 Miles (60 km) from Ocala, lies the beautiful Kanapaha Botanical Garden with unique species of plants and well-constructed pathways to enjoy the captivating beauty and atmosphere.
Cade Museum: Located in Gainesville, at a distance of 37.3 Miles (60 km) from Ocala.The museum operates with a unique idea and structure and has managed to build up quite a reputation considering its recent inauguration.
Withlacoochee State Forest: Located at a distance of 54 Miles (87 km) from Ocala, this is the 3rd largest forest of the state and is the perfect place to explore the natural beauty of the forest and enjoy long walks on the paved pathways.
Activities in Ocala in the winter
You can spend a wonderful time at Ocala and join some of the many activities you can find there:
Glass bottom boat tours: Enjoy this unique experience at the Silver Springs State Park by hopping on to the thrilling boat ride where you get to see the magical underwater life and learn about the different species living under the surface.
Golf: Visit theGolden Ocala Golf & Equestrian Club for an outstanding golf experience. This opportunity is easily accessible and very popular among golf lovers.
Daytrips to nearby towns: You can visit the nearby towns like Gainesville for a day trip and explore their famous spots. These towns are easily accessible through public transport as well.
Cooking: Always wanted to improve your cooking? Join a cooking class and learn how to cook something special.
Visit the parks: Ocala is well known for its fields and parks. You can enjoy a nice stroll along the pathways and enjoy the natural beauty that surrounds the area.
Fishing: There are many fishing opportunities for visitors in the state =parks and water springs that are located near the city.
Habitat Strawberry Festival
Art classes: Join an art class and learn how to paint, draw, or start with pottery.
Light up Ocala: An annual Christmas celebration with beautiful parades, live music, and lots of entertainment.
Museums: The city is rich in culture and history and so, you will have a lot of opportunities to explore the region's interesting background and love for art.
Shopping + Restaurants. Are they open in the winter?
Ocala offers a great shopping experience for its visitors. There are shopping malls open throughout the year, and you can also find smaller market places. There you can get your day-to-day essentials and also find great quality fresh products.
Ocala Downtown Market: This market takes place every Saturday from 9 am-2 pm. It is a designated place for farmers, artists, craftspeople, and food trucks who come by every week to sell their products. It is a beautiful open-air market place, easily accessible to the people from Ocala Downtown Square, and a famous spot for visitors who are looking for a unique shopping experience. Find more information on https://ocaladowntownmarket.com/.
Shopping malls: You can also visit some of the shopping malls in the area. Paddock Mall is a popular spot among visitors in Ocala and it has a variety of shops available. You can find more information on their website https://paddockmall.com/.
You will find a large array of restaurants available here in Ocala in winter, both casual eateries and fine dining restaurants. International specialties are also available and it is likely for you to find something delicious to satisfy your taste buds.
Transport
Ocala International Airport is located at a distance 5.8 Miles (9 km) from the main city. Having an international airport in the city makes it easy for people to travel to and fro. Gainesville Regional Airport is also located nearby 42.4 Miles (68 km) and sometimes it is used for commercial flights. At the airport you can rent a car, or take an uber to your destination.
The city has a train station, and it can be a nice option for people when traveling regionally, as it is relatively cheap and comfortable. Find more information on www.wanderu.com/.
Ocala has its bus station which is located at a distance of 8.5 Miles (14 km) from the downtown area, and it is easily accessible. The most commonly used bus services in the area include the SunTran (www.suntran.org/) and the Greyhound Company (www.greyhound.com/) buses. You are provided with a safe and comfortable experience at affordable rates. You can check their websites for online schedules.
Health
AdventHealth Ocala: This healthcare center is 5 minutes away from the main city and provides professional healthcare to the people. It was formerly known as the Florida Hospital Ocala. The staff is well trained and all kinds of services are available including an emergency care unit. It is well equipped and it is also one of the largest hospitals in the AdventHealth Family. (www.adventhealth.com/)
Other healthcare facilities in the area include:
Accommodation
If you want to stay in Ocala, you can easily find a decent place to stay in the town, with rates starting from $750 (approx. €619, £548, $953 CAD, $970 AUD) per month. Some of the popular organizations that offer you great options for accommodation are:
RV/Campers/Motorhome
You can find some of the best RV parking grounds on Ocala. The town has some great parking spaces which are located near the town. These camping sites offer parking spaces at affordable rates and are specially designed for people who are traveling with their motorhomes. Some of the top sites in the area include:
Wild Frontier RV Resort: Located in a beautiful setting at a distance of 2.8 Miles (4.5 km) from Ocala. There are numerous facilities offered to the guests including a heated pool, Kayak trips, musical nights, and many more. The staff is very cooperative and the site is well maintained. You can find more information on their website.(www.wildfrontierrvresort.com/)
Ocala RV Camp Resort: Located at a distance of 15 Miles (24 km) from Ocala. The Camp Ground is placed in a quiet setting surrounded by oak trees. You can stay in our Log Cabins which are located near the ponds and offer a beautiful sight. The place is ideal for visitors who are looking for a peaceful getaway in the woods. The site is well maintained and quite reasonable. (http://rvcampocala.com/)
Arrowhead Campsites and Mobile Home Park: Located at a distance of 3.9 Miles (6 km) from Ocala. You can visit some of the best horse farms here as well. Find more information on their website. (www.campsitesarrowhead.com/)
Packing List
Weather: The winter weather in Ocala (Florida) will normally be warm during the day and can be cold during the night. You have to pack accordingly.

Warm clothing: Even when you go to a warm location like Ocala (Florida) you should not forget to take some things with you for your trip back home. When you return you are adapted to the warmer weather and need something to protect you from your hometown temperatures.

Consider the Weather: Always look at the type of weather in Ocala (Florida). Things like humidity, wind, and rain do not show up in the temperature graph but can have a great impact on your wardrobe. There are several sites with long term forecasts and climate information. Is there often a short afternoon downpour like in the tropics, you maybe need to take a strong umbrella and shoos that can cope with the rain. If there is often a lot of wind you might need a more wind-resistant coat.

Check the local Shopping options: Try to find information about the local shopping options near your location in Ocala (Florida). Are there stores where you can buy all your daily supplies, or are some things difficult to get? For some more remote locations, the options can be limited. If a certain item is really important for you might need to take it with you.

Look at the Local Culture: The local culture in Ocala (Florida) can impact your wardrobe. If most activities are in more upscale locations you might take some more appropriate clothes with you. Or travelling if you travel to certain countries women need to cover themselves in certain areas.

Amenities: Know what's Included in your house or apartment. Is there a coffee maker, a toaster, a washer and dryer, an iron, what is in the kitchen, what kind of towels are there? Things that are there means you do not have to take them with you. A furnished apartment or house can mean something from a few pieces of furniture to a well-stocked place with all the things you have at home. But most of the time your rental will not be stocked.

Mix and match: Wear layers so you can use your wardrobe more efficiently. And do not worry about wearing something more often, probably only you will notice this.

Important for you: If there is something that is really important for you that you want to have present in your house or apartment, take it with you. This can be something like a special knife for the kitchen, or a small mirror that you use in the morning. You can also purchase it locally if it is not that expensive.

Pet supplies: If you take your pet with you don't forget to take supplies for a few days with you. And enough medication, vitamins, or other supplies if you can not purchase them in Ocala (Florida) locally.

Food: Don't take a lot of food with you. Only when there is something you really can not live without you, and it is not too heavy you could consider taking it with you.

Towels: Not all locations include bigger towels for the swimming pool or a visit to the beach. If you have to take them and don't have a lot of room you can buy some big thin towels.

Office supplies: Normally you will not find any office supplies in your house or apartment. If you think you will use them you could pack some supplies like a scissor, notepaper, envelopes, some pens, and more depending on your needs.

Limit yourself: Don't take too many shoes and jackets, you will not need them that often.

Best-fitting: Bring your favorite and best-fitting items that can multi-function

Washer: Do you have a washer and dryer onsite, you don't need to pack a lot of clothes
Clothing
Basics
Casual
Smart
Footwear
Toiletries
Beauty
Hygiene
Clothing
Basics
Casual
Outdoor
Footwear
Accessories
Toiletries
Medicine
Miscellaneous
Other
Toiletries
Beauty
Hygiene
Hair
Other
Medicine
Miscellaneous
Technology
Travel and Free time
Travel
Free time
Important
Documents
Money