Spend your fall, winter, or spring in Sao Vicente, Portugal: Is Sao Vicente a good snowbird location?
Sao Vicente, popularly known as Cape St. Vincent, is a headland located in the municipality of Vila Do Bispo. It is located in the Algarve, the southernmost region of Portugal, and the mainland of the European continent.  This place is well known for its astonishing view, one of the most amazing things you will ever see – the pounding storms and the blasting winds on the headland. Back in the 14th century, it was thought to be the end of the known world. It is also home to one of Europe's brightest lighthouses, it can be seen from miles away.
Sao Vicente is a preferred destination for many snowbirds. This is mostly because of the calm weather when compared to other locations in the region during winter. Asides from these quick facts, the place has multiple attractions to visit. It also has all the amenities you might need for a lush and comfortable resort experience.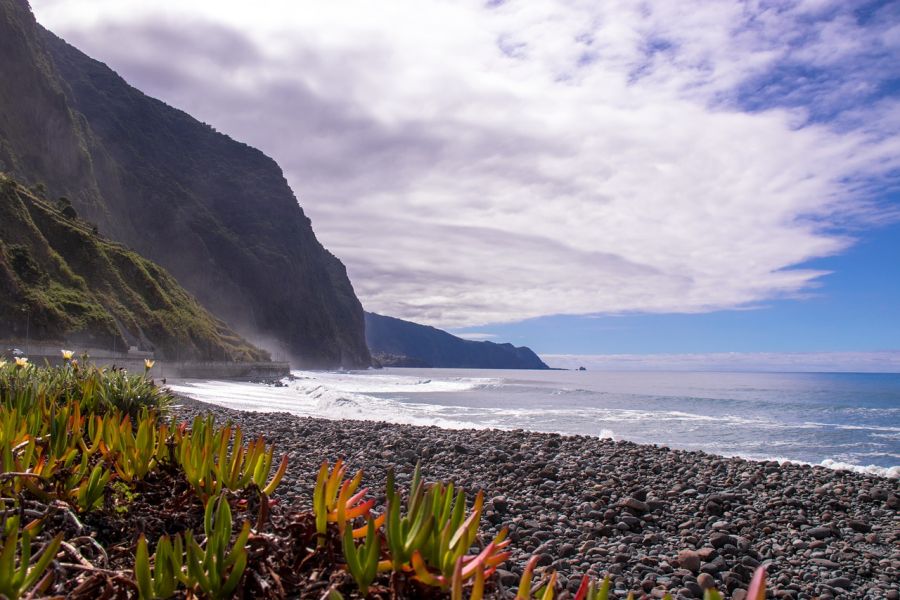 Why should people visit during the winter?
What better way to enjoy winter than spending it on a headland with great historical importance, superb attraction, and very cozy weather? There might be other options but Sao Vicente is by far the best place to spend your winter. Electricity, the internet, and accommodation are made available along with different sightseeing attractions nearby that you can visit to spend a nice, productive day.
Climate
The weather of Sao Vicente remains partly cloudy, humid, and windy during winters. The probability of rain is high with 101 days of rainfall in a year. Cape St. Vincent experiences an average high temperature of 62°F (17°C) and an average low of 52°F (11°C) throughout the year. Lodges or hotels with heating systems are recommended, the nights are pretty cold compared to other locations in Algarve.

Things to see in Sao Vicente, Portugal
You are not going to run out of locations to visit in the area. Some of these include:
Sao Vicente Caves: Take a guided tour through the pathways and pools of the caves formed by the volcanic eruptions 890,000 years ago. Explore the Volcanism Centre with explanatory audio-visual displays of this extraordinarily beautiful site.
HP16 Levada Faja do Rodrigues: This path is filled with the maritime pines at the beginning and the long tunnels at the end of the trail. If you're looking for an interesting long walk the trail features a magnificent landscape, mesmerizing feels of the waterfalls and untamed wildlife at the end of the hike.
The Lime Route Museum Center: If you are a little curious about limestone production, this center has two lime quarries, a lime kiln as well as buildings and a set of fossils dating back to five million years ago. You can also watch a video that explains the production of lime. This area has great cultural and national heritage.
Porto Do Seixal Beach: is a small black sandy beach that offers a view of the magnificent northern coastline of beautiful Madeira. The beach is a perfect gateway for unbridled fun and relaxation. Your family would love to visit a beach like this one for relaxation or they could go swimming among tons of other exciting things to choose from.
Sao Vicente Lighthouse: is a red lighthouse that was maintained by the monks as far back as 1515, it can be seen from miles away and is known as one of the brightest lighthouses in Europe. There is also a small museum in the lighthouse which explains the historical importance of this lighthouse.
Chapel of Lady Fatima: It is an eye-catchy, small, and beautifully constructed chapel which catches your attention as you pass by the village. The tower of the chapel has clocked in every part of the building showing different times. The Chapel was built in 1948 in celebration of the end of World War II. You would have to hike a little distance to reach this creatively constructed chapel.
Things to see not far from Sao Vicente, Portugal
There are neighboring towns and places around Sao Vicente that one can visit.
Santo Antonio Parque Da Floresta: An 18-hole golf course with undulating landscape and many lakes. The park has a golf shop, a driving range and, a clubhouse with a spike bar and a restaurant. It is just 23.3 km (14 Miles)

from Sao Vicente.

Ponta Da Piedade: here you will find beautiful scenery of a group of yellow-golden cliff-like rock formations along the coastline of Lagos. These rock formations go up to 20 meters high and are considered as one of the most popular attractions in the whole of Portugal. You should visit these cliffs. You will enjoy strong winds from the sea and a view of the Atlantic. You can also take a boat tour provided you prefer to visit by sea. The clear waters are a sight to see. It is located 40 km (25 Miles)

from Sao Vicente.

Serra De Monchique: It is a chain of mountains that offer astonishing views of the greenery and landscape from the top. The noticeable peak is Foia Peak. It stands at the highest point with a height of 902 meters. You can go on a hike on a pleasant sunny day to test your hiking skills. It is located 75.4 km (47 Miles)

from Sao Vicente.

Castle of Lagos: is an ancient medieval castle whose walls once surrounded the whole town. The castle has a historical heritage to offer its visitors. Visit the castle to witness sublime primitive and medieval infrastructure, get acquainted with the history linked to it. It is located 39.1 km (24 Miles)

from Sao Vicente.
Activities in Sao Vicente, Portugal in the fall, winter, or spring
There are numerous activities you can participate in during your visit to Sao Vicente. Some of them include:
Visit Sao Vicente Caves: Visit this place and get acquainted with the historic significance of caves. Some of these caves date back to 890,000 years ago. Also, visit the Volcanism Centre with explanatory audio-visual displays of the cave.
Kayaking/Canoe: You can rent a kayak or a canoe for sea kayaking from the Sea Kayak Tour or other agencies' views.
Touring the town: You can take a tour of Sao Vicente with a tour guide while you observe the beautiful infrastructure of the town and taste the delicacies.
Snorkeling: There are a lot of underwater attractions for an amazing snorkeling experience. You can explore the beautiful coral reefs and other marine life.
Explore the Limestone Museum Center: Visit this center and explore the limestone quarries, lime kiln, and buildings as well as a set of fossils dating back to five million years ago.
Scuba Diving: Discover the beautiful marine life underwater with a large and uninterrupted coastline. Visit Dive Time or Diver's Cape for diving gear, rentals, and lessons as well as gear repairs.
HP16 Levada Faja do Rodrigues: Go on a hike on this trail with beautiful maritime pines, tunnels, and waterfalls. At the end of the trail, you are rewarded with a mesmerizing landscape.
Marine Wildlife: This place is rich in marine wildlife, you would also have the opportunity to do some bird watching. There are also some occasional sightings of sea otters.
Hiking: Visit HP16 Levada Faja do Rodrigues and similar attractions for hiking.
Spa & Fitness Clubs: There are various health clubs with spas that you can visit for quality treatment. You could also participate in activities beneficial to your health like yoga.
Fishing: You can visit multiple fishing sites for fishing or cliff fishing. You can catch popular sea bass and bonito fish.
Golf: Spend a nice day playing golf and get your swing back on track at the Clube Naval Sao Vicente. There are numerous golf clubs you can choose from in town or on other islands.
Shopping + Restaurants. Are they open in the fall, winter, or spring?
You can find a lot of fresh produce markets near Sao Vicente. The markets are limited in town but you can visit nearby towns like Lagos or Funchal. There is a Supermercado Amanhecer. It remains open every day and closes usually at 10 PM every day. There is a variety of freshly picked fruits, vegetables, and other fresh products. You can also get fresh meat, seafood, and dairy products from the market. Confectionery, wine, and other items are also available at the market. You can visit Mercados Dos Lavradores in Funchal for an extensive range of products of local artisans and flowers.
Sao Vicente has a lot of restaurants that serve popular cuisine, seafood, and other mouthwatering dishes. However, the whole Algarve region is popular for its seafood. You can try out "Bacalhau", "Robalo", "Dourado", "Cataplana" they are some of the finest dishes in Algarve. In signature dishes of Algarve, you should try Broas de Mel, Bolo de Mel, Espatada, Verdelho, and much more.
Transport
The nearest international airport to Sao Vicente is Faro Airport located 121 km (75 Miles) from the town. There are various airport shuttle services available which you can use. You can also take a taxi or bus to reach the airport or take a taxi or bus to Sao Vicente from the airport.
There is EVA Transportes or Rede Expresso Bus Stop from Sagres for inter-city traveling. The town is connected by a reliable and inexpensive bus service. There are taxi services like Taxi-T and other options if you're looking to use cabs. Unfortunately, there are no train stations available in the vicinity of the town.
Health
In Sao Vicente, public and private health facilities are located in and around the town. They are easily accessible. The health sector is readily available for anyone who walks in with a problem. A 24/7 emergency response is available in hospitals. Emergency cases are handled properly. Some of the most wholesome healthcare centers are mentioned below:
Accommodation
There is a variety of rental companies to choose from in Sao Vicente, whether you're looking for an apartment, a cottage, or a villa. Some of the most popular lodges that are commonly used include:
These prominent websites along with other websites can connect you to local real estate agents in Sao Vicente. You can rent 1-bedroom and 1-bath starting at a price of €275 (approx. $294, £236, $395 CAD, $446 AUD) / month.
Winter Camping
Camping Park Do Porto Moniz: It costs nearly from €3 (approx. $3.22, £2.58, $4.32 CAD, $4.87 AUD) for a 4-meter tent. The prices increase with the size of the tent, excluding the facilities. You can visit this website for more information (www.portomoniz.pt).
Figueira Caravan Park: There are 222 campsites available in total with a starting price of €12.45 (approx. $13, £10, $17 CAD, $20 AUD) including the facilities. You can visit their website for more information (www.figueiracaravanpark.com).
Packing List
Weather: The fall, winter, and spring weather in Sao Vicente (Portugal) will normally be warm during the day and can be cold during the night. Of course in the fall and spring it will be warmer than in the winter. You have to pack accordingly.

Warm clothing: Even when you go to a warm location like Sao Vicente (Portugal) you should not forget to take some things with you for your trip back home. When you return you are adapted to the warmer weather and need something to protect you from your hometown temperatures.

Consider the Weather: Always look at the type of weather in Sao Vicente (Portugal). Things like humidity, wind, and rain do not show up in the temperature graph but can have a great impact on your wardrobe. There are several sites with long term forecasts and climate information. Is there often a short afternoon downpour like in the tropics, you maybe need to take a strong umbrella and shoos that can cope with the rain. If there is often a lot of wind you might need a more wind-resistant coat.

Check the local Shopping options: Try to find information about the local shopping options near your location in Sao Vicente (Portugal). Are there stores where you can buy all your daily supplies, or are some things difficult to get? For some more remote locations, the options can be limited. If a certain item is really important for you might need to take it with you.

Look at the Local Culture: The local culture in Sao Vicente (Portugal) can impact your wardrobe. If most activities are in more upscale locations you might take some more appropriate clothes with you. Or travelling if you travel to certain countries women need to cover themselves in certain areas.

Amenities: Know what's Included in your house or apartment. Is there a coffee maker, a toaster, a washer and dryer, an iron, what is in the kitchen, what kind of towels are there? Things that are there means you do not have to take them with you. A furnished apartment or house can mean something from a few pieces of furniture to a well-stocked place with all the things you have at home. But most of the time your rental will not be stocked.

Mix and match: Wear layers so you can use your wardrobe more efficiently. And do not worry about wearing something more often, probably only you will notice this.

Important for you: If there is something that is really important for you that you want to have present in your house or apartment, take it with you. This can be something like a special knife for the kitchen, or a small mirror that you use in the morning. You can also purchase it locally if it is not that expensive.

Pet supplies: If you take your pet with you don't forget to take supplies for a few days with you. And enough medication, vitamins, or other supplies if you can not purchase them in Sao Vicente (Portugal) locally.

Food: Don't take a lot of food with you. Only when there is something you really can not live without you, and it is not too heavy you could consider taking it with you.

Towels: Not all locations include bigger towels for the swimming pool or a visit to the beach. If you have to take them and don't have a lot of room you can buy some big thin towels.

Office supplies: Normally you will not find any office supplies in your house or apartment. If you think you will use them you could pack some supplies like a scissor, notepaper, envelopes, some pens, and more depending on your needs.

Limit yourself: Don't take too many shoes and jackets, you will not need them that often.

Best-fitting: Bring your favorite and best-fitting items that can multi-function

Washer: Do you have a washer and dryer onsite, you don't need to pack a lot of clothes
Clothing
Basics
Casual
Smart
Footwear
Toiletries
Beauty
Hygiene
Clothing
Basics
Casual
Outdoor
Footwear
Accessories
Toiletries
Medicine
Miscellaneous
Other
Toiletries
Beauty
Hygiene
Hair
Other
Medicine
Miscellaneous
Technology
Travel and Free time
Travel
Free time
Important
Documents
Money
Other locations close to this location:
Travelers' Map is loading...
If you see this after your page is loaded completely, leafletJS files are missing.
If you have any additions, or comments on the content on this page, please use our contact form to let us know.
Detailed weather during the year for Sao Vicente Madeira (Portugal)
What to do during the year in Sao Vicente Madeira (Portugal)