The city of Sedona is a desert town in the northern Verde Valley region of Arizona. This spectacular city takes you on an unapologetic journey to explore the wonders of Mother Nature. With a remarkable red-rock terrain, canyon walls, and a fascinating history, this city never fails to amuse a visitor. You will witness some of the most breathtaking views featuring striking sunsets and a sensational night sky full of stars. Sedona is also known to be a very spiritual place and an extremely popular place among yogis. If you visit the area you have the perfect opportunity for you to connect with nature and admire the beauty of the city.
Why should people visit during the winter?
To be honest, it is always a good time to visit the city of Sedona, given its all-year-round steady climate. The city is a miraculous sight, especially for nature lovers as you get to witness some of the most intriguing sights. Sedona in winter is no less than a perfectly peaceful and serene location with spectacular views and interesting history to keep you happy. As the temperature in the winter is not that high, you will find fewer tourists during that time, and housing costs will be lower.
Climate
Sedona experiences a typical Mediterranean climate with dry, hot summers, and mild, reasonable warm winter. There are 278 days of sunshine throughout the year and the winter temperature is usually above 53°F (12°C), with January being the coldest month. Winter nights can get chilly so it is advised to pack appropriately.

Things to see in Sedona
Sedona has many places to offer to visitors. Some of the most popular places worth a visit are:
Sedona Heritage Museum: This museum is home to some of the most amusing artifacts which belong to the era of the mid-18th Century. The first group of settlers made this town their home. This is a place to learn about the city's history.
Tlaquepaque Arts and Crafts Village: This place is a must-visit for everyone who comes by because of its aesthetically pleasing atmosphere and artsy vibe. The village has been a popular spot in Sedona for many years.
Devil's Bridge Trail: An intriguing landmark with some of the most astounding views you'll ever see. Though this trail is only accessible after a hike, it isn't very steep and it is doable if you are physically fit. It is definitely worth the view.
Palatki Heritage site: Located in the Coconino Forest. This archeological site dates back to the time the Sinagua lived in the area. An interesting place to visit if you want to learn about the area's history.
Verde Valley: Well known for its wine production. The Valley has about five wineries and you can even go wine tasting. You must find the perfect guide to accompany you during the visit to fully enjoy the experience.
Things to see not far from Sedona
There are many places and towns in the surrounding areas that are worth a visit:
Cottonwood: Located at a distance of 19 Miles (31 km) from Sedona. Visit the Old Town of Cottonwood which has beautiful architectural heritage and it is a great place to look for the perfect souvenir.
Camp Verde: Located at a distance of 27 Miles (43 km) from Sedona. Fort Verde State Historic Park is an important location in the area which features an amazing collection of historic artifacts of the area.
The Grand Canyon: Located approximately 100 Miles (161 km) away from Sedona. Undoubtedly the most popular place for visitors in Arizona and quite literally a famous wonder of the world. There are many spots where you can admire the natural beauty of this landmark.
Phoenix: Located at a distance of 115 Miles (185 km) from Sedona, lies the capital of Arizona. The city is a hub for luxurious amenities with large Botanical Desert Gardens and Championship Golf Courses.
Peoria: Located at a distance of 112 Miles (180 km) from Sedona and it is a major suburb of the city of Phoenix. The city is occupied with attractions on both lakes as well as land and it is perfect for a day trip.
Activities in Sedona in the winter
Sedona has many opportunities waiting to be explored. You can participate in several activities during your stay:
Star Gazing: You can wish upon a shooting star as the night sky in this desert, it is sensational. You don't get to see a sky this clear every day.
Wine Tasting: Enjoy tasting different wines at the vineyards of Sedona. There is a large variety of flavors available for you to try.
Cooking: Always wanted to improve your cooking? Join a cooking class and learn how to cook something special.
Yoga: The most favored activity in Sedona for fitness as the place is known to give you the true yoga experience. Join a yoga retreat to witness the spiritual vibe of the city.
Hiking tours: The spectacular landscape of the city provides you with an amazing opportunity to explore the natural beauty of the area and admire the remarkable terrain.
Festivity: If you are a visitor in winter, there is a high chance that you will be tempted to take part in the cultural festivities of the city. There are many festivals celebrated in the area featuring arts, culture, yoga, and many more.
Museums: Visit the different museums of Sedona to learn about the history, art, and culture of the area.
Art classes: Join an art class and learn how to paint, draw, or start with pottery.
Sunsets/Sunrises: The city is known for its incredible sunsets and sunrises. Golden hour at Arizona is extremely beautiful because the red rocks reflect the sunlight, bringing out a beautiful ray of crimson that spreads out to reach the skies. A spectacular sight indeed.
Day trips to nearby cities: Arizona is an interesting place to visit. You can easily move about from Sedona and visit the nearby cities for day trips.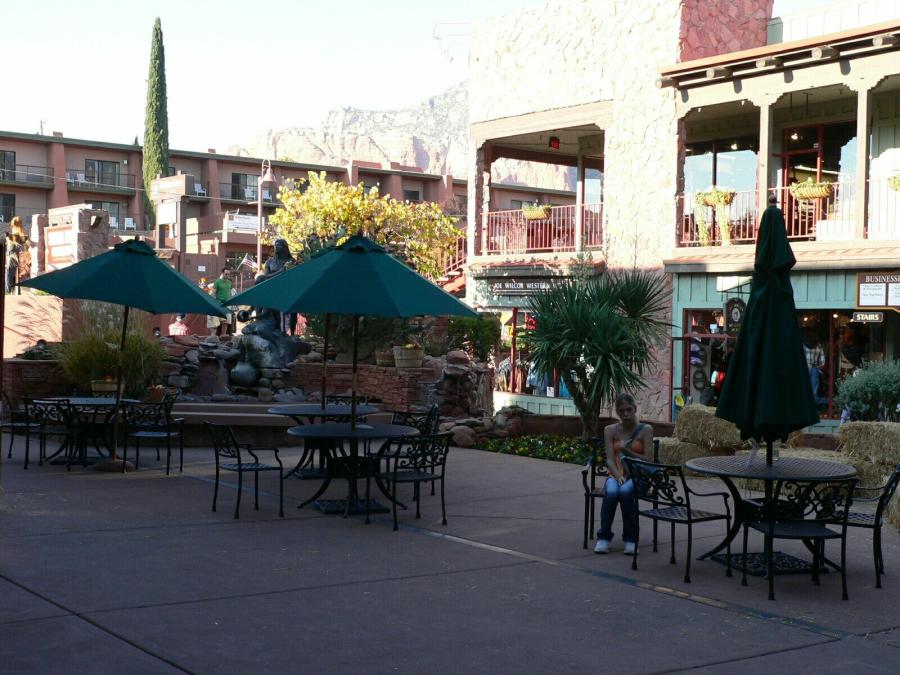 Shops & Restaurants: Are they Open in winters?
Sedona has a lot of options for visitors who love shopping. Sedona Community Farmers Market is a great place to get meats, fruits, vegetables, and many other local and artisan products, and many stalls with healthy food. It is held every Sunday from 12 pm to 4 pm. Sedona Artist Market is open seven days a week and it features about a hundred Arizona artists. There is a variety of local merchandise which includes jewelry, ceramics, fabric, paintings, photography, carvings, and more. Tlaquepaque Arts & Shopping Village is a historical and cultural landmark. It originated in the 1970s; Tlaquepaque treats visitors and residents to an exceptional collection of galleries, shops, and dining establishments. Mystical Bazaar is an exciting place that offers a large selection of crystals, unique gemstone jewelry. It also offers services like aromatherapy and psychic reading. Of course, you will also find most main street shops in the area.
Gastronomy in this region of Arizona includes a variety of cuisines like Mexican, Italian, and Asian to cater to every palate. The locally grown fresh vegetables and fruits, fish from local rivers, and meat from the nearby ranches enhance the taste of the cuisine offered in the restaurants of the town. The culinary scene has expanded considerably in Sedona and there are many high-end restaurants in Sedona along with small food stalls around the downtown area.
Transport
Phoenix Sky Harbor Airport (PHX) is an international airport around Miles (0 km) from Sedona. It is a bigger airport and more convenient because there is a shuttle service (Arizona Shuttles) that provides transport to Sedona directly from the airport.
Flagstaff Airport is a small commercial airport that is closer to Sedona. It is Miles (0 km) away. Visitors can hire a taxi or private vehicle to reach their destination from the airport to Sedona.
The nearest train station is Flagstaff Amtrak Station which is located in Flagstaff around Miles (0 km) from Sedona.
Bus service by Verde Lynx Public Transportation is an efficient and reasonable way of getting around Sedona as well as the neighboring towns and cities. You can visit https://rideschedules.com/cottonwood-area-transit-verde-lynx-bus-schedule-19500.html for more information.
Uber Sedona is also a good and convenient service to use when traveling within and outside Sedona. Visit https://www.uber.com/global/en/cities/phoenix/
Sedona Trolley offers an hour-long trip and covers the whole area of Sedona and nearby attractions like Dry Creek Canyon. Visit https://www.sedonatrolley.com/ for more details.
Health
Sedona has good medical facilities available at the local health and medical centers in the area. The doctors are competent and there are many specialists present. Dentists are also easily accessible for consultation. Some of the medical centers and dental clinics are listed below:
Verde Valley Medical Center – Sedona Campus 3700 https://www.nahealth.com/contact-us
Next Care Urgent Care Sedona on 2530 W State Route 89A, Sedona, AZ 86336
Dental Care of Sedona
Sedona Smiles – Matt Hill, DDS
Accommodation
Visitors can check for affordable apartments or condos for rent on https://www.airbnb.com/.
Visitors looking for long term accommodation in the city should also visit websites like www.apartmentguide.com or www.forrent.com to find apartments at reasonable rates and good deals during the winter months. On average a one-bedroom apartment for two guests can be rented at around $900 (approx. €743, £658, $1143 CAD, $1165 AUD) /month.
RV/Campers/Motorhome
Camping in Sedona is a beautiful way to be near Mother Nature. Although you are located only a few miles away from town, campgrounds in Sedona make you feel secluded and entertained by the striking views of the Red Rock Canyons and the hilly landscape. If you own an RV or Camper van then you can easily camp at one of the following sites:
Coconino National Forest also offers camping options but it is less crowded and ideal for visitors who want to avoid the busy and louder campgrounds.
Packing List
Weather: The winter weather in Sedona (Arizona) will normally be chilly during the day and cold during the night. You have to pack accordingly.

Warm clothing: Even when you go to a warm location like Sedona (Arizona) you should not forget to take some things with you for your trip back home. When you return you are adapted to the warmer weather and need something to protect you from your hometown temperatures.

Consider the Weather: Always look at the type of weather in Sedona (Arizona). Things like humidity, wind, and rain do not show up in the temperature graph but can have a great impact on your wardrobe. There are several sites with long term forecasts and climate information. Is there often a short afternoon downpour like in the tropics, you maybe need to take a strong umbrella and shoos that can cope with the rain. If there is often a lot of wind you might need a more wind-resistant coat.

Check the local Shopping options: Try to find information about the local shopping options near your location in Sedona (Arizona). Are there stores where you can buy all your daily supplies, or are some things difficult to get? For some more remote locations, the options can be limited. If a certain item is really important for you might need to take it with you.

Look at the Local Culture: The local culture in Sedona (Arizona) can impact your wardrobe. If most activities are in more upscale locations you might take some more appropriate clothes with you. Or travelling if you travel to certain countries women need to cover themselves in certain areas.

Amenities: Know what's Included in your house or apartment. Is there a coffee maker, a toaster, a washer and dryer, an iron, what is in the kitchen, what kind of towels are there? Things that are there means you do not have to take them with you. A furnished apartment or house can mean something from a few pieces of furniture to a well-stocked place with all the things you have at home. But most of the time your rental will not be stocked.

Mix and match: Wear layers so you can use your wardrobe more efficiently. And do not worry about wearing something more often, probably only you will notice this.

Important for you: If there is something that is really important for you that you want to have present in your house or apartment, take it with you. This can be something like a special knife for the kitchen, or a small mirror that you use in the morning. You can also purchase it locally if it is not that expensive.

Pet supplies: If you take your pet with you don't forget to take supplies for a few days with you. And enough medication, vitamins, or other supplies if you can not purchase them in Sedona (Arizona) locally.

Food: Don't take a lot of food with you. Only when there is something you really can not live without you, and it is not too heavy you could consider taking it with you.

Towels: Not all locations include bigger towels for the swimming pool or a visit to the beach. If you have to take them and don't have a lot of room you can buy some big thin towels.

Office supplies: Normally you will not find any office supplies in your house or apartment. If you think you will use them you could pack some supplies like a scissor, notepaper, envelopes, some pens, and more depending on your needs.

Limit yourself: Don't take too many shoes and jackets, you will not need them that often.

Best-fitting: Bring your favorite and best-fitting items that can multi-function

Washer: Do you have a washer and dryer onsite, you don't need to pack a lot of clothes
Clothing
Basics
Casual
Smart
Footwear
Toiletries
Beauty
Hygiene
Clothing
Basics
Casual
Outdoor
Footwear
Accessories
Toiletries
Medicine
Miscellaneous
Other
Toiletries
Beauty
Hygiene
Hair
Other
Medicine
Miscellaneous
Technology
Travel and Free time
Travel
Free time
Important
Documents
Money