The ancient city of Side sits on the tip of the Mediterranean Coast, featuring an exciting mix of the old and the new. Built around the historic ruins of the Roman Empire, Side lets you become a curious explorer, all the while making sure you have the luxury to simply sit back, relax and take in a wonderful atmosphere that surrounds you. The friendly climate, beautiful beaches, and cultural attractions also greatly contribute to making the city stand out as an important tourist location.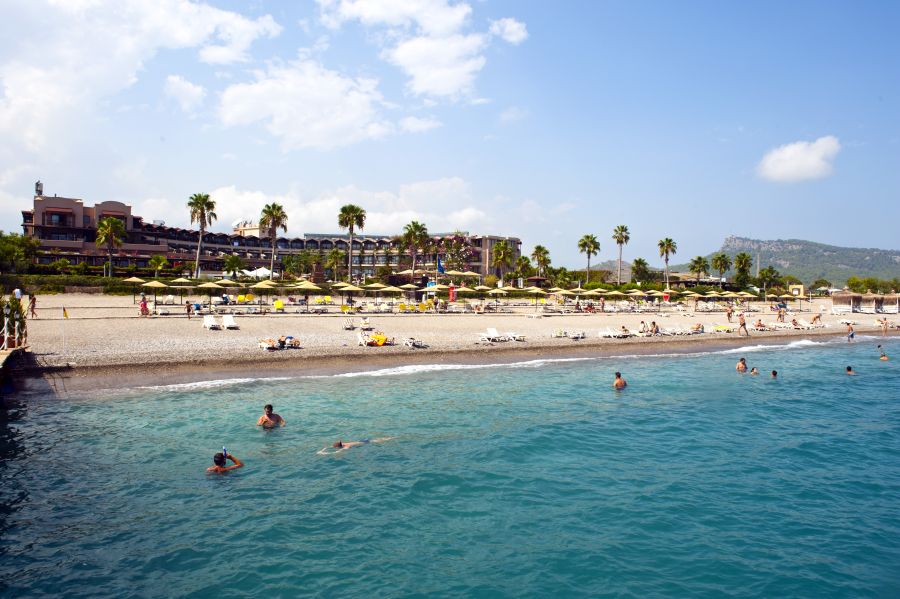 Why should people visit during the winter?
If you want to avoid the crowded streets of Side, winter is the ideal time for you to visit the city. A major part of Side's main attraction is its remarkable history, it's no surprise that snowbirds often choose the calm and warmth of the winter sun.
There are incredible beaches, local shops, and archeological sites waiting to be explored. Even though the town is a lot quieter in winters, the laid-back atmosphere is much more preferable for visitors looking forward to a nice, serene environment with temperate weather conditions.
Climate
Side experiences hot, humid summers and mild, wet winters. In general, the temperature is quite comfortable in the winter months. The average temperature stays around 6°C - 11°C (43°F - 52°F). You can expect a lot of rainfall during this season, especially in January. Make sure you're traveling with appropriate clothing and don't forget to carry an umbrella.

Things to see in Side, Turkey
Side is a beautiful city with numerous destinations for sightseeing. Here is a list of some of the best places you can visit during winter:
Apollo and Athena Temples: Located on Side's harbor, this historical landmark is a living representation of the Roman era dating back to 600 BC. The temples are well-preserved and surrounded by picturesque views. It is considered as one of the major attractions in the city.
Antique Theatre: Even though parts of the auditorium were destroyed over time, the building is still quite impressive. Being the largest theatre in ancient Pamphylia, it is still considered to have a remarkable infrastructure and is greatly admired by visitors.
Manavgat Market: A large marketplace set up in Manavgat Town Center. You can find a large variety of goods including leather products and different handcrafted items. Here you can find the perfect souvenir to take home with you.
Manavgat Waterfalls is a perfect picnic spot for a nice, peaceful afternoon. The gushing waterfalls are located upon the Manavgat River, it is a lovely garden. It is easily accessible from Side.
East Beach: This beautiful white, sandy beach is a popular spot for tourists who come by to enjoy the sea breeze and the view of the sunset. There are many seaside restaurants and bars located near the area that add to the beauty of the beach.
Things to see not far from Side, Turkey
There are many places and towns in the neighboring towns that one can visit. Some of these include:
Duden Falls: It is located 75 km (47 Miles) from Side. This collection of waterfalls is a magnificent sight for visitors and also home to local birds and wildlife. You can even book boat tours from Antalya Harbor to watch the falls up-close.
Aspendos: It is located 27 km (17 Miles) from Side. It is worth taking a day trip to Aspendos. Don't forget to check out the famous Aspendos Theatre which was built by the famous architect Zenon in the 2nd Century. It has a seating capacity of 20,000. This theatre remains well preserved till date.
Perga: This place can be located 61 km (38 Miles) from Side. This large, prehistoric city dates as far back as the Bronze Age. You can visit the city to learn about the different archeological sites from the Roman Empire like the famous Roman baths, Hellenistic Gate, and Acropolis.
Düdencik Caves: is located near the district of Cevizli 18 km (11 Miles) from Side. A spectacular collection of caves which are about 330 meters deep. An interesting site to visit and explore for curious cave enthusiasts.
Alanya Castle: This castle is located 60 km (37 Miles) from Side. This outstanding landmark dates back to the 13th century. It is a unique, prodigious structure that looks down upon the entire city. Today, it is an open museum for visitors who are interested in learning about the historic relevance of the area. It is well-preserved to date.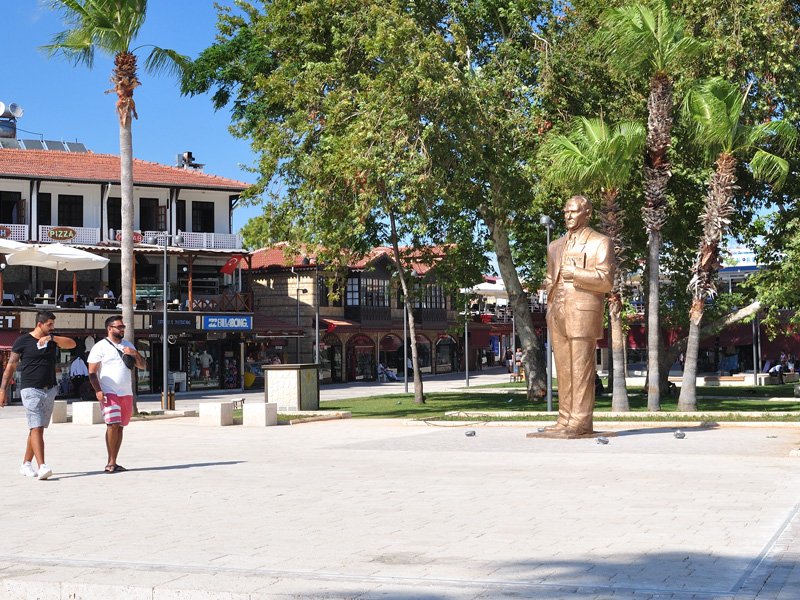 Activities in Side, Turkey in the winter
While you cozy up in the ancient city of Side, there are things to engage in so you never feel bored. Here is a list of things you should try out during your visit:
Beaches: asides the ancient history of the city, the beautiful sandy beaches and the warm winter sun is a major attraction for visitors.
Archeological Sites: During your visit, you could explore different archeological sites located scattered across Side. This a fun and exciting activity for history enthusiasts.
Roman ruins: This ancient Roman city is one of the few places where you can see the authentic Roman ruins, unaltered and well-preserved.
Shopping: The main shopping street of Side offers a fascinating range of locally made goods. You'll see a lot of clothing items for sale in Side.
Daytrips: Side is surrounded by many sightseeing destinations which are perfect for day trips and tours.
Golf: There are many modern golf courses in the area near the city that provide an amazing golfing experience. Lykia Link Golf in Gundogdu is a great option for a nice round of golf.
Cruises: Multiple boat cruises and tours are organized in Side with professional tour guides who take you on a ride to explore the wonders of the Mediterranean Sea.
Shopping + Restaurants. Are they open in the winter?
Side provides the opportunity to indulge in a wonderful shopping experience with most shops open in winter. With different varieties of goods to offer, you will be surprised to know that almost everything is available in these markets. Whether you're looking for fresh fruits and vegetables, or simply planning to go window shopping, these marketplaces have you covered. There are two major public markets set up in Side. Bargaining is quite common, so do not be afraid to ask. You will also be able to find shopping malls and complexes in the area. Some of the popular places include:
Side Market
Manavgat Market
Ottoman Shopping Center
Mall of Side
Turkish cuisine is quite popular among tourists because of its unique and enchanting flavors. Being a popular tourist destination, you can easily expect some of the most amazing food choices in the area. The food here is quite cheap and delicious at the same time. There are multiple bars and restaurants scattered across the city. For a food lover, Side is the ideal place to be.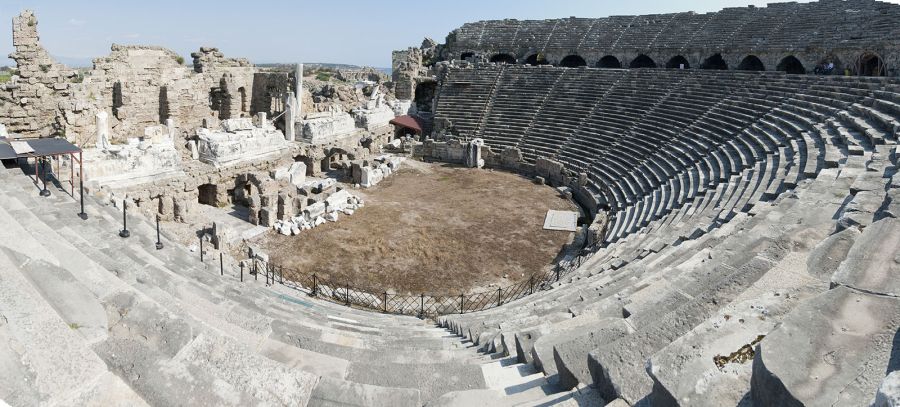 Transport
The nearest airport to Side is the Antalya Airport which is located at a distance of 64.8 km (40 Miles) from the city. You can take the Havas bus from Antalya to reach your destination. This is the cheapest form of transport and takes approximately 2 hours. Renting a car or Taxi is also an option.
The most common mode of transport used to move around the city is the Dolmus which is a smaller local version of the bus which operates on schedule and offers an affordable ride. You can easily move around through these minibusses.
Taxi cabs are available almost anywhere. It is convenient to move around in a taxi, but not feasible because they do not charge on fixed rates.
Health
The Side Anatolian Hospital is located on Yali Mahallesi and is the only major private hospital in the area. The medical staff understand and can speak English. Professional doctors are also at your service at all times. Emergency units are always operational and the hospital has numerous surgical departments. There are pharmacies and cafeteria located within the building as well. Check out their website for more details. (www.anatoliahospital.com/hastane-detay.asp?awid=8#parentHorizontalTab1)
Dental standards in Turkey are very high and considered to be a lot cheaper than in the UK and Europe. Visit Side Smile Dental Clinic in case you need to visit a dentist.
Accommodation
If you are a visitor in Side, you can easily find a decent place to stay in the town during winters for $218.81 (approx. €183, £164, $284 CAD, $296 AUD) /month. The rates are quite cheap during winter as it's offseason. With the right sources and research, you can find yourself the perfect second home for your stay. Some of the most commonly used websites are listed below:
Winter Camping
There are no major campsites located in the city itself. However, you can visit these nearby camping sites for an amazing experience.
Secret Garden Bungalows: is about 37.9 km (24 Miles) from the city. The camping site is ideal for a nice, relaxing camping trip nearby. There is an English speaking staff present and they are super friendly to visitors. The place is well-maintained but a bit costly. You can check out more details on their website at www.ciralisecretgarden.com/.
Mavi Cennet Camping: is situated 23.7 km (15 Miles) from the city. You're in for a wonderful experience at this campsite. there are several amenities available. The site is well maintained and has easy access to the beach from here. Visit their website for more details. (www.mavicennetcamping.com/tr/)
Perle Camping: It is located at a distance of 79.5 km (49 Miles) from the city. This campsite is one of the oldest camping grounds in Alanya. it is quite popular among visitors. The site is located on the sandy beaches of Kargicak along the main road to Mersin. It is quite affordable and perfectly suitable for a relaxing camping experience. You can find more details regarding the rates and facilities provided on their website. (www.camping.info/tr/kamp-alani/20498)
RV/Campers/Motorhome
If you are traveling with a Motorhome, Perle Camping and Lara Caravan Park are best suited for you as these RV grounds have decent parking spots and offer a great number of amenities at affordable prices.
Packing List
Weather: The winter weather in Side (Turkey) will normally be chilly during the day and cold during the night. You have to pack accordingly.

Warm clothing: Even when you go to a warm location like Side (Turkey) you should not forget to take some things with you for your trip back home. When you return you are adapted to the warmer weather and need something to protect you from your hometown temperatures.

Consider the Weather: Always look at the type of weather in Side (Turkey). Things like humidity, wind, and rain do not show up in the temperature graph but can have a great impact on your wardrobe. There are several sites with long term forecasts and climate information. Is there often a short afternoon downpour like in the tropics, you maybe need to take a strong umbrella and shoos that can cope with the rain. If there is often a lot of wind you might need a more wind-resistant coat.

Check the local Shopping options: Try to find information about the local shopping options near your location in Side (Turkey). Are there stores where you can buy all your daily supplies, or are some things difficult to get? For some more remote locations, the options can be limited. If a certain item is really important for you might need to take it with you.

Look at the Local Culture: The local culture in Side (Turkey) can impact your wardrobe. If most activities are in more upscale locations you might take some more appropriate clothes with you. Or travelling if you travel to certain countries women need to cover themselves in certain areas.

Amenities: Know what's Included in your house or apartment. Is there a coffee maker, a toaster, a washer and dryer, an iron, what is in the kitchen, what kind of towels are there? Things that are there means you do not have to take them with you. A furnished apartment or house can mean something from a few pieces of furniture to a well-stocked place with all the things you have at home. But most of the time your rental will not be stocked.

Mix and match: Wear layers so you can use your wardrobe more efficiently. And do not worry about wearing something more often, probably only you will notice this.

Important for you: If there is something that is really important for you that you want to have present in your house or apartment, take it with you. This can be something like a special knife for the kitchen, or a small mirror that you use in the morning. You can also purchase it locally if it is not that expensive.

Pet supplies: If you take your pet with you don't forget to take supplies for a few days with you. And enough medication, vitamins, or other supplies if you can not purchase them in Side (Turkey) locally.

Food: Don't take a lot of food with you. Only when there is something you really can not live without you, and it is not too heavy you could consider taking it with you.

Towels: Not all locations include bigger towels for the swimming pool or a visit to the beach. If you have to take them and don't have a lot of room you can buy some big thin towels.

Office supplies: Normally you will not find any office supplies in your house or apartment. If you think you will use them you could pack some supplies like a scissor, notepaper, envelopes, some pens, and more depending on your needs.

Limit yourself: Don't take too many shoes and jackets, you will not need them that often.

Best-fitting: Bring your favorite and best-fitting items that can multi-function

Washer: Do you have a washer and dryer onsite, you don't need to pack a lot of clothes
Clothing
Basics
Casual
Smart
Footwear
Toiletries
Beauty
Hygiene
Clothing
Basics
Casual
Outdoor
Footwear
Accessories
Toiletries
Medicine
Miscellaneous
Other
Toiletries
Beauty
Hygiene
Hair
Other
Medicine
Miscellaneous
Technology
Travel and Free time
Travel
Free time
Important
Documents
Money