Spend your fall, winter, or spring in The Dominican Republic: Is The Dominican Republic a good snowbird location?
This jewel of a country is located on the Hispaniola Island in the Greater Antilles archipelago. The country is located on the same island as Haiti in the Caribbean region. The country takes up five eights of the eastern part of the island taking up 18.792 square miles (49 square km) with an estimated population of 10.5 million people. The country has the eight largest economy in Latin America and the western hemispheres fastest growing economy.
Before it was occupied by the Spanish, the area that is now the Dominican Republic was inhabited by the Arawakan-speaking Taino people While the Dominican Republic is quite famous for its many stunning beaches, in fact, it is the most visited place in the Caribbean there are also numerous other attractions available in the country. From soaring mountains to interesting architecture and powerful waterfalls, the Dominican Republic is a top destination for snowbirds.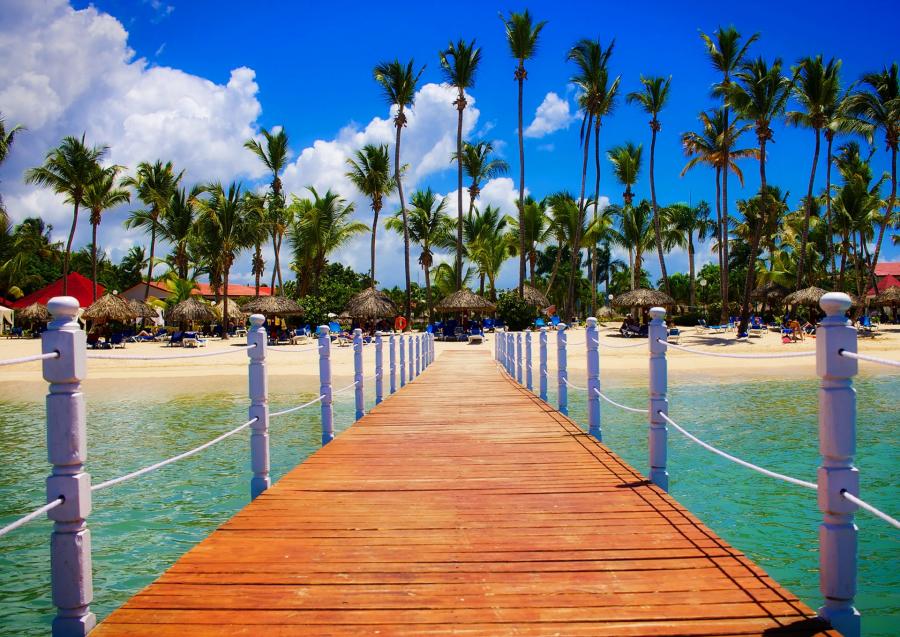 Why should people stay in The Dominican Republic
Visiting the Dominican Republic in the winter is a great idea for a number of reasons. For one, the weather is extremely pleasant and ideal for visiting interesting places in the country. The country is rich in traditional and cultural practices which they are happy to share with visitors. From their locally made drinks to beautiful dances. In the month of February, you get to attend a different carnival each Sunday, an experience that is unlike any other filled with parades, delicious local food, and interesting masks that celebrate the country's rich culture. If you ever get tired of relaxing by the water, sunbathing, or swimming, then you can engage in any of the other interesting winter activities the country has to offer like whale watching.
Climate
The Dominican republic's climate is tropical and hot for most of the year. The climate in each region tends to vary so do not be surprised if the weather is mild in one town and upon your arrival in a different town it could be quite hot. On average the weather hovers around 25°C (77°F), such beautiful weather is the reason many people prefer to the country's climate as an "endless summer" during the country's "winter" months, it gets a bit cooler than the average with a little rainfall from April to October in the south and the trade winds make the north a bit rainier throughout the year. During the winter, temperatures drop to around 21°C (70°F) at night.

Safety
The majority of the tourist frequented areas in the Dominican Republic are safe however the more remote areas can experience high crime rates and violence. Snowbirds are always advised to keep their wits about them and be on the lookout. Car robberies can be common in some areas so keep your doors locked. Refrain from flashing expensive jewelry and gadgets and do not hold large amounts of cash. Only travel with small bills enough to cover immediate expenses and keep purses and wallets safe to avoid pickpocketing.
Communication, internet, and cellphone in The Dominican Republic
The official and most common language spoken in the Dominican Republic is Spanish. Snowbirds with an elementary knowledge of the language can get by with simple questions. Most of the locals especially those who live in touristy areas speak and or understand English, snowbirds who have no knowledge of Spanish may use a phrasebook for translations or use the chance to improve on your Spanish during the trips.
Upon arrival in the Dominican Republic, you can purchase a local sim card instead of incurring high roaming rates with your local sim. There are 4 major mobile network providers in the country and they have similar prices. A mobile sim can be purchased at the airport or in kiosks around the city for around $2.59 (approx. €2.4, £2.06, $3.53 CAD, $3.94 AUD) however, 4G network services are limited in some areas. 3GB mobile data can be purchased for $13.8 (approx. €12, £10, $18 CAD, $21 AUD).
Wintersun Locations in The Dominican Republic
Monte Cristi -this gorgeous town has a rich history and exciting landscape. The first colonial settlement is located here and is tied to the struggle for Cuba's independence. There are numerous diverse mountains, naturals pools, manatee sanctuaries and of course amazing beaches.
Barahona – one of the hidden gems of the Dominican Republic. There are stunning hike trails, caves, waterfalls, beaches, and even some semi-precious stones that can only be found in this town. The area is safe and affordable to live in and the locals are welcoming.
Azua – snowbirds who are also lovers of wine can expect to have an amazing time in Azua. The ocean bay vineyard offers guided tours, wine tastings, and agricultural projects open to visitors. There are also beautiful beaches and pink coral formations to be explored.
Punta Cana – Popular location with several long beautiful beaches with mainly bigger resorts. It has its own airport with international flights. Do not expect an authentic environment.
La Romana – Not as developed as Punta Cana, but with its own airport. Well known for some world-class golf courses and nice sandy beaches. Close to Rio Chavon and Parque Nacional del Este's Isla Saona.
Samana – Only 90 min from Santo Domingo, located on a long peninsula on the north coast, with many nice sandy beaches. Well known as the breeding ground for thousands of humpback whales (January through March). Not as built up as Punta Cana.
Las Terrenas – Not far from Samana Las Terrenas has several bars and restaurants and offers several beautiful beaches that are easy to reach.
Cabarete – Located on the northern coast Cabarete has a more laid-back atmosphere that has attracted many ex-pats. You will find enough restaurants and bars and a lively nightlife.
Things to see in The Dominican Republic
Zona colonial – located in the capital city, this small town is the base of many historical buildings in the country. The first hospital, cathedral, monastery, and university in the "New World" are all located here.
Damajaqua cascades – nature lovers will have a great time exploring the 27 waterfalls that are located here. Crafted out of solid limestone, snowbirds can have fun swimming in the natural pools and exploring the natural phenomena.
Cathedral primada de America – built-in 1514, is the first cathedral to be built in the Americas and it is one of the most interesting pieces of gothic architecture in the country.
Bunas de Bani – many would not expect to find a sand dune in the Caribbean however, this gray sand and volcanic rock dunes are an excellent and rare opportunity for amazing pictures.
parquet nacional los haitises – translating to mountainous land, this park is part of the last few tropical forests in the country. There are mangroves trees covering a wide area of the park as well as caves. The park also featured in Hollywood movies like Jurassic Park.
Activities in The Dominican Republic in the fall, winter, or spring
Whale watching – during the winter, over 2000 whales make their way to the Samana Sanctuary. The humpback whales are quite comfortable in these waters as they are off-limits to boats except whale watching vessels.
Visit museums – there are tons of museums in the Dominican republic showing artifacts that celebrate the craftsmanship and skills of Dominican artists as well as pieces that give insights into the history of the country.
Visit a chocolate factory – chocolate is one of the Dominican republic's major exports and some of the best chocolate is made here. You can take tours of the factories to see how your favorite treats are made.
Visit national parks – there are organized tours of the many national parks in the country some of which have rare and protected species of animals you can observe in their natural habitat.
Beaches – no trip to the Dominican Republic would be complete without spending several days on the beach. The beautiful weather is perfect for beach activities and the temperature of the ocean is ideal for swimming.
Shopping + Restaurants. Are they open in the fall, winter, or spring?
Shopping in the winter is the same as any season thanks to the perfect weather. There are malls and supermarkets in the bigger cities, where you can shop from chain stores and local boutiques. Smaller towns will have small shops where you can get the most day to day products.
There are also local markets where you can buy products native to the country as souvenirs to take home. Restaurants that serve local delicacies as well as intercontinental meals are also open. Snowbirds can also try some authentic Caribbean food from food vendors.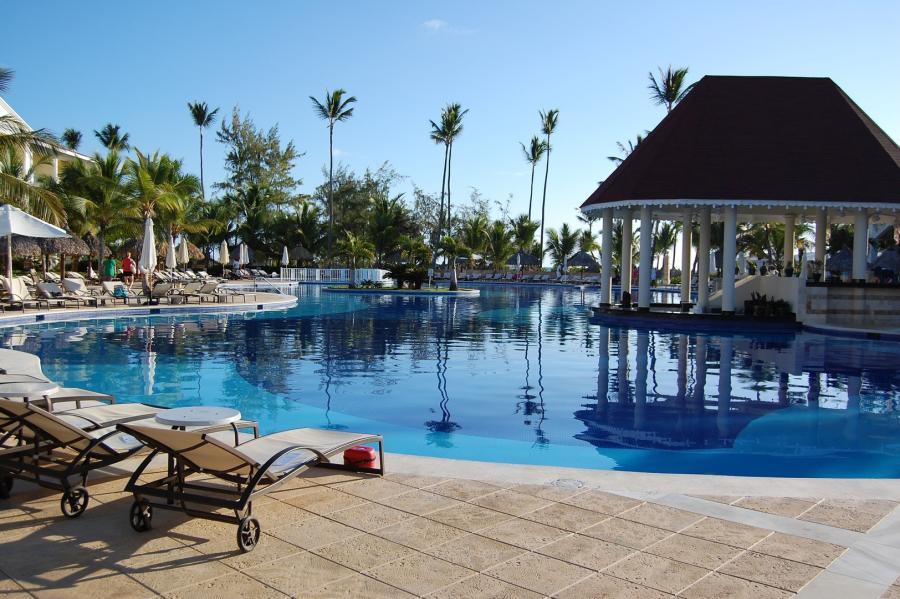 Transport
There are eight international airports in the Dominican republic. Thanks to the high influx of tourists, these airports receive flights from all around the world. Domestic travel is also available in the country to people who wish to travel quicker.
The bus system in the Dominican Republic has extensive networks and is one of the most effective ways to get between cities. There are also local 'guagua' buses that take people around within a city.
The major cities in the country have taxis. There are also shared taxis that frequent fixed routes within the cities.
Bicycles are also a popular means of transport people use to get around the rougher terrain of the country. Car rental is a convenient option for getting around the country. You can rent an economy vehicle for $8 (approx. €7, £6, $10 CAD, $12 AUD).
Health
The healthcare system in the Dominican Republic is structured in a way that people in the lowest class have access to free healthcare. They have an advanced healthcare system, among the best in the Caribbean however, healthcare can be expensive. Snowbirds are advised to have comprehensive healthcare insurance to cover expenses for any trips to the hospital. Many doctors are foreign-trained and speak enough English to communicate well with you.
Accommodation
There are many decent apartments in the Dominican Republic with basic amenities. Rent is affordable and houses can be found easily on property rental portals like Airbnb. Rent for a nice sized apartment would be around $99.86 (approx. €92, £79, $135 CAD, $152 AUD) per month.
Packing List
Weather: The fall, winter, and spring weather in Dominican Republic will normally be warm during the day and warm during the night. Of course in the fall and spring it will be warmer than in the winter. You have to pack accordingly.

Warm clothing: Even when you go to a warm location like Dominican Republic you should not forget to take some things with you for your trip back home. When you return you are adapted to the warmer weather and need something to protect you from your hometown temperatures.

Consider the Weather: Always look at the type of weather in Dominican Republic. Things like humidity, wind, and rain do not show up in the temperature graph but can have a great impact on your wardrobe. There are several sites with long term forecasts and climate information. Is there often a short afternoon downpour like in the tropics, you maybe need to take a strong umbrella and shoos that can cope with the rain. If there is often a lot of wind you might need a more wind-resistant coat.

Check the local Shopping options: Try to find information about the local shopping options near your location in Dominican Republic. Are there stores where you can buy all your daily supplies, or are some things difficult to get? For some more remote locations, the options can be limited. If a certain item is really important for you might need to take it with you.

Look at the Local Culture: The local culture in Dominican Republic can impact your wardrobe. If most activities are in more upscale locations you might take some more appropriate clothes with you. Or travelling if you travel to certain countries women need to cover themselves in certain areas.

Amenities: Know what's Included in your house or apartment. Is there a coffee maker, a toaster, a washer and dryer, an iron, what is in the kitchen, what kind of towels are there? Things that are there means you do not have to take them with you. A furnished apartment or house can mean something from a few pieces of furniture to a well-stocked place with all the things you have at home. But most of the time your rental will not be stocked.

Mix and match: Wear layers so you can use your wardrobe more efficiently. And do not worry about wearing something more often, probably only you will notice this.

Important for you: If there is something that is really important for you that you want to have present in your house or apartment, take it with you. This can be something like a special knife for the kitchen, or a small mirror that you use in the morning. You can also purchase it locally if it is not that expensive.

Pet supplies: If you take your pet with you don't forget to take supplies for a few days with you. And enough medication, vitamins, or other supplies if you can not purchase them in Dominican Republic locally.

Food: Don't take a lot of food with you. Only when there is something you really can not live without you, and it is not too heavy you could consider taking it with you.

Towels: Not all locations include bigger towels for the swimming pool or a visit to the beach. If you have to take them and don't have a lot of room you can buy some big thin towels.

Office supplies: Normally you will not find any office supplies in your house or apartment. If you think you will use them you could pack some supplies like a scissor, notepaper, envelopes, some pens, and more depending on your needs.

Limit yourself: Don't take too many shoes and jackets, you will not need them that often.

Best-fitting: Bring your favorite and best-fitting items that can multi-function

Washer: Do you have a washer and dryer onsite, you don't need to pack a lot of clothes
Clothing
Basics
Casual
Smart
Footwear
Toiletries
Beauty
Hygiene
Clothing
Basics
Casual
Outdoor
Footwear
Accessories
Toiletries
Medicine
Miscellaneous
Other
Toiletries
Beauty
Hygiene
Hair
Other
Medicine
Miscellaneous
Technology
Travel and Free time
Travel
Free time
Important
Documents
Money
Other locations close to this location:
Travelers' Map is loading...
If you see this after your page is loaded completely, leafletJS files are missing.
If you have any additions, or comments on the content on this page, please use our contact form to let us know.
Detailed weather during the year for The Dominican Republic
What to do during the year in The Dominican Republic