Spend Your Fall, Winter, or Spring in The Cayman Islands: Is The Cayman Islands A Good Snowbird Location?
The Cayman Islands is a group of 3 islands (Grand Cayman, Cayman Brac, and Little Cayman) in the western Caribbean Sea. It is a British Overseas Territory. The largest island is Grand Cayman, which is home to the capital, George Town. It is popular for its beach resorts and unique scuba diving, and snorkeling locations. Cayman Brac is well suited for deep-sea fishing excursions. The smallest island, rightly named Little Cayman, is known for its wildlife diversity and home to endangered iguanas, and seabirds like the red-footed boobies. The Islands also have traces of their colonial past in the form of historic buildings and sites. The surrounding sea provides wonderful fishing, diving, shipwreck sites, as well as reefs.
The locals are very friendly and hospitable people. The official language is English. Visiting the Cayman Islands would be an unforgettable experience full of sunny days, warm smiles, and a peace of mind.
Why should people visit during the fall, winter, or spring?
With its barefoot elegance, vibrant adventurous spirit, and soothing tranquility, there is a lot to enjoy in the Cayman Islands in the winter. You will enjoy pleasant Caribbean weather, safety, and a wide variety of cultural and outdoor activities during the winter. Snowbirds that choose to spend their winter in the Cayman Islands, will have a Caribbean experience like no other, with tons of memories and stories.
Climate
The Climate of the Cayman Islands is a very warm tropical one throughout the year. During the summer, temperatures could climb as high as 33°C (91°F) and during the dry months of December to April, temperatures are cooler with temperatures of about 22°C (72°F) or 27°C (81°F). The winter period normally does not see hurricanes (the hurricane season is from June to November).

Safety
The crime rate in the Cayman Islands is low, with very rare cases of violent crimes and fewer cases of petty crime. However, snowbirds should always take some necessary precautions; avoid lonely areas, keep your belongings safe, don't carry valuables around, and always be aware of your surroundings. Petty theft like bag snatching and motorbike theft occur occasionally, but Cayman is among the safest places to travel to in the Caribbean.
Communication, Internet, and cellphone in The Cayman Islands
The Caymans has an efficient telecommunication network. Snowbirds visiting can choose between roaming or purchasing a new SIM card.
If you decide to roam with your home network, you should check with your service provider to be sure that they are among the companies that have coverage in the area.
There are two main mobile and internet companies on the island are Digicel and Flow. They both offer call and internet prepaid plans at affordable rates. Most foreign phones are compatible with a sim card that you can purchase from any authorized dealer that is around town. To purchase a sim, you will need to show some identification like your passport, or other picture ID.
Snowbird locations in The Cayman Islands
Smith's Barcadere: This wonderful sandy beach is a great location for snowbirds interested in snorkeling, picnicking, and watching the sunset by the sea.
Morritt's Tortuga Resort: This is a comfortable family resort that offers standard luxury services and amenities like an indoor pool. There is also a picturesque view of the ocean, and a private beach area.
Seven Mile Beach: This is probably the most popular beach in the Caymans. It is a scenic location where you could see the sea blue waters, cruise ships, and sailboats. It is also a great spot for swimming & snorkeling.
Camana Bay: For snowbirds interested in top-class shopping & dining, Camana Bay is a great location to visit. The streets are lined with colorful bright lights and Palm trees.
Things to see in The Cayman Islands
Cayman Crystal Caves: Underground limestone cave formation with a souvenir shop
Cayman Islands National Museum: Museum dedicated to the preservation, research, and display of Cayman heritage. Contains more than 8,000 items and artifacts.
Kittiwake Shipwreck & Artificial Reef: Sunken Ship turned reef.
Cayman Turtle Centre: this is a Turtle conservation facility in the western Bay of the Cayman Islands first established in 1968 to breed endangered green sea turtles.
Pedro St. James: The oldest existing building in the Cayman Islands originally built in the 1780s as a manor house. It is located on the southern coast of Grand Cayman Island.
Cayman Spirits Co.: Popular distillery that attracts tourists.
Dolphin Cove Cayman: Dolphin sighting area.
Barker's National Park: Protected area with beaches & greenery.
Ft. George Ruins: Colonial era fortifications located on Grand Cayman, with Cannons still around.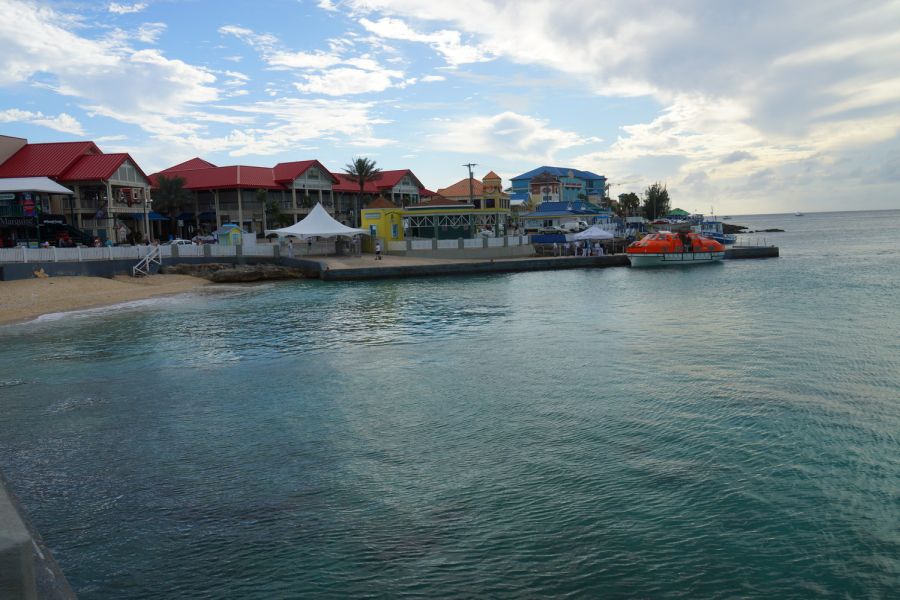 Activities in The Cayman Islands during winter
Visiting Beaches: The Cayman Islands is known for some of the most beautiful beaches in the Caribbean. You can spend your days visiting these picturesque beaches, sunbathing, or just relaxing.
Snorkeling: Pristine waters and biodiverse marine life is a great combination for snorkeling in the Cayman Islands.
Excursions: There is a wide range of excursions you can embark on that is affordable, depending on your interests.
Shopping: The Cayman Islands have great stores where you can go on a shopping trip for different items.
Dining: The dining experience in the Cayman Islands is a whole other adventure that snowbirds will thoroughly enjoy.
Sailing: Sailing is a luxurious and laidback activity that is popular in the Cayman Islands.
Shopping + Restaurants. Are they open in the fall, winter, or spring?
The Caymans have really great shops around the islands. Although some of these stores aim for the flow of tourists during the on-season, snowbirds will still find several stores open during the winter. You could shop for some known international brands, daily items, as well as handcraft items from available stores and markets for affordable prices.
On the Islands, Snowbirds can enjoy a wide variety of seafood thanks to the vast Caribbean sea. There are also other local and international dishes offered in these restaurants. Some would need a reservation to be made however.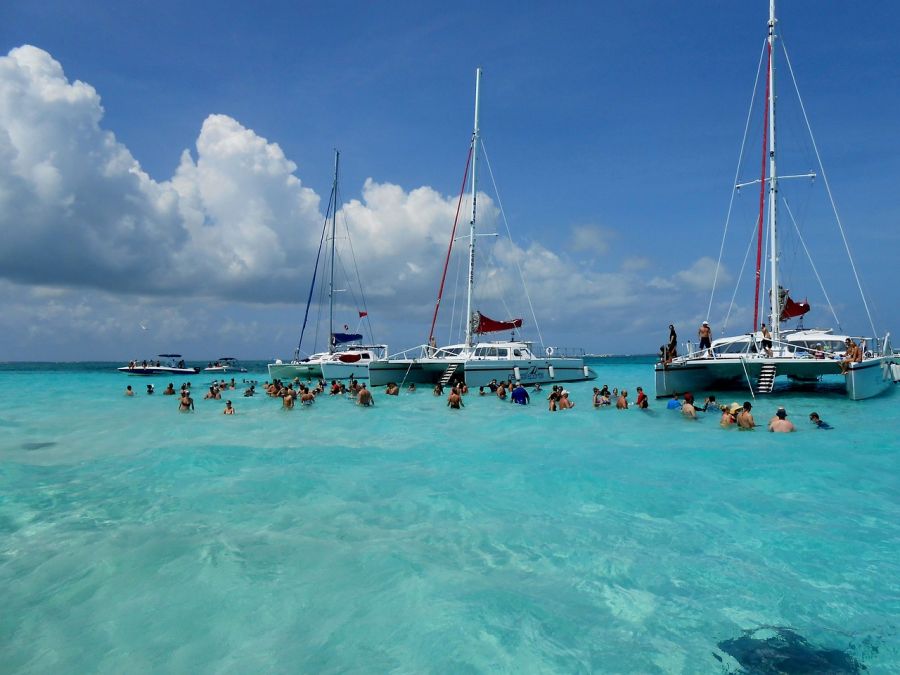 Transport
Snowbirds could arrive at Owen Roberts International Airport, which is located on the Grand Cayman, with a few flights, they could also land at the Charles Kirkconnell International Airport on Cayman Brac.
Taxis are available from the airports and all the Cayman Islands resorts, and available taxi stands. Fares are quite inexpensive and sometimes negotiable.
For snowbirds looking for some flexibility to explore and have an adventure at their own pace, there are car rental services available on the islands. To rent a car, you will need a temporary driver's license which you could get from a car rental counter or police station. Driving on the Caymans is left-sided and many round-a-bouts might surprise you if you are not used to it back home.
Buses are also available on the islands, and they cover most parts. The licensed buses have blue plate numbers and they accept both US and Cayman Islands dollars. Buses could easily be flagged down from the side of the road, or at the few bus stops around the island.
Health
The Cayman Islands offers a broad spectrum of medical services. Overall, the healthcare standard on the islands is very outstanding. The hospitals have modern equipment and facilities used for a number of specialized cases.
Health insurance is advisable because healthcare and medications could cost you a lot of money. As a matter of fact, the Caymans have a compulsory health insurance policy for all its residents.
You could opt for general public services or private services but you should expect more costs attached to private services. Whichever you choose, the doctors, dentists, and other nursing staff are well-trained professionals that speak English and in some cases, other languages thanks to their training abroad. Most of the medical facilities are located on Grand Cayman Island, but you could also find other health centers on the other islands.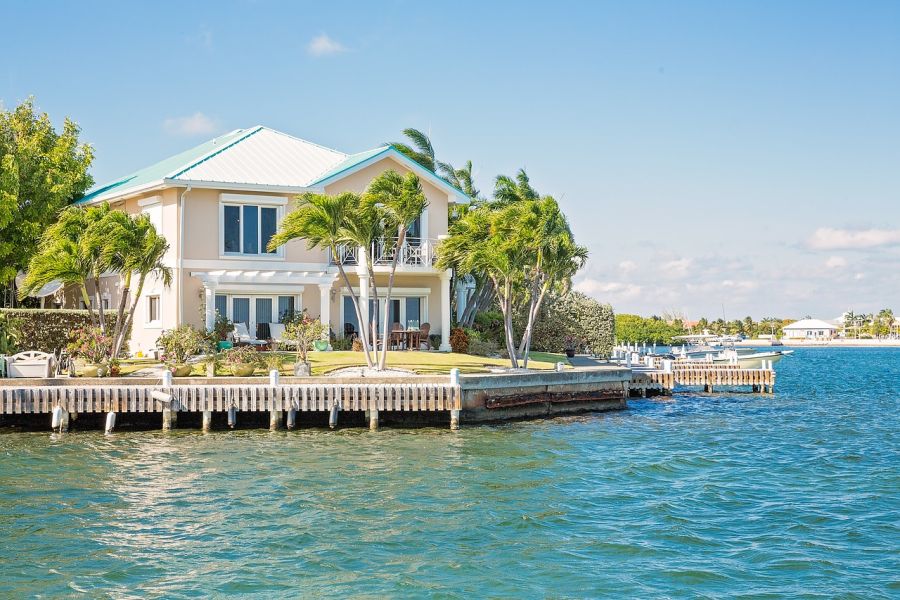 Accommodation
Like many other Caribbean islands that attract visitors from all over the world, there are many luxury resorts, hotels, apartments, and houses you can choose from. They are highly rated, with modern amenities. However, these accommodations are usually very expensive on the islands because tourism is one of the island's main focus. Rent for a three-bedroom apartment could cost $14000 (approx. €12968, £11116, $18998 CAD, $21263 AUD) monthly, and two-bedroom houses on less populated islands could cost $5000 (approx. €4631, £3970, $6785 CAD, $7594 AUD) for a month.
Winter Camping
Camping is a popular activity in the Cayman Islands. For snowbirds, camping in the winter will be an interesting way to bond with family and friends or get to meet new people. The popular camping spots in the Grand Cayman are beaches like along Seven Mile Beach. And a popular spot in Little Cayman is Point of Sand. For some camping activities, you may have to make a reservation, but you can go camping on your own.
Packing List
Weather: The fall, winter, and spring weather in The Cayman Islands will normally be hot during the day and hot/warm during the night. Of course in the fall and spring it will be warmer than in the winter. You have to pack accordingly.

Warm clothing: Even when you go to a warm location like The Cayman Islands you should not forget to take some things with you for your trip back home. When you return you are adapted to the warmer weather and need something to protect you from your hometown temperatures.

Consider the Weather: Always look at the type of weather in The Cayman Islands. Things like humidity, wind, and rain do not show up in the temperature graph but can have a great impact on your wardrobe. There are several sites with long term forecasts and climate information. Is there often a short afternoon downpour like in the tropics, you maybe need to take a strong umbrella and shoos that can cope with the rain. If there is often a lot of wind you might need a more wind-resistant coat.

Check the local Shopping options: Try to find information about the local shopping options near your location in The Cayman Islands. Are there stores where you can buy all your daily supplies, or are some things difficult to get? For some more remote locations, the options can be limited. If a certain item is really important for you might need to take it with you.

Look at the Local Culture: The local culture in The Cayman Islands can impact your wardrobe. If most activities are in more upscale locations you might take some more appropriate clothes with you. Or travelling if you travel to certain countries women need to cover themselves in certain areas.

Amenities: Know what's Included in your house or apartment. Is there a coffee maker, a toaster, a washer and dryer, an iron, what is in the kitchen, what kind of towels are there? Things that are there means you do not have to take them with you. A furnished apartment or house can mean something from a few pieces of furniture to a well-stocked place with all the things you have at home. But most of the time your rental will not be stocked.

Mix and match: Wear layers so you can use your wardrobe more efficiently. And do not worry about wearing something more often, probably only you will notice this.

Important for you: If there is something that is really important for you that you want to have present in your house or apartment, take it with you. This can be something like a special knife for the kitchen, or a small mirror that you use in the morning. You can also purchase it locally if it is not that expensive.

Pet supplies: If you take your pet with you don't forget to take supplies for a few days with you. And enough medication, vitamins, or other supplies if you can not purchase them in The Cayman Islands locally.

Food: Don't take a lot of food with you. Only when there is something you really can not live without you, and it is not too heavy you could consider taking it with you.

Towels: Not all locations include bigger towels for the swimming pool or a visit to the beach. If you have to take them and don't have a lot of room you can buy some big thin towels.

Office supplies: Normally you will not find any office supplies in your house or apartment. If you think you will use them you could pack some supplies like a scissor, notepaper, envelopes, some pens, and more depending on your needs.

Limit yourself: Don't take too many shoes and jackets, you will not need them that often.

Best-fitting: Bring your favorite and best-fitting items that can multi-function

Washer: Do you have a washer and dryer onsite, you don't need to pack a lot of clothes
Clothing
Basics
Casual
Smart
Footwear
Toiletries
Beauty
Hygiene
Clothing
Basics
Casual
Outdoor
Footwear
Accessories
Toiletries
Medicine
Miscellaneous
Other
Toiletries
Beauty
Hygiene
Hair
Other
Medicine
Miscellaneous
Technology
Travel and Free time
Travel
Free time
Important
Documents
Money
Other locations close to this location:
Travelers' Map is loading...
If you see this after your page is loaded completely, leafletJS files are missing.
If you have any additions, or comments on the content on this page, please use our contact form to let us know.
Detailed weather during the year for The Cayman Islands
What to do during the year in The Cayman Islands