Calpe is located on the Costa Blanca between Valencia and Alicante and is known for its beaches. The town is dived into two parts with the famous Calpe rock in the middle and the Playa Arenal and Playa Levante on both sides. There is a beautiful boulevard on the beach with a lot of restaurants and places to have a drink. Calpe has a lot of restaurants and shops. Nearby you can find rock-cut sea pools at the Roman site Baños de la Reina.
Calpe is an ancient fishing village with a rich history. Due to its strategic position on the coast is had attracted many settlers throughout history. The Romans used Calpe to dry and saltfish and made it a prosperous colony. The peace of the 18th century enabled Calpe to regenerate and form the current tourist location. During the second half of the 19th century, it started to be a fishing town. Already before the second world war summer tourist discovered Calpe. And after the war, more and more houses and small hotels were built for the increasing amount of tourists, from the 1970s onward a lot of new homes, apartments, and hotels where build.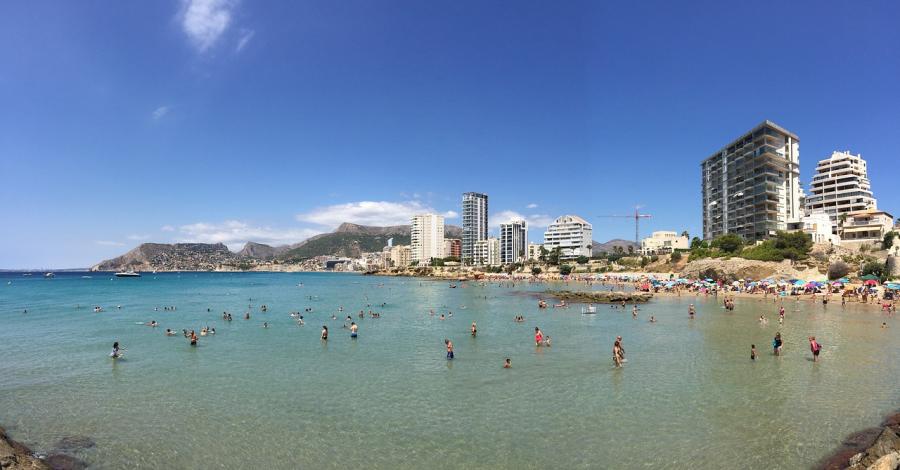 Why should people stay in Calpe during the winter?
Calpe is a good choice if you are looking for a bigger place that is lively, has enough open restaurants and shops. The Mediterranean climate means a mild winter with not a lot of rain and average temperatures from 16 to 24. Most days will be sunny or partly cloudy, and there only will be a few days with some rain. For the winter period, you can find od deals for apartments and houses, and if you are camping, there are multiple options as well.
Climate
Calpe has a Mediterranean climate, with a mild winter and a lot of sunny or partly cloudy days, and only a few days with some rain. The average temperatures are from 16°C - 24°C (61°F - 75°F). The night can be a little bit cooler with a minimum of, so make sure that you have some heating in your house or apartment.

Things to see in Calpe
Calpe has a lot of places that are worthwhile visiting:
The beaches: Calpe has several ling sandy beaches surrounded by a promenade with many restaurants and shops. In the summer they are very crowded, but in the winter you can have a big sport for yourself.
Calpe Rock: More than 300 meter (984 feet)

high and part of a protected National Park. If you are up to it, you can climb the rock or part of it. There are several guided excursions

Queen's Baths (Baños de la Reina): originally it was a fish farm.
Calpe Fish Market (La Lonja de Calpe)
Archaeological Museum
Walking routes: There are many different routes both on the coastline and more in the countryside.
Calpe Old Town: Visit the old narrow streets of Calpe's Old Town
Things to see not far from Calpe
There are a lot of things you can do from Calpe. Here a small selection:
Daytrip to Alicante
Las Fuentes Del Algar: A beautiful Waterfalls makes a nice day trip
Cueva de las Calaveras: Visiting the Cave of Skulls in Benidoleig is a perfect day trip from Calpe.
Boat Trips: There are several boat trips that you can make from Calpe Harbor
Shopping to Benidorm
Visit one of the most beautiful towns El Castell de Guadalest
Eat the best Paella in Parcent
Activities in Calpe in the winter
Calpe is a lively town with a lot of activities. Some examples:
Mercadillo Privado (Flea Market): Each Monday, Thursday, and Saturday, you can visit the market that sells fruits, vegetables, but also second-hand products.
Cinema: The cinema in Calpe also has movies in English. Check the time table from the Auditorio/Teatro Odeón at https://www.calpeonline24.com/info/cinema-at-casa-de-cultura
Yoga classes: In English. Check the website https://www.calpeonline24.com/info/nicole-stone-yoga-classes-private-sessions/go/websiteCarnaval in Calpe: Experience the Carnival with fancy dress costumes and dancing in the streets in the old town (February/March).
Three Kings: The highlight of the Christmas celebrations is the arrival of the Three Kings an the Three Kings parade.
Easter: The date changes each year, but this important religious event is celebrated all over Spain. You can watch the processions from Palm Sunday onwards until Easter Sunday.
Cycling: If you like cycling and don't mind some hills Calpe is a good location. You can rent bikes at several locations.
Boats Trips and Excursions: If the weather is beautiful, take a boat trip and excursion from Calpe Harbor.
Golf: If you like playing golf there are multiple golf courses not far from Calpe like the Altea Club de Golf and the Club de Golf Ifach.
Fitness: If you like to keep fit, you can find several gym's and group training in English in Calpe.
Book a bus trip (http://www.bus-2.com/) to places like:

Valencia: See the beautiful city of Valencia or go shopping
Guadalest: See the beautiful medieval town
Sagunto & Sant Josep Caves: A day trip to the Sant Josep caves including a boat trip.
Mendoza Winery
Or visit Benidorm, Cartagena or Elche famous for the palmtrees.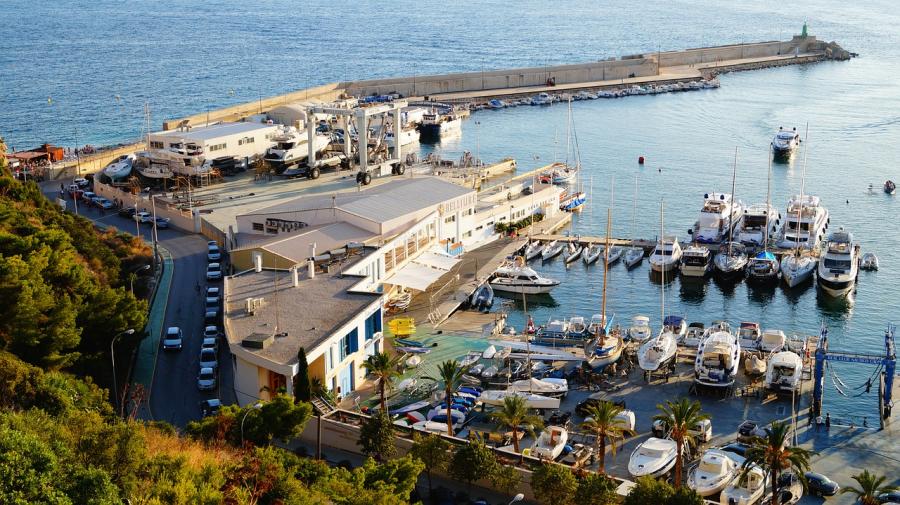 Shopping + Restaurants. Are they open in the winter?
Calpe has a large number of restaurants and shops. Not all of them will be open in the winter, but there is still more than enough choice.
You can find different types of restaurants, both budget and more up class, including:
Spanish Cuisine including Tapas & Paellas
Vegetarian restaurants
Asian and Indian restaurants
Seafood
British restaurants
American Style with steaks and hamburgers
Take Away Food (Pizza, fish and chips, kebabs)
Calpe has a lot of shops, both high street and individual shops where you can find all the things you will need. Not all the shops will be open, particularly the tourist shops can be closed.
You will also find all the leading Supermarkets chains in Calpe, some of them even have two or more locations.
Transport
If you visit Calpe by car, it can be accessed easily by the motorway A7, and the N332, which runs from the town Valencia to all the way Alicante; from the airport over Alicante takes approximately an hour drive. Parkin in the winter is no problem and is mostly unpaid. There are several locations where you can hire a car if you want to do some sightseeing.
Without a car, you can use local buses when you are in Calpe. They can bring you to many locations both in the town and further away. You can check the lines and prices on this website: www.autobusesifach.es/horarios_ing.htm
Calpe has a train station that is just out of the town centre. But it can be reached quickly with a town bus. You can find trains that go to Altea and Benidorm on one side and Denia on the other side. If you want to go to Alicante, you have to switch at Benidorm (check: www.tramalicante.es).
The nearest airport is in Alicante (77 km (48 Miles), but also Valencia is an option 130 km (81 Miles). From Alicante, you can travel by bus from the airport to Calpe (http://www.alsa.es/en)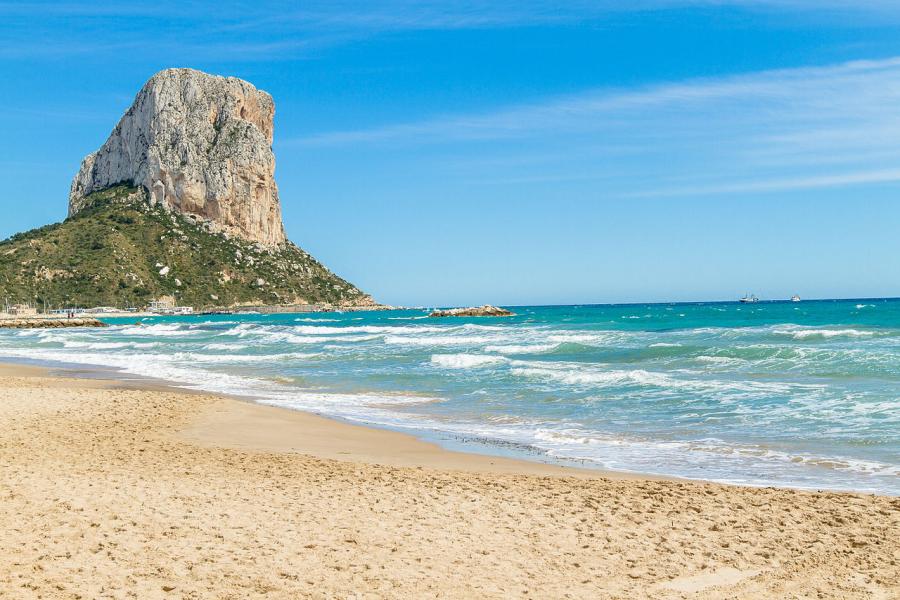 Health
You can find many doctors and dentists that speak English, German and other languages in Calpe. There is also an emergency center, and there is an office from Hospital Clínica Benidorm in Calpe (https://centromedicocalpeinternacional.com/en/).
Calpe does not have a hospital; the nearest is in Benidorm and Denia,
Accommodation
Calpe has a large selection of apartments and rentals for more extended periods.
You can expect prices for apartments from

€400 (approx. $486, £356, $618 CAD, $630 AUD)

per month for a small apartment.
For

€600 (approx. $729, £534, $927 CAD, $946 AUD)

you can get an apartment with a sea view, 80m2 with two bedrooms.
Prices for a whole house will start at around

€700 (approx. $851, £623, $1082 CAD, $1103 AUD)

. For a large villa with a pool and not too far from Calpe expect prices starting at

€1000 (approx. $1215, £890, $1545 CAD, $1577 AUD)

.
Winter Camping
Calpe has multiple camping's that are open in the Winter. Both for campers, caravans and tents. Most of them have special winter offers. As some periods in the winter can be quite busy, it is advisable to make a reservation.
Camping Calp-Mar: just over 300 meter (984 feet) from the beach. All places with electricity, running water and wastewater disposal. Price from

€23 (approx. $27, £20, $35 CAD, $36 AUD)

for 15 days or more. https://www.campingcalpemar.com/
CAMPING La Merced: 10 min from the beach; http://www.lamerced.eu/
Camping Estrella Polar: 300 meter (984 feet) from the beach; 50 places; Price for a more extended stay (from 60 nights) from

€10 (approx. $12, £8, $15 CAD, $15 AUD)

; https://www.campingestrellapolar.com/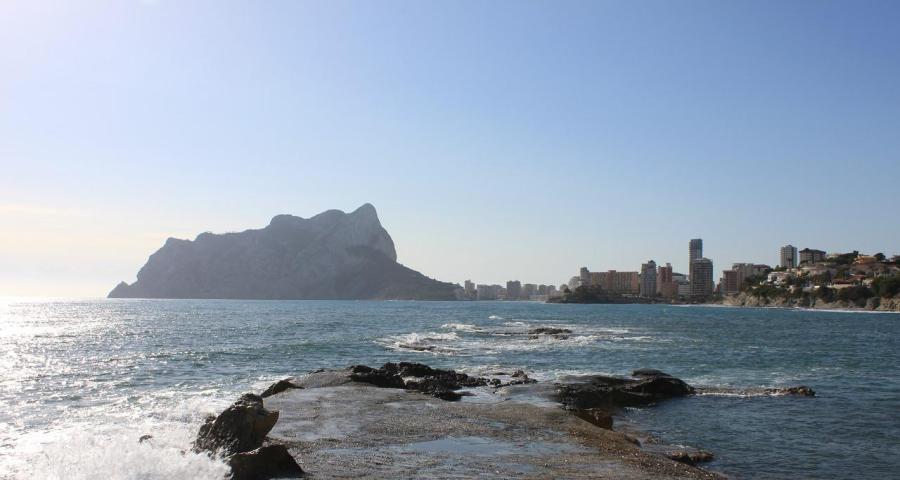 RV/Campers/Motorhome
If you have a Camper or Motorhome, you can find several locations in Calpe.
Sol de Calpe: 300 meter (984 feet) from the beach; 88 places, plot around 50m2 all with own electricity, water and drain; Long stay (more than 90 nights) from

€9,6 (approx. $10, £8, $13 CAD, $14 AUD)

; https://www.campingsoldecalpe.com/
Paraiso Camper: 800 meter (2625 feet) from the beach; 60 places, plot from 40m2 and up; electricity and water; Long stay (more than 90 nights) from

€8 (approx. $9, £7, $12 CAD, $12 AUD)

; https://paraisocamper.com/
Mediterraneo Camper Area: 7 min from the beach; plot from 50m2 all with electricity and water; Long stay (more than 90 nights)