Spend your fall, winter, or spring in Madeira Beach, Florida: Is Madeira Beach a good snowbird location?
Madeira Beach is one of the most magnificent cities in Pinellas County, Florida. With a 2 Miles (3.2 km) stretch of white sandy beach and exquisite views, this place is an ideal location for snowbirds to visit during the winter. The city is well known for its historic John's Pass Village which is the hub of celebrations and nightlife. This place offers a beautiful escape with multiple amenities and some even say the word 'paradise' originated from here. Moreover, there are some attractive places close by that need to be visited during one's stay at Madeira Beach.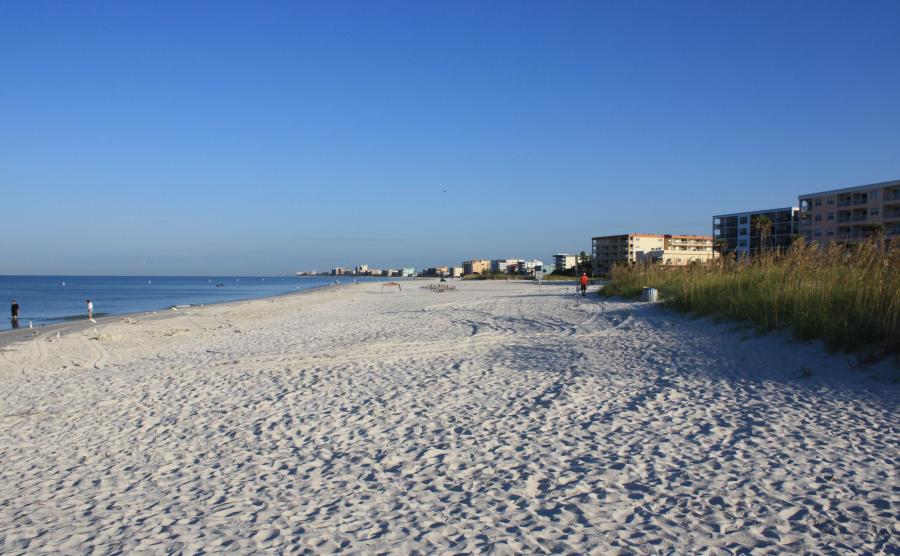 Why should people visit during the fall, winter, or spring?
Madeira Beach offers a sweet escape to its visitors in winter from the harsh weather in their hometown. According to the locals, the best time to visit the city is from October to April. Winter months are mostly less crowded and peaceful but the city never sleeps. Even on the loneliest days at Madeira Beach, you can entertain yourself with the magnificent landscapes, the wide beaches, and the beautiful parks. You will easily find affordable accommodation in this season, making it the perfect winter sun escape.
Climate
Madeira Beach generally experiences a warm climate. Summers here are long, hot, and wet while winters are mostly mild, short, and dry. The temperature is the highest in August, going up to approximately 81°F (27°C) and lowest in January, dropping down to 51°F (11°C). There is a significant amount of rain even in the driest months so it is advised to carry an umbrella with you while you're out at the beach. The winter period normally does not see hurricanes (the hurricane season is from June to November).

Things to see in Madeira Beach
There are many attractions at Madeira Beach that people can visit during their stay. Some of them are listed below:
John's Pass Village and Broad Walk: This village is Madeira Beach's top attraction. Referred to as the "Pass" by the locals, John's Pass fishing village features over 130 unique shops and restaurants. It's an amazing place to enjoy all sorts of activities from shopping to entertainment.
Archibald Park: Spend your day at Archibald Beach Park and visit the beach. You will be mesmerized by the beautiful white sand and the spectacular views of the sunset. It is also a great place for a nice picnic. It is easily accessible to visitors and free of charge.
Dora Lynn Books: This popular book store is a delight for book lovers. There are plenty of books in one place and a beach nearby for you to grab a book and read at the beach while enjoying the beautiful view.
Alligator Attraction: This attraction along with the wildlife learning center consists of over fifty plus alligators and different reptiles from around the world. It is a must-see for all wildlife lovers.
Smugglers Cove Adventure Golf: All year round, this 18-hole miniature golf course is visitors' top pick at Madeira Beach. Explore this adventure style golf course featuring waterfalls, caves, and much more.
Things to see not far from Madeira Beach
Madeira Beach has many fun places nearby that one can visit during their stay. Listed below are some of these:
Sunken Gardens: Located at a distance of about 12 Miles (19 km)

from Madeira Beach, Sunken Gardens is usually known as a paradise in between a busy city. One can spend a relaxing day and take a walk through the beautiful lush green gardens with more than fifty thousand different plants and flowers.

The Florida Aquarium: Approximately 29 Miles (47 km)

away from Madeira Beach lies this popular aquarium. It has a wide variety of sea inhabitants from all over the world. One can easily spend two to three hours going around and seeing everything. It also has diverse options for food within.

Picnic Island Park: Located at Tampa, Florida at a distance of approximately 24 Miles (39 km)

from Madeira Beach. This park is a beauty. Spend an afternoon here by the beach at the park, and enjoy the serene and splendid view.

Tampa Bay Automobile Museum: Amongst many of the museums near Madeira Beach lies this automobile museum at a distance of just about 12 Miles (19 km)

. This museum features many vintage cars and it is an interesting place to visit for history and car lovers. It also has a little gift shop with reasonable prices.

Vinoy Park: Located in St. Petersburg, Florida this park is at a distance of 13.4 Miles (22 km)

from Madeira Beach. Snowbirds can spend a long day here end enjoy almost everything. One can do yoga, go for a walk, sit back, and enjoy the view or have a picnic.
Activities in Madeira Beach in the fall, winter, or spring
The pleasant weather of the city allows you to participate in some activities during your stay during the winter. Here is a list of some of the fun things that you can do:
Dolphin Quest Tour: A boat ride lasting about one and a half hour takes you to the water so you can watch the dolphins play.
Parasailing: Go for a parasailing adventure at the beach to get a bird's eye view of the city.
Museum Tour: There are many museums close by for you to explore, for example, Dali in St. Pete and Florida Holocaust Museum.
Fishing: Hubbard's Marina at John's Pass Village is a top pick for visitors who want a fishing experience. The staff will help you out with everything you need.
Sunbathing: Madeira Beach experiences on average 241 sunny days all year round. In winter, one can enjoy a calm and warm day at the beach.
Art classes: Join an art class and learn how to paint, draw, or start with pottery.
Cooking: Always wanted to improve your cooking? Join a cooking class and learn how to cook something special.
Kayaking: Go for kayaking with Coconut Kayak Tours at Madeira Beach. They will provide you a transportation option to and from your hotel or apartment.
Picnic: Go for a picnic by the beach, order food, or take food from home.
Day trips: Madeira beach has many conspicuous places nearby where you can go to, for a day trip.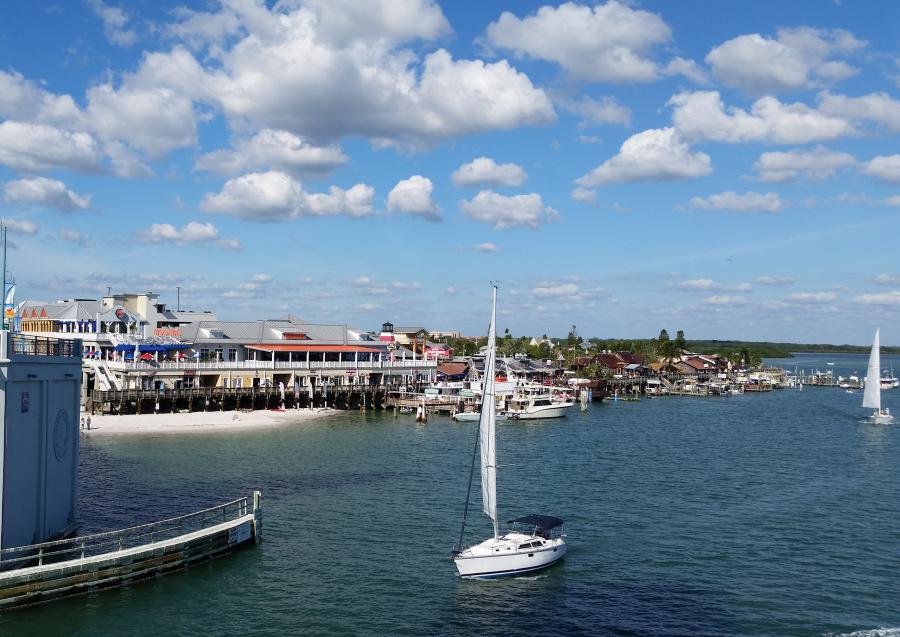 Shopping + Restaurants. Are they open in the fall, winter, or spring?
Madeira Beach hosts a local farmers market from November to April, 10 am to 2 pm, every Wednesday. This market features fresh fruits, vegetables, arts and crafts, cooked foods, and bakery items. There are many big stores as well such as Winn Dixie and Publix Super Market.
Madeira Beach is home to a variety of restaurants, small cafes, and bars. Most of them are located at John's Pass Village and Broad walk. These restaurants serve all kinds of food from around the world and are open throughout the year.
Transport
A local shuttle runs up and down the gulf beaches. It's known as "The Sun Coast Beach Trolley". This service runs 7 days a week from 5:20 am to 10 pm and till midnight on Fridays and Saturdays. The trolley's all-day pass costs $2.25 (approx. €2.05, £1.78, $3.06 CAD, $3.4 AUD). You can check the trolley schedules at this provided link https://www.psta.net/.
The nearest airport to Madeira Beach is St. Petersburg-Clearwater International Airport which is at a distance of 14 Miles (23 km) from Madeira Beach. The second nearest airport is Tampa International Airport which is approximately 25 Miles (40 km) away from Madeira Beach. The best way to commute from Tampa International Airport is to use a shuttle service called "Super Shuttle". Its fare to Madeira Beach is $27 (approx. €24, £21, $36 CAD, $40 AUD). For booking go to this link https://www.supershuttle.com/.
Apart from this, there are many taxis and private cars available as well as Uber.
Health
The nearest hospital to Madeira Beach in Bay Pines VA Healthcare System is about 2.5 Miles (4 km) away. It is well equipped to deal with any kind of emergency. Other nearby hospitals and dental cares include:
St. Petersburg General Hospital: Public Hospital operating every day. Go through this link for further information www.stpetegeneral.com/.
C.W. Bill Young VA Medical Center Dental Service: 2.4 Miles (3.9 km) away from Madeira Beach, to book an appointment visit this link https://www.baypines.va.gov/
Accommodation
There are several websites for long-term rentals at Madeira Beach. Some of them are listed below:
RV/Campers/Motorhome
Madeira Beach is a purely residential area. It does not have campgrounds within it but there are several campgrounds near Madeira Beach where one can get a wonderful camping experience.
St. Petersburg/Madeira Beach KOA: It is approximately 2 Miles (3.2 km) from the gulf beaches and it is well-equipped with facilities such as swimming pool, hot tub, and recreational facilities such as gaming courts. Many nearby attractions surround this campground. For further details please visit this link (https://koa.com/ways-to-stay/tent-sites/)
Located on the west coast of Florida, just about 5 minutes' drive from Madeira Beach lies the beautiful Bickley RV Park. This park is perfectly positioned from the beaches, the airport, and the splendid attractions of the area. With rates starting from

$75 (approx. €68, £59, $101 CAD, $113 AUD)

a night. They also have weekly, monthly, 4, 5, and 6months package. Check out the website for further information. https://bickleypark.com/.
Packing List
Weather: The fall, winter, and spring weather in Madeira Beach (Florida) will normally be warm during the day and can be cold during the night. Of course in the fall and spring it will be warmer than in the winter. You have to pack accordingly.

Warm clothing: Even when you go to a warm location like Madeira Beach (Florida) you should not forget to take some things with you for your trip back home. When you return you are adapted to the warmer weather and need something to protect you from your hometown temperatures.

Consider the Weather: Always look at the type of weather in Madeira Beach (Florida). Things like humidity, wind, and rain do not show up in the temperature graph but can have a great impact on your wardrobe. There are several sites with long term forecasts and climate information. Is there often a short afternoon downpour like in the tropics, you maybe need to take a strong umbrella and shoos that can cope with the rain. If there is often a lot of wind you might need a more wind-resistant coat.

Check the local Shopping options: Try to find information about the local shopping options near your location in Madeira Beach (Florida). Are there stores where you can buy all your daily supplies, or are some things difficult to get? For some more remote locations, the options can be limited. If a certain item is really important for you might need to take it with you.

Look at the Local Culture: The local culture in Madeira Beach (Florida) can impact your wardrobe. If most activities are in more upscale locations you might take some more appropriate clothes with you. Or travelling if you travel to certain countries women need to cover themselves in certain areas.

Amenities: Know what's Included in your house or apartment. Is there a coffee maker, a toaster, a washer and dryer, an iron, what is in the kitchen, what kind of towels are there? Things that are there means you do not have to take them with you. A furnished apartment or house can mean something from a few pieces of furniture to a well-stocked place with all the things you have at home. But most of the time your rental will not be stocked.

Mix and match: Wear layers so you can use your wardrobe more efficiently. And do not worry about wearing something more often, probably only you will notice this.

Important for you: If there is something that is really important for you that you want to have present in your house or apartment, take it with you. This can be something like a special knife for the kitchen, or a small mirror that you use in the morning. You can also purchase it locally if it is not that expensive.

Pet supplies: If you take your pet with you don't forget to take supplies for a few days with you. And enough medication, vitamins, or other supplies if you can not purchase them in Madeira Beach (Florida) locally.

Food: Don't take a lot of food with you. Only when there is something you really can not live without you, and it is not too heavy you could consider taking it with you.

Towels: Not all locations include bigger towels for the swimming pool or a visit to the beach. If you have to take them and don't have a lot of room you can buy some big thin towels.

Office supplies: Normally you will not find any office supplies in your house or apartment. If you think you will use them you could pack some supplies like a scissor, notepaper, envelopes, some pens, and more depending on your needs.

Limit yourself: Don't take too many shoes and jackets, you will not need them that often.

Best-fitting: Bring your favorite and best-fitting items that can multi-function

Washer: Do you have a washer and dryer onsite, you don't need to pack a lot of clothes
Clothing
Basics
Casual
Smart
Footwear
Toiletries
Beauty
Hygiene
Clothing
Basics
Casual
Outdoor
Footwear
Accessories
Toiletries
Medicine
Miscellaneous
Other
Toiletries
Beauty
Hygiene
Hair
Other
Medicine
Miscellaneous
Technology
Travel and Free time
Travel
Free time
Important
Documents
Money
Other locations close to this location:
Travelers' Map is loading...
If you see this after your page is loaded completely, leafletJS files are missing.
If you have any additions, or comments on the content on this page, please use our contact form to let us know.
Detailed weather during the year for Madeira Beach Florida
What to do during the year in Madeira Beach Florida